When you think of the most incredible sights in the United States, you might imagine soaring mountain ranges, endless prairies, or dense, vibrant forests. However, one of America's greatest wonders lies right beneath your feet.
All across America, colorful wildflowers mark the beginning of spring. Fields of wildflowers spring up in many different climates and landscapes: crisp alpine meadows, dramatic desert valleys, and rolling green grasslands. While wildflowers exist all over the nation, a few areas burst with these brilliant, breathtaking flora during spring and summer. Pack your good camera and mark your map with these best places to see wildflowers in the U.S.
Glacier National Park – Montana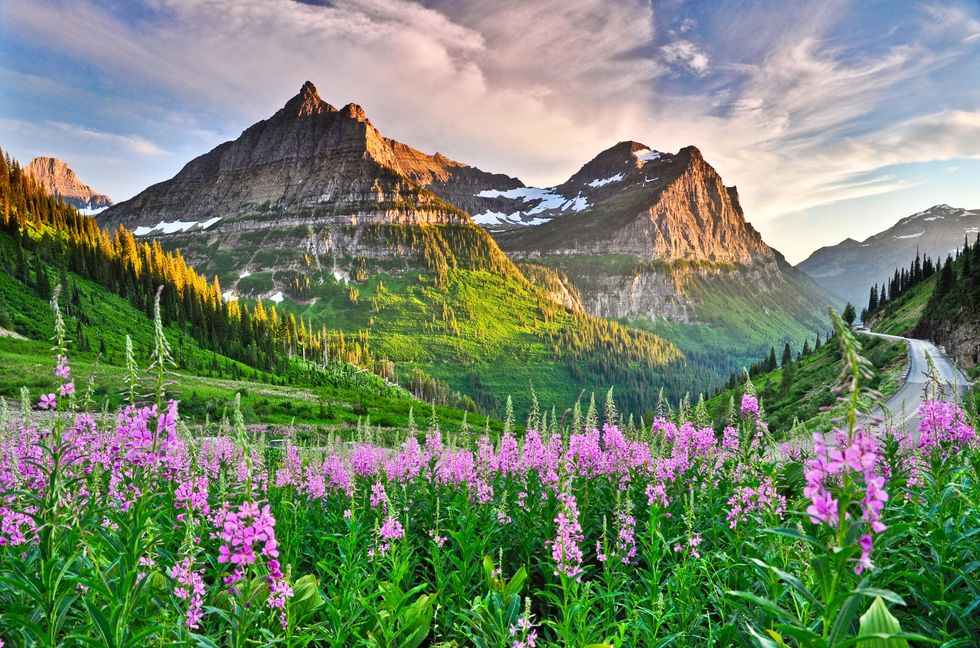 Glacier National ParkUS Department of the Interior
With over a million acres of land and over 700 miles of hiking trails, Glacier National Park is a nature lover's paradise. While the rugged mountain slopes and tranquil aspen groves never disappoint, many visitors come to the park to admire the colorful alpine meadows. Here, over a thousand species of wildflowers paint the park in every color imaginable. The flowers reach their peak in July and August, when, on average, park temperatures sit at a gorgeous 75 degrees. If you're looking for the best views, check out Logan Pass, Hidden Lake, and Iceberg Lake.
Crested Butte – Colorado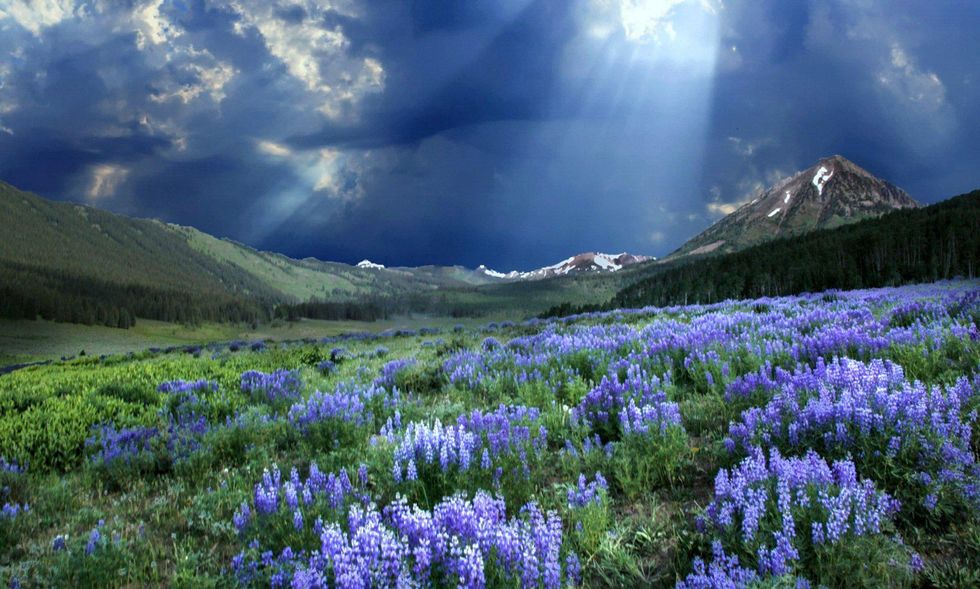 LupineRove.me
Colorado's wildflower season is a must-see for any flora fanatic. If you only have time for one stop, though, Crested Butte is the way to go. Crested Butte — a small Rocky Mountain town — lives up to its title of the "Wildflower Capital of Colorado." When spring hits, the mountain slopes and valleys blossom in a sunny array of colors: yellow sunflowers, red columbines, purple delphiniums, and so much more. Visitors to the area can explore the trails that wind through Gunnison National Forest, which surrounds the town. However, the real attraction happens in early July, when Crested Butte hosts its week-long wildflower festival.
North Cascades National Park – Washington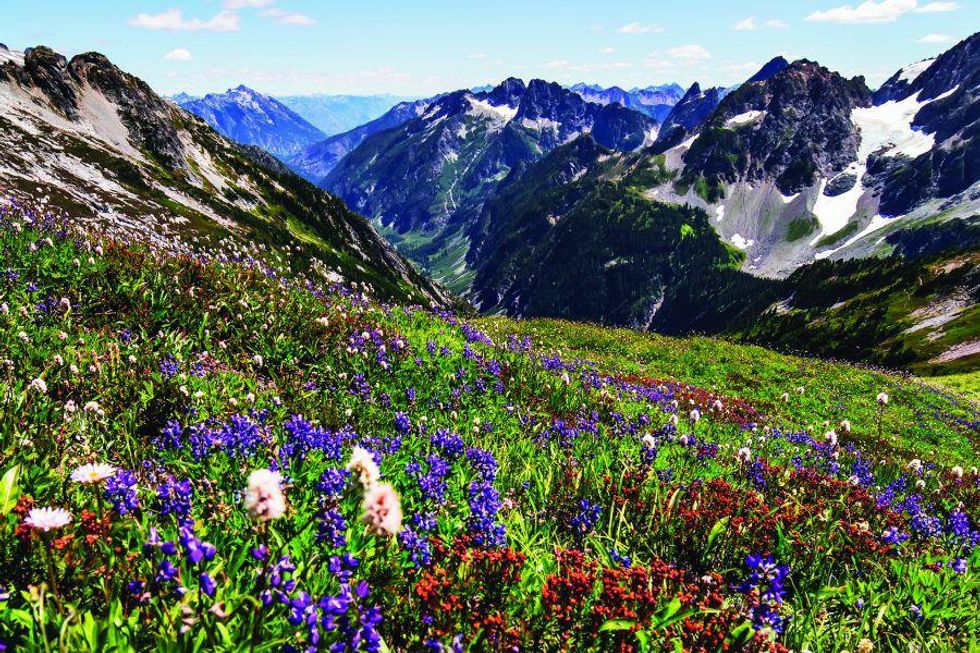 North Cascades National ParkPinterest
North Cascades National Park holds over half a million acres of incredibly diverse land. Throughout the park, you'll find stark changes in elevation, rainfall, and exposure. The result is an incredible assortment of wildflowers. In addition to hosting every color on the spectrum, North Cascades National Park features blooms from February until September. This means you can get your fill of flowers all throughout spring and summer. If you visit earlier in the season, stick to the lower elevations to find the vast array of blooms. As summer progresses, the higher elevations begin to show off with their own color show.
Antelope Valley – California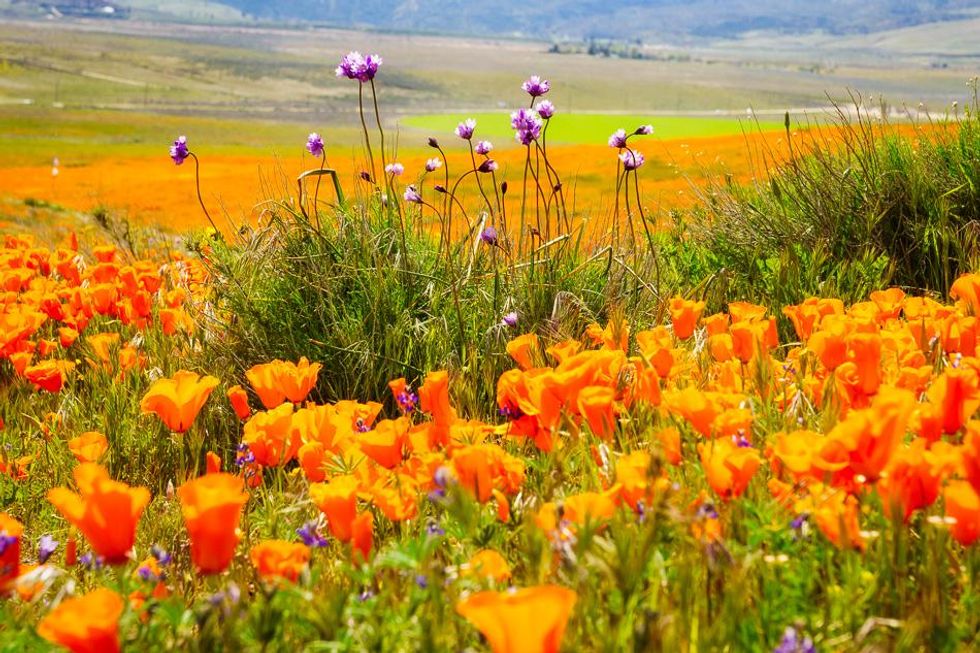 Wildflowers U.S.Anne McKinnell
There's something special about finding wildflowers in the desert, which is why Antelope Valley in the Mojave Desert is one of the best places to see wildflowers in the U.S. Here, you'll find a delightful abundance of the iconic California poppy. Visitors to this 1,780-acre poppy reserve can delve into the Mojave Desert Grassland tract, an eight-mile trail that winds through a grand expanse of these fiery flowers. Prime viewing time is early in the year, and the poppies reach their peak in April. Environmental factors can make timing your trip tricky, but the reserve's website keeps an updated bloom status from February until May to help you pick the best time to visit each year.