Do you ever feel like every day is a bad hair day? Yep, that's my life. I feel like every time I get on top of one hair issue; another is on standby to take its place!
My hair problems seem to be amplified every time the seasons change, making them unavoidable and oh-so annoying.
I adore Summer, but after 3 months of beach trips, chlorine, and sunshine, my locks are completely dried out. All the saltwater and seaweed work wonders for my skin, but wow, does it wreak havoc on my hair!
Now that the weather is getting a little colder, not only am I trying to fix the summer damage, but I'm also facing a whole new set of problems. Every winter, I'm plagued by dry, split ends, and my hair flat out refuses to hold any shape or volume.
This means I'm constantly over-styling it, which definitely does not help.
I tried spending a lot on fancy shampoos and hair masks, but nothing I was doing to restore my hair was working. After more than one day at the office where I was reluctant to take off my hat, a coworker told me about Function of Beauty.
She SWEARS by their customized hair care products. I quickly pulled up the Function of Beauty site on my laptop and saw that their shampoos and conditioners are specifically formulated to help you achieve certain goals.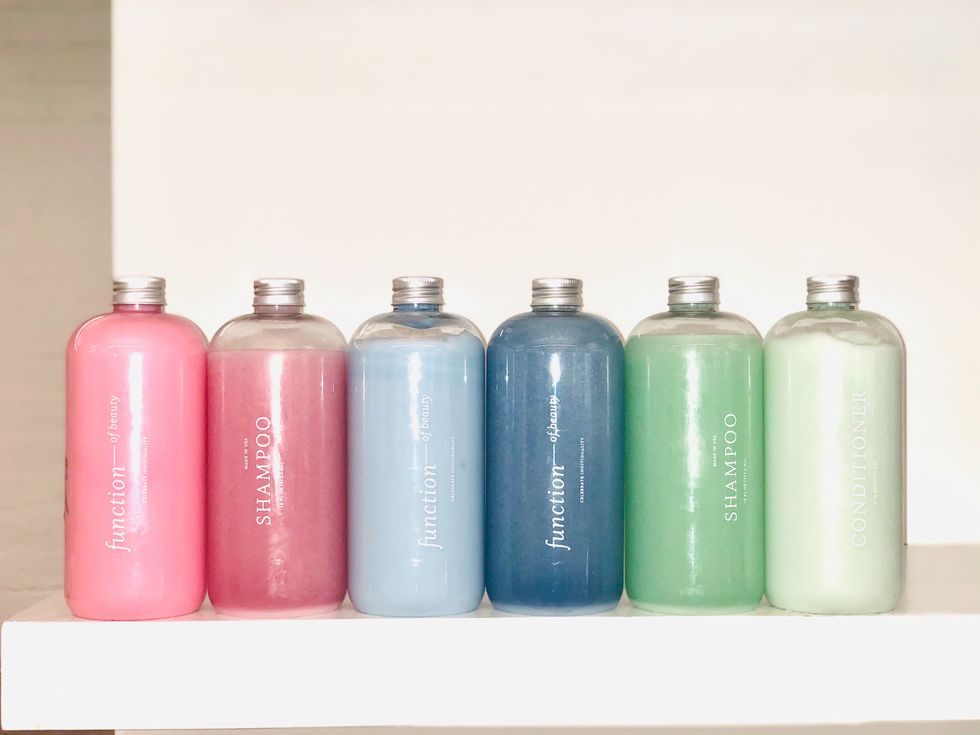 Haircare that I could tailor to target my specific hair problems? It sounded like the perfect solution. My formula is totally unique to me and was determined after I took a quick quiz. You tell them how thick your hair is if it's curly or wavy, and specify up to 5 hair goals you want to achieve.
As I said, it's getting chilly out there, so I chose to replenish hair, volumize, strengthen, and fix split ends.

I loved that I could choose everything about my order, even the color and scent. I chose feelin' fineapple, which honestly smells like a fruity cocktail! Function of Beauty also lets you control the frequency of your delivery.
I started with the 16oz shampoo and 8oz conditioner because I always run out of my shampoo first.
After using it for a few washes, my hair felt totally replenished and revitalized. Winters are brutal where I live, and my hair always suffers, so I'm glad it's already feeling less brittle and more voluminous before the real cold sets in.
The seasons change, and so do your hair needs, so I was pleasantly surprised to discover that I'm able to tweak my formula and choose new hair goals whenever I wanted so that I can easily get ahead of next season's hair problems.
They also have deep conditioning hair masks, for when your hair needs an extra little boost.
Function of Beauty is a game-changer when it comes to keeping your hair looking good as the season's transition.
I love the convenience of my shampoo and conditioner delivered right to my door, and the bottles even have my name on it! It's easy to tweak the formula whenever you want, so as your hair goals evolve, and the change, your shampoo can, too.
SPECIAL OFFER: Function Of Beauty is giving our Journiest readers 20% OFF their first order. Follow this link and start the hair profile quiz!