Tired of pizza, bagels, and deli food? As delicious and reliable as these staples are, sometimes we want something new. Have no fear, for New York City has at least one option for virtually any style of cuisine on this Earth. Here are five to try next time you find yourself hungry in the Big Apple.
Uzbek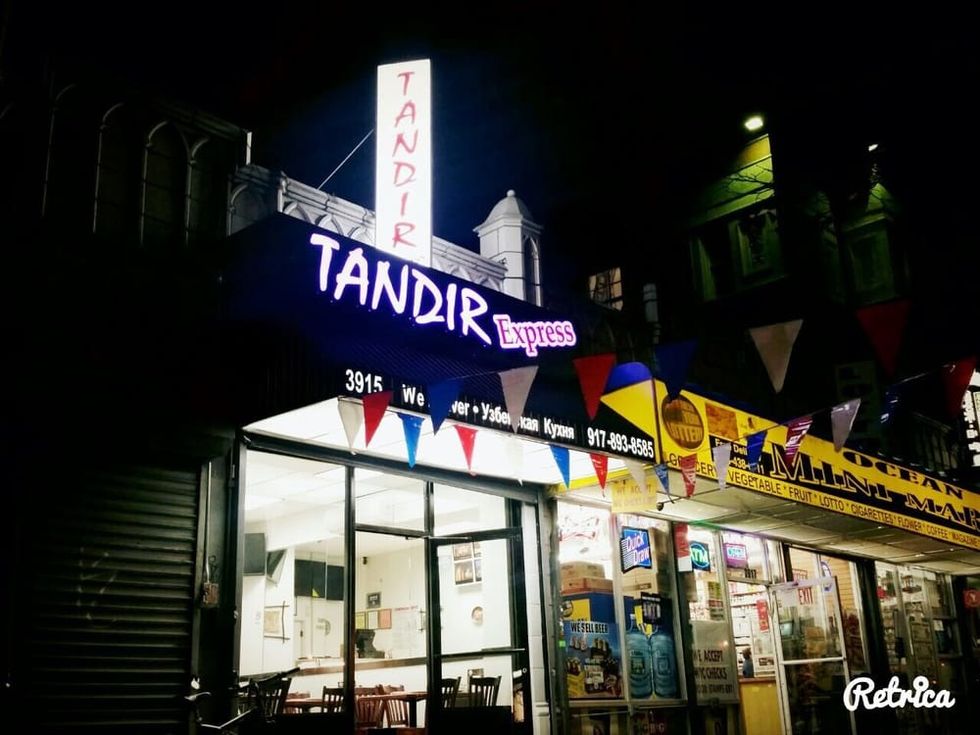 Uzbek Food: Tandir Express NYCTandir Express
Once situated on the legendary Silk Road, the country of Uzbekistan is a fascinating mix of cultures, primarily Middle Eastern, East Asian, and Russian. Its food, in turn, reflects that. Hand-pulled noodles and fall-apart lamb make up the country's Lagman stew. No meal is complete without Non, the name for the local flatbread, baked in an oven called a Tandyr in a process typical of West Asia and the Indian subcontinent. Manti are a kind of meat dumpling similar to a Russian Vareniki or Pierogi.

Uzbekistan's greatest contribution to the culinary world, however, may very well be the ubiquitous Plov, a dish where lamb or beef, typically seasoned with cumin, is slow cooked in a giant wok with rice for hours. Julienned carrots, whole heads of garlic, and spicy peppers are added as well. The end product is a delectably moist mixture of fall-apart lamb and uber savory rice.
Typically served at weddings, you don't have to wait to be a brides-maid at an Uzbek wedding to dig in. Visit Tandir Express on 18th Ave in Kensington (don't miss the kebabs here either), or Turkish Express on Avenue H in Midwood. If you want to take a day trip to the country's capitol, head down to Brighton Beach and visit Tashkent Supermarket, where an endless buffet of Uzbek delicacies awaits you.
Turkish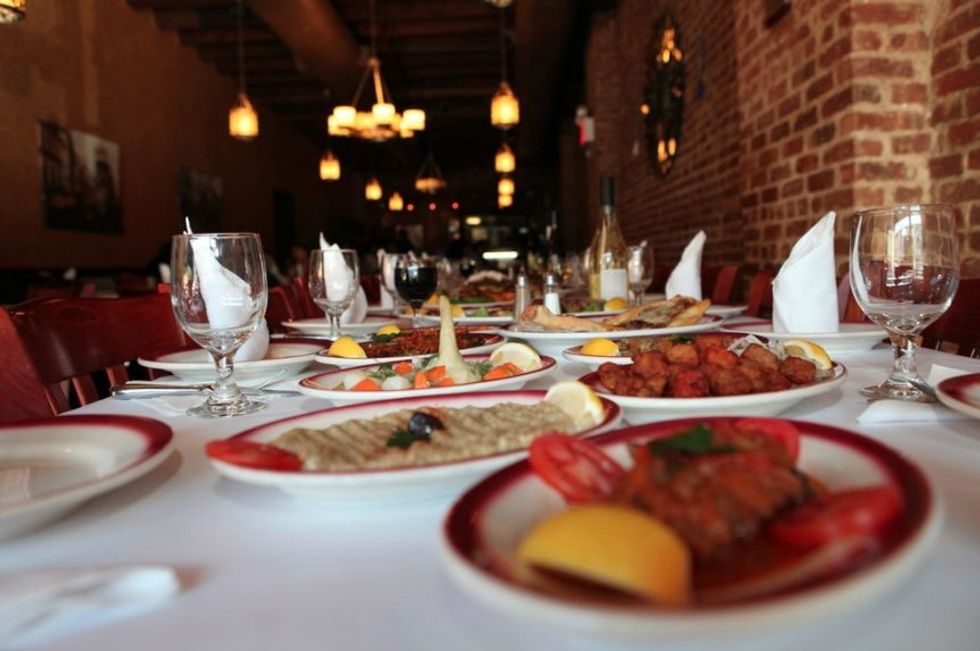 Turkish Food: Taci's BeytiTaci's Beyti
About 2,500 miles West of Uzbekistan is another Turkic speaking country with a to die for cuisine. It would be a mistake to lump the food of Turkey in with "Mediterranean" or "Middle Eastern" food. After all, it was the Turks themselves who invented the method of cooking sliced meat on a vertical spit, a method now used throughout the near East, North Africa, Greece, and even Mexico.

Of all the vertically oriented meats, however, Doner Kebab may be the very best. Its juiciness is unmatched, its charred exterior yet tender center unparalleled. And Turkish food only starts there. It is a cuisine built upon grilled meats, and Iskander Kebab is no exception: To make this delicacy, Doner Kebab is layered over pita bread, then topped with tomato sauce and yogurt. It's an odd combination, but the result is heavenly.
Tired of meat? Turkish food offers a never ending array of Meze: eggplant salad, Tarator (Garlic and Walnut sauce), and Cacik (a yogurt sauce similar to Tzatziki) are just a few of the dips you can fill the corners with. And for dessert, if you're ready to consume a day's worth of calories in one sitting, help yourself to Kunefe—shredded filo dough soaked in honey or syrup and layered with melted cheese. Hungry yet? Go find any of these dishes at Taci's Beyti on Coney Island Ave. in Midwood, or Opera Café and Lounge in Sheepshead Bay. For a quicker meal, visit Aksaray Turkish Restaurant, also in Midwood.
Ghanaian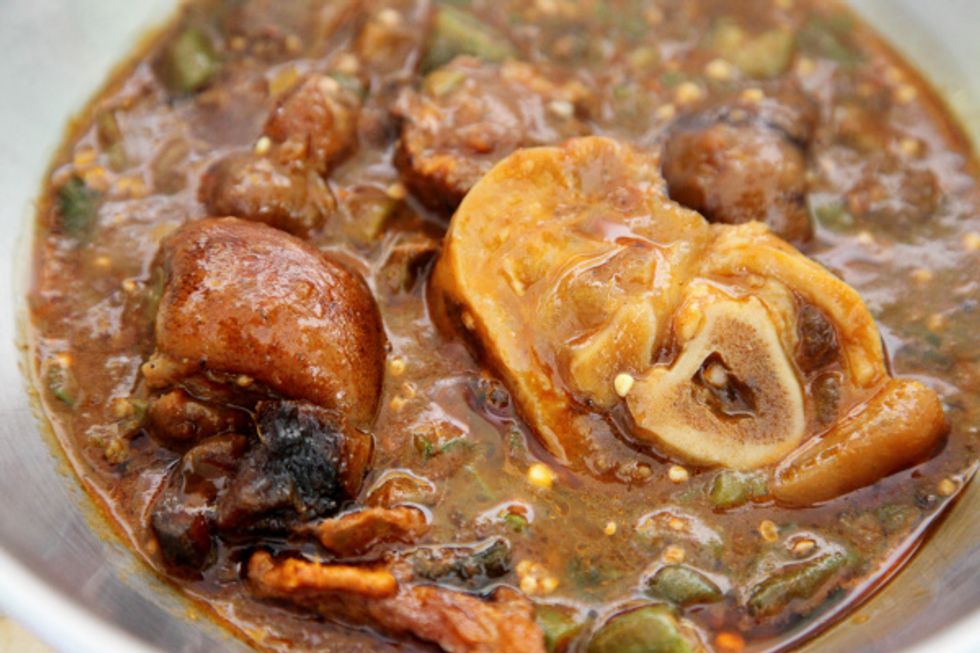 Akwaaba Restauranteatingintranslation.com
It is amazing how delicious a cuisine based off of a few simple ingredients like cassava, tomatoes, peppers, and goat meat can be. The food of Ghana is exhibit no. 1, as is all the food of West Africa, for that matter. While a grace period may be necessary for a Westerner to adapt to the flavor palette of Ghanaian food, once they do, a door is opened unto astounding deliciousness.

Whole fried fish slathered in Shito (Ghanaian pepper sauce) with a side of Kenkey (fermented corn dumplings, boiled in corn husks) is a good starting point. Or perhaps try Pepper soup (exactly what you think). Better yet, why not go all out and order the Peanut Soup (stew meat cooked in a spicy peanut butter broth)?
If all that sounds just a bit too adventurous then you would be forgiven if you simply ordered the Joloff rice. The West African staple is typically served at parties; rice is cooked in a pepper tomato sauce until it turns an inviting orange hue, often served with chicken. B Place on Nostrand Ave. in Flatbush and Akwaaba Restaurant on Parkside Ave., also in Flatbush, are excellent options.
Georgian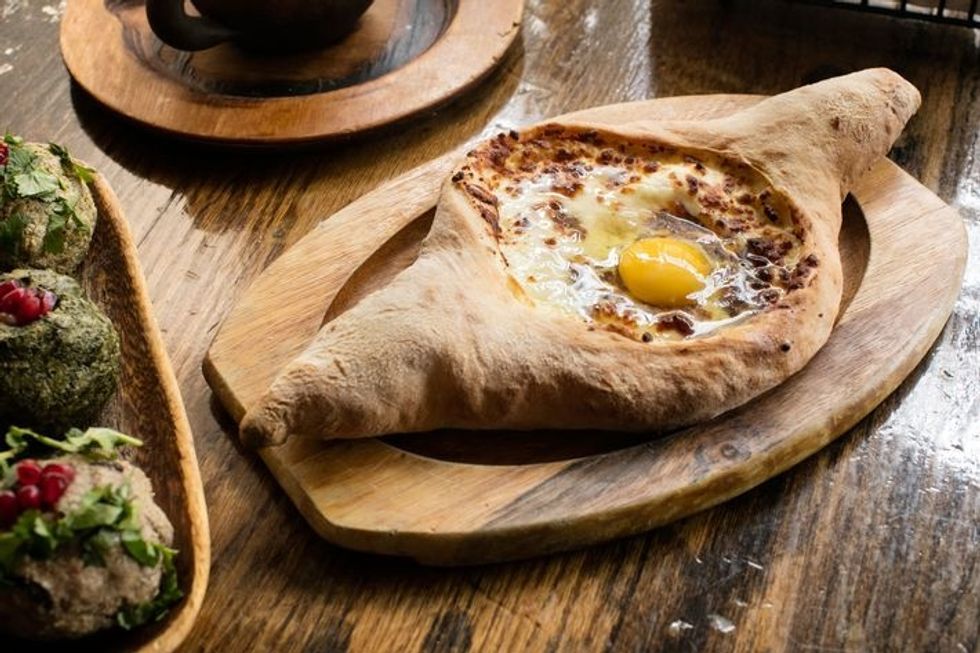 Georgian Food: Tone CafeGrub Street
When you stumble upon the cuisine of the Caucasus country of Georgia, it may feel is as if you've discovered the menu of some medieval feast, lost long ago to the ages. Pomegranates, walnuts, sour plums, coriander, tarragon, and a litany of other herbs and spices are just a few of the ingredients found in most Georgian dishes.

While many have no doubt discovered the ubiquitous Khachapuri (boats of cheese filled, perfectly chewy bread with an occasional egg nestled in the melting cheese), there is so much more to Georgian food, as undeniably delicious as Khachapuri is. Shkmeruli is chicken, slow roasted then simmered in a garlic and cream sauce. It's as good as it sounds. You might wash it down with a Tarragon soda.
Or you can tryChakapuli, a stew wherein lamb is cooked slowly with cherry plums, tarragon, coriander, and white wine. Many of these dishes are often served with Tkemali, a sweet and sour plum sauce, not too dissimilar in its usage to ketchup.
Finally, if you want something sweet afterward, try Churchkhela. Walnuts are threaded along a string, then grape or pomegranate juice is dripped down the thread until solidified. The end product is a chewy stick of earthy flavor. Taste of Georgia on Kings Highway is a great option to find these dishes as is Tone Café in Brighton Beach on Neptune Ave.
Haitian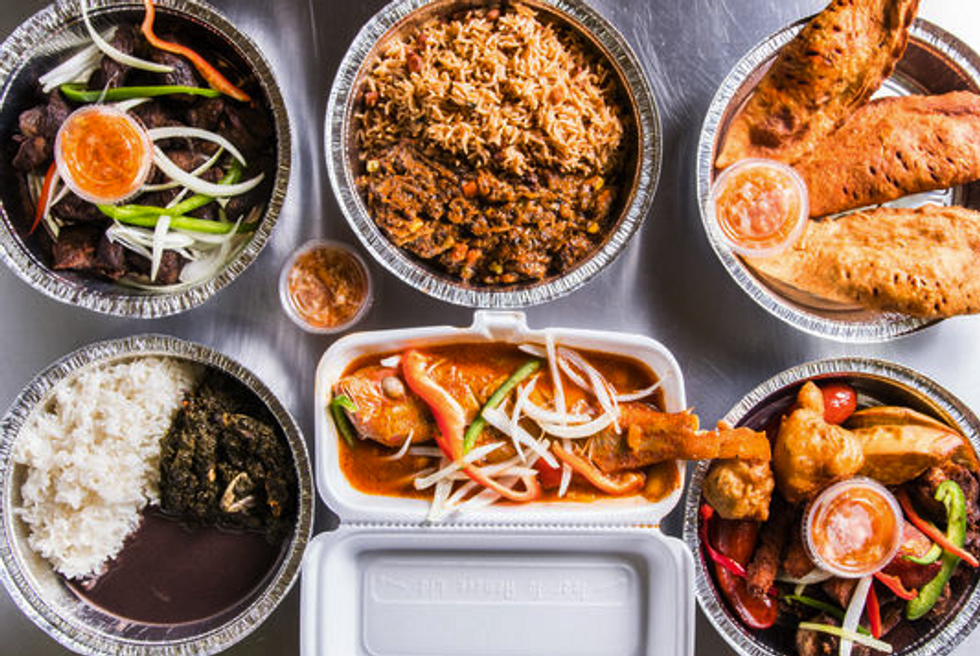 Haitian Food: Bebe FritayBebe Fritay
Haitian food, the forgotten cousin in the Caribbean pantheon. What happens when Caribbean ingredients meet West African and French cooking techniques? Lovely things, apparently. Griot, essentially Haiti's national dish, is goat meat, marinated, roasted, and then fried to create something that's simple but delicious. The dish is typically served with rice and beans; however this writer prefers it with a side of Patate (Caribbean sweet potato) and with Sos Pwa (black beans cooked down into a stew) poured over all of it.

Pikliz (a Haitian slaw made of cabbage and scotch bonnets, among other things) is a constant condiment. Djon Djon is rice, simmered in a black mushroom broth until it takes on the hue of the mushroom itself, typically served on Sundays. Finally, make a special point of ordering Legume. Eggplant, squash, and carrots, along with thyme and a handful of other spices, are cooked down into a Ratatouille-esque stew (here, France rears its head) typically served with fried plantains. Bebe Fritay has several locations throughout Brooklyn and Lakay Venus is a great option in Prospect Lefferts Gardens.
Trini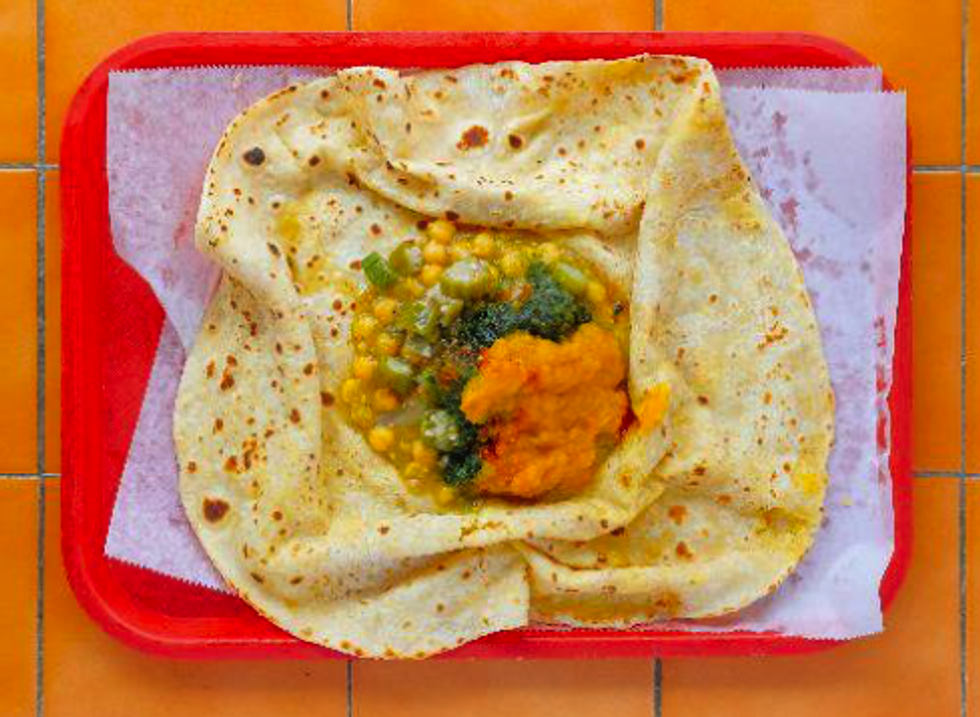 Jen's Roti ShopUber Eats
You would be hard pressed to find a New Yorker who hasn't had Jamaican food at least a few times in their lives, but fewer are as well versed in the wonders of its close cousin, Trini (Trinidadian) cuisine. When scores of Indian (and to a lesser degree, Chinese) indentured servants were brought to Trinidad in the mid 1800's, their respective cuisines mixed with the already established African fare in a beautiful way. Chana (curried chickpeas), Dahl (stewed Lentils), and Aloo (curried potatoes) are all traditional Indian staples which are ever present in Trini food. Doubles are small, round, naan-esque discs of perfectly chewy flatbread filled with Chana and oftentimes curried shrimp. Don't order them without pepper and tamarind sauce! Get yourself some home-made Sorrell (Hibiscus flower punch) with that as well.

Roti is, again, a flatbread filled with any curry of your choice—such as goat, chicken, shrimp—then eaten like a burrito (or not, if your curry has bones). Roti can also be eaten on the side as Buss-up shot. No order of roti is complete, however, without stewed pumpkin, aloo, and calaloo (like a Caribbean stewed spinach) thrown in as well. The Chinese influence becomes apparent when you stumble upon any of the Trini- Chinese dishes, most famous of all is Chow Mein: vegetables and noodles stir fried with chicken or shrimp. If you go to a Trini spot on a Sunday you might have a chance to try curry crab and dumplings. When you're finished, order a slice of Rum Cake or Pone (a super moist cake made from cassava).
It's difficult to find or even imagine food more delicious than that of the island of Trinidad, and Jen's Roti Shop on Flatbush in Brooklyn makes it as well as anybody in NYC. Suzi's Roti Parlour on Church Ave. is another great option and Bake and Things is very solid as well with several locations throughout Brooklyn.