If you're looking for a feel-good, fall comfort show, look no further than Abbott Elementary. Quinta Brunson delivers what Mindy Kahling's series often provide: non-stop laughter and a welcome relief from the harsh, morbid, trending serial killer shows.
---
Abbott Elementary is only one episode into its second season and it's already up there with Ted Lasso for me. Maybe it's nostalgia. Maybe just because I no longer live in the Philadelphia area, I'm missing home and resonating with the show. However, the show's cult fanbase and multiple Emmys tell me otherwise.
Like many good shows, it follows an Office-style format, where the actors are shooting documentary-style and directly addressing the camera one-on-one. The premise? It follows a group of teachers at Abbott Elementary, which is not the nicest school…or the most funded…or the most staffed. But Brunson's character, Janine Teagues, is determined to turn the place around.
There are familiar faces like Tyler James Williams, who played the title character in Everybody Hates Chris, and Lisa Ann Walter, who we know as Chessy in The Parent Trap. Both play teachers in Abbott who deal with disaster after disaster in this neglected school — and it's hysterical.
I love a show or movie centered around the City of Brotherly Love because Philly never gets enough credit. Sure, New York City is awesome and everything takes place there. But how about we get some love for the city known for its ooey-gooey cheesesteaks and insane sports fans?
Abbott Elementary is set in the heart of Philadelphia, not far from Lincoln Financial Field where the Philadelphia Eagles play. The show has everything Philly adores: a chippy personality, the word "jawn" (which refers to a person, place, or thing), plus references to their beloved Eagles, and the Philadelphia Flyers' scary but lovable mascot, Gritty.
If you're looking to visit this special city and get the authentic Philly experience Quinta Brunson-style…look no further. Here are my recs:
1. Get The Philly Sports Experience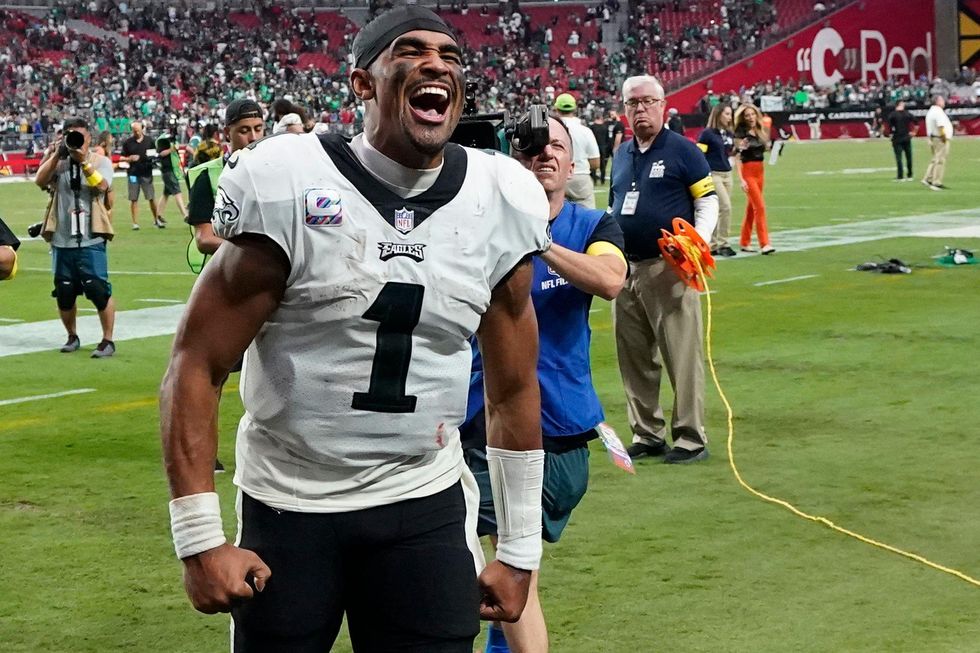 Philadelphia Eagles' Quarterback Jalen Hurts
Ross D Franklin/AP/Shutterstock
If there's one thing I know for sure: no city has sports fans like Philadelphia. They are ride or die. We have seen loss — a lot of it — and we're prepared to go down fighting (literally) alongside our professional teams.
You don't have to even remotely enjoy sports to enjoy a Philly sporting event. All stadiums are housed in one parking lot next to a huge bar, Xfinity Live. Naturally, thousands of fans gather in the parking lot to tailgate every week.
If you don't have the money for a ticket, spend your day in the bar! Xfinity has a ton of screens, a live DJ, food — and even a mechanical bull.
PRO TIP: If you aren't a fan of Philly sports…don't tell a soul. My friend wore full New York Giants gear to a game and got boo'ed from the moment she stepped out of the Uber.
2. Let's Talk Cheesesteaks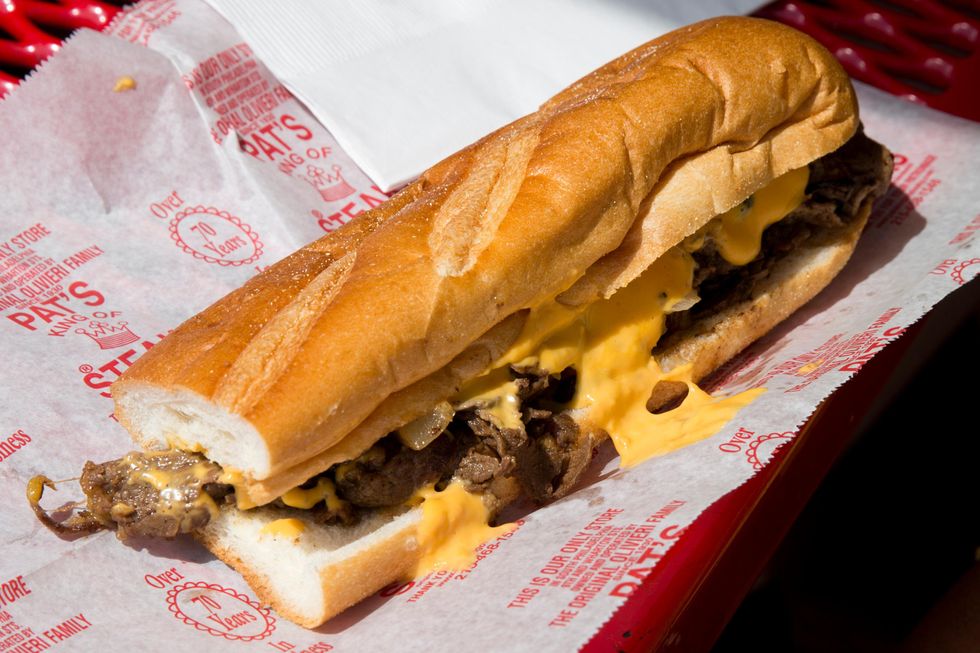 Pat's Cheesesteaks
Matt Rourke/AP/Shutterstock
Please, please, please do not go to Pat's or Geno's. They may be famous, but not for good reason. They have the worst possible cheesesteak in Philly. And somehow, because they've got a trillion lights, people hail them the most famous in the world. Yikes!
My pick? Jim's on South Street or D'Alessandro's. If you're a follower of Barstool and Dave Portnoy, Angelo's Pizzeria makes a mean cheesesteak with homemade bread.
Also…get your order right. Know your cheese before you step up to the counter. And make a decision if you want fried onions or not - aka wit or witout. My order? Whiz wit - aka cheese whiz with onions.
3. Get The Best Fried Chicken According To Abbott
Abbott Elementary makes a lot of local references to writer/producer/actress Quinta Brunson's Philadelphia. She even mentions some of the city's fave fried chicken places. While we know all about the Popeye's sandwich, there are a ton of local spots that are much better.
Go to Crown Fried Chicken for one of the most popular fried chicken places in the show. Or, try Danny's Wok, which has three locations around Philadelphia and has been hailed the as best fried chicken in the city.
4. Take A History Walking Tour 
Philadelphia is full of historical events and home of the Liberty Bell. I've lost track of the number of times I took school trips to Independence Hall or the Betsy Ross House…but everyone should make this pilgrimage at least once.
Everything's pretty close together and there are plenty of walking tours to jog your memory if you've forgotten your US history basics. You'll see the birthplace of the American flag, the U.S. Constitution, and the Declaration of Independence. Stop by Christ Church and throw a penny on Benjamin Franklin's grave for good luck.
Philly has tours galore…so you'll have no trouble finding someone to guide you. One of my favorites was the Ride The Duck tour…where you go through the streets of Philadelphia and on the water in one unit.
There's good food, bars, history, and a whole lot of pride in Philly. Abbott Elementary may be a fictional show, but they make it true to the Philadelphian spirit — so waste no time walking around that jawn and get over to Philly asap!