Motels have a strange mythology to them. Anonymous, liminal, desolate, and home to millions of wayward men and their prostitutes in Hollywood movies, in some ways they're quintessential embodiments of postmodern American freedom. You can do anything you want in a motel room, as the unspoken saying goes.
Inevitably, some people have taken this nihilistic freedom too far. There are millions of spooky, derelict motels across this nation and in the movies, but even the Bates Motel has nothing on these real-life houses of horror.
1. The Tonopah Clown Motel
This is far-and-away the creepiest motel in America. Located on the edge of Nevada's Mojave Desert, the Tonopah Clown Motel is filled to the brim with terrifying circus clown statues.
Though the land around it is mostly empty, the closest attraction would be the Tonopah Cemetery, an attraction that's eerie in its own right. Combine the cemetery's proximity with the hundreds of clown statues that line the halls and fill the rooms of this bizarre motel, and you get the stuff of nightmares.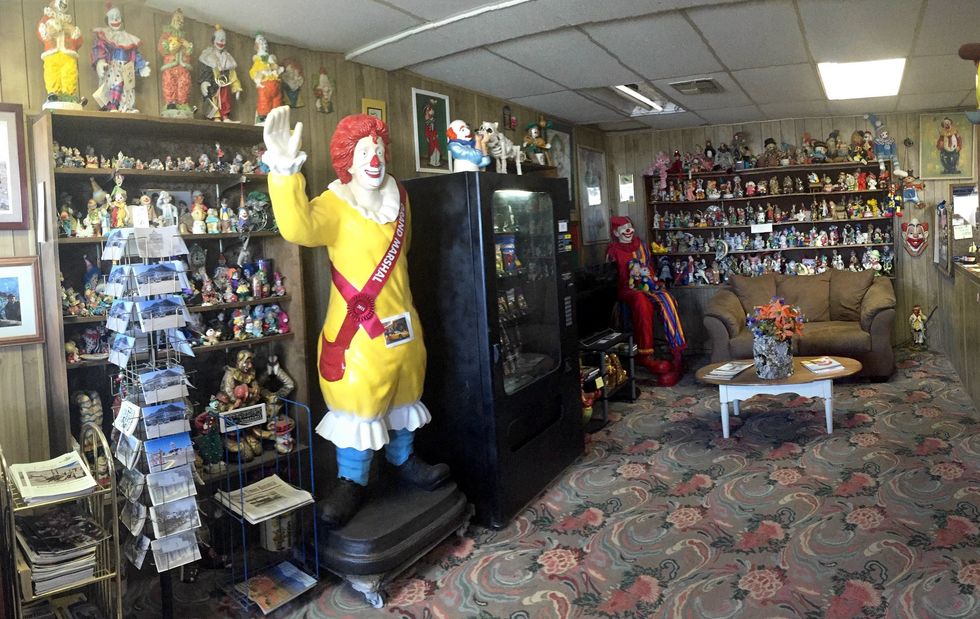 Image via The Kernel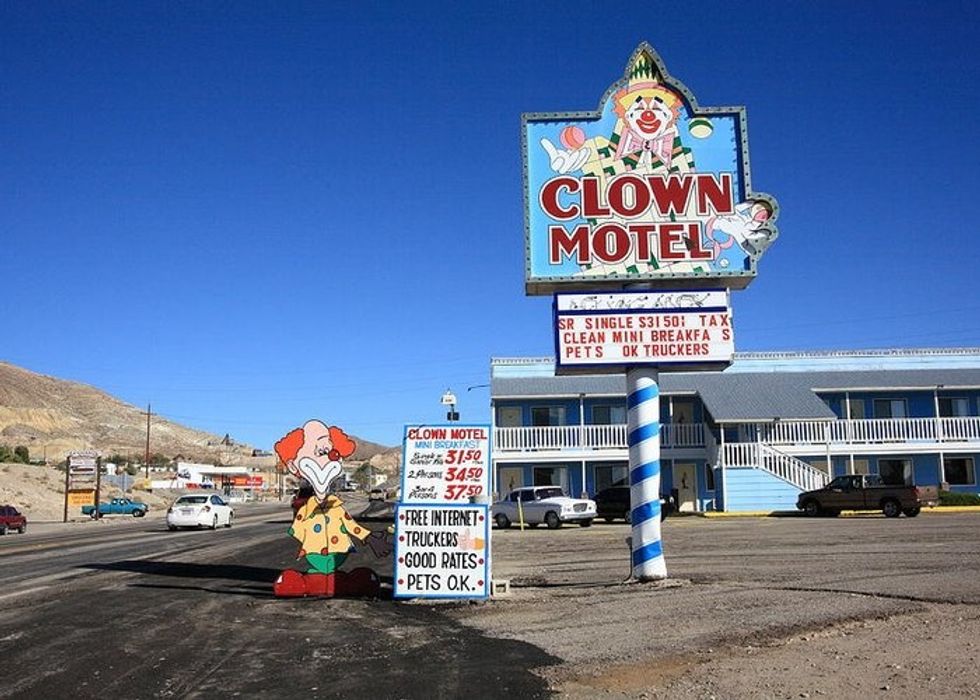 Image via fineartamerica.com
2. The Joshua Tree Inn
It's a known fact that people often die in motels. But just like the living don't often remain in motels, typically, ghosts don't tend to linger in the rooms where they died. Apparently, this establishment differs from most in that it has a permanent ghost: the spirit of folk singer Graham Parsons, who allegedly haunts Room #8 of the Joshua Tree Inn.
If you visit, you can even stay in the room where Parsons died—or add to the small memorial outside, which is made up of animal skulls, stone angels, cigarette butts, and clumps of sage, according to one visitor. People frequently make pilgrimages there to commune with their favorite country-western spirit.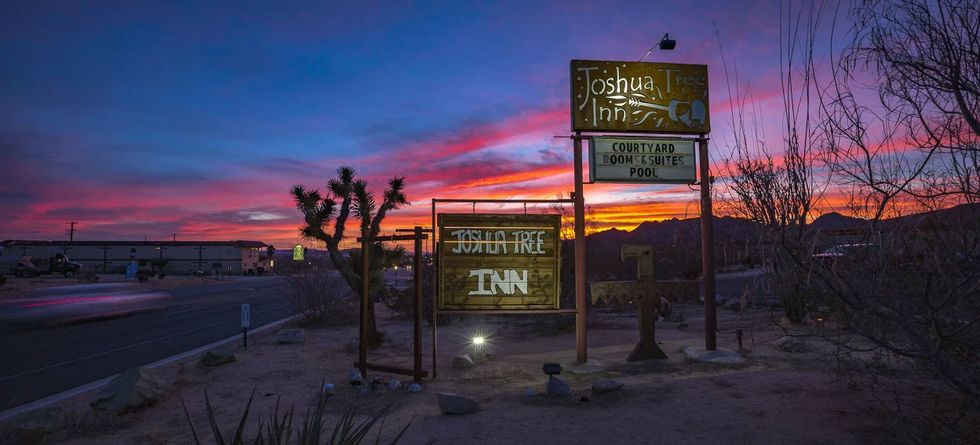 Image via joshuatreeinn.com
3. The Deerfield Inn
This Massachusetts lodging is the subject of dozens of ghost stories, and its owners lead ghost tours throughout the year. One of the stories alleges that its former owner held seances in her room to summon her dead husband. Another involves a ghost named Herschel, who sometimes shows up to throw books and spook guests.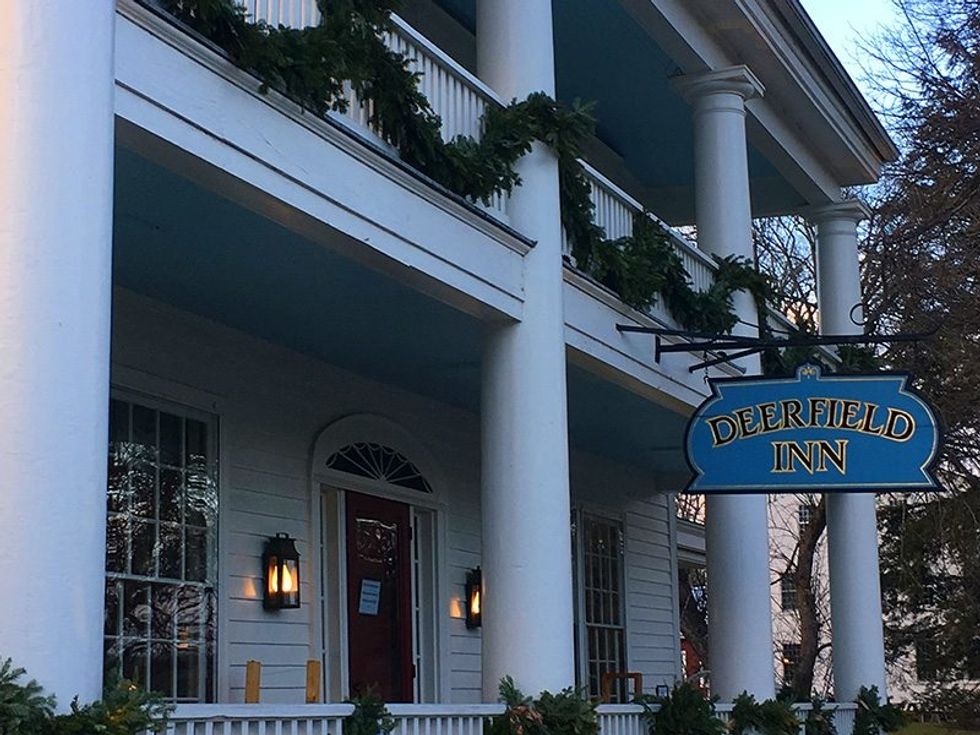 Image via Contented Traveler
4. The Manor House Motel
The owner of this now-defunct motel is the subject of the recent Netflix documentary, Voyeur, because of the fact that he used to spy on all of his guests through little holes that he carved in the walls.
You read that right: Gerald Foos purchased the Manor House Motel in Aurora, Colorado and proceeded to install grilles in the ceilings of each room without guests' knowledge. He later claimed that he was conducting research about sexual behaviors.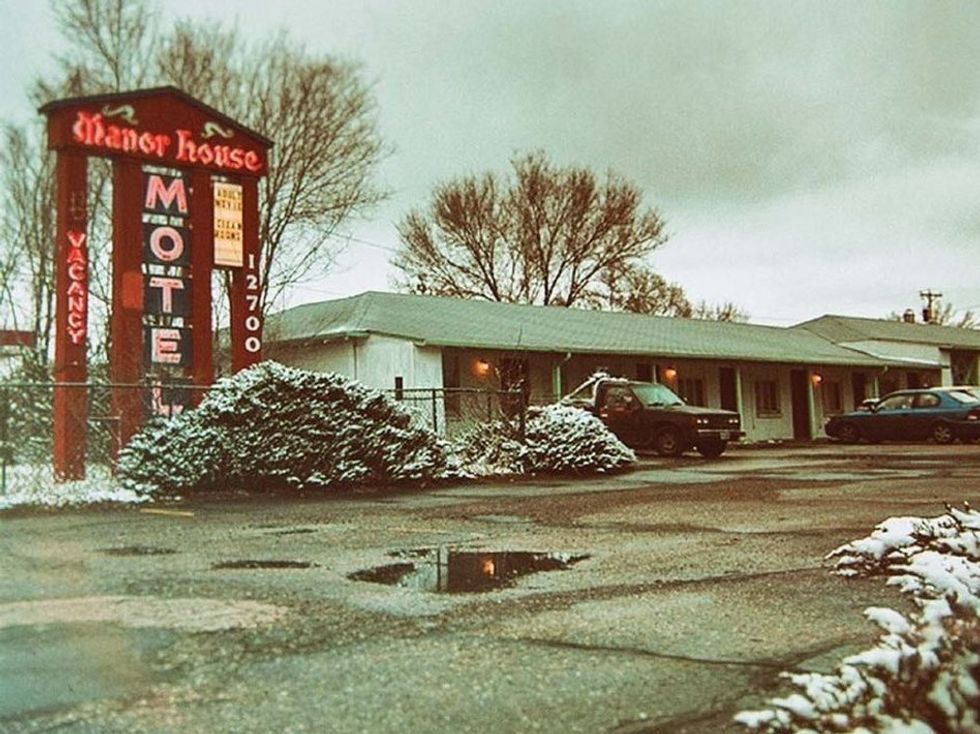 Image via WBUR
5. The Amboy Ghost Town Motel
This motel was always creepy because of the fact that it's located in the California ghost town of Amboy. Originally established as a railroad station, this town was bustling until the construction of the I-40 in 1973, effectively directing most traffic and capital away and leading to the town's abandonment.
In 2016, several travelers explored the ghost town, snapping photos of the creative art installations that filled some of its decaying little houses. Only after they left did they notice something bone-chilling: There seemed to be a bloodstain in one of the rooms of the abandoned Amboy Motel. If you look closely you can see it, gory and unmissable, a sure sign of carnage (or, more likely, of a wayward filmmaker's presence).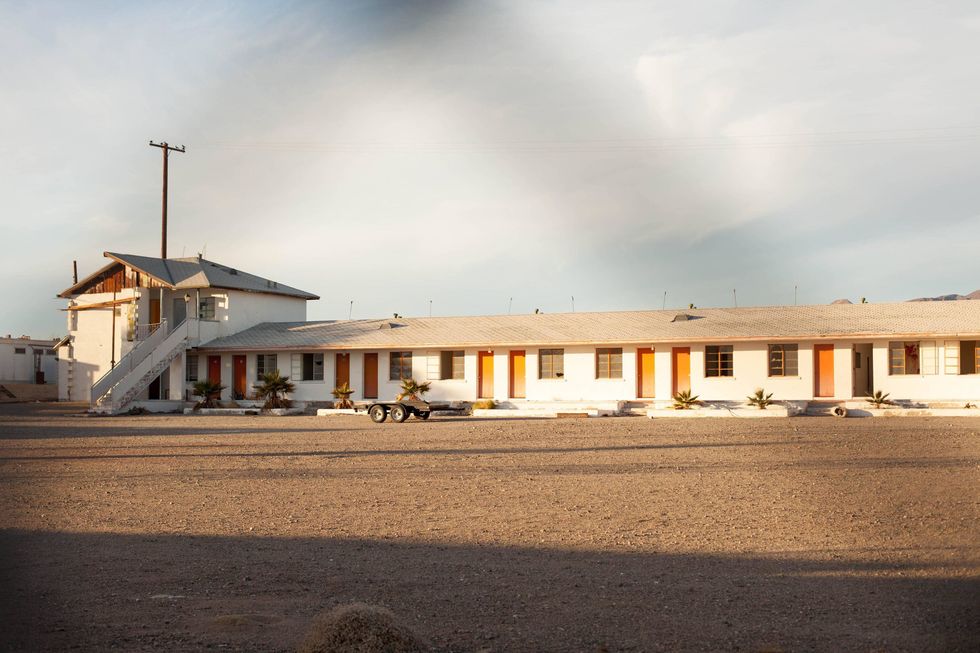 Image via Reddit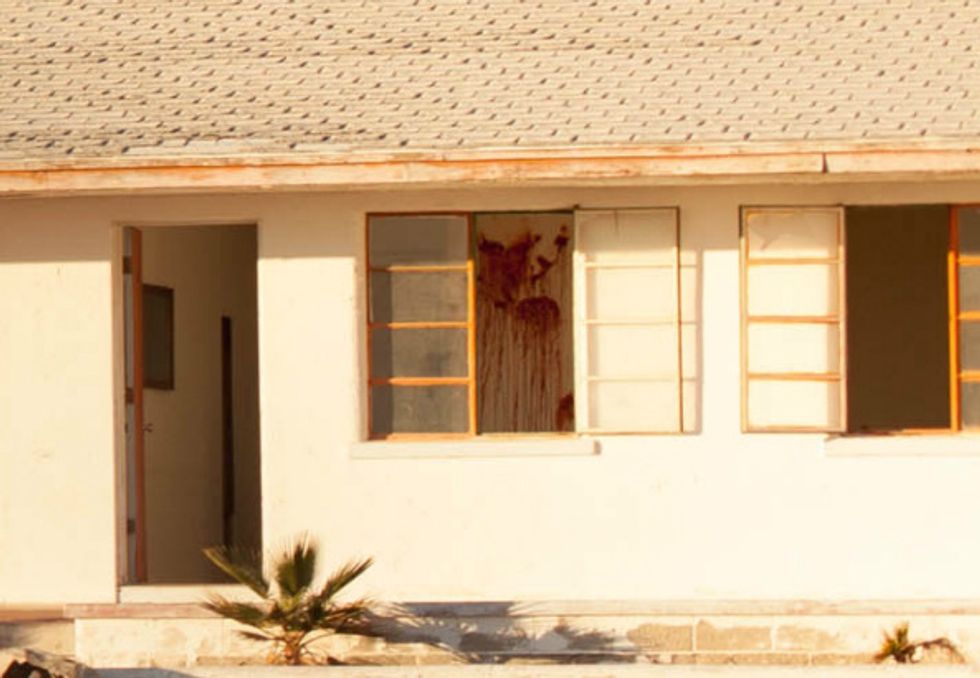 Image via boldtourist.com
6. Igloo City
What may have begun as a fun themed destination for tourists visiting Alaska has now become a grim, abandoned hull of what it once was. Igloo City is a destitute inn in Anchorage, made more ominous by a backdrop of dark trees and looming snow-covered mountains. And guess what: It's for sale, so if you're looking for a real fixer-upper that may or may not involve fighting ice demons, then this is your chance.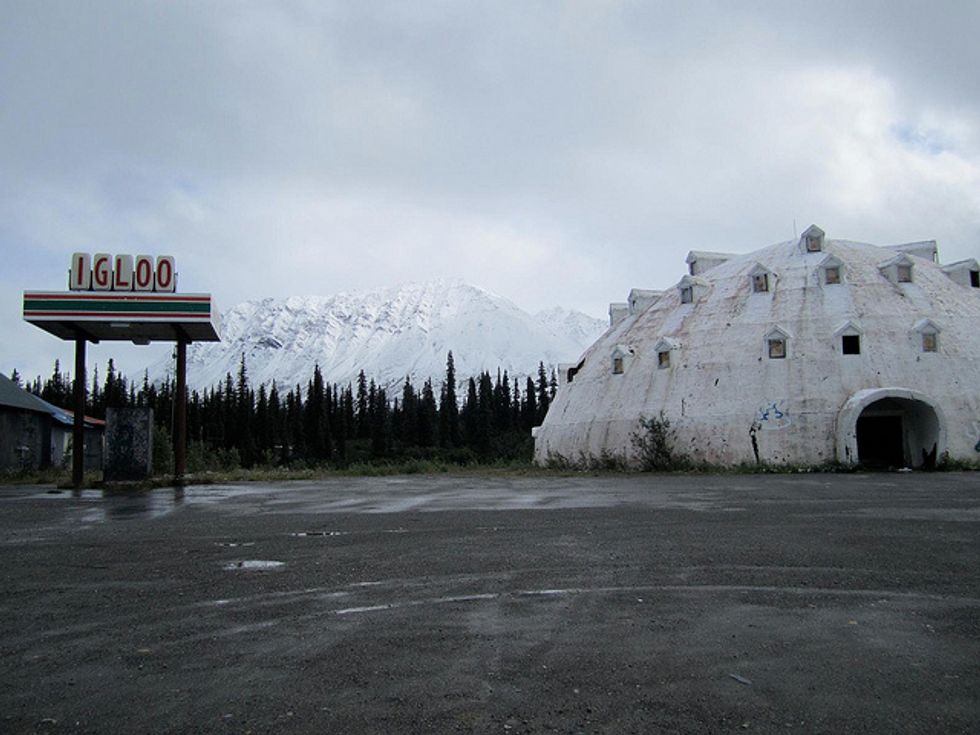 Image via Kuriositas
7. The New Sea Breeze Motel
This New Jersey motel may not have clowns or a resident ghost, but it's certainly seen its fair share of murder. Rumor has it that several prostitutes were killed inside its rooms, and the killer was never caught. The motel, which offers a cheap alternative to expensive seaside resorts near Atlantic City, has even been nicknamed "Hooker Killer Motel" by some reviewers, who also complained of disgusting internal conditions.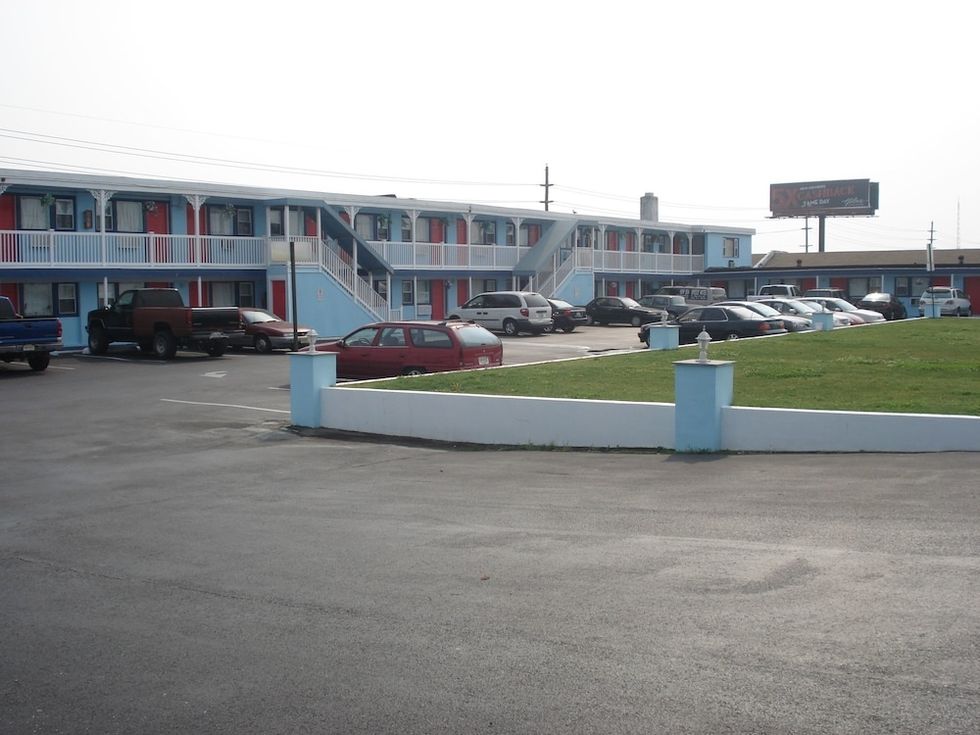 Image via Hotel Planner
The truth is that motels have long been safe houses for people in danger, places that allow people to disappear for a little while for all sorts of reasons. You'll find thousands of decaying, dirty motels across the nation—testaments to ruin, poverty, and transience, to secret lives and vagrancy, to road trips and runaways. If you wind up staying in one of them, you might just encounter some ghosts of your own; though it's more likely that you'll find a few roaches, an eerie silence, and the hum of your own thoughts to be the spookiest companions of all.