Sunken gardens can make stylish and unusual additions to any landscape. With a little digging and fortification, you too can create a unique garden that exists just below ground level. Whether you're seeking a new design concept for your backyard or a peaceful retreat from the world, these unusual gardens make perfect places to break free from the normative restrictions of ordinary gardens.

Sunken gardens are also strangely eerie, and can emanate unnatural, skewed auras, perhaps due to the disorienting nature of a garden submerged below the earth's surface. This has made these gardens into hotbeds of various myths and legends, in addition to being architectural and natural wonders.
Without further ado, here are six of America's loveliest and most intriguing sunken gardens.
1. The Sunken Garden in St. Petersburg, Florida
This four-acre Floridian park packs a lot of punch for its size. Full of winding, labyrinthine trails and populated by creatures such as butterflies, tortoises, brightly colored koi, and pink flamingos, that this garden exists is entirely thanks to the vision of a certain plumber. In 1902, George Turner, Sr. purchased a large lake in Florida and promptly drained it. He then turned it into a below-sea-level garden, starting with a few citrus trees. Today, the St. Petersburg Sunken Gardens are a local historic landmark. They were allowed to grow wild for many years, but restoration efforts have since returned the tropical vista to its original radiance.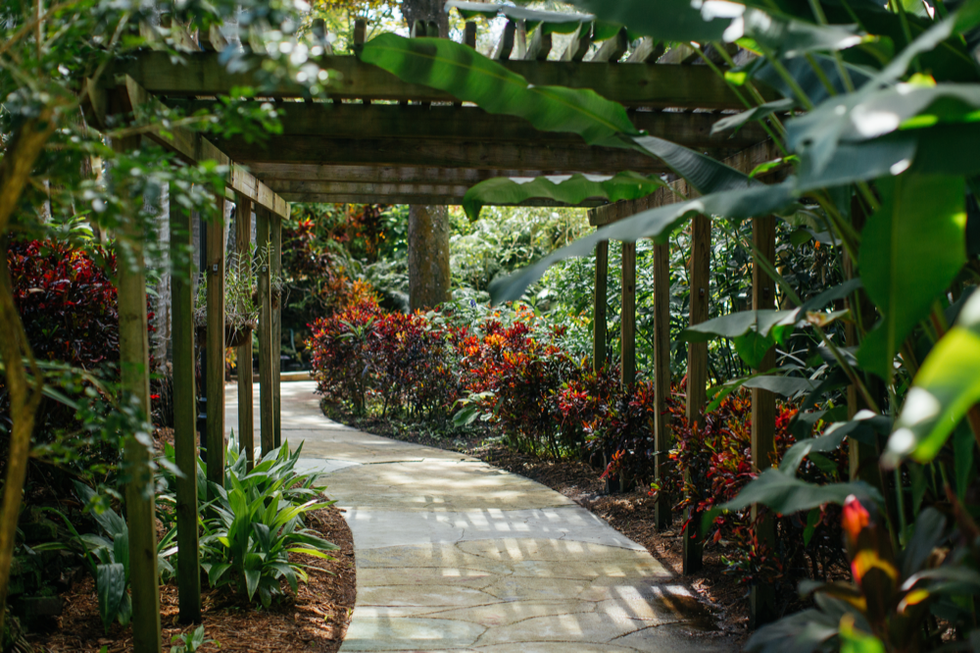 Image via Green Bench Monthly
2. Sunken Gardens, Huntington County, Indiana
These gardens began as a stone quarry, which was acquired by county residents in 1924. They proceeded to beautify it, installing features such as gazebos, a meandering river, and a stony bridge. Today, the garden is one of the two largest sunken gardens in the nation, and it's a popular place for weddings, gatherings, and contemplative retreats of all stripes.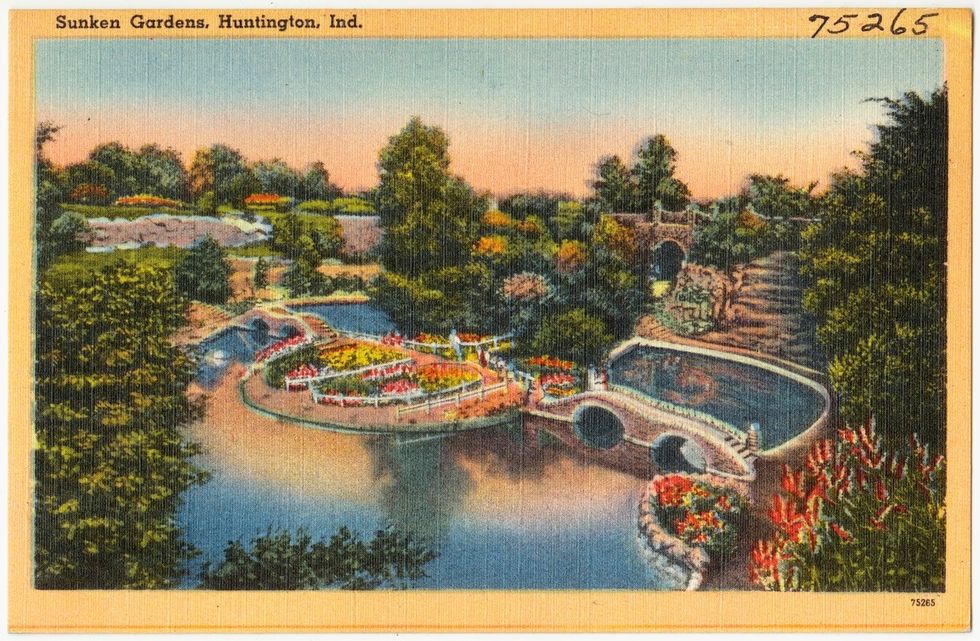 Image via Visual Commonwealth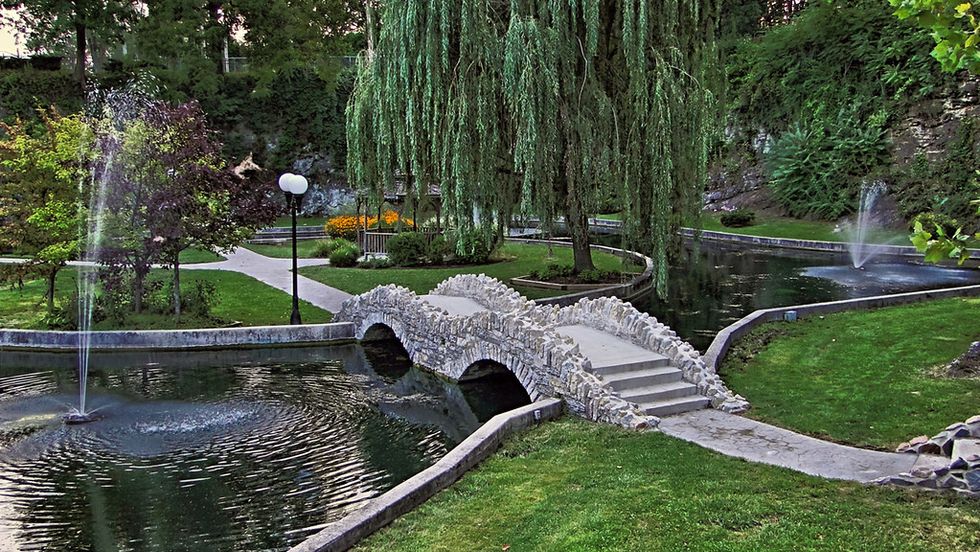 Image via Flickr
3. Sunken Gardens, Lincoln, Nebraska
This unnatural wonder features an annual floral display of over 30,000 individual blossoms, which correspond to a specific theme each year. In 2018, the theme was "Sun Salutations," meaning that the garden was lit up with an array of fiery orange and red floralia. It's the only garden in Nebraska to make the list of the top 300 gardens in the U.S., and it features a huge number of tulips, ferns, and perennial shrubs. The garden also contains a secret 'Healing Garden,' inspired by the famous White Garden of Sissinghurt Castle, England, which was created by Vita Sackville West (who was—fun fact—Virginia Woolf's longtime secret lover) and her husband Harold Nicholson in the 1930s.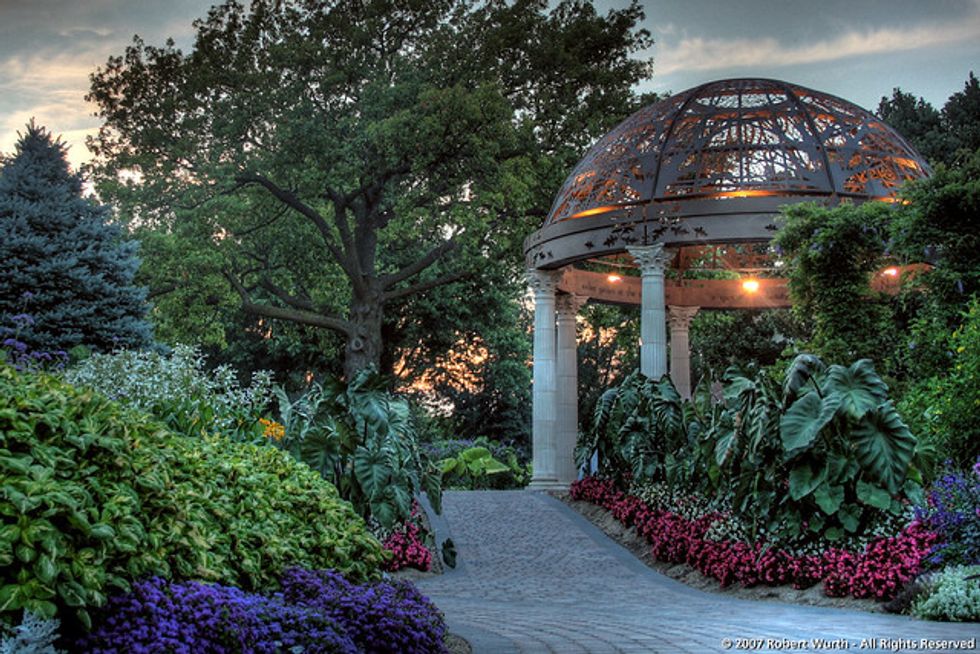 Image via Flickr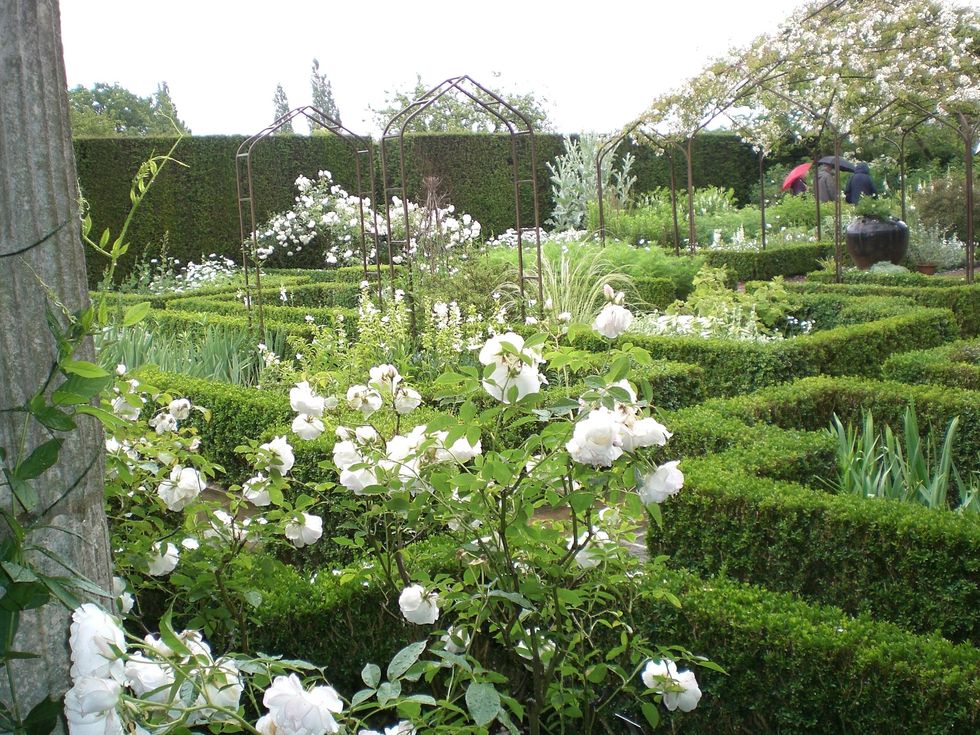 Vita Sackville-West's White Gardens, via Pinterest
4. San Antonio Japanese Tea Garden
As one of the most beautiful parks in San Antonio, Texas, this garden was also originally a rock quarry. It was then transformed into a lily pond, which was later drained to make way for the park it would become. Today, the park is a registered Texas Historic Landmark and has also garnered a spot on the National Register of Historic Places. It's a wonderland of limestone bridges, pagodas, koi-filled ponds, plants, a 60-foot waterfall, and other opulent natural wonders. Despite its idyllic appearance, the park has a bit of a fraught history. In 1917, efforts began to transform what was then a pond into a Japanese garden, and the Japanese-American artist Kimi Eizo Jingu was invited to design it. However, the Jingus were evicted when anti-Japanese sentiments overtook the U.S. in the 40s, and in an act of extreme disrespect, the garden was renamed the Chinese Tea Garden. Though its elaborately carved entrance sign still unfortunately reads "Chinese Tea Garden," the garden was publicly renamed in 1983, when City Councillor Van Archer announced the change and stated, "Officially renaming the sunken gardens will serve as at least a small and symbolic reparation for the wrongs suffered by an American minority group caught in the madness and hysteria of war."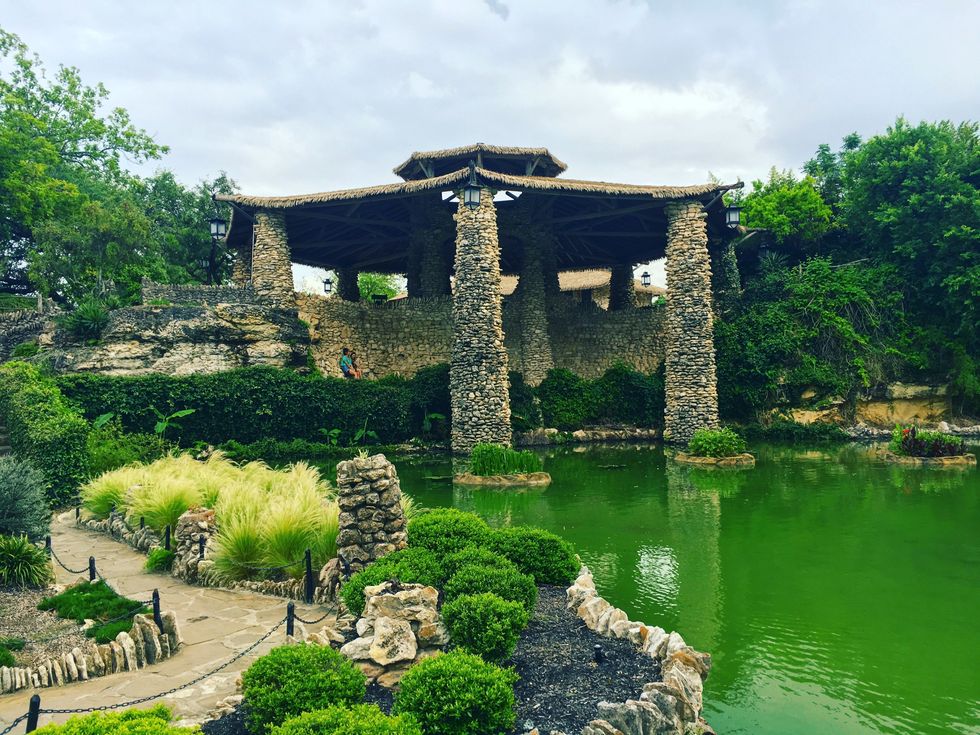 Image via Imgur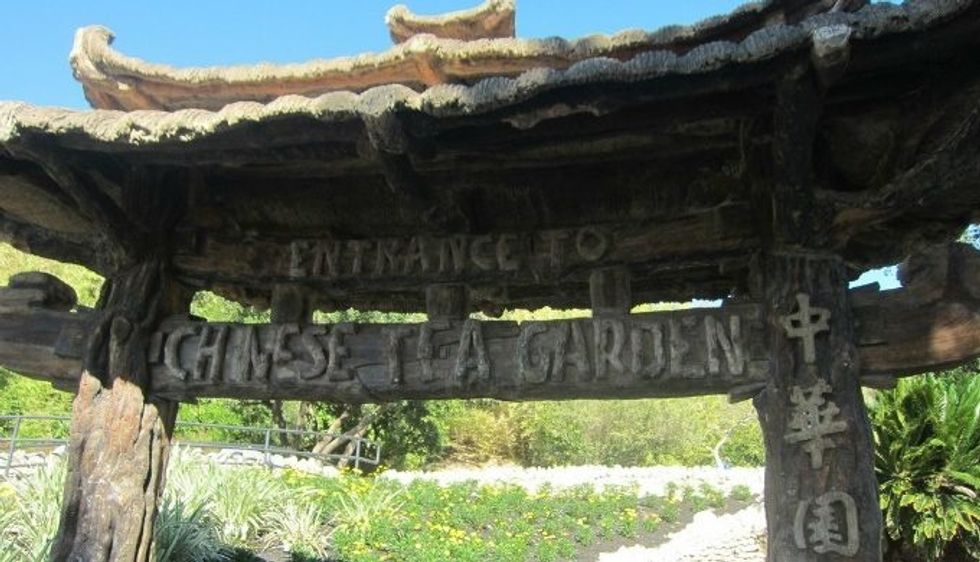 Image via Texas Hill Country
5. The Sunken Garden of William and Mary
Located at the heart of the historic West Virginia University, this sunken garden is a popular place for students to congregate on sunny days. Designed in the style of eighteenth-century English gardens, this landscape is "intended to uplift the spirit by leading the eye toward a distant, natural setting," according to the college's website.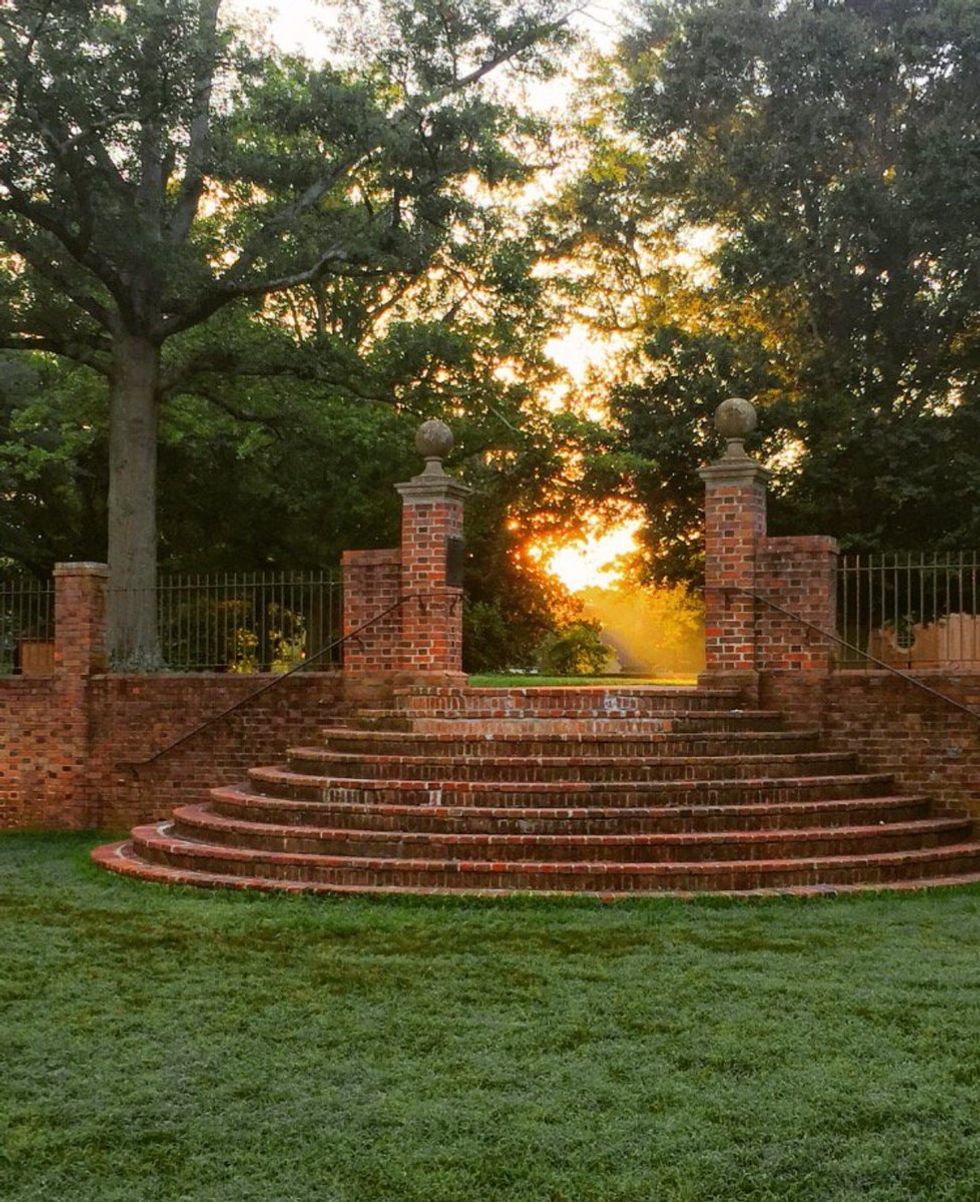 Image via Twitter
The gardens are oriented to look out over the Crim Dell, an iconic and historical bridge that Thomas Jefferson once insisted on preserving so "the College could look out forever on the Country." Today, the bridge is more of an emblem to natural beauty than patriotism, and it's emblazoned with a plaque that reads, "...[T]hat one may walk in beauty, discover the serenity of the quiet moment, and dispel the shadows." The same sentiment might apply to the sunken gardens—if they weren't so paranormally active. According to university folklore, the sunken garden at William and Mary is haunted by many spirits from colonial times, including the ghosts of Native American children and specters from George Washington's Northern Army encampment. It's also haunted by another odd fact: In 2009, the gardens were the location of a world-record-breaking achievement when the lawn became the location where the most people did the zombie dance to Michael Jackson's "Thriller" at one time.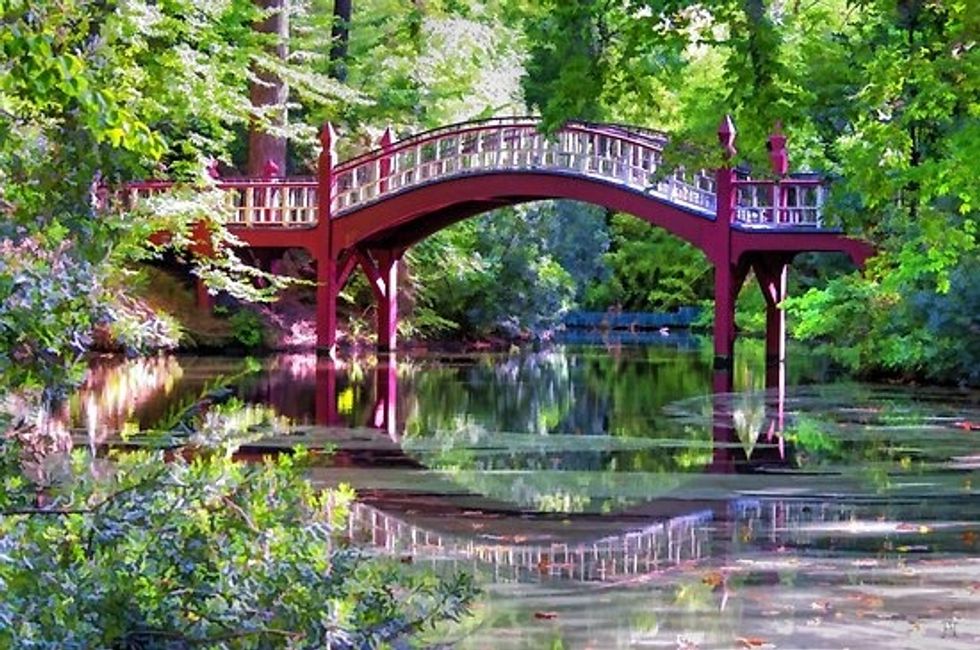 Image via Redbubble
6. The Sunken Gardens at Caramoor
In 1928, New York's Caramoor was purchased by a wealthy couple who became enraptured by the Italian villa's array of old gardens. Thanks to their efforts, some of those gardens have been successfully preserved to this day—including the old sunken garden, which provides a popular spot for wedding ceremonies, as well as a refuge for contemplation and communion with nature.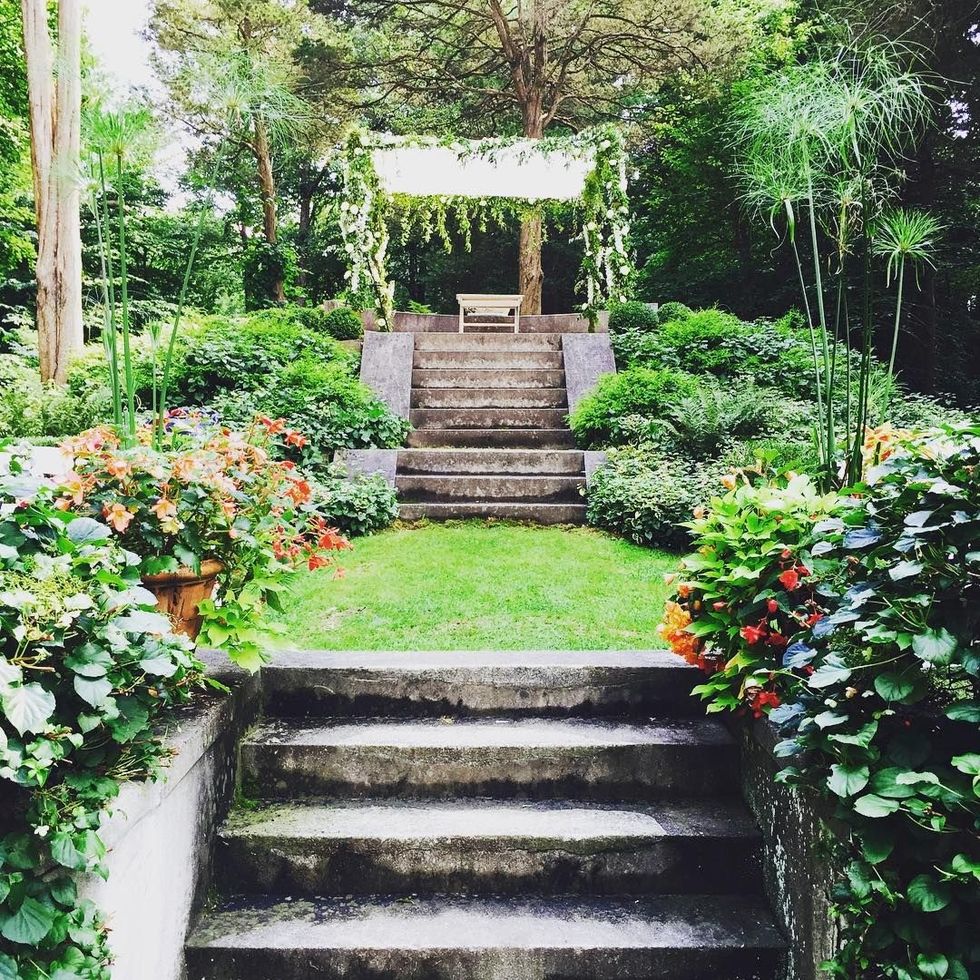 Image via Pinterest
In 2014, these gardens were the location of an interesting installation called "Sunken Gardens," created by composer Betsy Briggs, whose work is intended to "expose the beauty in the everyday." The exhibition was an audio installation, and featured an array of sounds that would be triggered as visitors walked throughout the garden. According to the artist's statement, "Unlike traditional music, visitors will play the piece non-linearly simply by walking through it." Caramoor's strange and peaceful sunken garden seems like a natural place for an art exhibit like this, one that molds the natural landscape into a mirror of human desire.
Sunken Gardenswww.youtube.com
7. The Sunken Garden at Warner Castle

Located near Rochester, New York, this castle was originally owned by Horatio Gates Warner in the mid-1800s. After that, it went through several iterations, including a stint as a sanatorium. Today, the Scottish-style fortress is undergoing renovation, but its gardens remain open to the public—including its most famous attraction, the sunken garden. Nestled at the crux of a stone fortress in the castle's backyard, the garden was designed in the 1930s by Alling DeForest, a land artist and student of Frederick Law Olmstead. According to legend, there's a sealed entrance to the castle's catacombs located somewhere in the sunken garden—and perhaps that's the origin point of the garden's mystical aura. Regardless of the source of its romantic mystique, this garden definitely feels like it's a time capsule from a past era.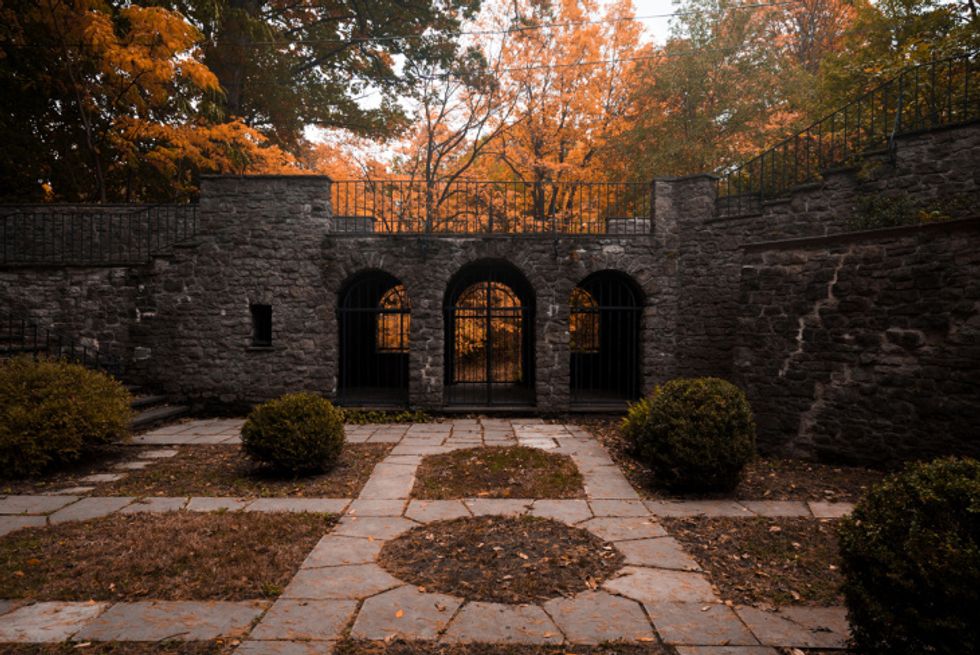 Warner Castle Sunken GardenImage via Harbors and Meadows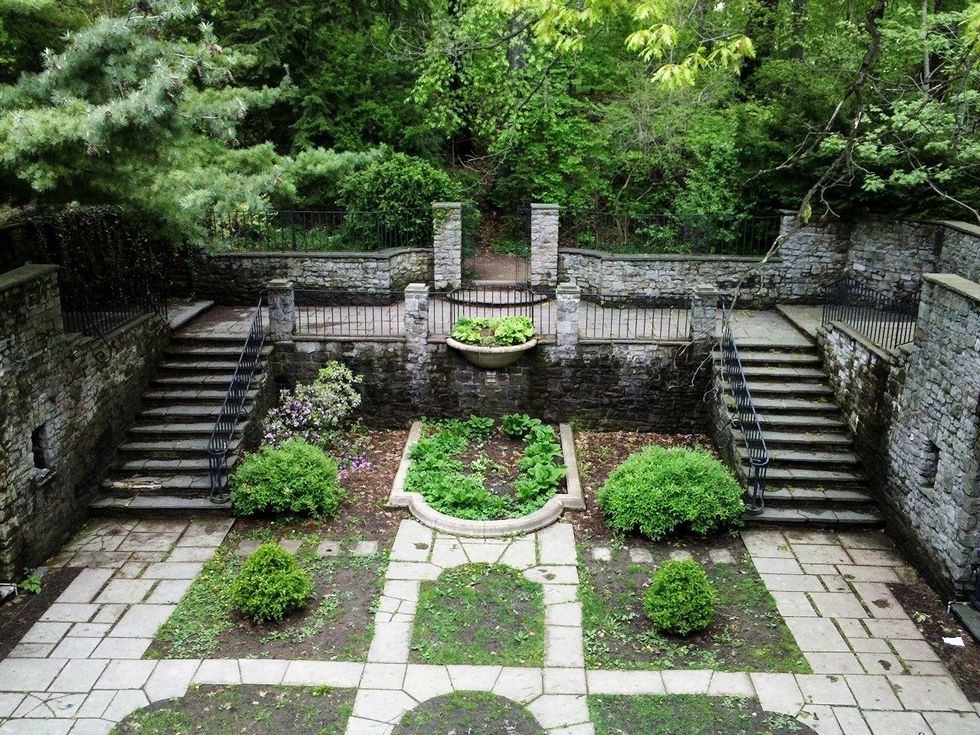 Image via Pinterest
Sunken gardens are places where human vision melds with the natural world to create something hauntingly beautiful. As the earth's climate continues to warm, we'll have to find ways to beautify and rewild all the empty, barren lakes and ruined landscapes that will result from all the droughts and wildfires, so perhaps we'll be seeing more sunken gardens crop up as the years go by. If you're inspired to create your own, be sure to check out some expert gardening tips, and get ready to start digging.