Animal sanctuaries for many species of animals in need are located throughout the world. Devoted to caring for rescued animals, these special places are dedicated to improving the lives of animals who may have been abused, neglected, or facing other hardships they don't deserve.
Here are seven must-visit animal sanctuaries making a difference in the lives of animals and an impact on the world.
The Wild Animal Sanctuary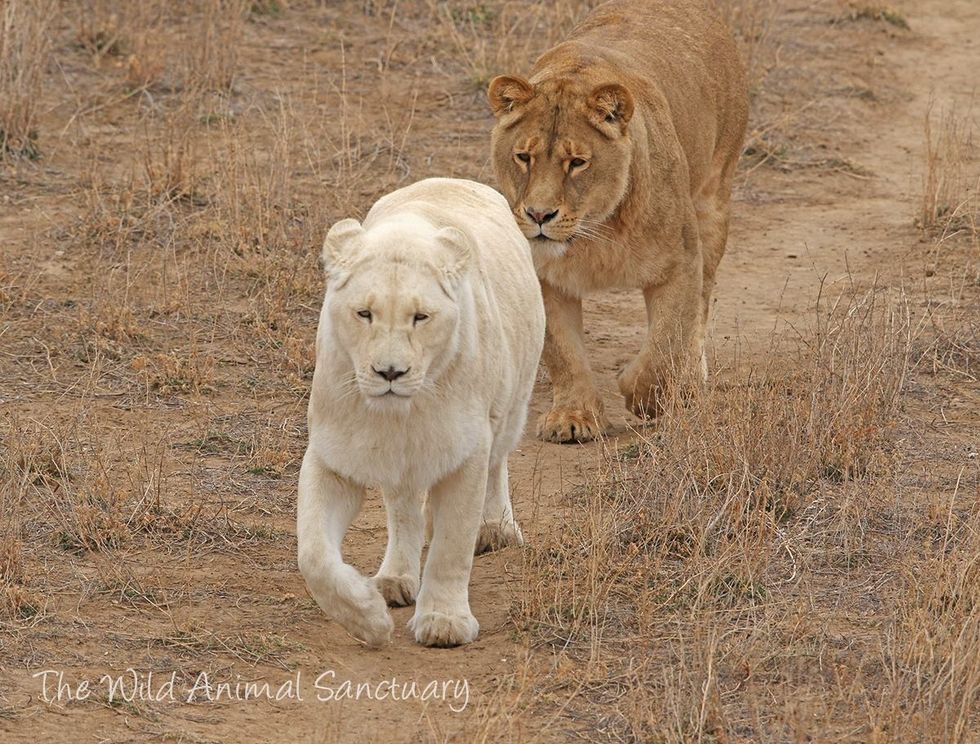 Via facebook.com/TheWildAnimalSanctuary
The Wild Animal Sanctuary is a 720-acre refuge for more than 450 tigers, lions, bears, leopards, wolves, and other rescued carnivores, as well as birds, camel, alpacas, and even cats and dogs located in Keenesburg, CO. "The sanctuary's two primary missions involve rescuing and caring for animals - and educating people about the Captive Wildlife Crisis." The animals live in open habitats and are visited by 150,000+ visitors every year. These animals were rescued from illegal or abusive conditions and rely on help from donors who care for these wild animals. Come see the beauty of the animals and the sanctuary itself as you walk along the sanctuary's 1.5-mile-long elevated walkway. The sanctuary offers school trips and group tours too.
2999 County Road 53
Keenesburg, CO 80643
Catskill Animal Sanctuary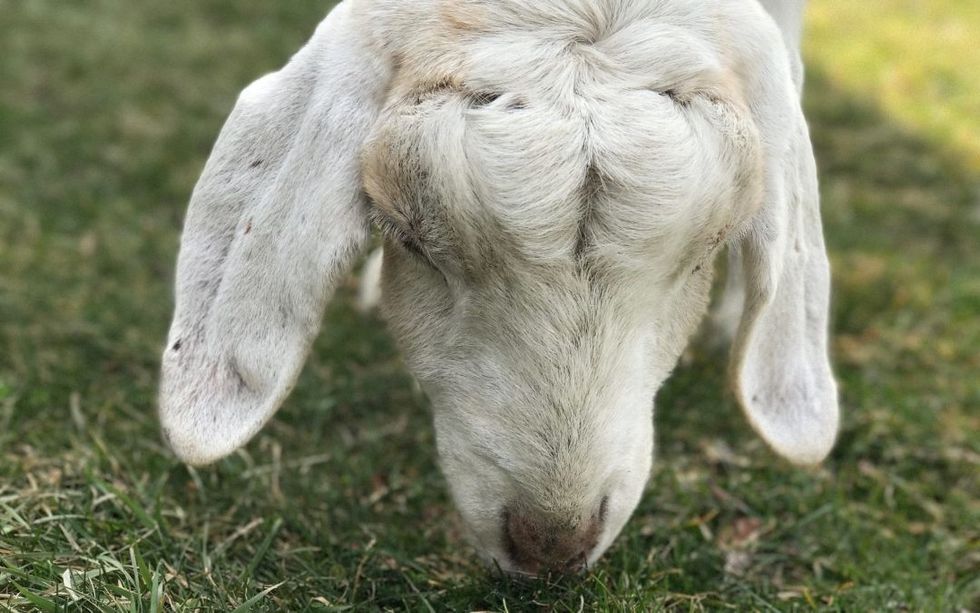 Via casanctuary.org
Located two hours north of New York City, Catskill Animal Sanctuaryrescues 11 species of farmed animals. The sanctuary is a 148-acre refuge which has been home to more than 4,000 animals who have faced cruelty, abandonment, and neglect since 2001. "In addition to direct animal aid, the Sanctuary offers a wide variety of programs and events (including on-site tours) designed to help people experience farm animals as the unique individuals they truly are, and to educate people about the institutionalized suffering of food animals on factory farms." Visit to see the pigs, horses, sheep, ducks, goats, turkeys, and other rescued animals who were given a new lease on life thanks to Catskill Animal Sanctuary. Tour the grounds and even stay at The Homestead, "a renovated pre-Civil War residence, restored using traditional building methods and eco-friendly salvaged materials. Guests enjoy a seasonal vegan breakfast and spend quality time with our nearly 300 rescued residents."
316 Old Stage Road
Saugerties, NY 12477
Big Cat Rescue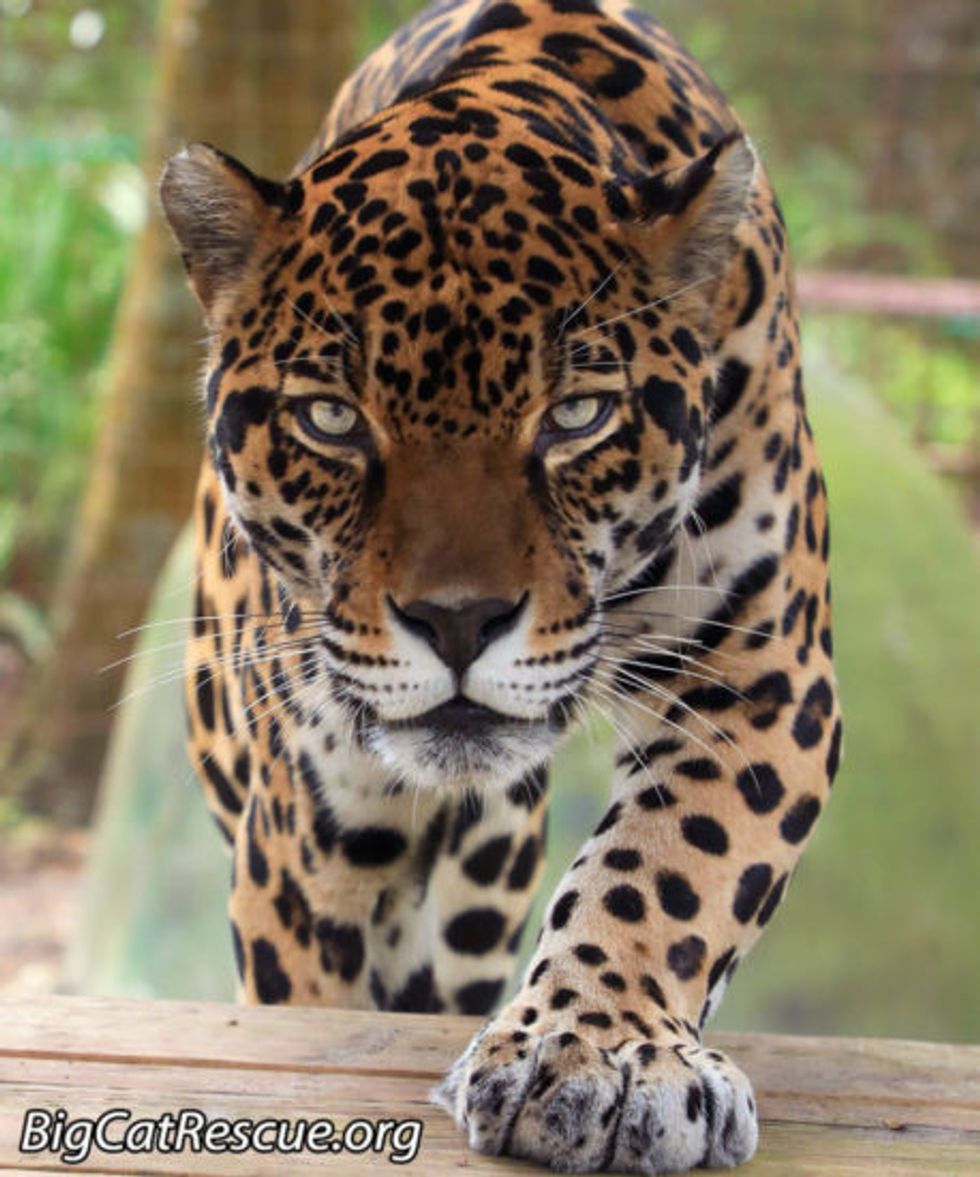 Via bigcatrescue.org
One of the largest accredited sanctuaries in the world committed to rescuing abandoned and abused big cats, Big Cat Rescuehas been around since 1992 doing good and making strides to protect animals and educate humans. More than 80 lions, tigers, cougars, lynx, ocelots, servals, bobcats, and other big cat species live at Big Cat Rescue, some of which are threatened, endangered, and even on the brink of extinction. Some of these big cats were saved from slaughter, some are retired from performing acts like circuses, some were turned in by people who thought they would make good house pets, and some were rescued as babies after their mothers were sadly killed by hunters. Visitors are welcome for tours (even night tours), field trips, and parties and weddings, and donations are always much-needed.
12802 Easy Street
Tampa, FL 33625
The Donkey Sanctuary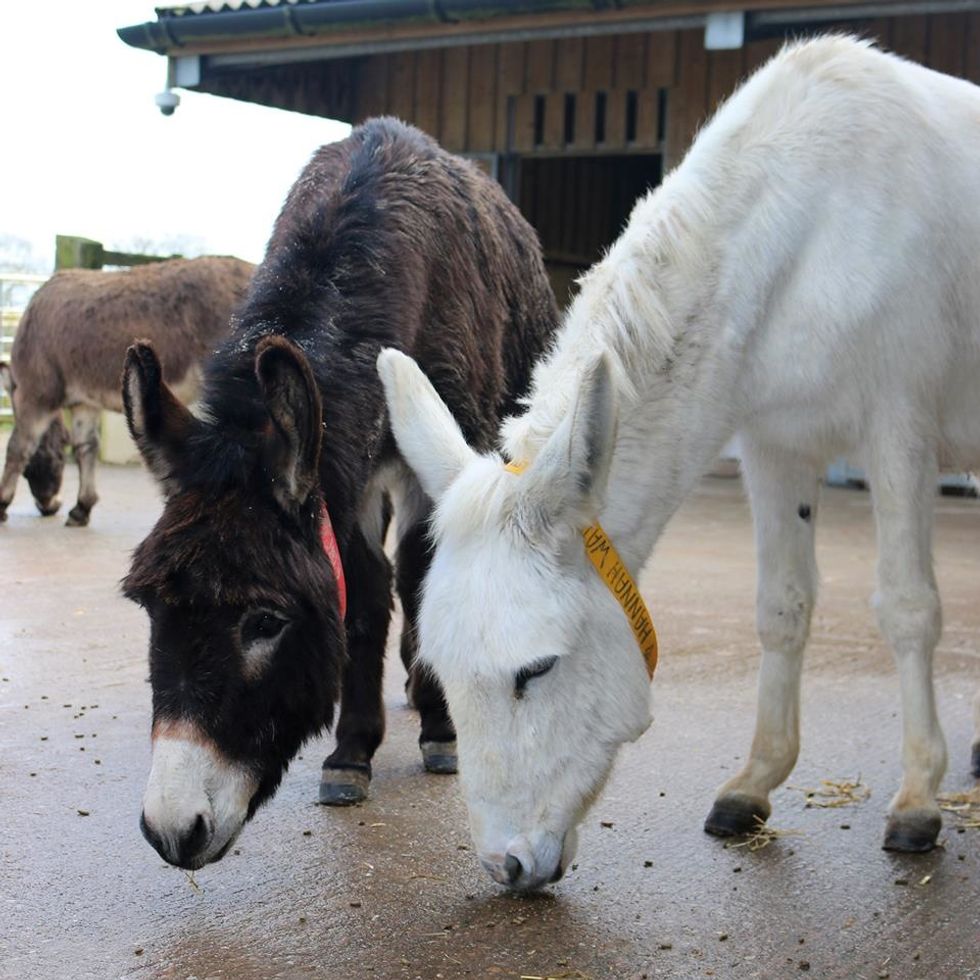 Via facebook.com/TheDonkeySanctuary
The Donkey Sanctuary began as a charity in 1969, and ever since, more than 15,500 donkeys and mules have been cared for in the UK, Ireland, and mainland Europe. "By 2018 we want to be able to give a helping hand to two million donkeys each year in 40 countries, to double the number of donkeys in foster care to 3,000 and to expand our donkey assisted therapy program in the United Kingdom and internationally." The Donkey Sanctuary never turns away a donkey in need, rescuing them from suffering as well as helping people who rely on the animals for their livelihoods. The sanctuary also conducts research in order to find new ways to care for donkeys and improve their welfare. Visit the East Devon location which is set along the Jurassic Coast. Beautiful and majestic, the setting is as spectacular as the wonderful work the sanctuary continues to do. Visitors can even "adopt" a donkey by donating to their welfare, and they'll get postcards, a certificate, portraits, and updates on the animal's well-being and progress.
Slade House Farm Sidmouth
Devon, England EX10 0NU
Woodstock Farm Sanctuary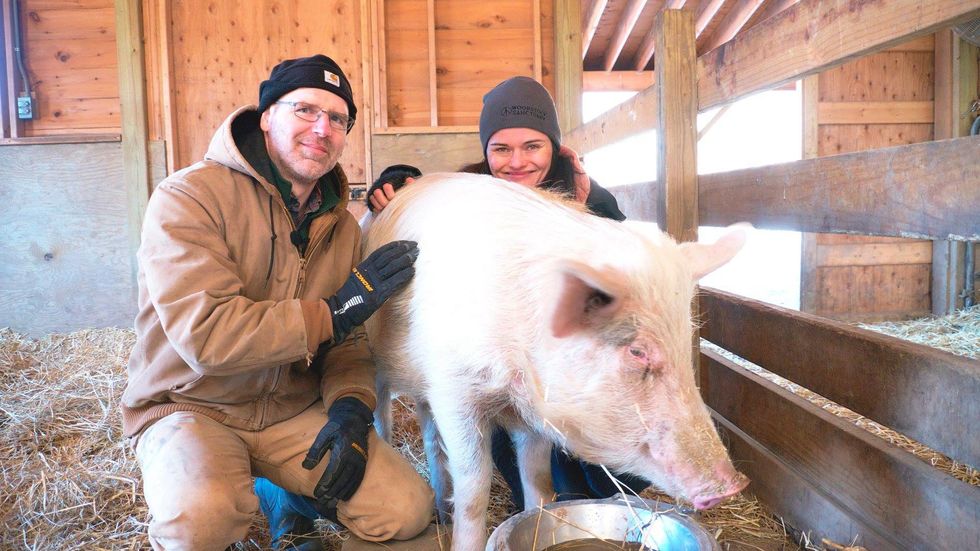 Via facebook.com/WoodstockFarm
Woodstock Farm Sanctuary is committed to rescuing farmed animals and giving them a safe and caring space to live without pain or cruelty. "Our animal residents are given lifelong sanctuary and are treated with respect as individuals. By giving farmed animals the chance to live their lives with dignity and by sharing their stories, we advocate for veganism and aim to reduce suffering for all." Visitors are welcome on weekends from April – October, with a modest admission fee for adults and kids. Tours of the farm are available where folks can see the yards and vast pastures, as well as learn about the animals' rescue stories. See rabbits, pigs, cows, horses, sheep, and other farm animals who have been given a second chance for a peaceful existence. Those who are interested can donate to the sanctuary or even sponsor a specific animal to cover their expenses for food, care, and shelter.
2 Rescue Road
High Falls, NY 12440
Elephant Nature Park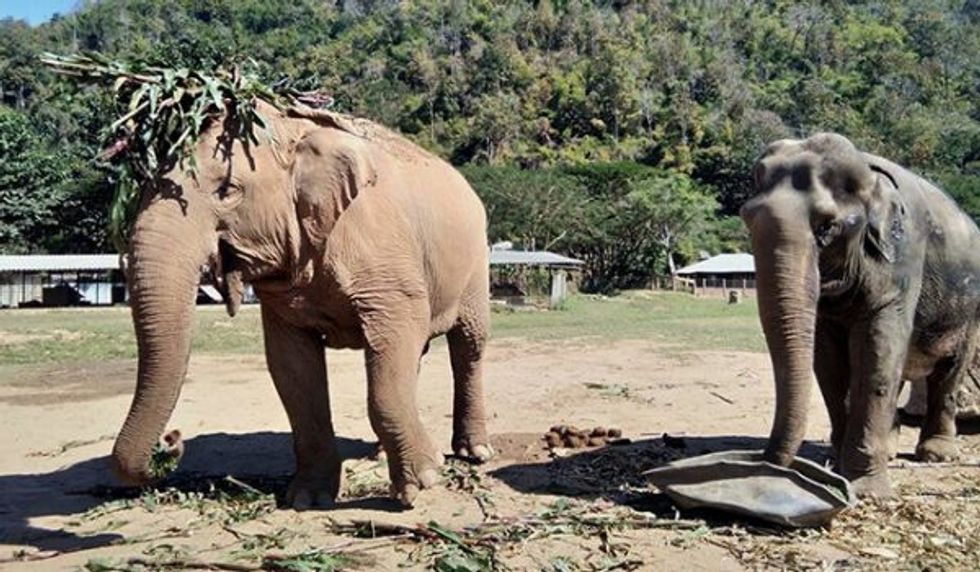 Via elephantnaturepark.org
Northern Thailand is the home of Elephant Nature Park, an elephant rescue and rehab center. Along with the dozens of rescued elephants, the park is also home to dogs, cats, buffaloes, and other animals in need of care. The park provides a home for these animals as well as a contribution to their welfare and development. A visit can include a trip around the park where visitors can see mud-bathing elephants, feeding time, and receive education about the elephants. Those who want to make more of their visit can opt for an overnight stay with a sleepover "in the midst of a thriving elephant herd." See the breathtaking northern mountains, the elephant trails, and the surrounding marvels of nature. Volunteers are sought, and donations and sponsorships are forever appreciated.
1 Ratmakka Road, Phra Sing,
Chiang Mai 50200, Thailand
"Libearty" Bear Sanctuary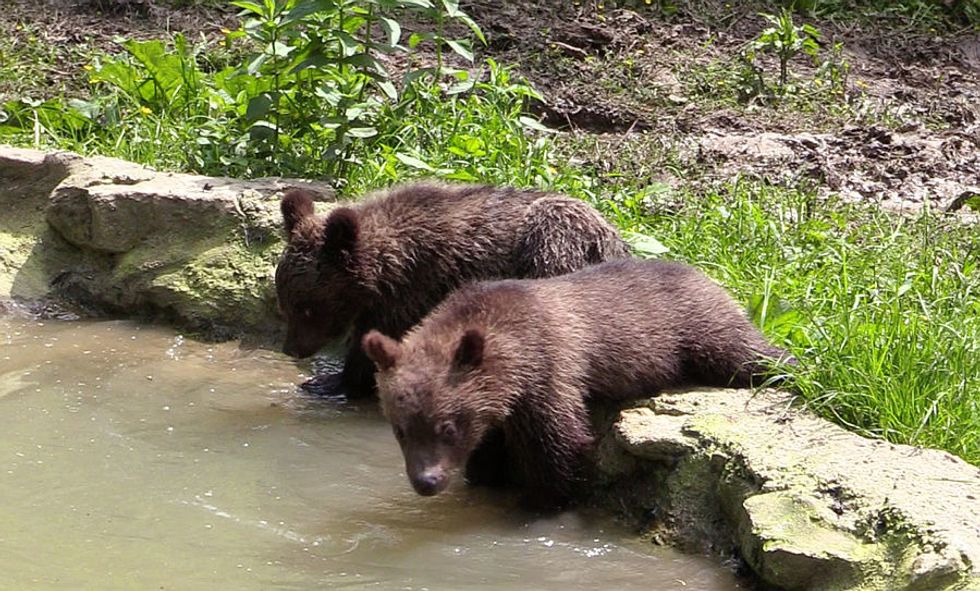 Via ampbears.ro
Since its inception, Libearty Bear Sanctuary in Romania has rescued 105 bears from abuse. "Many were caged on the terraces in front of restaurants, hotels, guesthouses, lodges and gas stations, as tourist attractions. There were also cases of 'overwhelming love' of some people who, instead of letting the bears live in their natural forest environment, they preferred to keep them behind bars as pets in factories, monasteries or mini-zoos arranged in their own households." This sanctuary, the largest of its kind, is home to brown bears, and is located on 69 hectares of magnificent oak forest. Groups and tours are welcome, donations are appreciated, and education about the welfare of these bears is important to the sanctuary to pass along.
Str. Rovine nr. 7
Brasov, 50007, Romania
Make a difference in the lives of rescued animals by supporting sanctuaries. Every animal counts.