Is there a better way to start the day than with a cup of coffee? Whether you like your coffee black, something sweeter with a hint of vanilla or the classic cappuccino, the coffee beans make all the difference.
Not everyone knows that big brands often use "machine harvesting," resulting in stale, low-grade beans. We compared 2 top corporate brands to personalized, sustainably-sourced coffee beans from Atlas Coffee Club.
When it comes to coffee, our editors demand 3 main criteria - convenience, quality/freshness, and affordability. So we contrasted this innovative coffee subscription service to Starbucks and Dunkin'.
Here's what our editors found:
Key Similarities
All offer whole bean or ground coffee
All offer decaf options
All have a range of blends
Key Differences
Atlas Coffee Club is subscription-based | At Starbucks and Dunkin' you must buy bags as needed
Atlas Coffee Club doesn't use environmentally-unfriendly pods | Starbucks and Dunkin' have pods
Atlas Coffee Club's international coffees take you on a world tour | Starbucks and Dunkin' offer a small range of run-of-the-mill flavors
Atlas Coffee Club delivers every 2 or 4 weeks | Starbucks and Dunkin' are stocked onsite, in grocery stores or on online sites
Atlas Coffee Club costs $7 for 12oz | Starbucks is $9 for 11oz | Dunkin' costs $7 for 11oz
Atlas Coffee Club Overview
Atlas Coffee Club is a subscription-based company that delivers sustainably-sourced, single-origin coffee right to your doorstep. They feature coffee from 50+ countries like Tanzania, Papua New Guinea, Guatemala, India, and Ecuador.
Each month you can explore a different region through colorful postcards that are included in your delivery. Atlas Coffee Club acts as a personal coffee guide that helps you source the rarest and highest-quality coffee.
Atlas Coffee Club never uses machine harvesting. They focus on freshness and roast the coffee just before shipping to make sure it's as fresh as can be.
Once you sign up, select the number of bags: double bag (24oz, 60 cups), single bag (12oz, 30 cups) or a half bag (6oz,15 cups). Then click how often you'd like to receive them - every 2 or 4 weeks.
In terms of roast levels, Atlas has something for everyone. There's light-medium and medium-dark with a preference between ground or whole bean.
Coffee's rich flavors vary from country to country due to the soil, climate, and other natural factors. Each blend has unique flavors such as Ethiopia's Rasberry, Blueberry, and Sweet Chocolate; Guatemala's Cherry and Chocolate; and the Indonesian coffee is packed with Earthy, Bell Pepper and Rich Chocolate flavors. Atlas Coffee Club provides cool info about various blends by including descriptive tasting notes for each bag.
Their coffee is specialty-grade - the top 1% of the coffee grown in the world - and costs only $7 for a single bag and $28 for a double bag. And their subscription is completely flexible - you can pause, skip, or opt-out at anytime.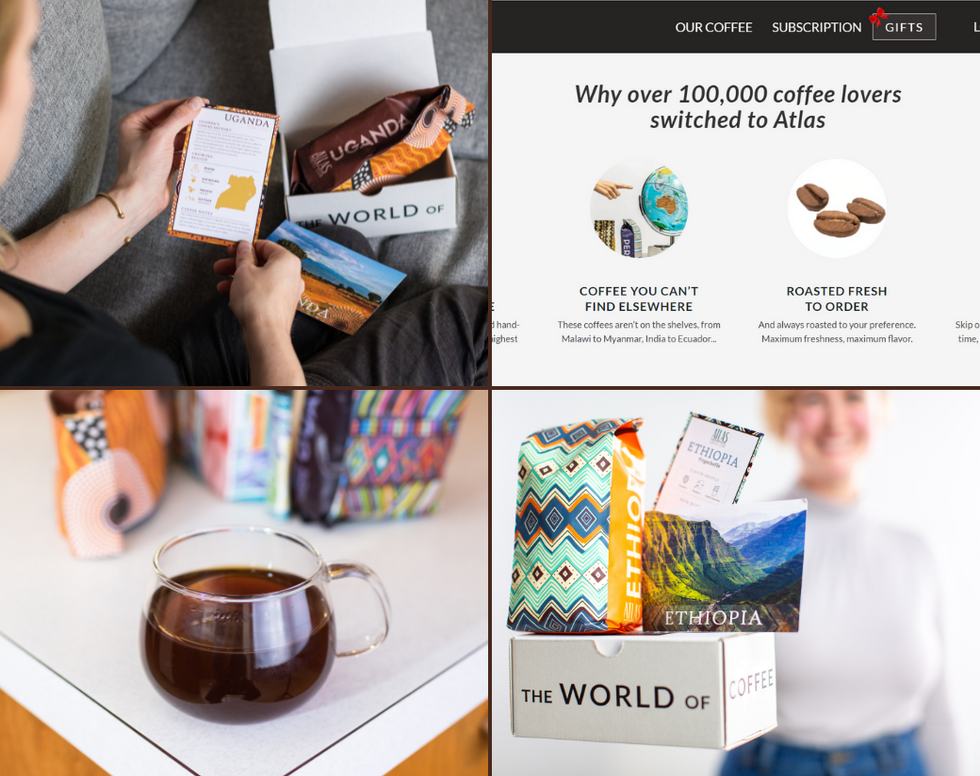 Starbucks Overview
We all know that Starbucks is one of the most famous brands ever. That's thanks to their ubiquity and a wide selection of popular flavors like Espresso Roast, Vanilla-flavored, Caramel, and Holiday blends.
Starbucks offers pods, whole or ground beans. If you aren't sure which coffee you'd like, they have a 3 question quiz that helps you discover that. Starbucks also carries rare and extraordinary coffees from Hawaii, Shanghai, and Tokyo.
Plus, they recently teamed up with Uber Eats for delivery. However, this involves having an account rather than sitting back and waiting for your monthly delivery to arrive on schedule. Or, you can physically go to the store and pick them up.
The prices of Starbucks coffee vary but cost around $9 for 11oz.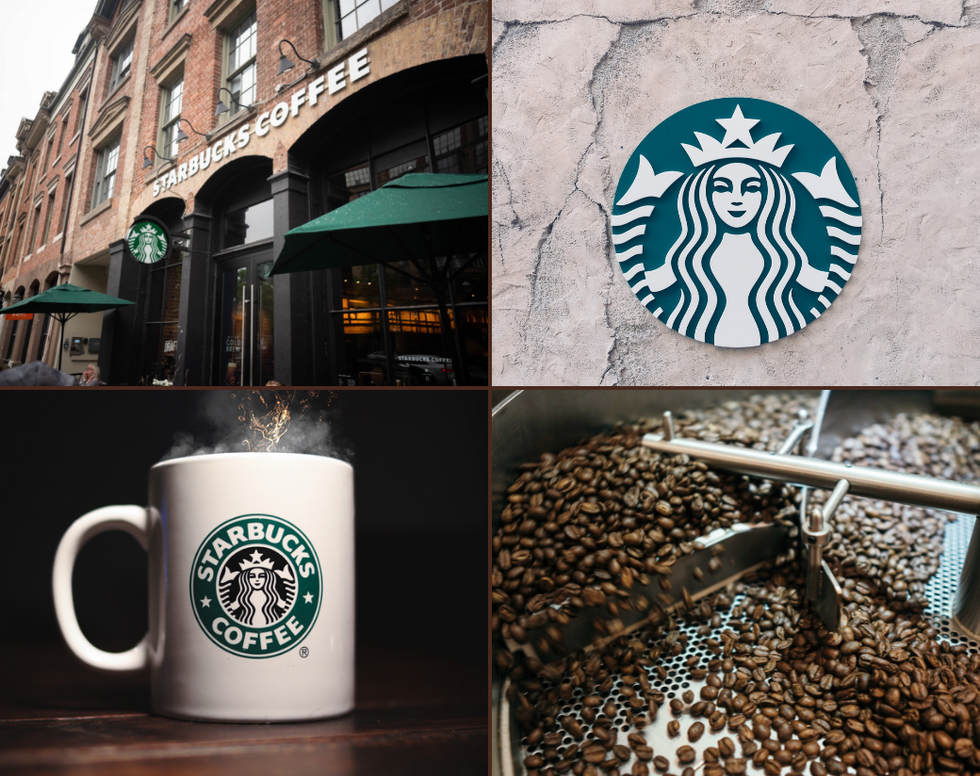 Dunkin' Overview
They recently expanded into Dunkin' At Home - a coffee experience that you create your very own kitchen. You can receive them in any form - ground, whole bean, capsules, or Dunkin' K-Cup® pods which take moments to brew.
Dunkin' At Home's original everyday blends come in light, medium, and dark roasts. Then there are seasonal flavors such as Pumpkin Spice in the fall and Cinnamon' Nutmeg for the holidays.
Like Starbucks, you can order these through online store options or visit stores in person and pick them up. Prices vary, but an 11oz bag can run about $7.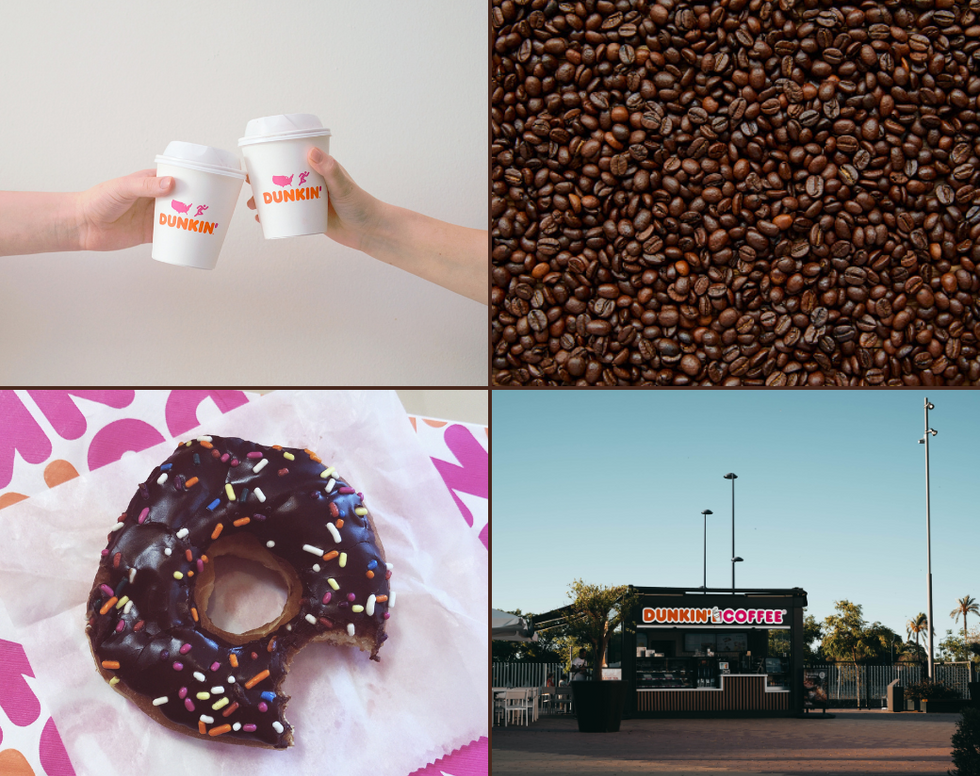 Final Thoughts
If you're someone who loves those sugary flavors like Vanilla, Caramel, and Pumpkin Spice, then Starbucks and Dunkin' At Home is for you.
But if you yearn to literally explore the great wide world of coffee then there's no question. Go with Atlas!
Although our editors adore our coffee and sporadically enjoy Pumpkin Spice. Calorically, it's not a wise choice. So, Atlas Coffee Club's subscription beats Starbucks and Dunkn' hands down.
Besides, the convenience of having fresh roasts delivered every 2 or 4 weeks is awesome. We appreciate that their premium coffee brings a new international adventure each month. Finally, it's super affordable.
With their unique coffees from around the world, it's time to give Atlas Coffee Club a try today!