Looking to do some urban exploration? Look no further than these eerie, dilapidated gems, located in our very own NYC.
As the weather warms, you may find yourself longing for some adventures. And what's more thrilling, nostalgic, and atmospheric than a journey through an abandoned building in the midst of being worn down to the soil from which it came?
In that spirit, here are 11 gorgeous abandoned places in or near New York City.
1. Fort Totten
You'll find this park—complete with an abandoned Civil War fortress—right on the waterfront in the Bay Terrace neighborhood of Queens. Packed with history and offering an array of natural and manmade wonders, the park is ideal for exploration all year round. In the summer, you can take a tour through the fortress with Urban Park Rangers and cool off with a dip in the pool. A visit will also give you the chance to see the park's many other relics, including a repurposed Neo-Gothic castle and an abandoned laboratory, movie theatre, and hospital.
untappedcities.com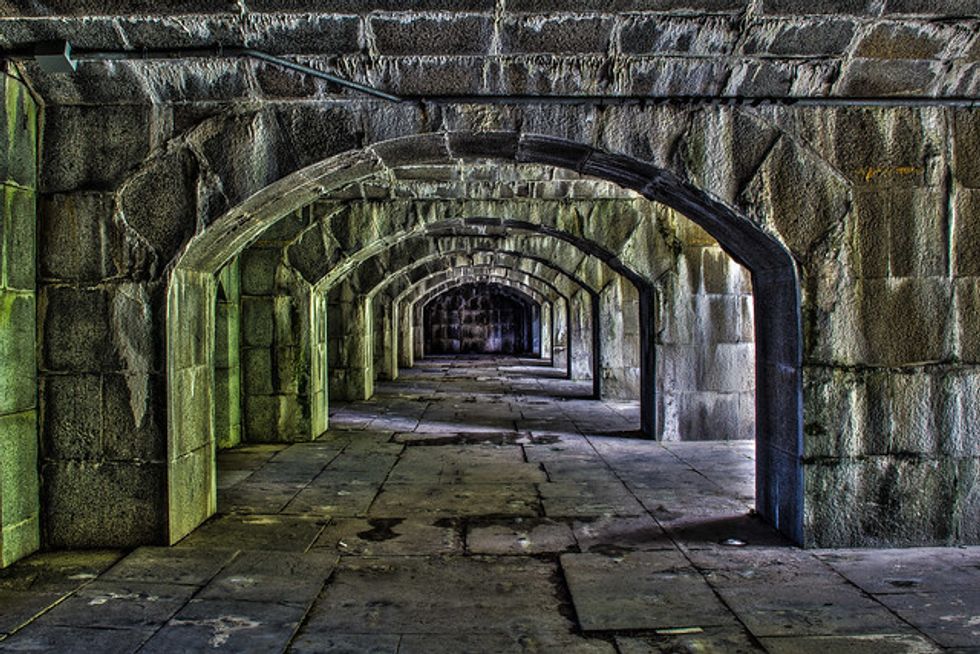 flickr.com
2. World's Fair Grounds
Located in Flushing Meadows in Queens are two towering and unusual structures. Originally built for the two World's Fairs, they were intended to symbolize the future—but the future came and went in a blurry, violent instant, and for half a century, the relics of the fair have existed in stages of decay, at the mercy of time and the elements.
The two most prominent structures are the New York State Pavilion and the Unisphere, which were the focal points of the World's Fair Grounds. A visit will also allow you to see columns and statues from the event's heyday, along with the remnants of the skate rink that opened and closed in the late 20th century.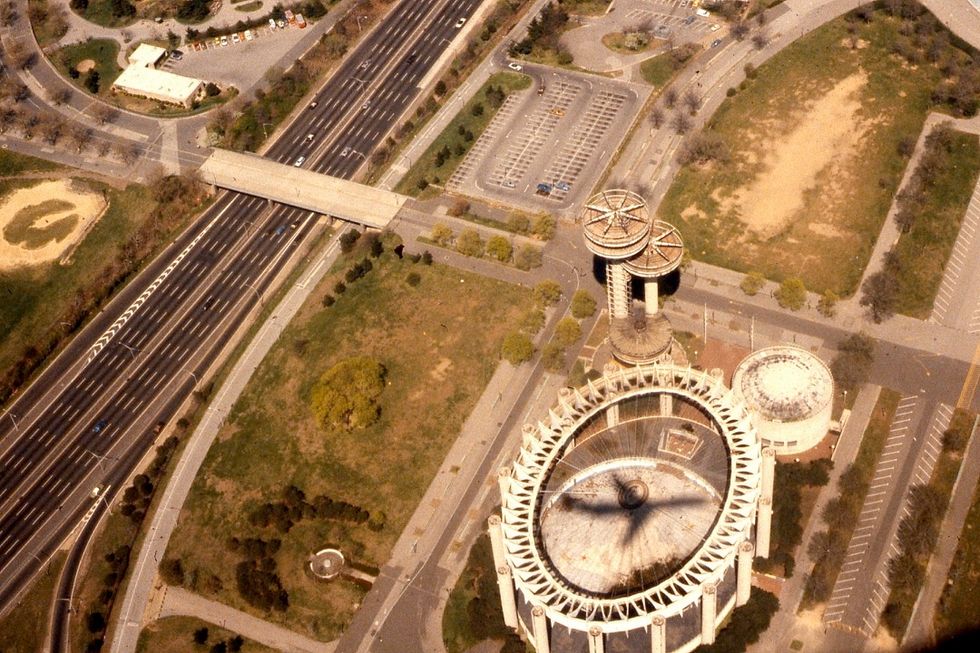 desertedplaces.blogspot.com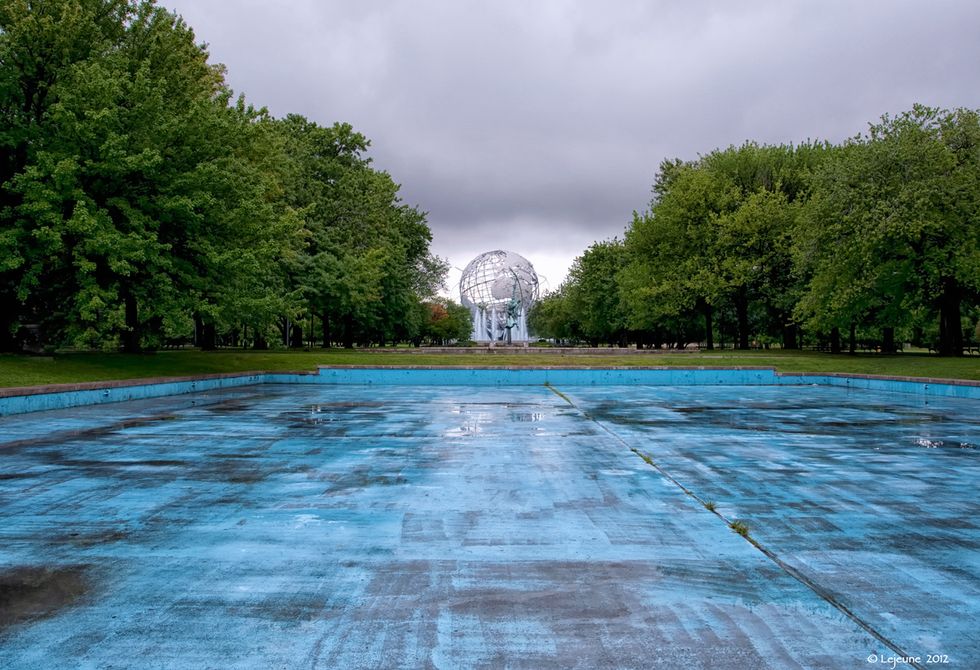 boblejeune.blogspot.com
3. Renwick Smallpox Hospital
If you're looking for an excuse to visit Roosevelt Island, the Renwick Smallpox Hospital is a perfect choice for fans of urban exploration or haunted houses. Today's Roosevelt Island is a lovely place for biking and picnicking on summer days, but actually it used to be a home for criminals, the mentally ill, and other people who had been shut out of NYC society. It still bears the memories of those days.
Out of all its ruins, the crown jewel is its smallpox hospital, which is now in a state of mossy shambles. Though you can't go into the hospital (or so they say...), you can walk around the grounds and observe its gloomy, Gothic majesty from afar.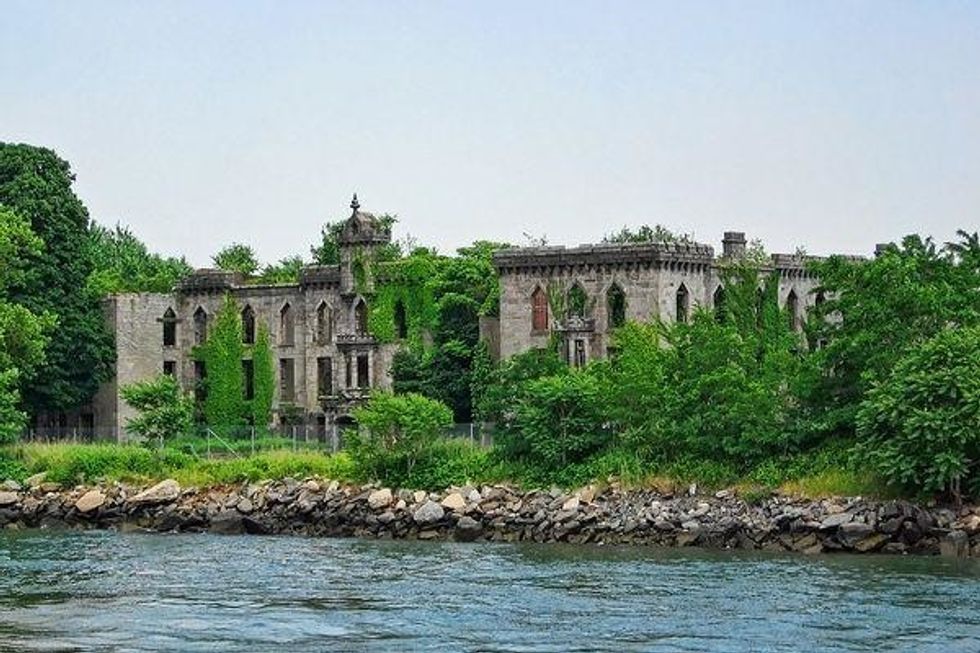 abandonedplaygrounds.com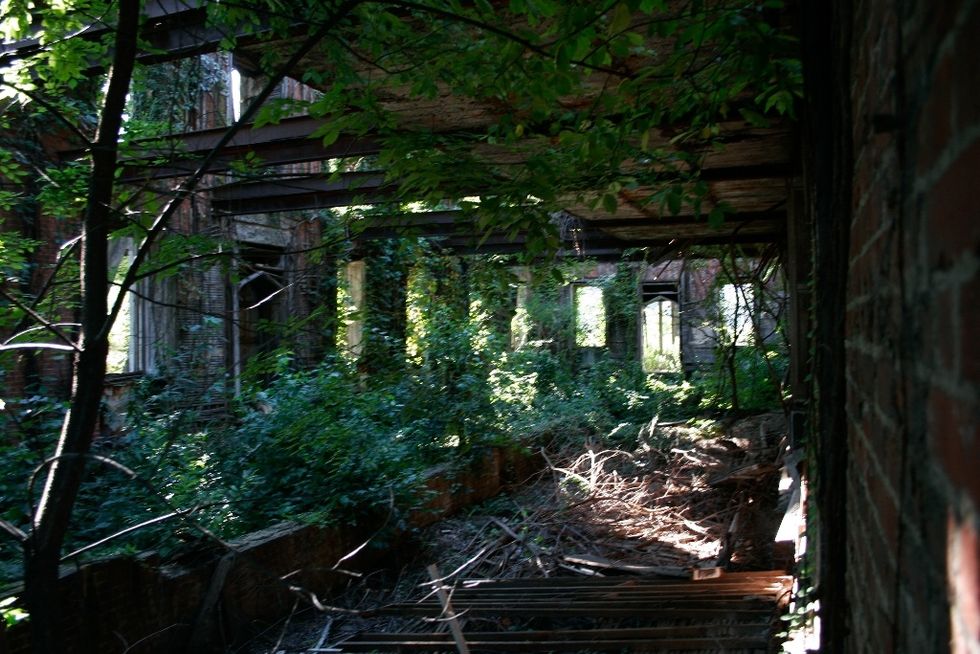 vanshnookenraggen.com
4. The Rockaway Beach Branch Rail Line
The LIRR railway line to the Rockaways was replaced by subways in the 60s, and it's been languishing in decay ever since. Now, this three-mile stretch of abandoned railways is the perfect adventure for hikers.
For a winding trek through the past, start at Rego Park and make your way to Ozone Park. If you're looking for ruins specifically, you might want to head over sometime soon as residents are looking turn the railway into an attraction similar to the High Line. (If you make it, just be careful not to slip through the portal to a parallel universe that probably exists somewhere on this railway—unless that's what you're aiming for).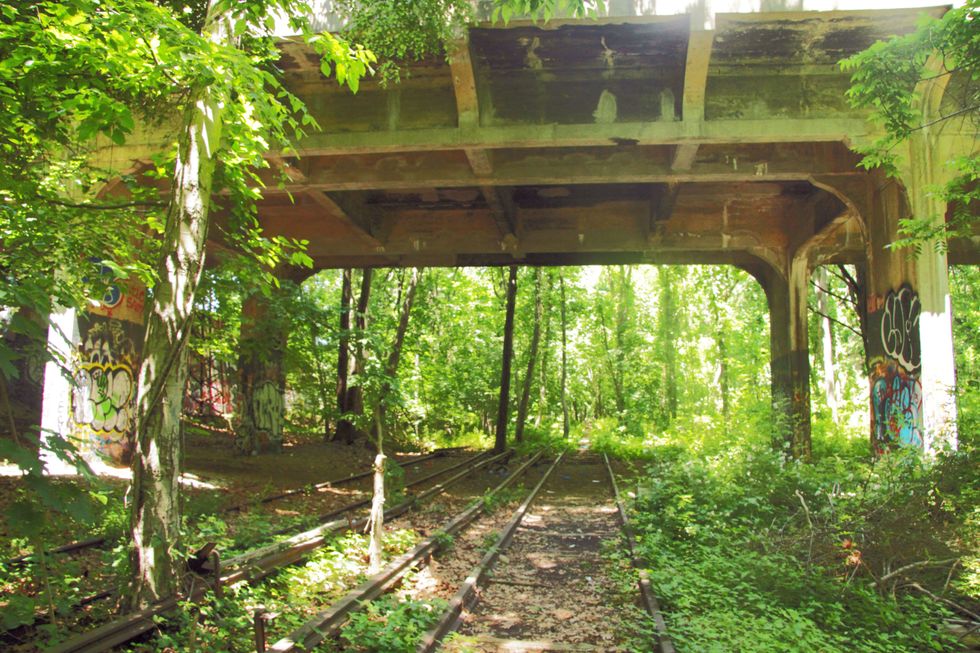 trn.trains.com Joseph M. Calisi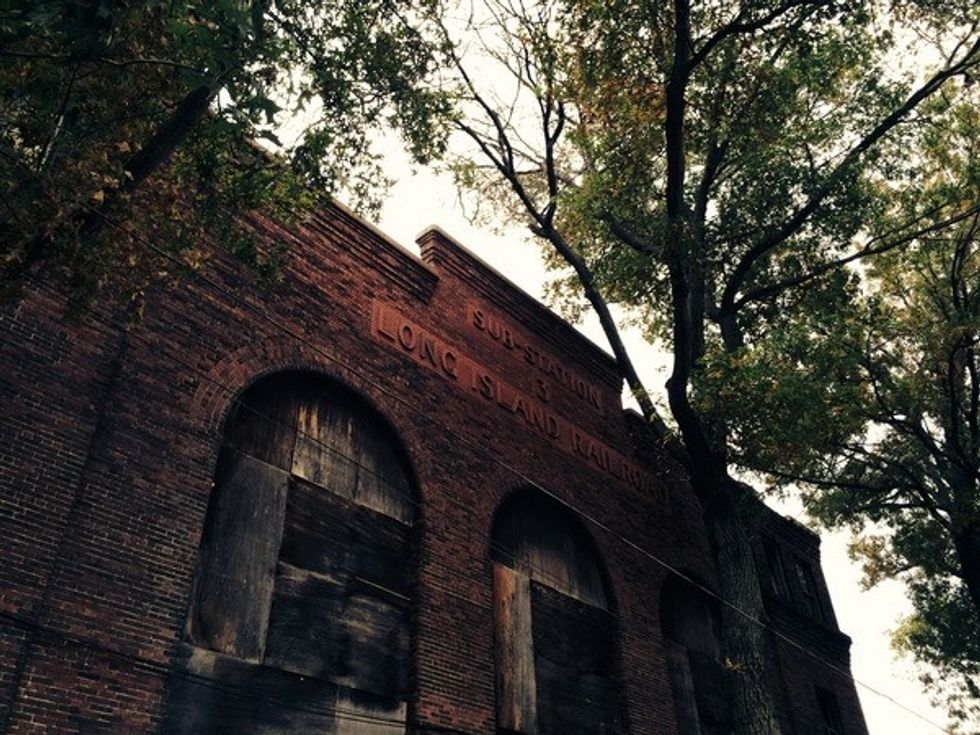 atlasobscura.com
5. Glass Bottle Beach and Dead Horse Bay
For 80 years, NYC sent its trash to this place in Jamaica Bay, which served as a landfill for the entire city. Today, you can walk along the beach at Dead Horse Bay and discover broken glass from a century ago as well as many other relics of bygone times. Some will be more macabre than others, for Dead Horse Bay was also a place where horses would be dismembered and converted to glues, oils, and other things, so you might find some horse bones scattered among other fragments of yesterday's trash.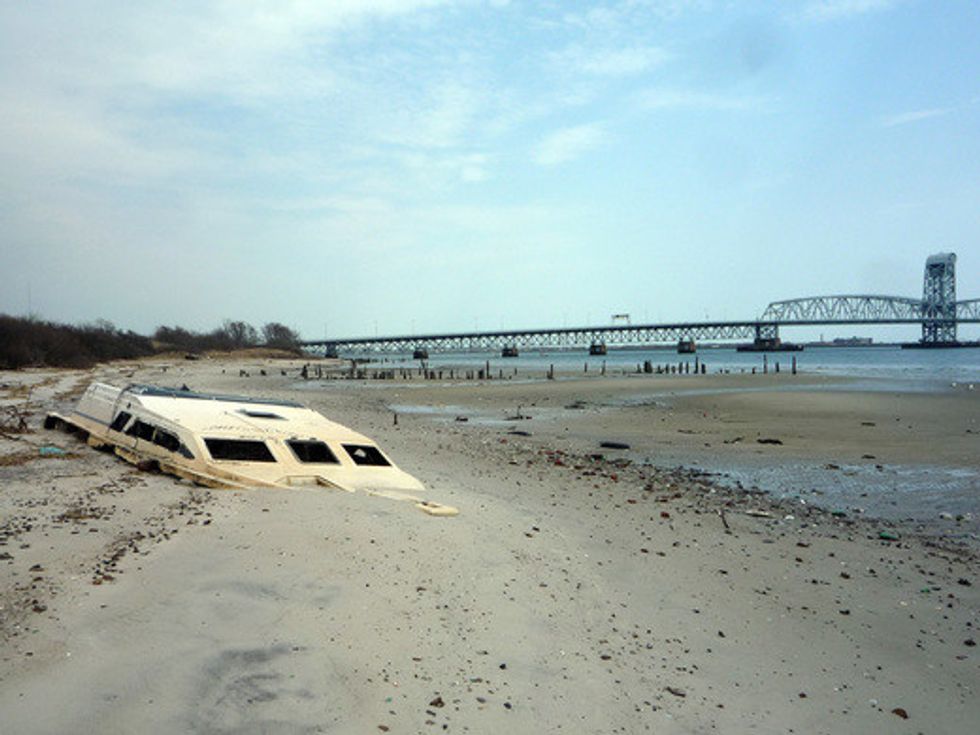 atlasobscura.com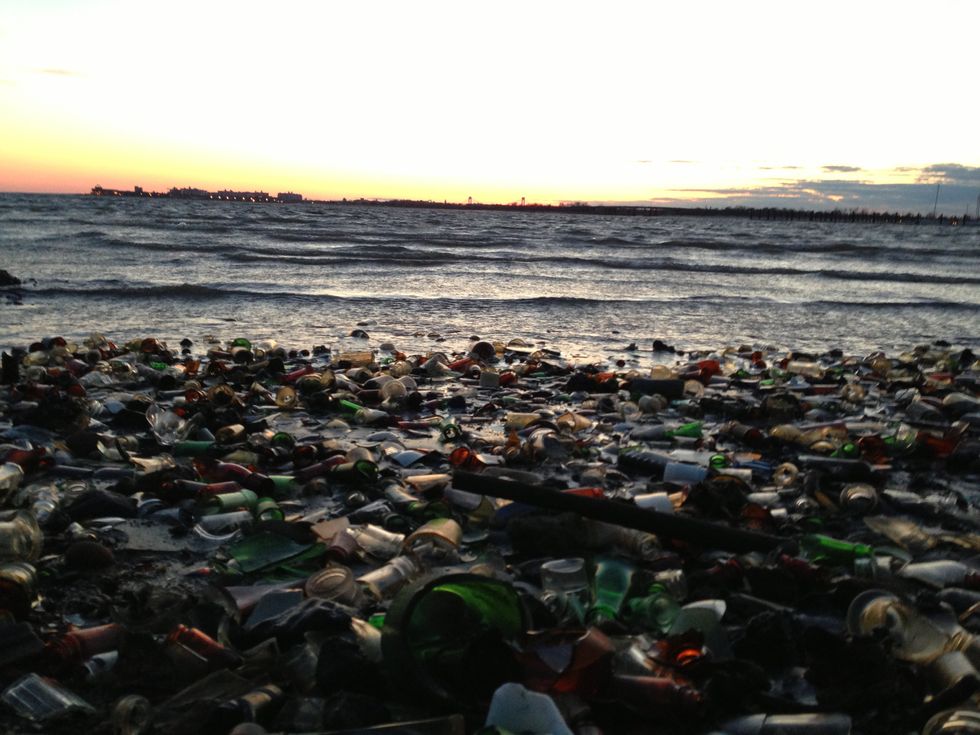 theweeklynabe.com
6. Old City Hall Subway Station
If you take the 6 train past the Brooklyn Bridge, you can catch a glimpse of this abandoned station, which was actually NYC's first ever subway station. The only way to actually enter the station is via a tour provided by the New York Transit Museum (which is worth a visit in itself).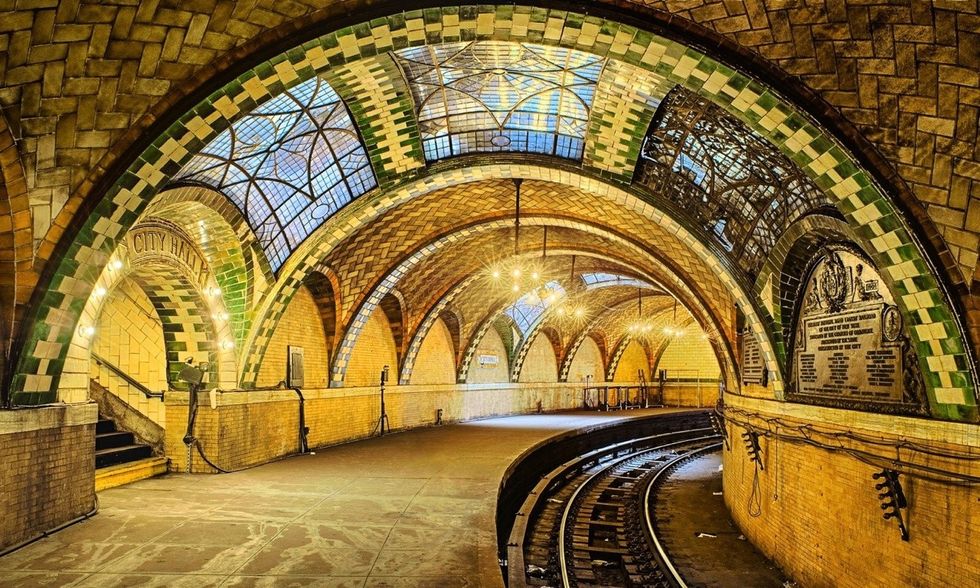 photoblog
7. New York Farm Colony and Seaview Hospital
If you ever find yourself in Staten Island, there's no shortage of abandoned places to visit. The Seaview Hospital may be its crown jewel, but you'll need to take some serious urban exploration risks to access many of its most beautiful ruins. This sprawling abandoned village is largely closed off to the public, and it's also currently under construction, but if you've got a car you might be able to catch a glimpse of some of the many remaining derelict hospitals and mansions.
One of the most accessible parts of Seaview is called the New York Farm Colony, a place that—like so many ruins—had intriguing utopian beginnings. Designed as a housing community for the poor and socially outcast, it opened in 1898 and was supposed to be a sustainable community where inhabitants could farm and grow their own food. As social programs born in the '50s made it easier for people to rejoin society, the colony became unsustainable and was closed in 1975. Since it closed, the colony has been the location of several child murders, Satanic rituals, and paranormal sightings—so visit if you dare.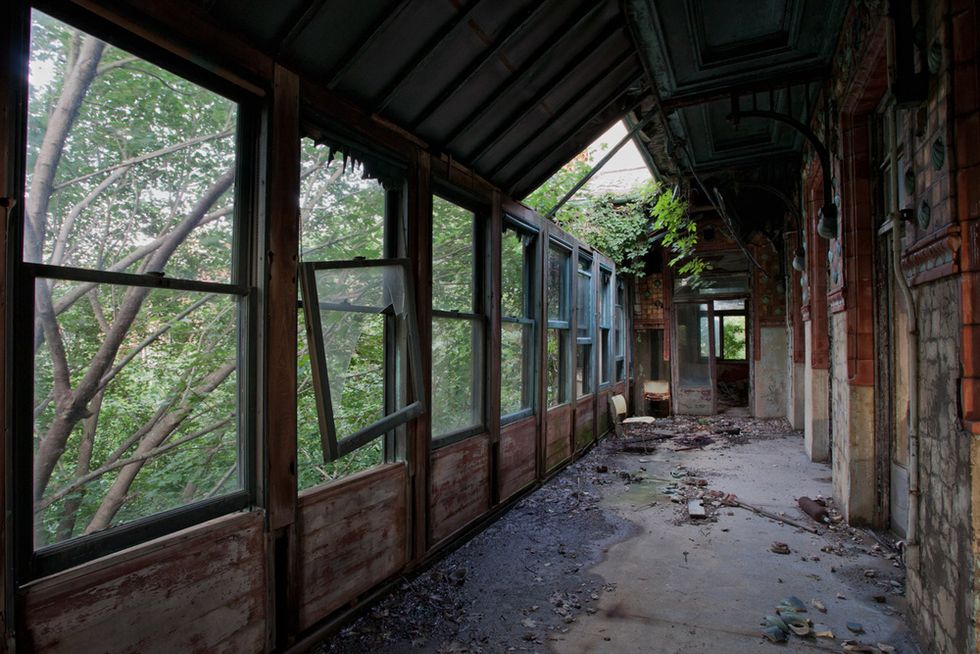 amyheiden.com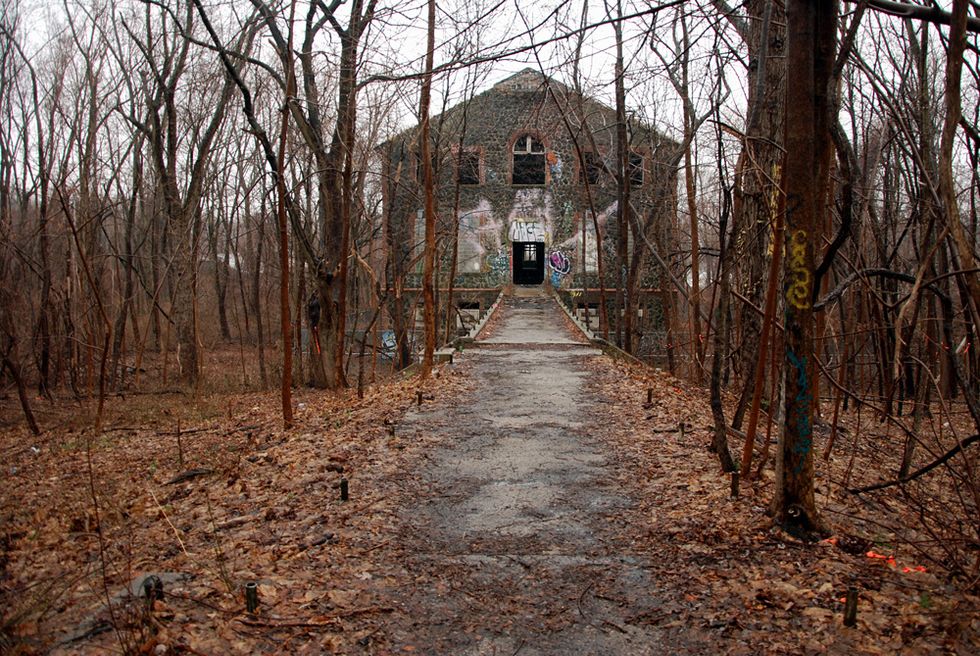 urbanomnibus.net
8. Floyd Bennett Field
Floyd Bennett Field in Jamaica was New York's first airport. Today, the historical site is mostly abandoned, and you can wander through and see scattered airplane parts. Old abandoned hangars and warehouses offer glimpses of trash and junk, and the nearby Marine Park—a Forever Wild preserve—provides plenty of birdwatching opportunities and natural wonders.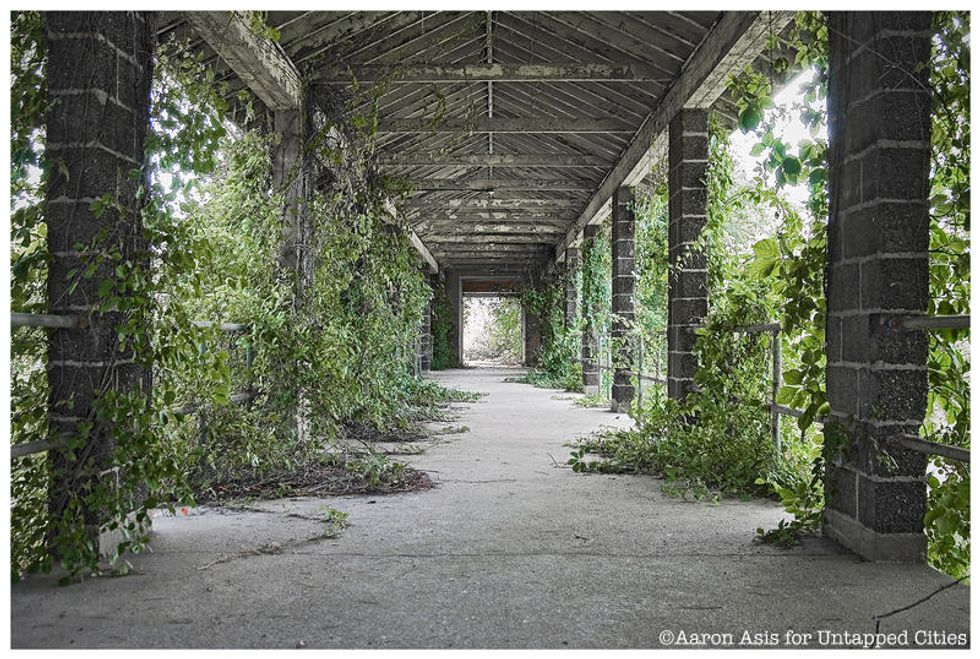 untappedcities.com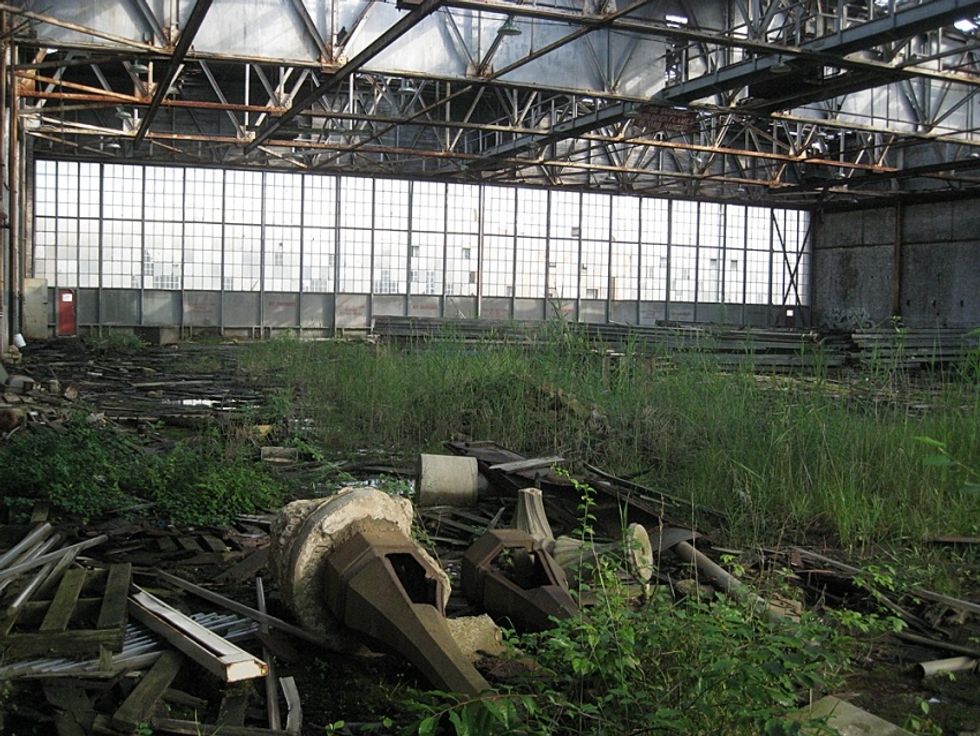 new-york.cityseeker.com
9. Fort Tilden
Located in the Rockaways, Fort Tilden used to be a fort that held nuclear weapons during the second world war, but now it's quietly being worn away by wind from the nearby ocean. Buildings are covered in graffiti and some have been repurposed by local artists, but the highlight is probably Battery Harris East, which is now crowned by a viewing pattern that allows for 360 views of the Atlantic Ocean and the city. The ruins also offer impressive birdwatching and host a thriving marine life ecosystem, proving that nature has the capacity to reclaim symbols of manmade destruction.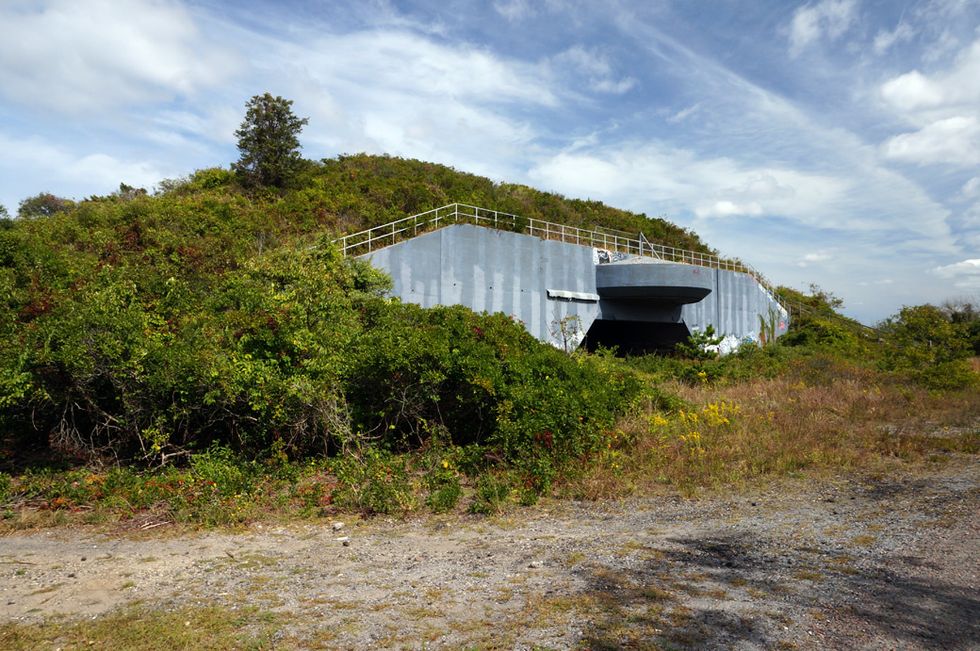 abandonedrelics.wordpress.com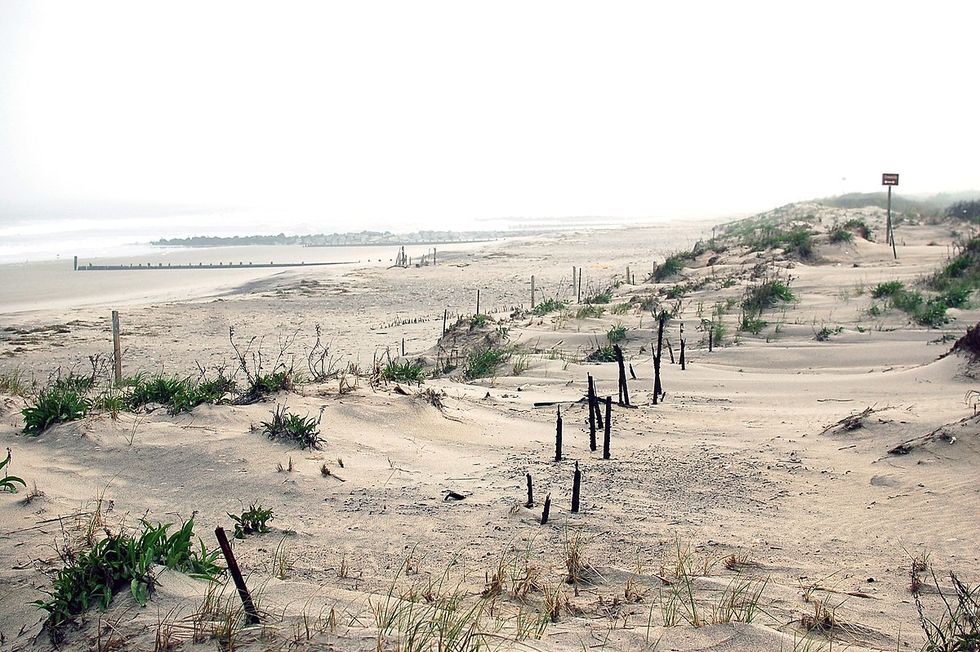 Jay Gormanwaterfrontalliance.org
10. The Ellis Island Immigrant Hospital
Millions of immigrants passed through Ellis Island, but about ten percent of them were sent to this towering hospital complex to be treated for an illness. Many would die here or be sent home, making this a place of tragedy on an island of hope. Now abandoned, the remains of the hospital's psychiatric ward, operating wards, pediatric facilities and general hospital boast peeling dirt, decaying floors, and encroaching vines. Save Ellis Island offers 90-minute tours through this remarkable ruin, or a ferry ride over to Ellis Island will allow you to see the outskirts for yourself.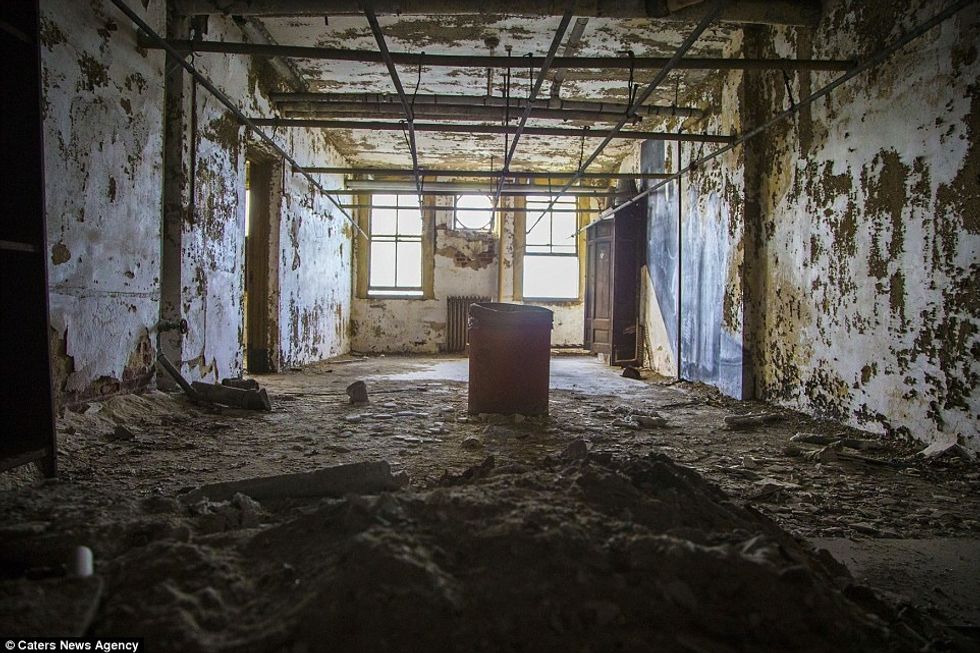 dailymail.co.uk
11. North Brother Island
North Brother Island, located on the East River between the Bronx and Riker's Island, used to be home to a psychiatric hospital, meaning it's certified haunted (according to every horror movie ever), among other mansions that have since been left to the ghosts. This post-apocalyptic place is totally ruined, and it's an eerie image of what the world might look like once everything collapses because of climate change or a nuclear war.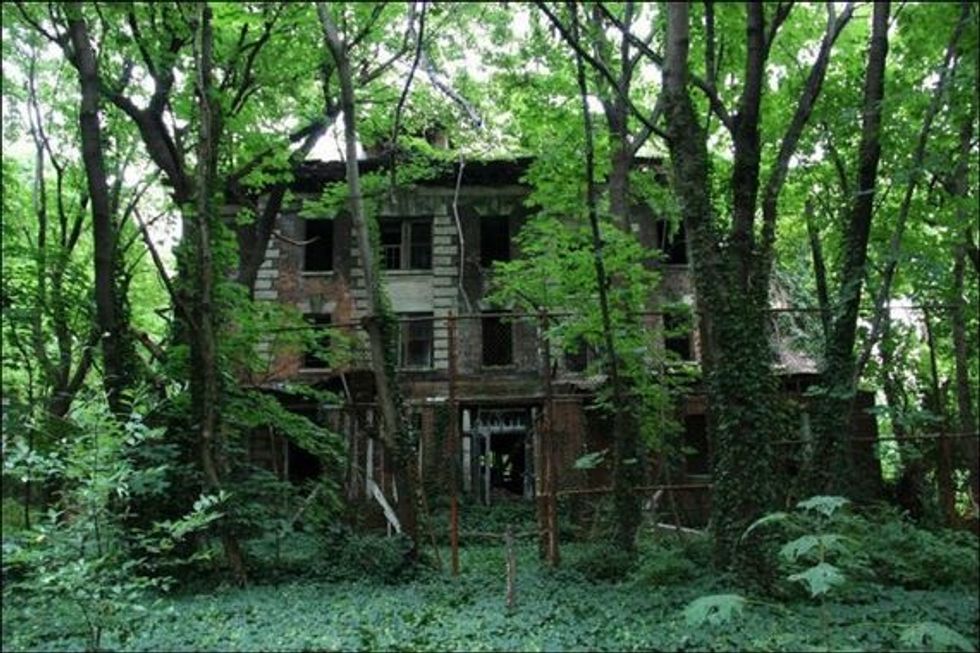 barnorama.com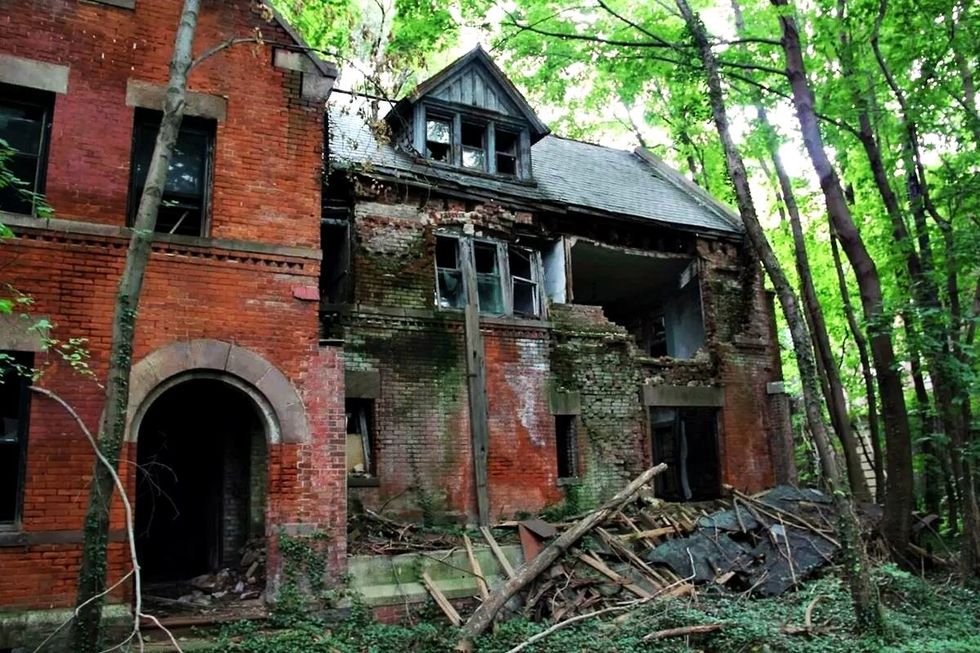 orangesmile.com