Just few years ago, avocado toast was barely on the radar. Sure, folks ate (and still indulge in) gobs of guacamole, and toast has been around nearly as long as sliced bread. But mashed or sliced and seasoned avocado (among other ingredients) atop slices of hot and crispy bread was not even "a thing" until recently.
Fast forward circa now, and brunch would be blah without at least one avocado toast variation on the menu. The dish is versatile, delicious, and simple, and avocado fans are eating it up. The fad has become a staple and it doesn't look like avocado toast will be toast for a long time to come.
If you are looking for amazing avocado toast, these U.S. restaurants have nailed their versions of today's most tempting treat. Say "bye bye" to bagels and lox, and omelets are so over. Even pancakes can't stack up to avocado toast's popularity.
The London Plane: Seattle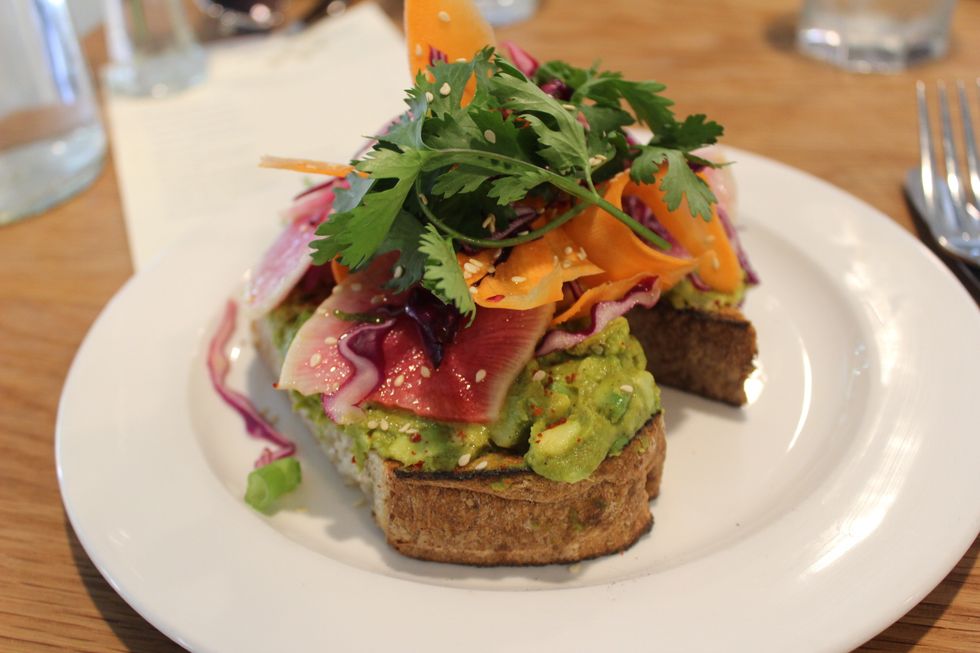 The London Plane piles their avocado toast high with toppings Via glorioffood.com
The London Planeis half café and half grocery, allowing customers to dine in or take home their gourmet fare. Better yet, do both! The Seattle-based establishment offers a special avocado toast generously piled high with mashed avocado, peas, asparagus, cilantro, mint, tomatillo salsa, serrano, pecorino, and lime. Every mouthful is a genuine pleasure to the palate as the flurry of flavors comingle. Elevated avocado toast? We think so.
300 & 332 Occidental Ave. S Seattle, WA
Commissary: Los Angeles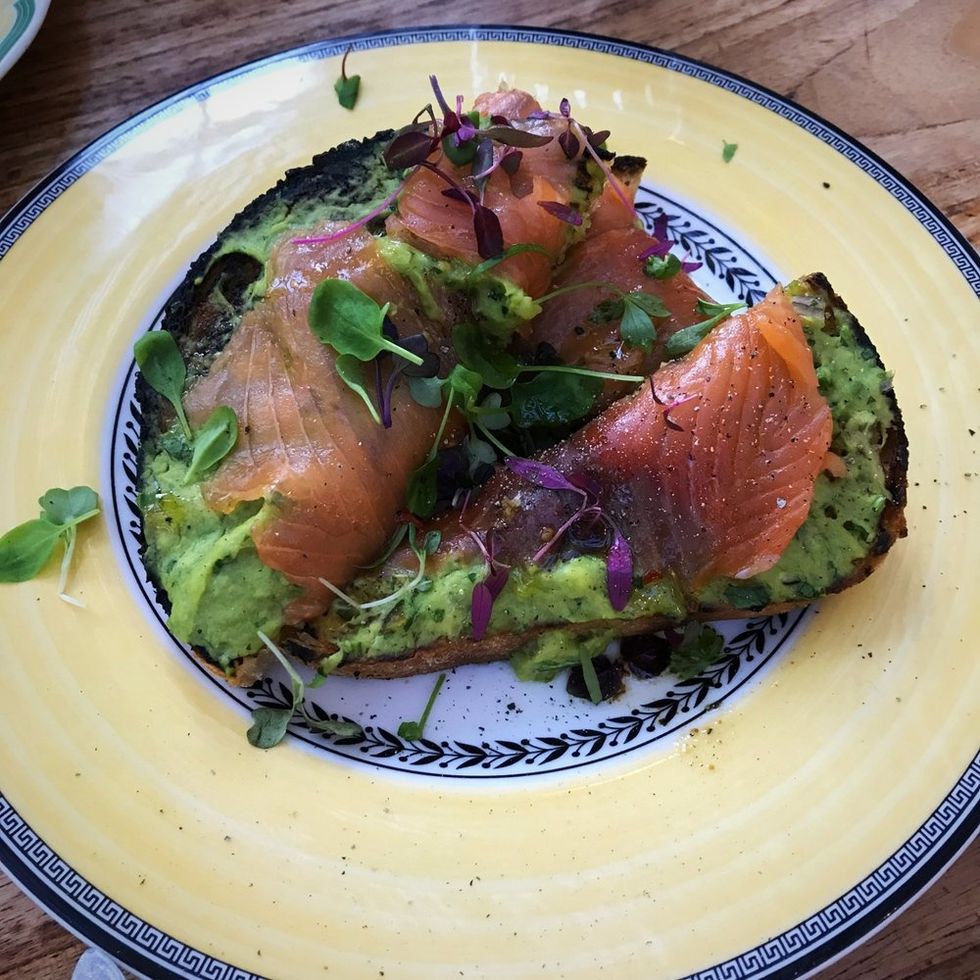 A smokey take on a new classic Via yelp.com
Super-trendy and unique, Commissary is an L.A. hotspot located inside the Line Hotel. The eating area is gorgeous as you dine within a greenhouse bright with natural light and decked out with a notable interior. But let's get to their chef's take on avocado toast. As if the avocado alone isn't tasty enough, Commissary adds depth of flavor and texture with creamy goat cheese, spicy chilies, and cured salmon. Call it a dish of complex simplicity, if you will. Every bite is perfectly balanced, but just to be certain, you'll clear your plate.
3515 Wilshire Blvd. Los Angeles, CA
Cork Wine Bar & Market: Washington, DC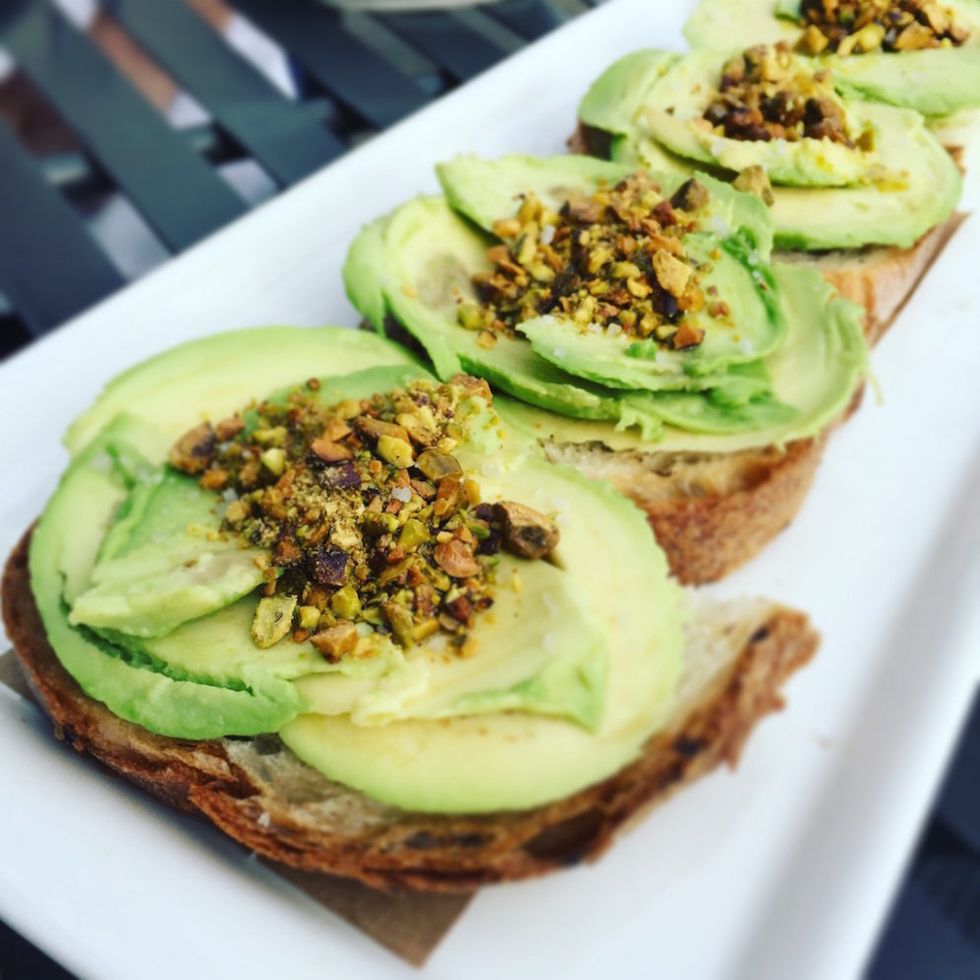 Avocado toast perfectly paired Via washingtonian.com
Described as "casually elegant," Cork Wine Bar & Marketis for the wine-lover looking for a healthy nosh that pairs perfectly with one of 50 wines by the glass offered at this popular DC space. And their appetizing avocado toast lives up to the hype. Hearty grilled bread it topped with sliced avocado, pistachios, pistachio oil, and sea salt make for a savory combination that is full of texture and taste. It's listed under Cork Wine Bar's "Plates to Share" menu, but you will want to keep this toast all to yourself.
1805 14th St. NW Washington, DC
Prasad East: Portland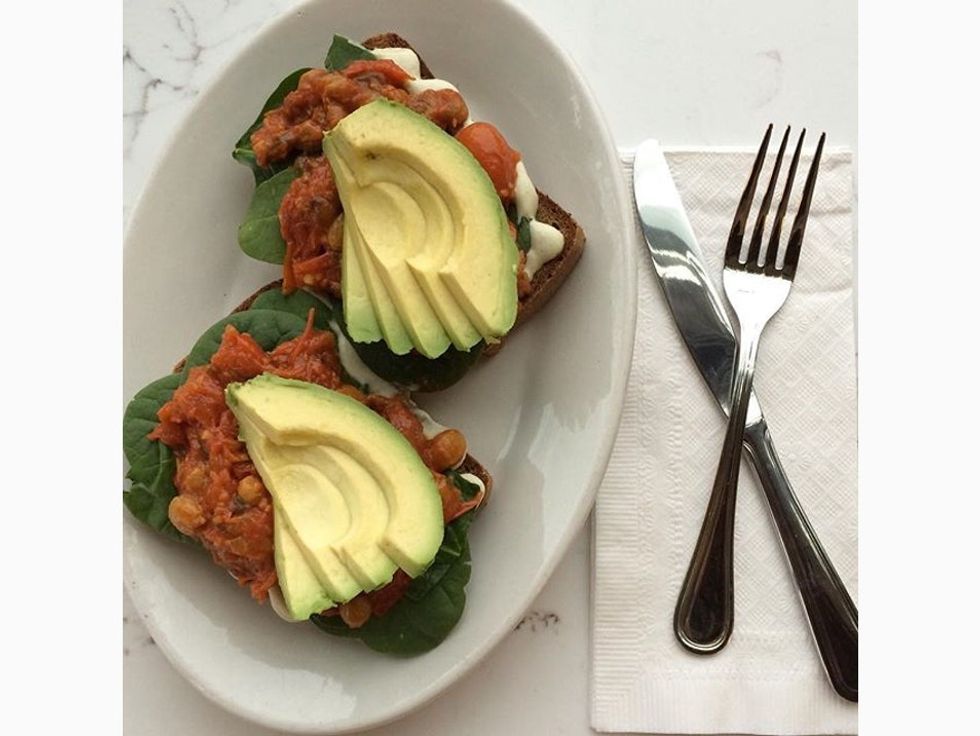 A gluten-free way to enjoy Via afar.com
Fresh and flavorful, Prasad East's avocado toast is not only a feast for the eyes, but a feast in itself. House-made gluten-free toast is topped with sliced avocado, fresh spinach, chipotle roasted tomatoes, and jalapeno cashew cheese, bringing together flavors you'd never imagine would go so well together. Add a perfectly poached egg for good measure, and this plate is the breakfast or lunch dish you've been missing all your life. The open and airy space makes Prasad East welcoming and relaxing, but the fabulous food is the real draw.
21 NE 12th Ave. Portland, OR (located in the PortlandRock Gym)
Blake Lane: Manhattan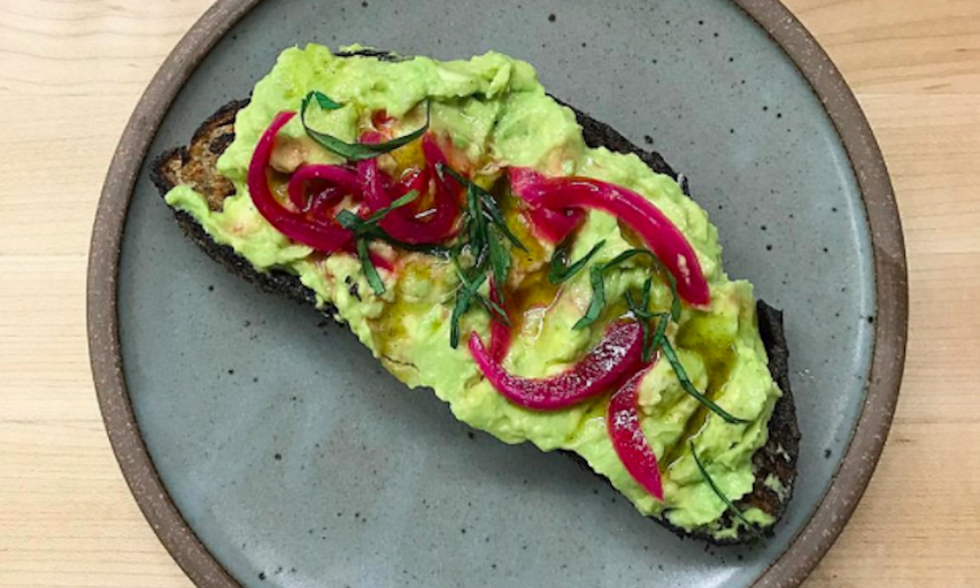 Seasonal and delicious Via postmates.com
Located on Manhattan's Upper East Side,Blake Laneis casual and creative, serving all-day, globally-inspired dishes. One of the restaurant's most popular menu items is their avocado toast, which takes the simple open-faced sandwich up a notch with subtle additions that pack a punch. Avocado topped with scallion basil oil and pickled onions creates a melt-in-your-mouth sensation that proves why avocado toast is so much more than meets the eye. Blake Lane's seasonal and organic ingredients will leave you satisfied – body and soul.
1429 Third Ave. New York, NY
Are you feeling hungry? Give in to those grumbles with a plate of avocado toast.