Pizza and Brooklyn are practically synonymous. Like peanut butter and jelly, it's hard to imagine one without the other. New York City is known for having arguably some of the best pizza in the world, and Brooklyn is the borough known to be the king of crust.
The oldest theory is it's the New York City tap water that makes the dough so good. It's a commonly accepted explanation that's also thrown around about the award winning bagels. New York City has been adding fluoride to the tap water for over fifty years and while it's never been proven, many people believe the added minerals are responsible for the better taste.
Another, more practical theory, is that it's all about using quality ingredients and a wood burning oven. According the Marc Baur, a chef at the International Culinary Center, the key to a good pizza is all about using the right technique and of course high quality ingredients. This explains why it's just as easy to find a bad pizza in New York City as it is to find a good one.
Whatever the real explanation, a good pizza is all about the dough and Brooklyn has dough down. Brooklyn pizza is known to have just the right crunchy to chewy ratio. While you'll find a pizza restaurant on nearly every block in Brooklyn, here's a breakdown of the five best places to grab a slice in 2018.
Roberta's (Bushwick)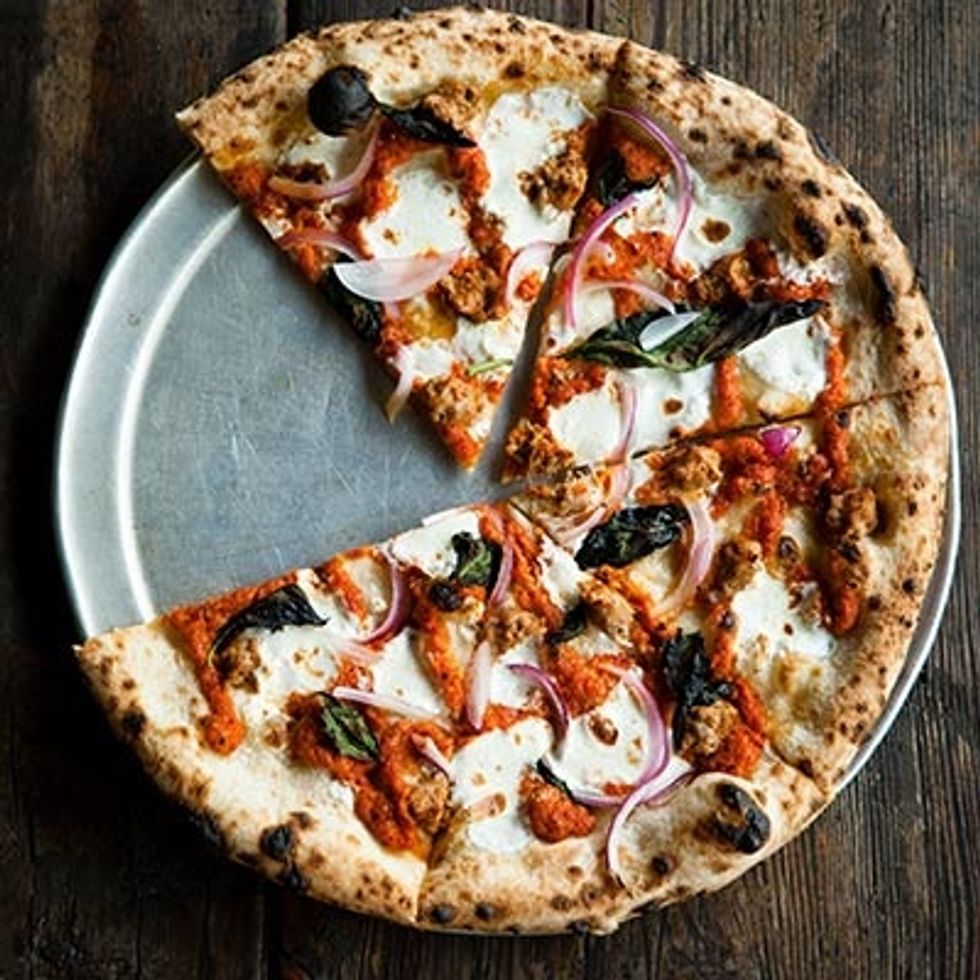 Pizza Pie From Roberta's Restaurant in Bushwick, Brooklyn
If want to enjoy an epic slice of pizza in an urban zen garden while eavesdropping on millennial hipsters, Roberta's is your place. You might be greeted by the faint smell of marijuana and an hour wait time, but the food is so good you'll have no complaints by the time you're done. Besides the pizza, the salads and pastas are also delicious!
Pizza's to try:
Beastmaster (tomato, mozzarella, gorgonzola, pork sausage, onion, caper, jalapeno)
Rob's Rebellion (smoked mozzarella, alpine cheddar, broccoli rabe, calabrian chili, garlic, lemon, egg yolk)
Tontonno Pizzeria Napolitana (Coney Island)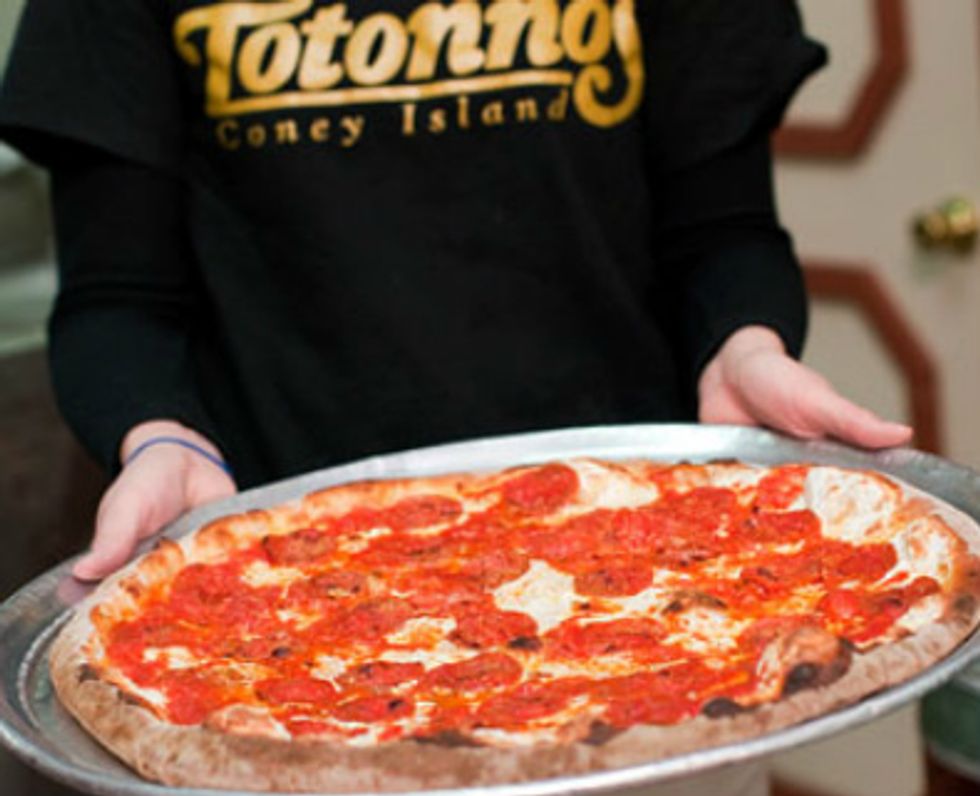 Pepperoni Pizza from Tontonna's Pizzeria in Coney Island, Brooklyn
The Tontonno family has been making pizza in Coney Island since 1924! This legendary pizza place has visitors trekking from all over the world to grab a slice. Tontonno's is known for their delicious thin crunchy pizza crust. If you're looking for a simple but iconic slice of Brooklyn pizza this is the spot to stop.

Pizza to try:
Margarita Pizza (blackened crispy crust, sweet tomato sauce, mozzarella)
Pizza Loves Emily (Clinton Hill)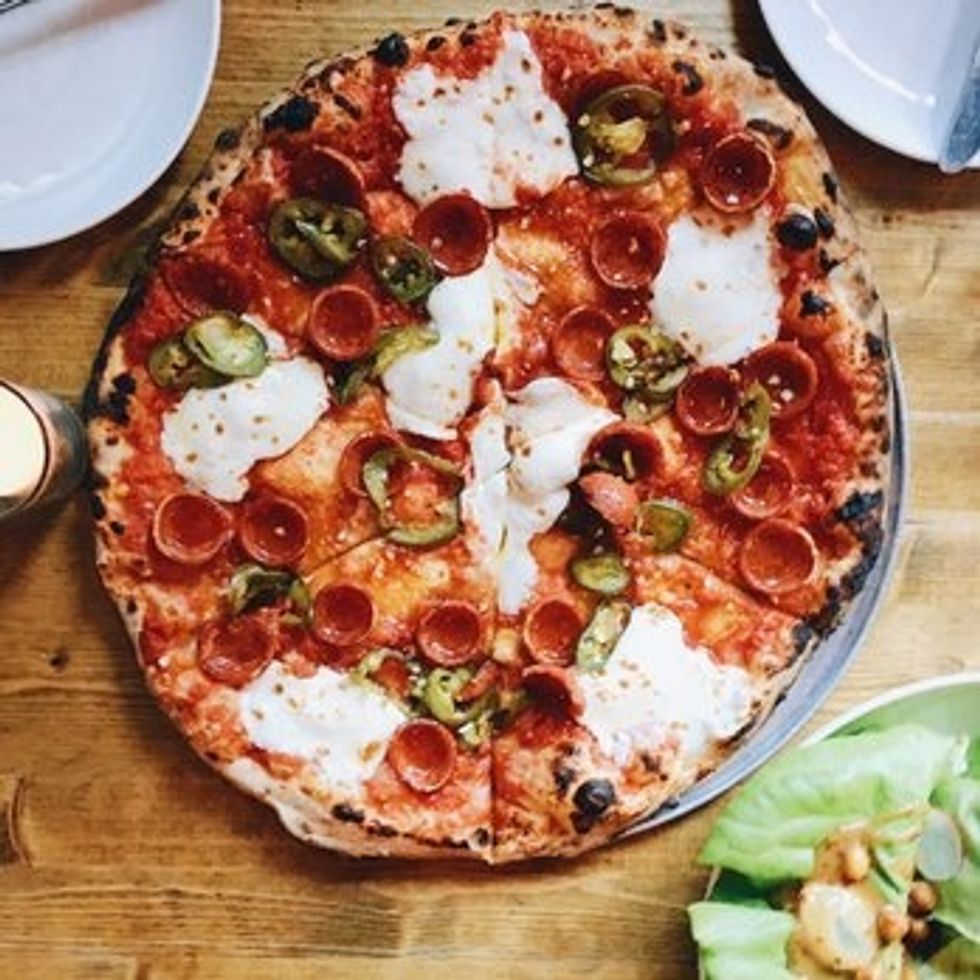 Pizza Pie from Emily Love Pizza in Clinton Hill, Brooklyn
Emily Loves Pizza is a new-school pizza spot located in the historic Clinton Hill neighborhood of Brooklyn. This place has cult like devotees who swear the thin crunchy crust is the best they've ever had. The menu is divided into four categories, the reds (tomato sauce), the whites (sauceless), the pinks (vodka sauce), and the greens (tomatillo sauce).

Pizza to try:
Colony (red sauce, mozzarella, pepperoni, pickles jalapeno, honey)
Emily (mozzarella, pistachio, truffle sottocenere, honey)
Barboncino (Crown Heights)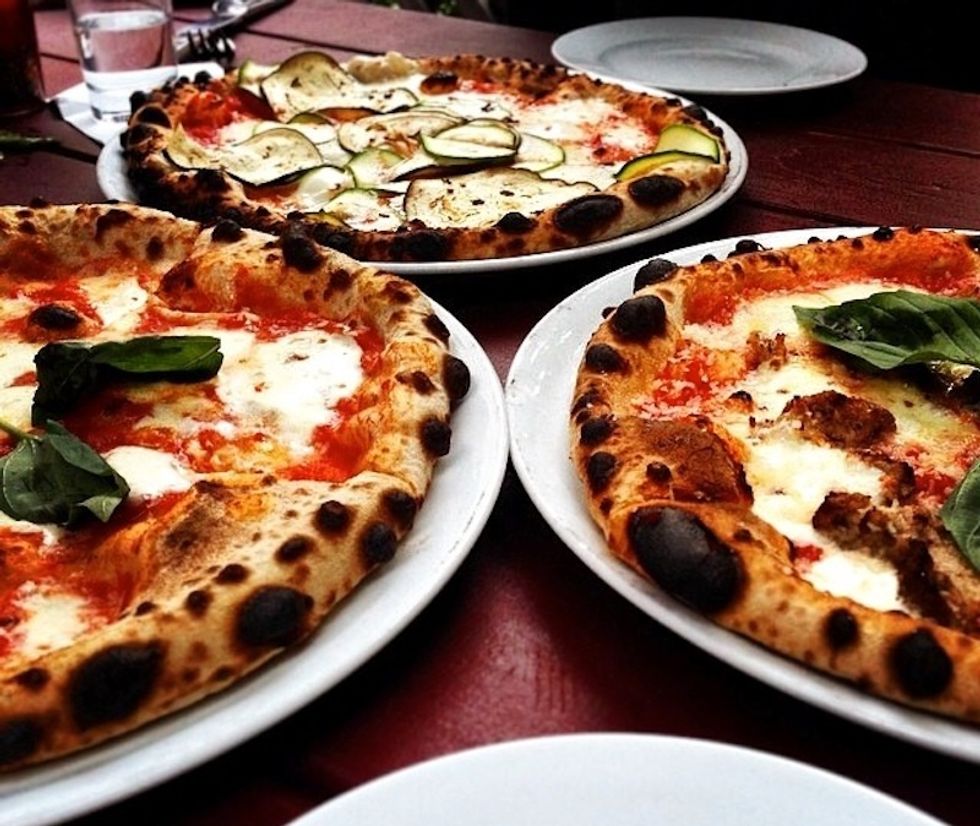 Pizza Pies from Barboncino's in Bushwick, Brooklyn
Barboncino serves neapolitan-style pizza baked in a wood-fired oven in Crown Heights. This brooklyn neighborhood is also home to the Botanical Gardens and the Brooklyn Museum. Opened up by indie-filmmakers Ron Brown and Jon Greenberg, Barboncino's serves delicious food in a laid back atmosphere.
Pizza to try:
Cherry Stone Clams Pizza (fior di latte, garlic, parsley butter and extra virgin olive oil)
Paulie Gee's (Green Point)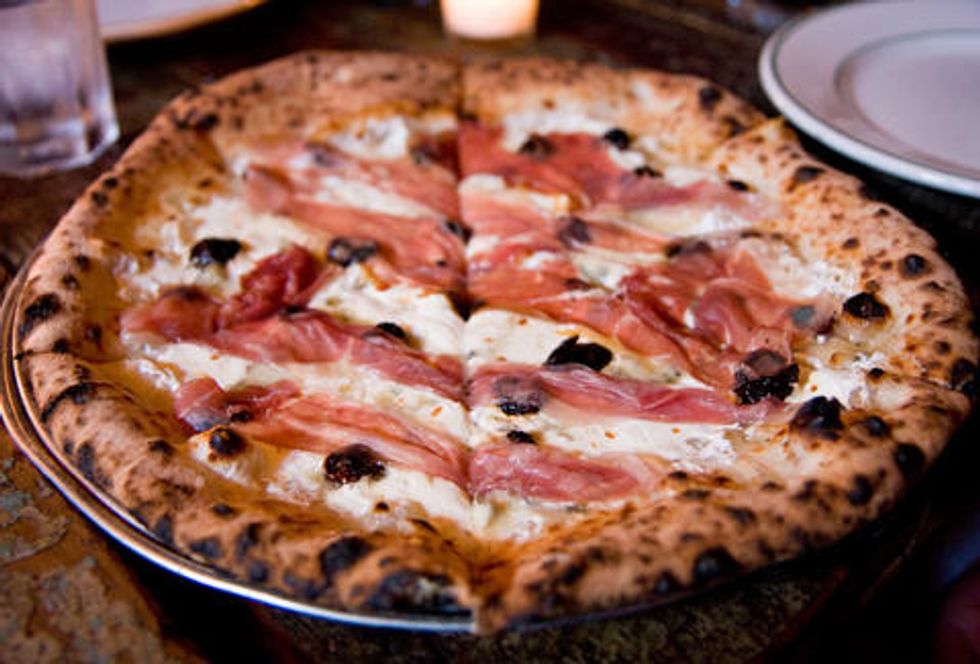 Pizza Pie from Paulie Gee's in Greenpoint, Brooklyn
Paulie Gee's serves some of the most creative pizzas in Brooklyn. The menu has three sections, Pizza, Vegan Pizza, and "Secret Pizzas". The vegan pizza is some of the best I've tried and uses delicious "nut cheese" like cashew ricotta. The no-so-secret secret pizza's are chef favorite's like The Famous Original found at the very end of the menu.
Pizza to Try:
Hellboy (mozzarella, italian tomatoes, berkshire soppressata piccante, parmigiano reggiano, and Mikes' hot honey)
In Ricotta Da Vegan (vegan tomato sauce, house-made vegan sausage, post-oven homemade cashew ricotta dollops, baby arugula, and extra virgin olive oil)
Grab a drink after your meal at one of The 5 Best Bars in Bushwick and don't forget to check out the Hidden Gems and Highlights to See at The Brooklyn Museum!