If you've never tried Szechuan peppercorns, there's good reason. For 37 years, the spice was banned in the U.S., when food inspectors (falsely) feared that their plants would spread citrus canker to American flora. It wasn't until 2005 that the FDA approved the peppercorns for import, allowing spice fiends to chase the unique sensation called mala on Western shores.

Unlike capsaicin, the irritant in peppers that causes the sensation of hotness, the active ingredients in Szechuan peppercorns interact with our touch sensors, causing both spiciness and a tingly numbness (ma: tingle, la: spice). According to a 2013 study at University College London, the peppercorns literally hit nerve receptors with a jolt of electricity, causing your lips to vibrate with the same frequency as a 50 Hz power grid. Your body not only tastes, it feels too.
When done right, the spiciness of Szechuan peppercorns isn't straight up hot but a slow, pleasant burn that's warming instead of alarming, the perfect sensation to match the comforting, family-style home cooked meals you'll find at many Szechuan establishments. If you're in New York, where the majority of the city's Chinese population hails from Szechuan Province, be sure to check out these top 5 picks offering the tingle-iest, tastiest mala around.
Hot Kitchen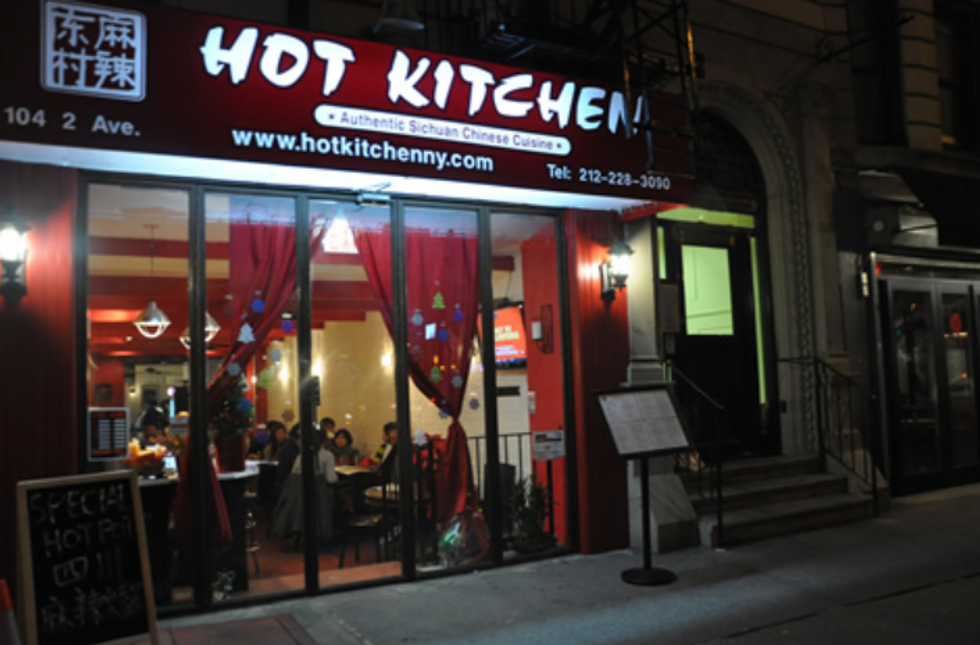 Hot Kitchen is a bright, friendly spot with remarkably efficient service. The restaurant is known for its hot pot, a crowd-pleasing dish that consists of a huge pot of rich broth, vegetable skewers and your choice of meats or fish to cook right in the piping hot liquid. Hot pot is an ideal order for a group (of which there are many at the student-friendly East Village location), but the real gems at Hot Kitchen—authentic favorites with a distinctive flair—can be found elsewhere on the menu. The mung bean noodles—thick, translucent blocks of cellophane served in chili oil with a sweet-hot garnish of crushed peppercorns, spices, and peanuts—are some of the best in the city, as are the sweet potato noodles, which are served boiled in a tangy savory broth. This is a great place for newbies to try classic Szechuan dishes without making the trek to Flushing.

Recommended dishes: mung bean noodles, sweet potato stew, mei shan beef, fish in peppercorn broth, pickled eggplant with garlic or peppers
Address:104 2nd Ave. (East Village), 251 E. 53rd St. (Midtown)
Little Pepper
Little Pepper is for the fully committed; to get there from Manhattan, you will need to take the 7 train to the end of the line followed by a 15-minute bus to a quiet suburban street. But it's a journey for which you will be rewarded. There are some incredibly spicy dishes to please those seeking mouth- and mind-numbing pleasure—the Chong Qing chicken wok-fried with a bouquet of blistered peppers is not for the faint of heart—but one of Little Pepper's most impressive virtues is that it is not confined to what one might expect from an "authentic" Szechuan restaurant. As usual, the more Americanized dishes like Lo Mein are bland, but you should absolutely order the crinkle fries in hot sauce, a very satisfying accompaniment to lamb bathed in cumin and peppercorns, served in a foil pouch with stir fried onions and green chili peppers.

Recommended dishes: preserved egg with green pepper, smoked tea duck, dried sautéed string beans, chicken Chong Qing, fried potato in hot sauce, lamb in hot and spicy sauce
Address: 18-24 College Point Boulevard, College Point
Málà Project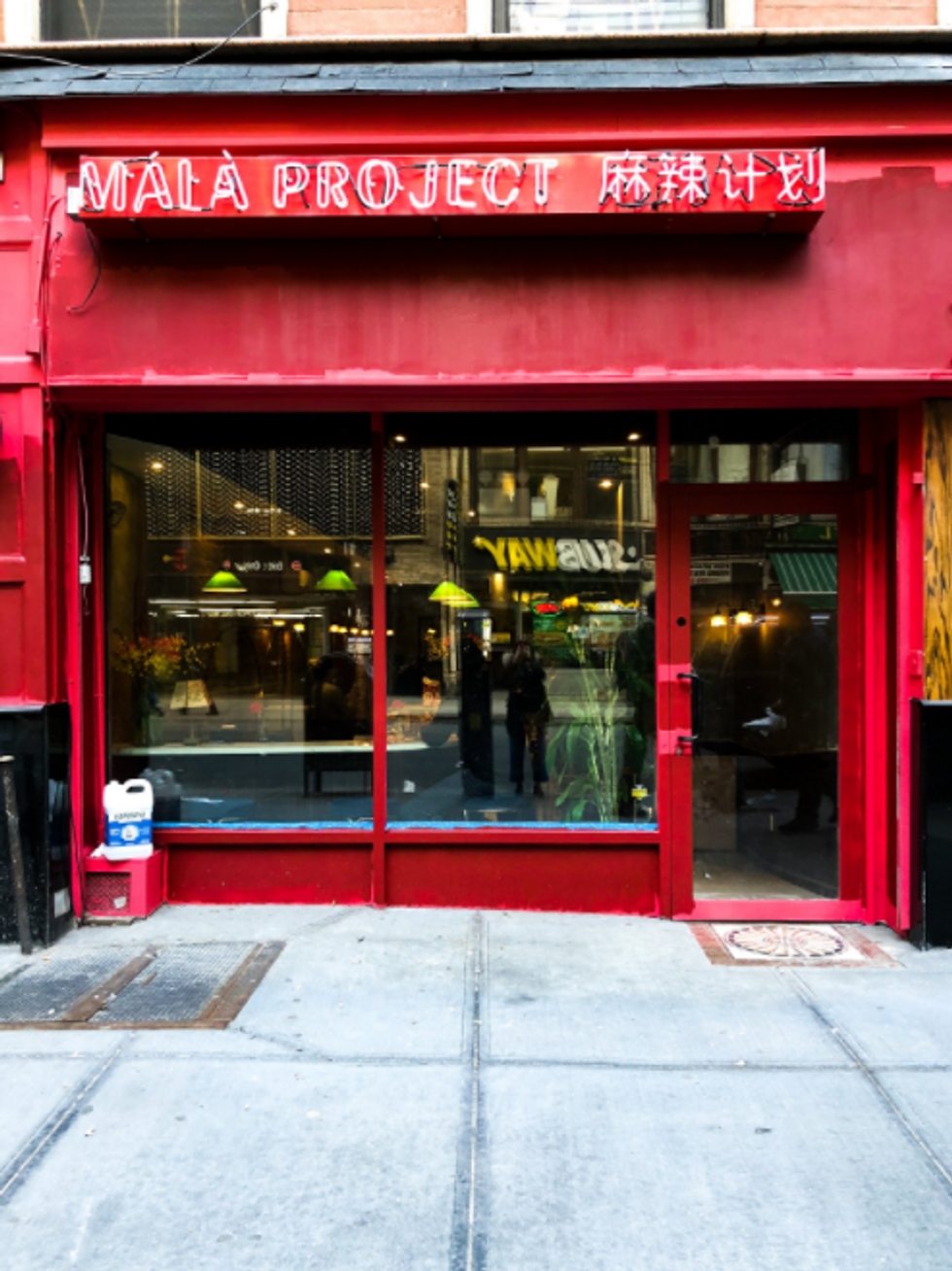 Málà Project might look like another trendy East Village haunt, but its tasty, down-home cuisine is competitive with Szechuan veterans throughout the city. Málà's dry pot, a dish not commonly seen on New York menus, is a must. Choose 3-5 items from a list of over 50 meats and vegetables that range from classic (such as taro, beef tendon, and bok choi) to adventurous (frog legs, chicken gizzards) to highly adventurous (rooster testicles, say), and your picks will be tossed in a wok with a signature 24-spice and Chinese medicinal herb blend according to your preferred hotness. (The "super spicy" is just that; I have on multiple occasions enjoyed a dry pot through a veil of tears.) The small dishes are equally as delicious as the dry pot, especially the vinegary fried pepper with thousand-year-old egg (preserved for days or months in clay, ash, salt, and lime, these eggs are the "cheese" of Chinese cuisine). Expect to wait for a table downtown, where there's also a lovely patio in the summer.

Recommended dishes: dry pot, fried pepper with thousand-year-old egg, gold and silver mantou, scallion pancake
Address: 122 First Avenue (East Village) and 41 W 46th Street (Midtown)
Spicy Village
A narrow, no-frills restaurant on the edge of Chinatown, it is impressive that the food at Spicy Village, which comes served on Styrofoam plates under the restaurant's otherwise unbecoming fluorescent lighting, still looks mouthwatering. The must-try here is the spicy big tray chicken, a signature dish that has inspired a loyal following. Served with wide hand-pulled egg noodles, white and dark meat chicken is lovingly slow-cooked in an oily, rich sauce swimming with Szechuan peppercorns, star anise, and whole chilies. The smashed cucumber with garlic and steamed pork dumplings are also excellent—if you can find room. Come hungry and BYOB.

Recommended dishes: spicy big tray chicken, smashed cucumber, steamed pork dumplings
Address:68 Forsyth Street, Chinatown
Guan Fu Sichuan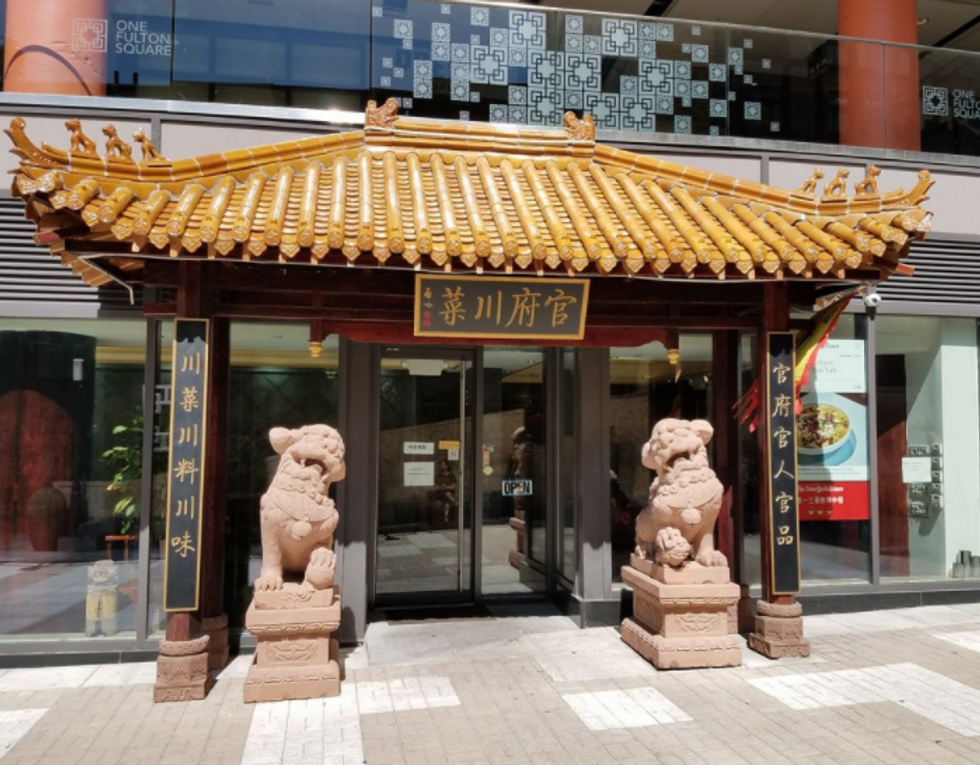 Tucked inside a courtyard on a quiet, newly upscale street in Flushing, Guan Fu Sichuan garnered big-time attention when New York Times food critic Pete Wells graced the restaurant with an almost unheard of 3 star-review. Yes, it's that good. Where many Sichuan restaurants are modest, Guan Fu is grand, with an imperial dining room and cuisine that would have only been available to Chinese royalty. The family-style plates are enormous and meant to be shared, but it can be difficult to pare down your order amid a 40-page frenzy of unique dishes like eggplant with iron plate (slices of eggplant stuffed with pork and then battered and fried) and cuttlefish salad with charred green chili sauce. The real stand-outs though are those you have likely heard of—mapo tofu and boiled fish with pickled cabbage, for instance—but have never tasted this good before. A flexible BYOB policy that seems to not include a fee (we kept a bodega bag of beers beneath the table) is the cherry on top. Well worth the wait to sit.

Recommended dishes: mapo tofu, boiled fish with pickled cabbage and chili, eggplant with iron plate, bean jelly salad, Guan Fu style cuttlefish salad, homemade roasted fish
Address: 39-16 Prince Street, Flushing
RUNNERS-UP
China Café: A trendier, Michelin-starred restaurant in East Midtown that won't break the bank.
Legend: A Chelsea landmark. One of the first restaurants to introduce New Yorkers to the tingle of Szechuan peppercorns.
Han Dynasty: Don't be fooled by this chain with branches in NY, NJ, and PA—spice is not muted for the masses.
Szechuan Gourmet: A modest spot with a sprawling menu and locations in Midtown and Flushing.
Land of Plenty: An Upper East Side white-table establishment that doesn't skimp on spice.