Not far from the interstate exits for Montgomery, Alabama lie roads that feel like they're taking you off the map.
And in a way, they are. These tree-lined dirt lanes seemingly transport you out of reality and into the fictional town of Spectre, Alabama. There lie the ruins of the set of Tim Burton's 2003 movie Big Fish — based on a novel of the same title by Daniel Wallace. Whether you are a fan of the movie, the book, or just like hanging out with goats (yeah, there are goats roaming around), this sleepy little "town" is worth a stop.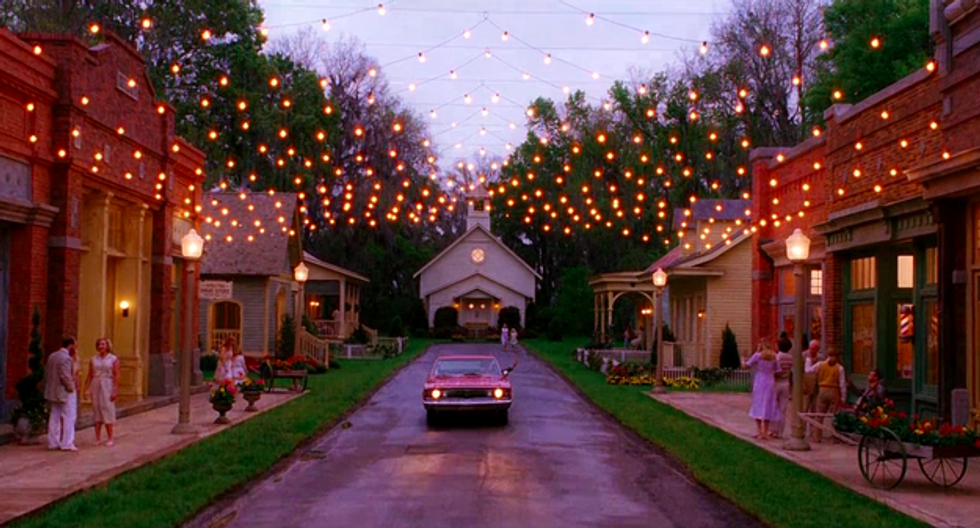 Still from 'Big Fish"
This filming location, which is on privately-owned Jackson Lake Island in Millbrook, Alabama, is charmingly open to the public "from dawn to dusk." Of what was once a whole forest of artificial trees, only two remain, flanking the entrance to Spectre and framing what is left of the set.
To be frank, over 18 years after filming, the set itself is not the splendorous site it once was. The lush green grass, now dirt. The vibrant street with buildings standing shoulder to shoulder, now sparse. Just six homes still stand, along with the church. However, the place still has a certain unmistakable magic about it.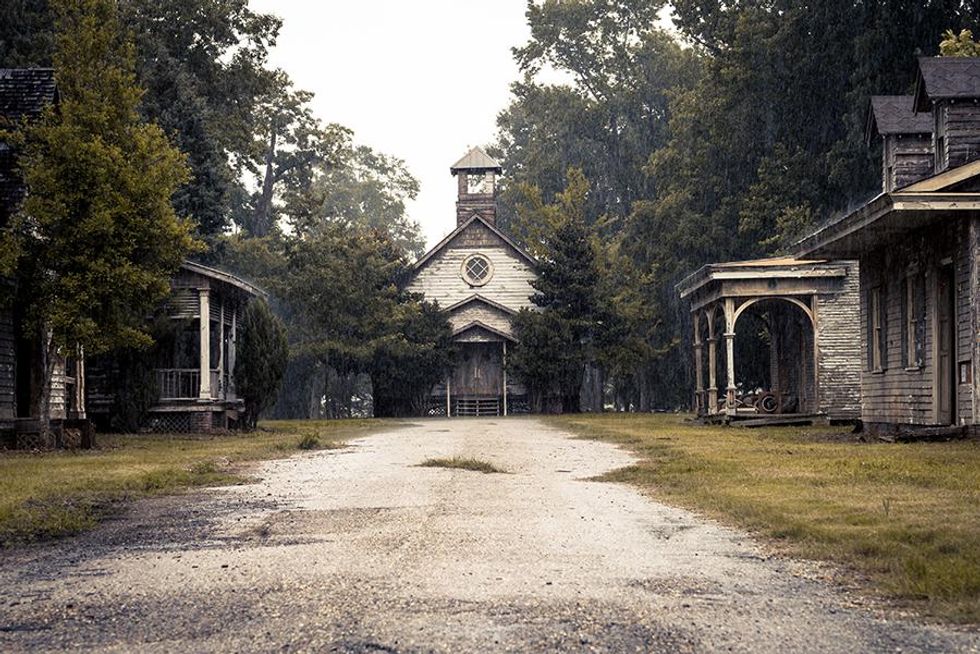 Architectural Afterlife
Much like the wardrobe into Narnia, stepping through the trees feels like a portal. Strung over a line at the town's entrance are multiple pairs of shoes left by visitors in homage to those from the movie. You see, in Spectre, visitors must kick off their shoes upon arrival.
It's a place you're supposed to never want to leave, and the abandonment of shoes is almost like a rite of passage. It symbolizes walking into a different world and leaving the responsibilities of the old one behind. As a visitor, it's fun to imagine the liveliness of the set during filming: the cameras rolling, bright lights down the whole length of the street as Ewan McGregor steps out of "the dark forest" for yet another take.

As you walk down the street, it's advised you leave your shoes on since goat poop doesn't quite have the same allure as walking on Hollywood-perfect grass. The houses, purposefully aged for the final shots of Spectre, are facades that can be looked into but not entered. The "town" itself doesn't require that you spend a lot of time to fully experience it. Wander through, take some dreamy photos, and you'll be satisfied.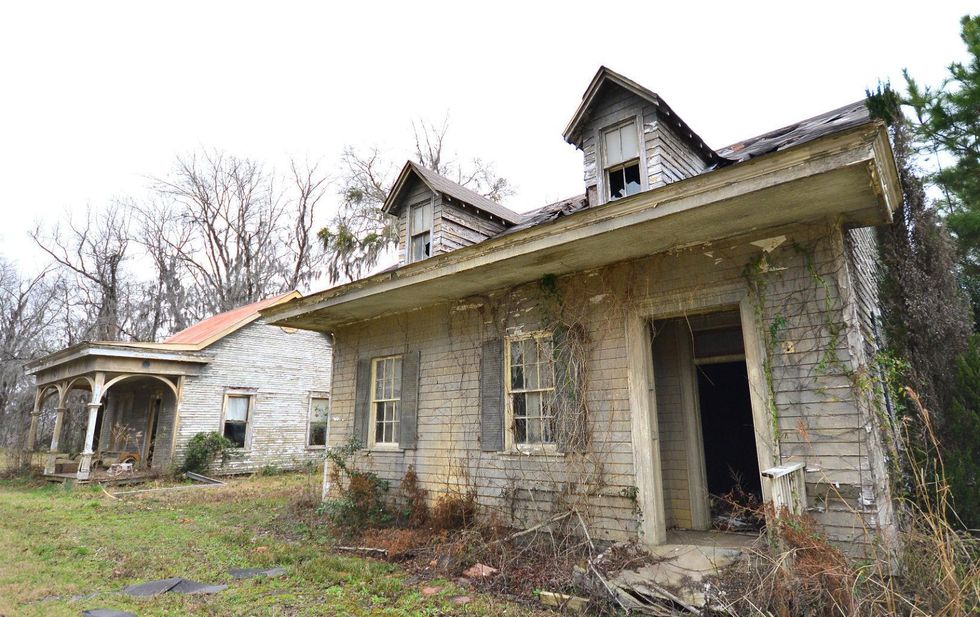 Spectre
Beyond the fictional church are benches where you can sit awhile and watch the surrounding water. The island itself is 60 acres and offers much else to explore if you'd like to stretch your time there. Fishing, camping, canoeing, and kayaking are all allowed but it's BYOB. Bring your own boat. And, of course, there's the other main draw: baby goats. They're used to people and aren't very shy, especially if you bring something to feed them.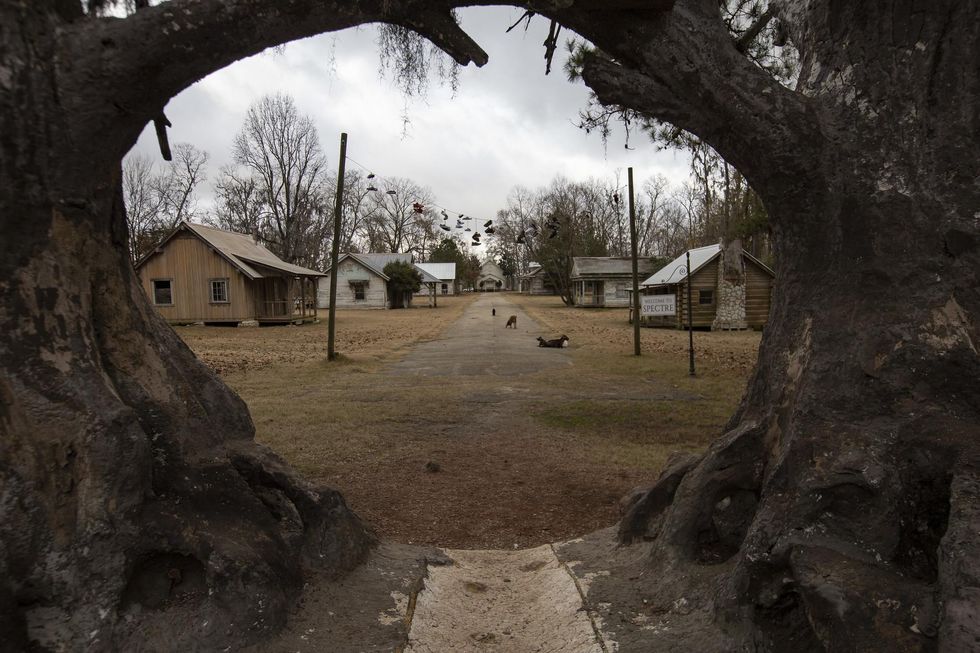 Big Fish TownAbandoned Southeast
Is Jackson Lake Island a destination? Probably not. It's more of a nice, short stop if you're already passing through. If that's the case it is absolutely worth your time. But if you're really into Big Fish and want to make a trip of it, you're in luck. The whole movie, except for a small amount of time in Paris, was filmed in and around Montgomery. You can visit the town of Ashton, check out Karl the Giant's cave, and even see the witch's house — fictional home of the one and only Helena Bonham Carter.
Perhaps you'll even be moved to write a poem about it. Whether or not it'll be as good as the one Norther Winslow (played by Steve Buscemi) writes — "Roses are red. Violets are blue. I love Spectre" — remains to be seen. It may not be easy, but with the magic of an old movie set there to inspire you, I think you've got a shot.
Details for visiting the island can be found here.