What does every boy band member need after stepping off the stage in front of thousands of hysteric fans?
Food! Through their years touring the world, these musicians have dined at restaurants all over the globe and sampled every cuisine under the sun, and now they're applying their passion for food to business. From New Kids on the Block singer Donnie Wahlberg's Wahlburgers burger chain to BTS' Kim Seokjin's seiromushi spot in South Korea, we took a look at the increasing number of restaurants owned by boy band members around the world.
Donnie Wahlberg
Chef Paul Wahlberg always knows when his brother, Donnie Wahlberg, is in town. How? A mass of fans will turn up to their Wahlburgers restaurant chain, signaling that the New Kids on the Block singer is on his way!
"I know Donnie's coming because the Blockheads come beforehand," Paul tells us. "The message gets out there, everyone comes and that unity is amazing."
Donnie and Paul teamed up with actor brother Mark Wahlberg to launch their first Wahlburgers in Massachusetts in 2011, and the business, now global, was also the focus of reality TV series, Wahlburgers.
"My mother [Alma] and Paul wanted nothing to do with doing a TV show," Donnie admits. "They recruited me to keep Mark off of their backs because Mark was pushing really hard."
Five years later, Paul and Alma had a blast on the A&E series and continue to welcome viewers to Wahlburgers, which offers family-inspired items like Mark's favorite Thanksgiving Turkey Burger. Donnie's wife, Jenny McCarthy's mixers line, Blondies, has been incorporated into the bar menu, and Donnie frequently stops by various branches while touring with NKOTB.
"We've all grown up with them," says Paul, about how 'Blockheads' have influenced business. "Fans have been fantastic and to see what Mark and Donnie give back is what makes me happiest. They try to bring as much joy and happiness to everybody, which is what I live for in the restaurant business."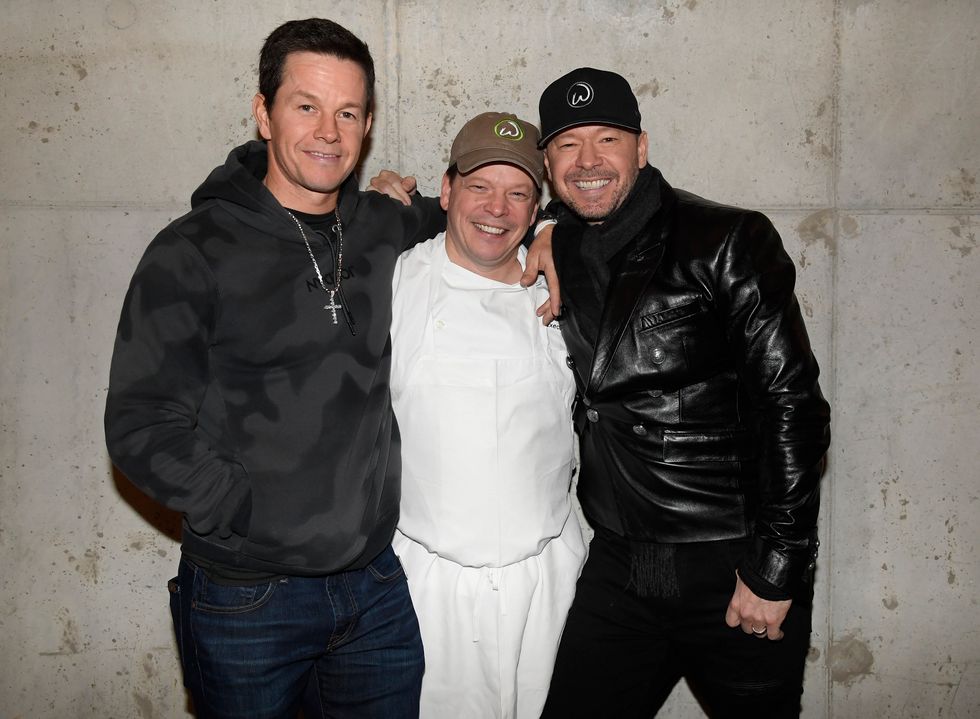 Mark Wahlberg and Donnie Wahlberg pose with brother and chef Paul Wahlberg at the trio's restaurant chain Wahlburgers.Wahlburgers/A&E
Jordan Knight

Donnie's bandmate, Jordan Knight, is also familiar with the wave of Blockheads that can sweep in for a bite and a selfie. He encounters fans at his Milton, Massachusetts, Italian restaurant Novara (of which he's a part-owner), but it's a different story when there's a NKOTB event in town. "The day after our show at Fenway Park, the place was a mob scene," Knight told us after the 2017 gig. "For whoever came from out of town, Novara was their next day's event. It was pretty cool."
While Jordan had never entertained dreams of entering hospitality, his interest was sparked when Tony DiRienzo, chef/owner of Abby Park (a restaurant he has long been visiting with his family), mentioned opening another spot.
"I was excited they were doing it and wasn't even thinking about investing, then they showed me the site and the discussion came up and I jumped at the opportunity," he says. "The timing, where it was, the ambience and everything just felt good."
Jordan's must-try dish is the chicken parmesan meatballs, while cocktail-loving fans should check out the New Fig on the Block.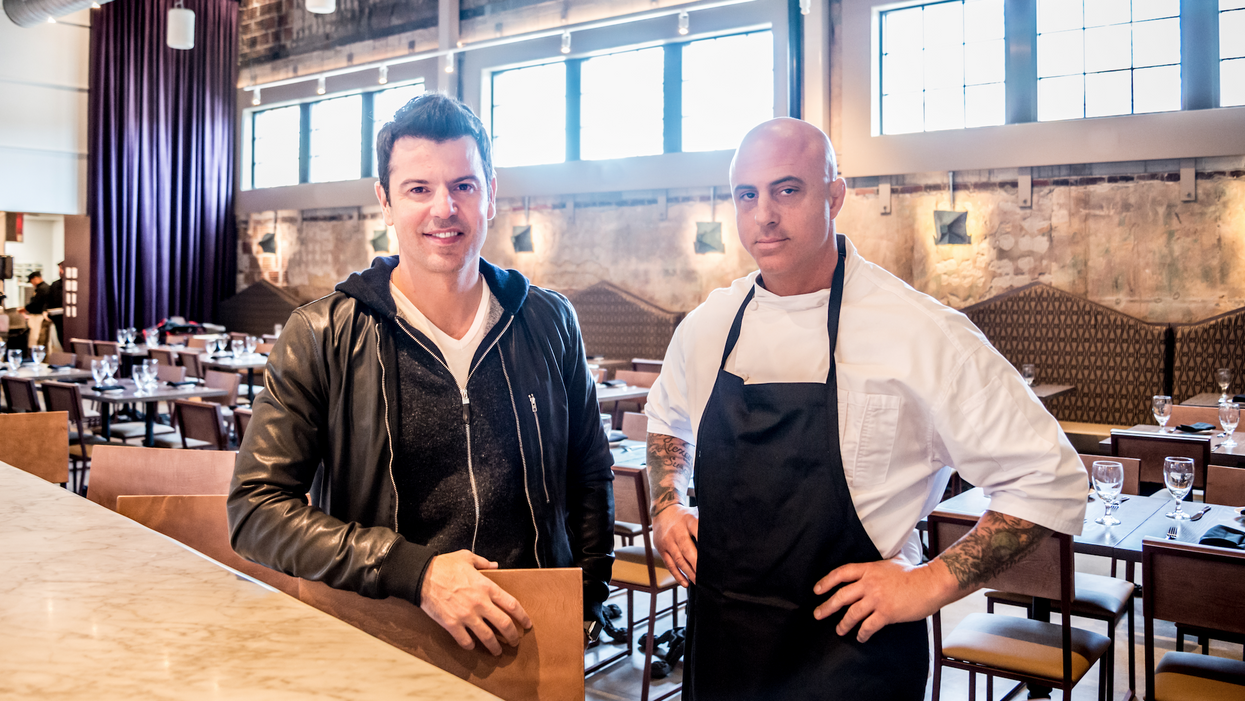 New Kids on the Block singer Jordan Knight at his Milton, Massachusetts restaurant Novara with chef Tony DiRienzo.Anna Ivanonva Photography
Jacob Underwood

O-Town's Jacob Underwood teamed up with his siblings to buy into the San Diego area's Riviera Supper Club and Turquoise Room, a once booming grill-your-own steakhouse and live music venue. The musician plans to revive the tired venue and its "Palm Springs/Frank Sinatra/mid-century vibe."
With no hospitality background, the family partnered with a local company to manage the day-to-day, while they focus on finding out what regulars want and commence small but powerful changes – like fixing chipped bar tops, reassessing lighting and deciding how many bacon items on the menu is too many (current offerings include bacon chocolate cake)!
Jacob is particularly passionate about making the Turquoise Room a more inviting place for musicians, using his expertise from O-Town, who were formed on MTV's Making the Band in 2000 and released their latest record, O.T.W.N. in 2018.
"My experience in production and putting on shows is really handy when I'm trying to bring more atmosphere to the bar," he says. "For example, lighting goes a long way when you're trying to create a mood and memory."
"And, I don't know much about ordering/prepping food, but with O-Town, we've eaten at more restaurants than most people do in a lifetime … steakhouses across the planet! It's fun to take ideas we've seen and amplify them or apply them to the vibe we're creating here."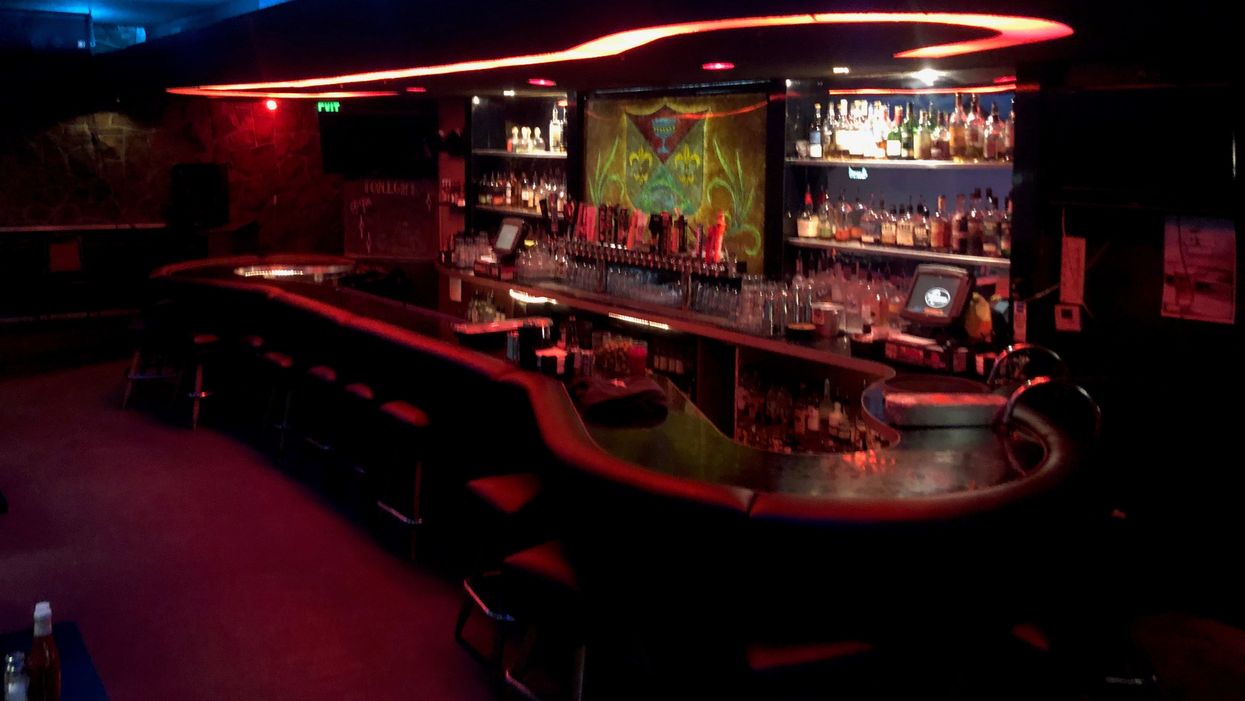 O-Town's Jacob Underwood bought into the Riviera Supper Club and Turquoise Room with his siblings.Riviera Supper Club and Turquoise Room
Kim Seokjin

BTS' Kim Seokjin (aka Jin) and his big brother opened Ossu Seiromushi in Seoul, South Korea in 2018. With simple décor and cute ornaments, the eatery specializes in seiromushi, a Japanese method of steam cooking. Diners are served a box with vegetables, pork, and beef, which is steamed at the table in around 13 minutes. "Being BTS' Jin's brother, he could've made any café or restaurant and so many fans would still come. But even if you're not a fan, it's like, 'Oh my god," raved YouTuber Sara Vi about the food in a video blog review.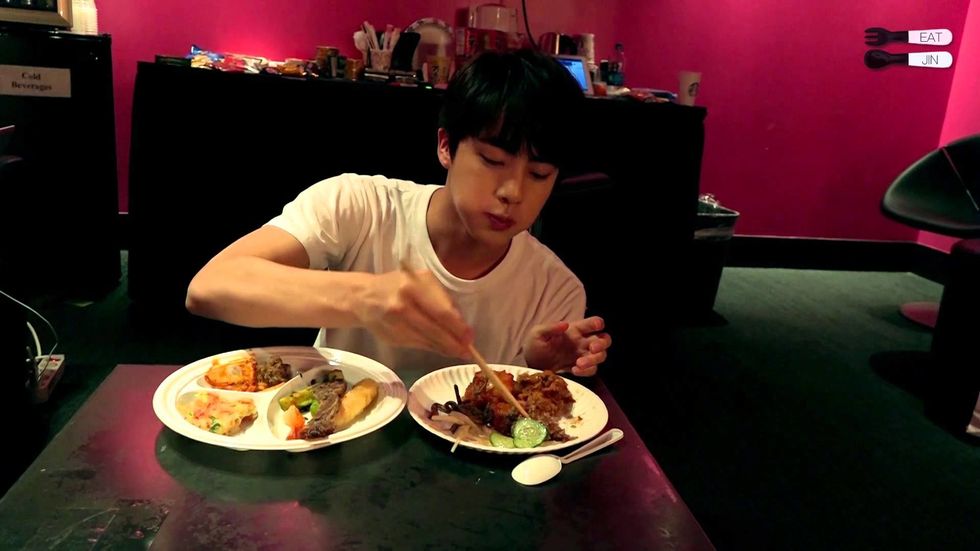 Lance Bass

For Lance Bass, opening the doors of his own sports bar, Rocco's, in the LGBTQ+ hot spot of West Hollywood, California, was completely "nerve-racking."
"It took us a long time to get it open," he says. "There were a lot of permits to sort and that block is insanely-popular. Our corner was the only one that sat dead for years, so it's nice to see it all lit up, inviting and feeling safer."
Rocco's was already an established sports tavern throughout LA, with Bass having frequented the Studio City spot before the opportunity arose to invest in the first of many upcoming LGBTQ+ versions of the bar. And, while Bass continues to juggle countless other projects, he recognizes the importance of remaining involved with business operations.
"Especially at the beginning because you never know exactly what the community wants, and that neighborhood is very fickle," he says. "We were lucky because there's other Rocco's, so we trained everyone quickly and they were perfect by the time we opened for Pride. It was so much fun."
While Bass' *NSYNC background no doubt attracts fans, he's finding Rocco's WeHo to be more of a local hangout. "It's not very touristy, which is great because that's exactly what the neighborhood wanted, so I don't promote it to my fans. I've definitely noticed our regulars are very local and that makes me happy."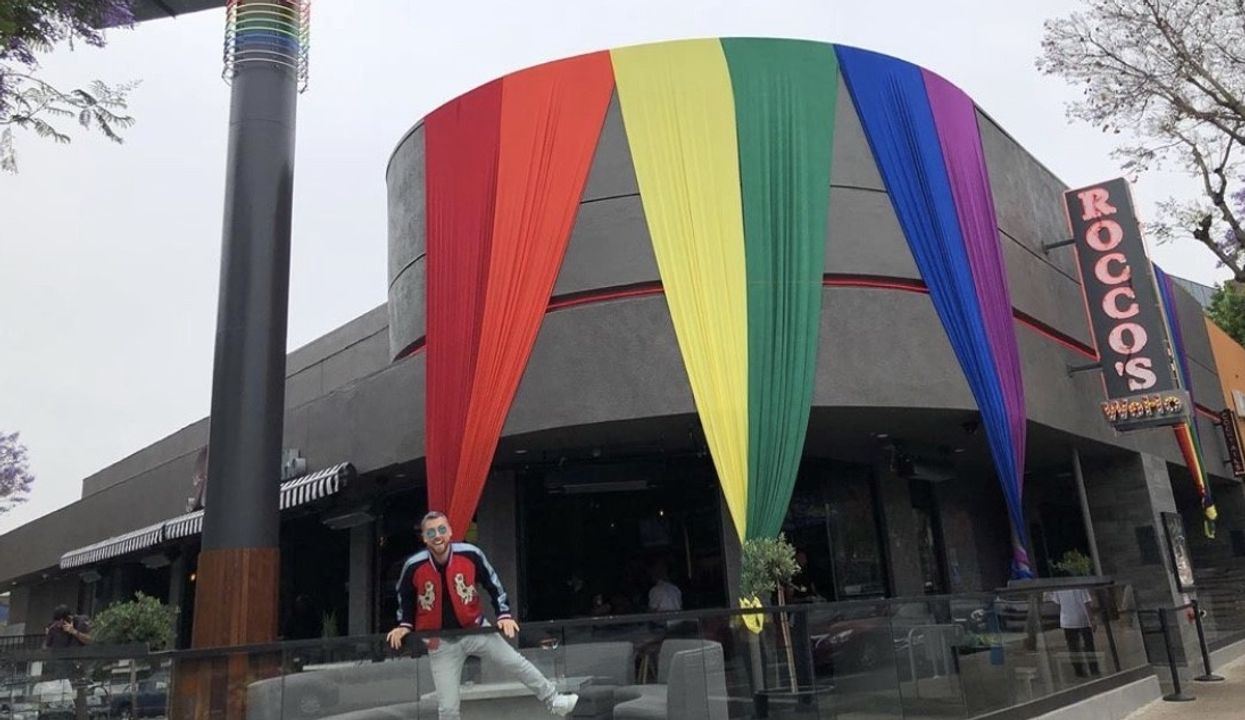 Lance Bass at his West Hollywood bar and restaurant Rocco's WeHo.Rocco's WeHo.
Brian McFadden

The Westlife and Boyzlife crooner is no longer "Flying Without Wings," thanks to his Dublin, Ireland wings joint Wishbone, which has now opened its second branch. McFadden launched the business with pals, including chef James Stimpson, who used to whip up amazing chicken wings after their nights out. "We kept telling him he needed to open up a restaurant as they are incredible," McFadden toldKilkenny People. "He spent many months formulating the best way to marinade, coat and cook wings to give our customers wings like no others."
The restaurant serves up sticky BBQ wings or southern fried chicken tenders with dips like Cajun jalapeno mayo. For sweet-toothed diners, the menu offers salted toffee apple or spiced orange flavored wings, and McFadden's favorite – Ferrero Rocher cheesecake.
Joey Fatone

*NSYNC's Joey Fatone had some fun with his surname while launching hot dog joint, Fat Ones, but the menu is where fans can truly get to know the musician.
"Fat Ones is a combination of who he is, where he's from and where he's been," says Fat Ones Orlando owner Brian Connor. "All of our features are an homage to Joey, from the 'Angelo' (Joey's character in My Big Fat Greek Wedding) and the 'Baritone' (his singing style) to the 'Bensonhurst' (where he was born) and the 'Fat One' (his nickname in school)."
Fatone's love for hot dogs stemmed from growing up in New York and eating Nathan's Famous Hot Dogs at Coney Island, followed by shaved ice, which Fat Ones also serves up.
Connor says Fatone is a "great" business partner, who meets with fans, provides giveaways, and boosts the restaurant's social media presence. However, he notes the eatery's success is due to more than Fatone's boy band background.
"Joey has so much success in his career and *NSYNC's only a portion of that. We get contacted by fans every day who listen to his podcast, watch him on Impractical Jokers, or love him in Big Fat Greek Wedding."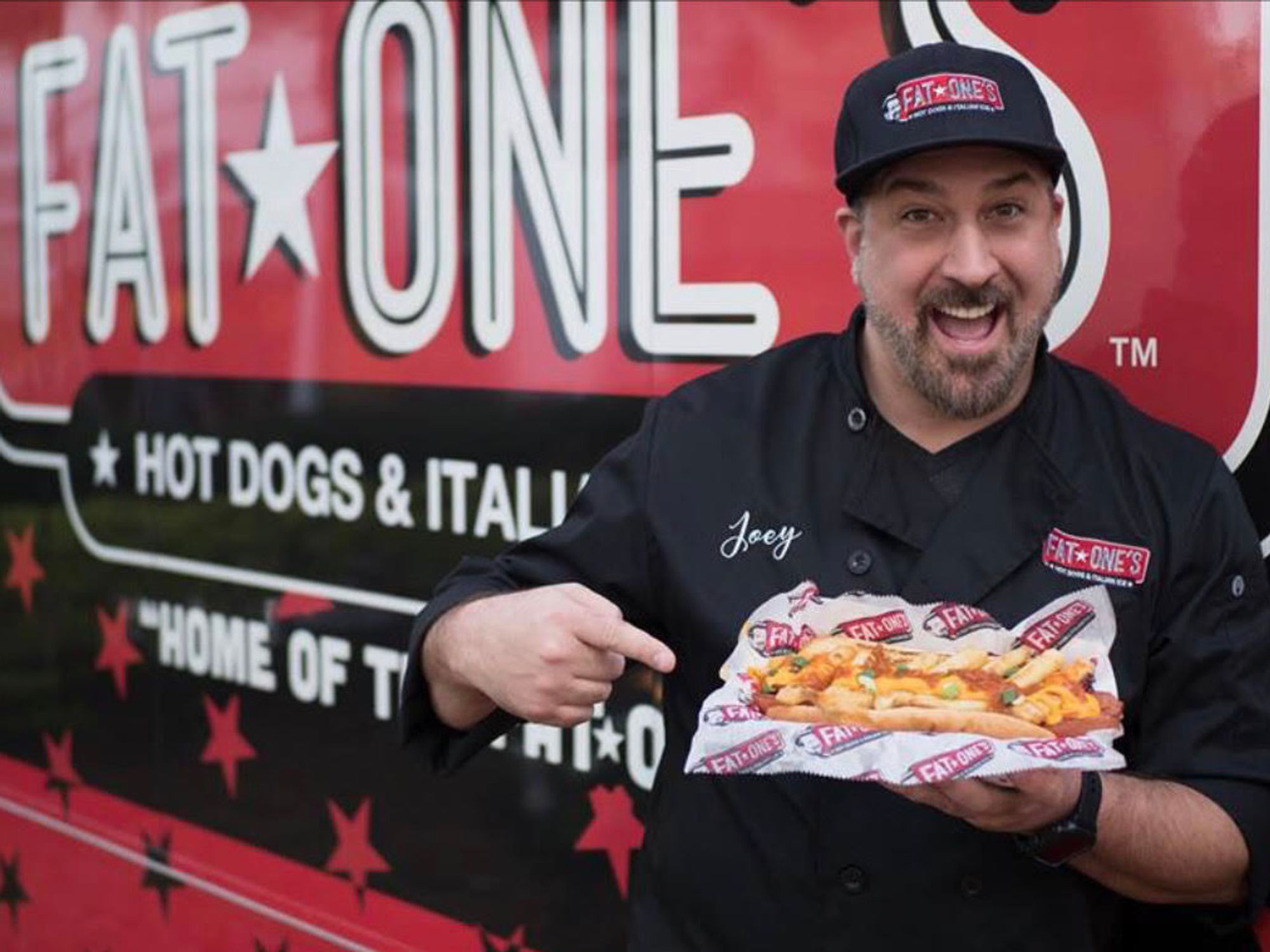 *NSYNC member Joey Fatone enjoys a meal from his hot dog spot Fat Ones.Fat Ones.