Staff writer E.R. Pulgar was based in Buenos Aires, Argentina for four months writing a bi-monthly column for Journiest called Buenos Aires Beat. In its sixth and final iteration, he gives a long goodbye to mate, tango, and the streets of Argentina's capital.
Anyone that's been following this column will have noticed that I dropped off the face of the Earth for the last month of writing this column—for that, I apologize. The opportunity to reflect on this experience was an unprecedented one, but near the end, I found myself so embroiled in the entire experience that I didn't find the time to even sit and reflect. It's not exactly a good excuse, but if I learned anything while I was away it's that writing is not about words. One must live before they can sit down, clear their limbs of energy before sitting down and reflecting.
So then, what exactly was I up to this month of silence and long goodbyes?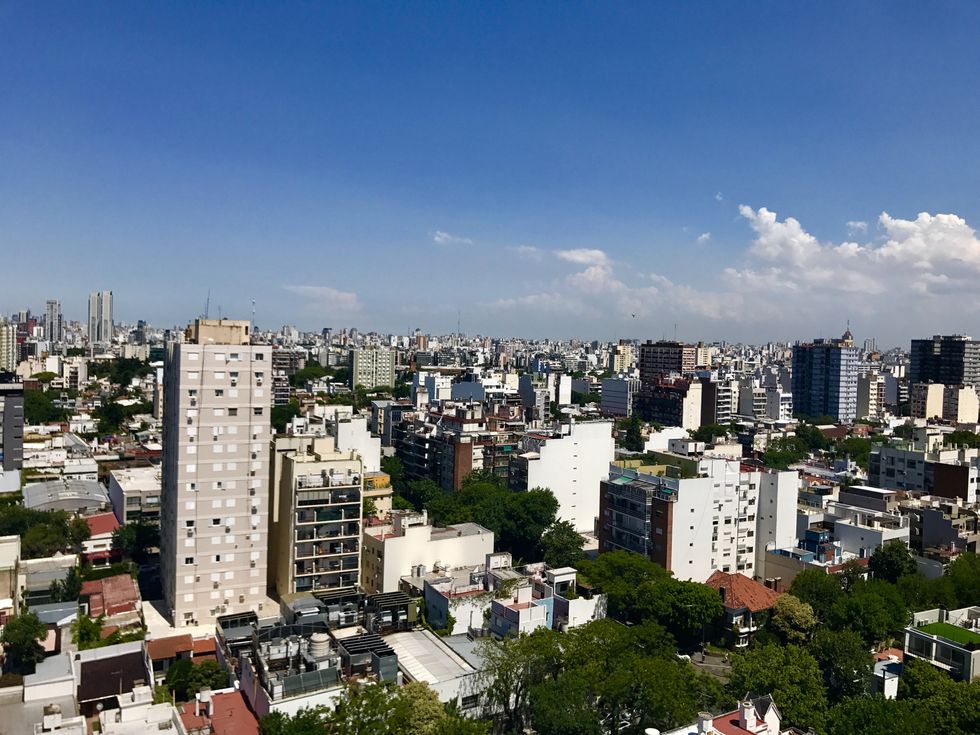 A panoramic view from Colegiales.E.R. Pulgar
I bought a mate gourd at the Plaza Francia fair on a bright Sunday afternoon, and cured it for one day instead of the usual two—the taste is still pristine. I had a submarino and messed up mixing in the chocolate bar in a sea of hot milk. I went to my corner choripan place and didn't have to say my order before the cashier was already yelling for un chori con chimichurri para llevar. I paid 50 pesos and ate it in my favorite plaza under the last jacarandas of the season. I relished Argentine beef and wine. I drank too much Coke and Fernet. I stopped complaining about the taste of Coke and Fernet.
I walked. I ventured into a cathedral where the only souls present where myself, the organ player, and whatever statues were alive to witness. I bought a copy of Julio Cortázar's short stories and Pablo Neruda's love sonnets. I danced in San Telmo's Plaza Dorrego at midnight. I bought, at the end of the long day of wandering, a five peso icon of Saint Expeditus from a street vendor, an intercession for merchants and navigators alike. I found a café in Monserrat that felt like Brooklyn.
I got caught in the middle of a protest for pensioner's rights on my way to a hotel. I saw a cop smash a nightstick over a protestor's head in front of the Casa Rosada. I compared, in my head, this brutality to what I would return to in just a few days. I heard the Mothers of Plaza de Mayo speak on their weekly Thursday protest, refusing to remain silent after forty years of a continued search for their disappeared children and grandchildren. I decided to come back empowered instead of afraid.
I lost count of the sunrises on the rooftops of the city, over-caffeinated on mate and adrenaline. I listened to Soda Stereo's "Persiana Americana" an admittedly unhealthy amount. I watched a local band I had never heard of play to a sold-out crowd in their home stadium, the closing set of a tour hailed with open arms by the place where they began. I let myself sway to the rhythm and sweat. I knew the potent fervor of Argentine crowds.
I went to the outskirts of town to a festival where bands I treasured back home appeared as if to remind me of where I was returning. I got caught in the middle of a maelstrom that cancelled the closing act and took the long, muddy bus home with everyone else who went to the outskirts of town for live music.
I laughed; often, and vigorously. I got chills from how much warmth I felt from everyone I was surrounded by, from knowing the streets in the unusual grid that I had begun to call home. I had begun to call this unusual grid home.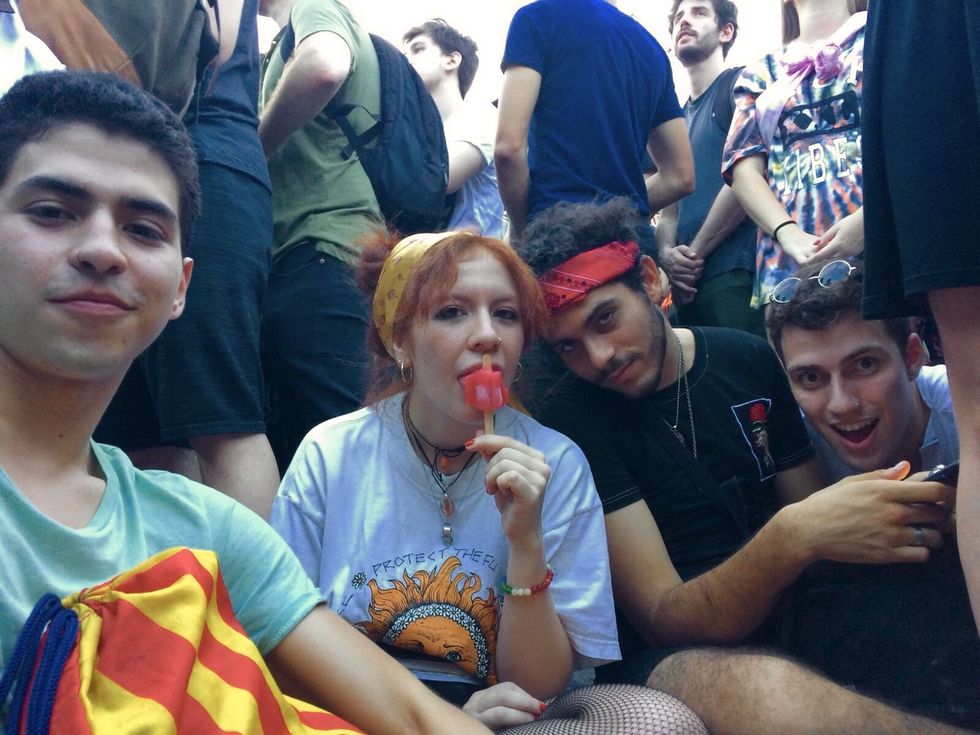 Festival BUE, 2017Damariz Damken
There's a tango by Carlos Gardel, the undisputed songbird of the city, where he bemoans when he'll next see Buenos Aires as he leaves the city. Perhaps my most vivid memory of my last day in Buenos Aires is getting in the taxi to Ministro Pistarini International Airport, my heart and luggage heavy, and watching the city fade behind me while listening to that same tango. Without realizing it, I cried from my right eye; I remembered someone telling me this was the duct that guided happy tears.

Maybe I was happy because of everything I had experienced. Maybe it was the knowledge of home. Maybe it was knowing—yes, and deeply—that I'll be back someday and for good after life has its inevitable complications and compromises. I know that one day I'll be walking down porteño streets once again, with a little bit more permanence. Until then, the music, memories, and mate will remain.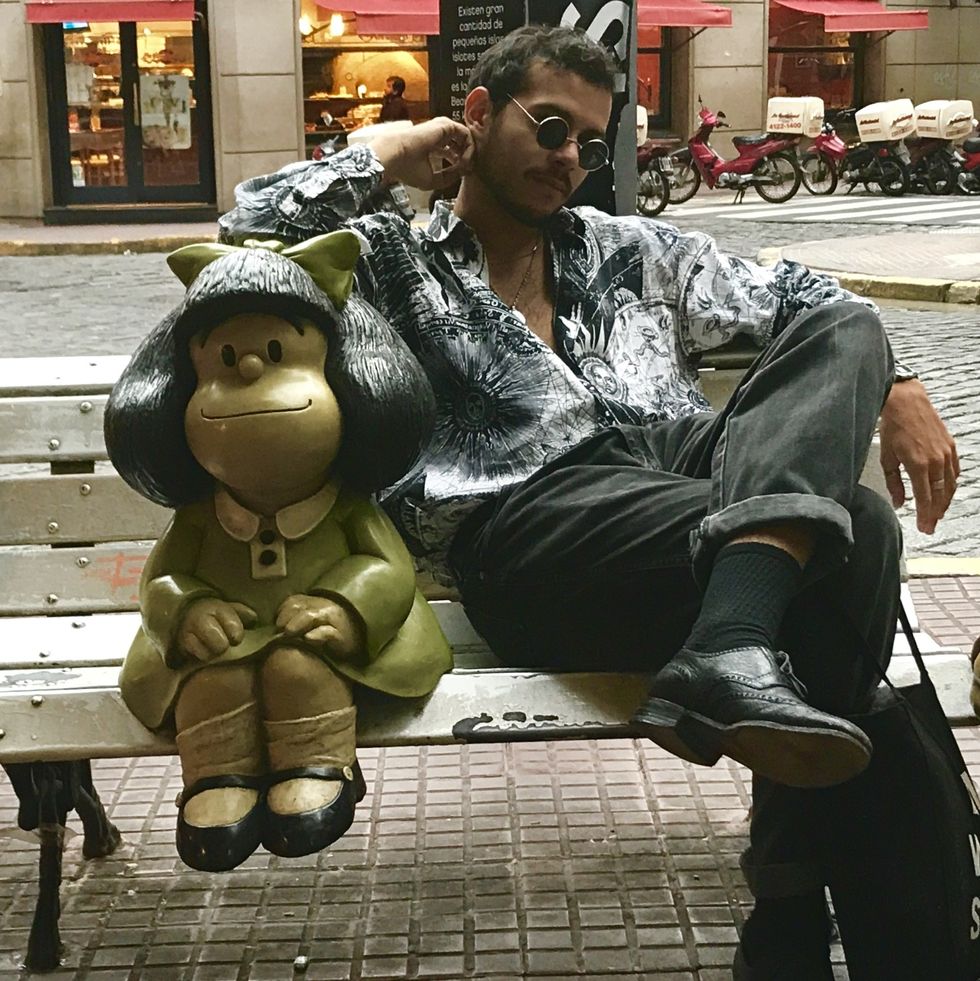 Me and Mafalda, the philosopher of our times.Paulo Srulevitch
Get back on the Buenos Aires Beat below
Buenos Aires Beat III: Boliches, puchos, y lunfardo
Buenos Aires Beat IV: The Cafés