Carrots are one of the most widely used, and enjoyed, vegetables in the world. And for good reason. They can be eaten raw with dips and in salads, or as a snack on their own. They can be served as side dishes, used as foundational elements for soups and stocks, or as the centerpiece of many sweet and savory main courses. It's no surprise that three of the most popular carrot recipes are carrot cake, cream of carrot soup and roasted carrots --- they're delicious! But there's always room for healthy and interesting updates to our favorite classics, especially when we are trying to cut down on refined sugar and animal fats.
Carrots have quite an interesting history; there are entire websites devoted to the orange vegetable.
Research suggests that carrots were first cultivated in what is present day Iran around 5,000 years ago. Those early carrots were purple and yellow, and they were tough and very bitter. Purple carrots made their way to the Mediterranean in the 10th century, and there is evidence that the orange carrot we know today was cultivated in The Netherlands in the 16th century. The debate among carrot historians is why orange carrots were cultivated in the first place. It has been reported that 17th Century Dutch carrot growers did this as a tribute to William of Orange, but others dispute the veracity of this claim. According to the writer Simon Schama, the carrot was used as a political weapon in the 18th Century by the Dutch Patriot movement, who opposed the continued power or the House of Orange. The Patriots declared that orange "was the color of sedition....carrots sold with their roots too conspicuously showing were deemed provocative." Whether or not WIlliam of Orange was in fact the inspiration for the orange carrot, everyone agrees that the Long Orange Dutch carrot is the variety from which the orange carrot we eat today was cultivated.
Carrots arrived in the "New World" with the Jamestown colonists in 1609, but their popularity ebbed and flowed with the times.
The popularity of carrots reached its lowest point in the 19th century when it seems most people thought of them as feed for livestock. The end of WWII saw a surge in carrot appreciation and uses, due, in some part, to a British propaganda campaign aimed at convincing the Germans that British soldiers could see in the dark because they ate a lot of them. According to an article in Smithsonian, "During the 1940 Blitzkrieg, the Luftwaffe often struck under the cover of darkness. In order to make it more difficult for the German planes to hit targets, the British government issued citywide blackouts. The Royal Air Force were able to repel the German fighters in part because of the development of a new, secret radar technology. The on-board Airborne Interception Radar (AI), first used by the RAF in 1939, had the ability to pinpoint enemy bombers before they reached the English Channel. But to keep that under wraps, the Ministry provided another reason for their success: "carrots."
While they might not actually help you see in the dark, the health benefits of carrots are off the charts, with a high fiber content and mega-load of cancer preventing beta-carotene being just the tip of the carrot's impressive nutritional qualities. Check out a full rundown on this Food Rating System Chart from the World's Healthiest Foods.
In the meantime, here's a healthy update to three of our favorite carrot recipes.
SERIOUSLY HEALTHY CARROT MUFFINS - makes 12 large muffins
If you are searching for a healthy alternative to carrot cake, look no further. These muffins have a lot of ingredients, which can seem daunting, but they are worth it the effort. The dates, pineapple, raisins and, of course carrots, provide a lot of sweetness, which allows us to cut way down on refined sugar. The wheat germ, walnuts and pumpkin seeds provide fiber and a host of nutrients, as well as a fabulous texture and flavor, and coconut oil adds wonderful richness. If you are using organic carrots, try leaving the peel on for extra nutrition. The frosting is optional, but it is delicious!
1 cup extra virgin coconut oil, at room temp
4 tablespoons unsalted butter at room temp (or substitute with a neutral oil like safflower if you want to go dairy free)
½ cup brown sugar
5 Medjool dates, pitted and very finally chopped
4 eggs
1 teaspoon vanilla extract
2 cups fresh grated carrots
3/4 cup all-purpose flour
1 cup whole wheat flour
¼ cup wheat germ
2 teaspoons baking powder
2 teaspoons baking soda
2 teaspoons cinnamon
8 oz. crushed pineapple with juice
½ cup chopped walnuts
½ cup golden raisins
¼ cup raw pumpkin seeds for garnish (optional)
Frosting
1/2 cup softened butter (or Earth Balance vegan butter if dairy free)
8 oz. softened reduced fat cream cheese (or Tofutti vegan cream cheese if dairy free)
1 teaspoon vanilla
1/4 cup maple syrup
Line a muffin tin with lightly oiled baking cups and preheat oven to 350 degrees. Mix together the flours, wheat germ, baking powder and soda and cinnamon and set aside. In a large bowl, or Kitchen Aid mixer, cream together the coconut oil, butter, brown sugar and dates until well combined. Add the vanilla extract and then the eggs, mixing in one at a time, and beat on moderate speed. Fold in the carrots, pineapple followed by the dry ingredients, nuts and raisins, taking care not to over-mix. Fill the baking cups with batter (about 1/3 cup), sprinkle each muffin with some pumpkin seeds if not frosting them, and bake for 25-30 minutes, or until the muffins are set and a toothpick comes out clean from the center. If frosting, let muffins cool completely on a wire rack before either spreading frosting with a spatula or piping it with a pastry bag. Sprinkle pumpkin seeds on top.
To make the frosting - place the butter and cream cheese in a bowl and beat on a medium speed until blended. Add vanilla and maple syrup and blend until smooth and fluffy, about 5 minutes. Refrigerate until ready to use.
CLEANSING CARROT SOUP – serves 4
Fragrant cumin and coconut oil give this soup its unique character. Fennel is known throughout the world for its medicinal qualities, especially with regard to digestive health. It has half the daily requirement of Vitamin C, which is a potent antioxidant, has a high potassium content, which lowers blood pressure and inflammation, and is high in fiber. It also has a lovely, subtly sweet licorice flavor which pairs beautifully with carrots. The roasted beet here is optional but it really adds nice texture and color as a garnish.
2 tablespoons extra virgin coconut oil
1 tablespoon ground cumin
1 bulb fennel, tough outer layer, core and long stem removed and chopped
1 large onion (preferably Vidalia), peeled and chopped
2 lbs. carrots, peeled and chopped (or you may leave the peel on if using organic)
5 cups chicken broth
salt to taste
½ teaspoon fine ground white pepper
two medium beets
a handful of lightly toasted pumpkin seeds*
If you are using the beets, preheat oven to 400 degrees. Peel and dice beets and place on a baking sheet. Toss with a drizzle of olive oil and a sprinkle of salt. Roast for 15 minutes, remove and set aside (you can do this while you are making the soup). In a medium to large pot, melt the coconut oil over medium heat and add the cumin and white pepper. Cook for a moment, until you start to smell the cumin, add the onion and fennel and cook, stirring occasionally, until onion is translucent, taking care not to brown. Add the carrots, stock, and a healthy pinch of salt. Bring to a gentle boil, cover with the lid ajar, and cook for about 20 minutes, or until the carrots can be very easily pierced with the tip of a knife. Turn off heat and blend soup with an immersion blender until very smooth. Check seasoning. Ladle into bowls and top with a tablespoon of beets and a sprinkle of pumpkin seeds.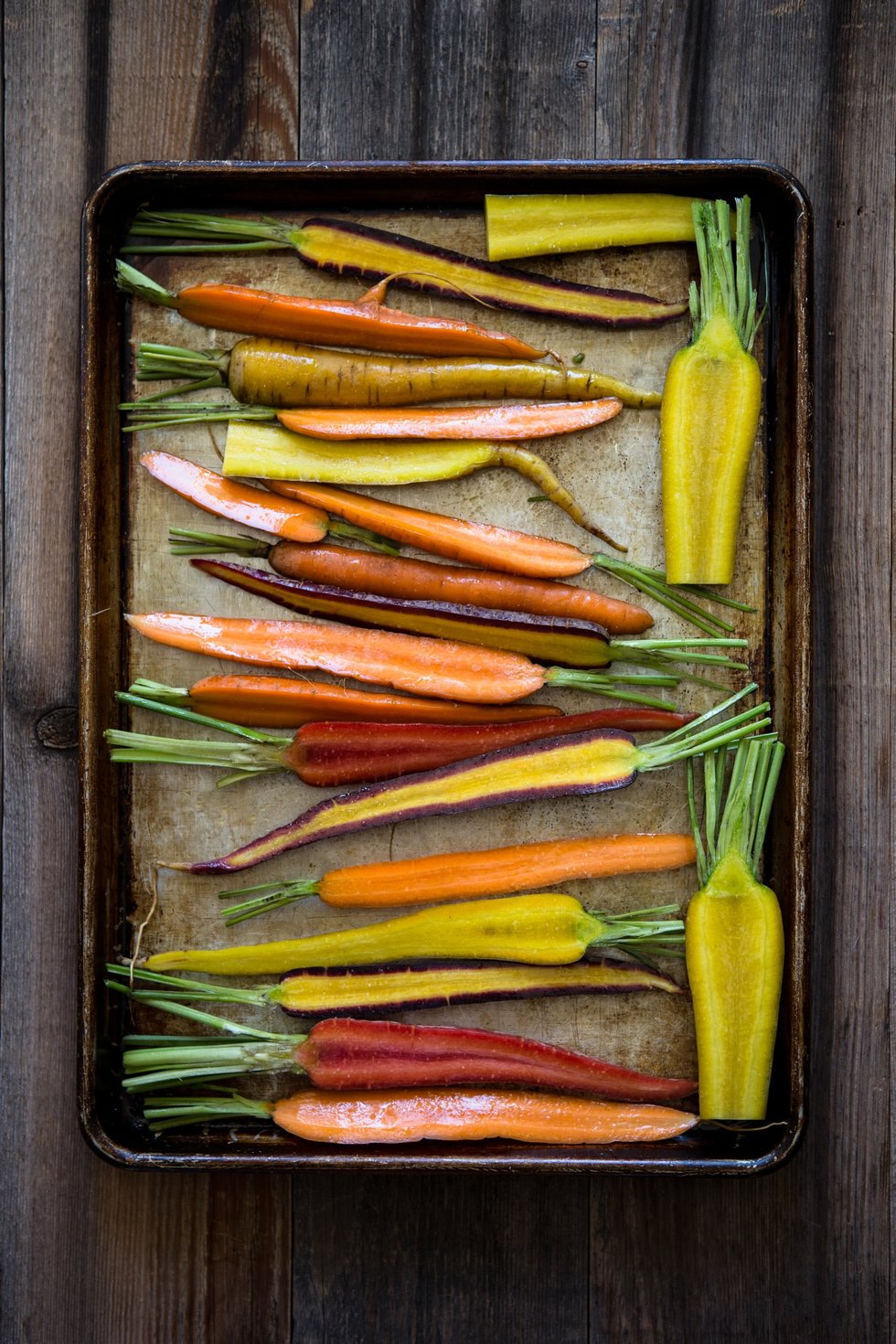 ROASTED CARROTS WITH RED ONIONS, FARRO AND GOAT CHEESE – serves 4
1 lb. carrots, scrubbed clean, or peeled if not organic (if your carrots are small and thin, you will need 2 lbs.)
2 cups farro
two large red onions
¼ cup extra virgin olive oil
3 tablespoons balsamic vinegar
4 oz. semi-soft goat cheese
¼ cup loosely chopped dill
¼ cup lightly toasted sliced almonds*
for the dressing
1/3 cup extra virgin olive oil
3 tablespoons fresh lemon juice
a healthy pinch of kosher salt
freshly ground black pepper
Make the dressing by whisking the olive oil into the lemon juice, salt and pepper in a steady stream. Set aside. Preheat oven to 400 degrees. Slice carrots on the diagonal into ¼ inch rounds. Peel and slice the onion into ¼ inch slices. Toss carrots and onion with olive oil, balsamic, and a healthy sprinkle of kosher salt and arrange on two roasting pans so that vegetables are in a single layer and not overcrowded. Roast for 20-30 minutes, stirring once to make sure onions are not burning, until carrots are tender and balsamic has caramelized. While carrots and onions are in the oven, cook farro according to package's instructions, making sure you salt the water. When done, drain and cool and place on a large platter and toss with the dressing. Remove vegetables from oven and gently toss them into the farro mixture. Crumble the goat cheese over the top followed by the almonds and the dill.
*To toast almonds or pumpkin seeds, place on a backing sheet and bake for 4 minutes in a 350- degree oven.