Are you crazy for cats? And what about cafés? If you love them both, then why not combine your interests by visiting a cat café? The purrs and the pours will have you smiling, and you'll be back to visit your purr-fect little friends again. Better yet, adopt a "fur baby" and make room for another deserving animal to move in. Treats and tails make the perfect combination!
Meow Parlour – Manhattan, NY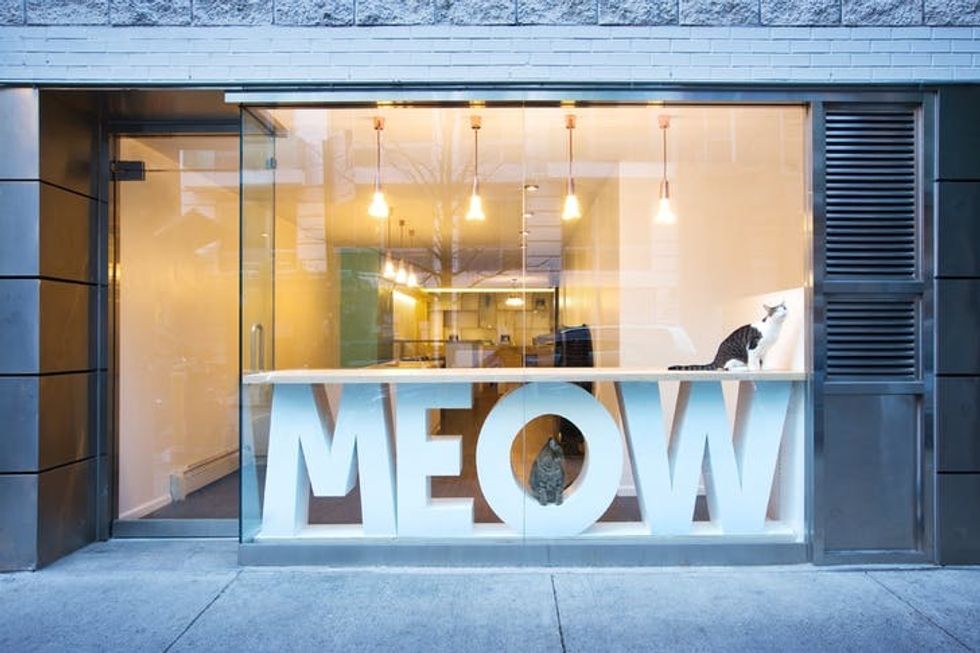 Via archinect.com
NYC's first cat café is a great attraction for cat lovers in the Big Apple. Feline fans can book a time slot at Meow Parlour, chill with the kitties, grab a café snack, and have the opportunity to fall in love and even adopt a furry friend. Hang out for a half an hour or make a day of it and stick around for up to 5 hours. The cats have free roam of the place, so don't be surprised if they curl up by your feet as you enjoy a sweet treat. Special events like bingo and yoga make for interesting activities, especially when the curious cats are part of the action.
46 Hester St., New York, NY
Cat Town – Oakland, CA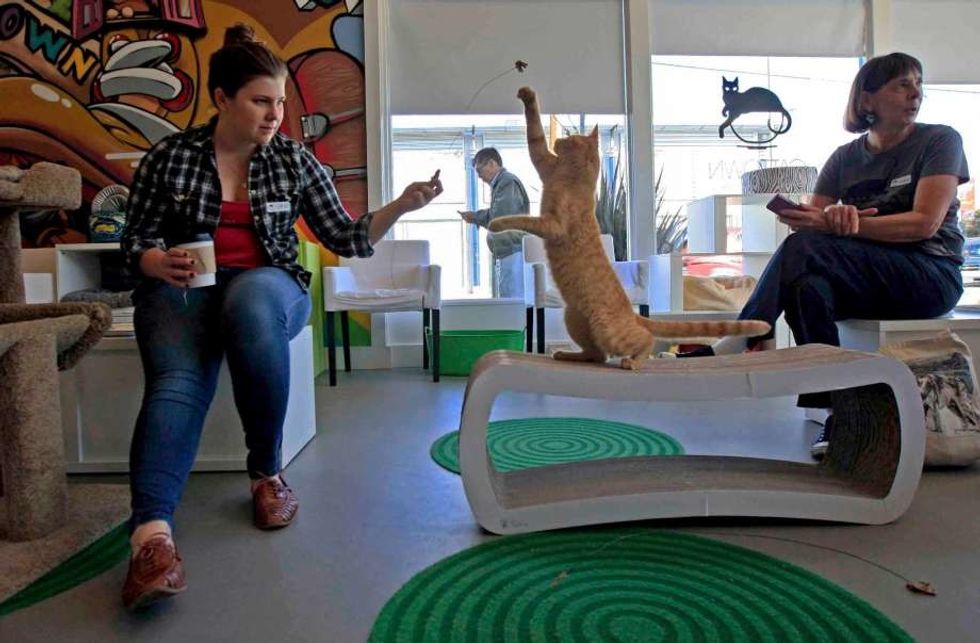 Via sfgate.com
About 20 cats have free run of the place at Oakland's Cat Townand all are up for adoption. Just 12 people can visit per hour, so reserve your spot for plenty of purrs and pets. Yoga events in the "Cat Zone" as well as drawing night make for fun ways to spend time with some four-legged friends. Visit the RAWR Coffee Bar at Cat Town for a cuppa Joe or a tasty pastry. They sell all-natural cat food too, so pick up a treat for a deserving little pal on the premises. Since 2011, this spot has been a local favorite for cat-lovers who care.
2869 Broadway, Oakland, CA
Purringtons Cat Lounge – Portland, OR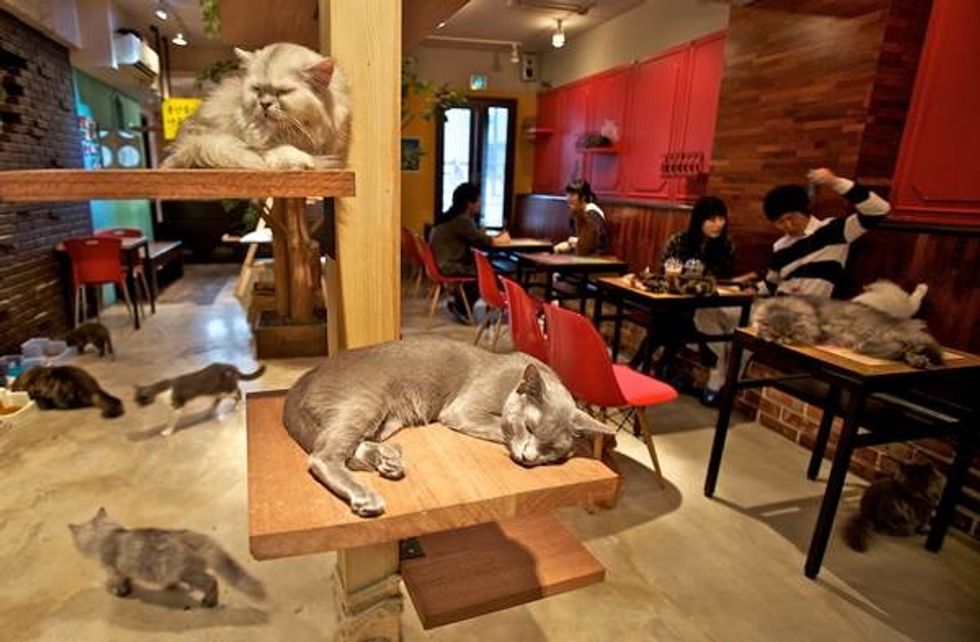 Via newscastic.com
If you love cats as much as you love beer, wine, and cider, stop by Purringtons Cat Lounge and enjoy an adult beverage and a small bite as you play and pet the beautiful cats who live at the lounge. Reserve a spot or just drop in to meet the cute cats and potentially adopt one you just can't leave behind. Sundays are time for yoga with the residents, so stretch as you snuggle up with the adorable adoptable sweeties. As the first cat café and adoption center in the Pacific Northwest, Purringtons is proud to continue to do their part in saving animals while entertaining cat enthusiasts.
3529 NE MLK Jr. Blvd., Portland, OR
Planet Tails – Naples, FL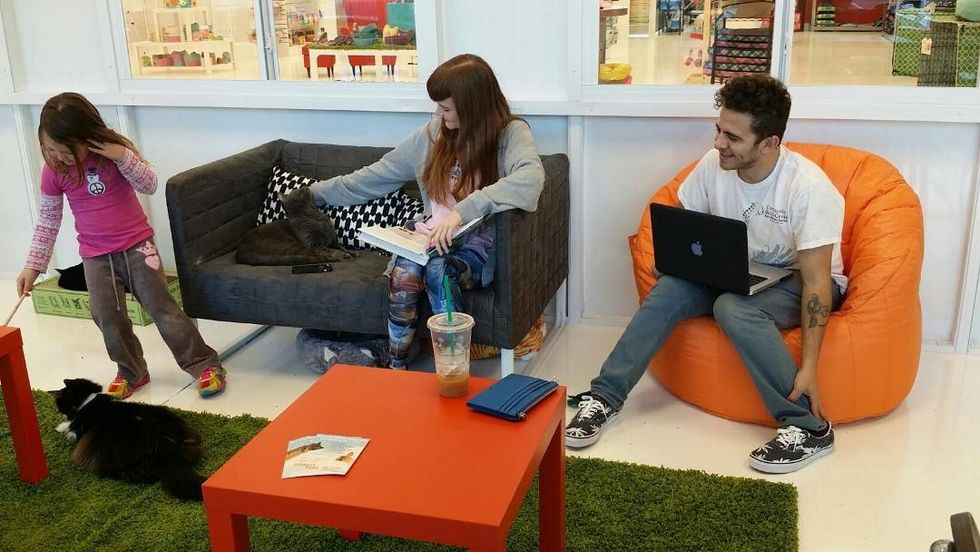 Via laughingsquid.com
Floridians are getting their fix of feline fun when they pay a visit to Planet Tails in Naples. Not only is this sunny spot a cat café, but they also offer cat boarding, doggie daycare, and a pet boutique for feline fashionistas. The cats at Planet Tails are available for adoption, but they adore visitors who come to spend a few hours for companionship too. Grab a drink and a seat and see why cat cafés are so much fun as you get that knowing nuzzle from a furry friend.
2355 Vanderbilt Beach Rd. Ste. 124, Naples, FL
Denver Cat Company – Denver, CO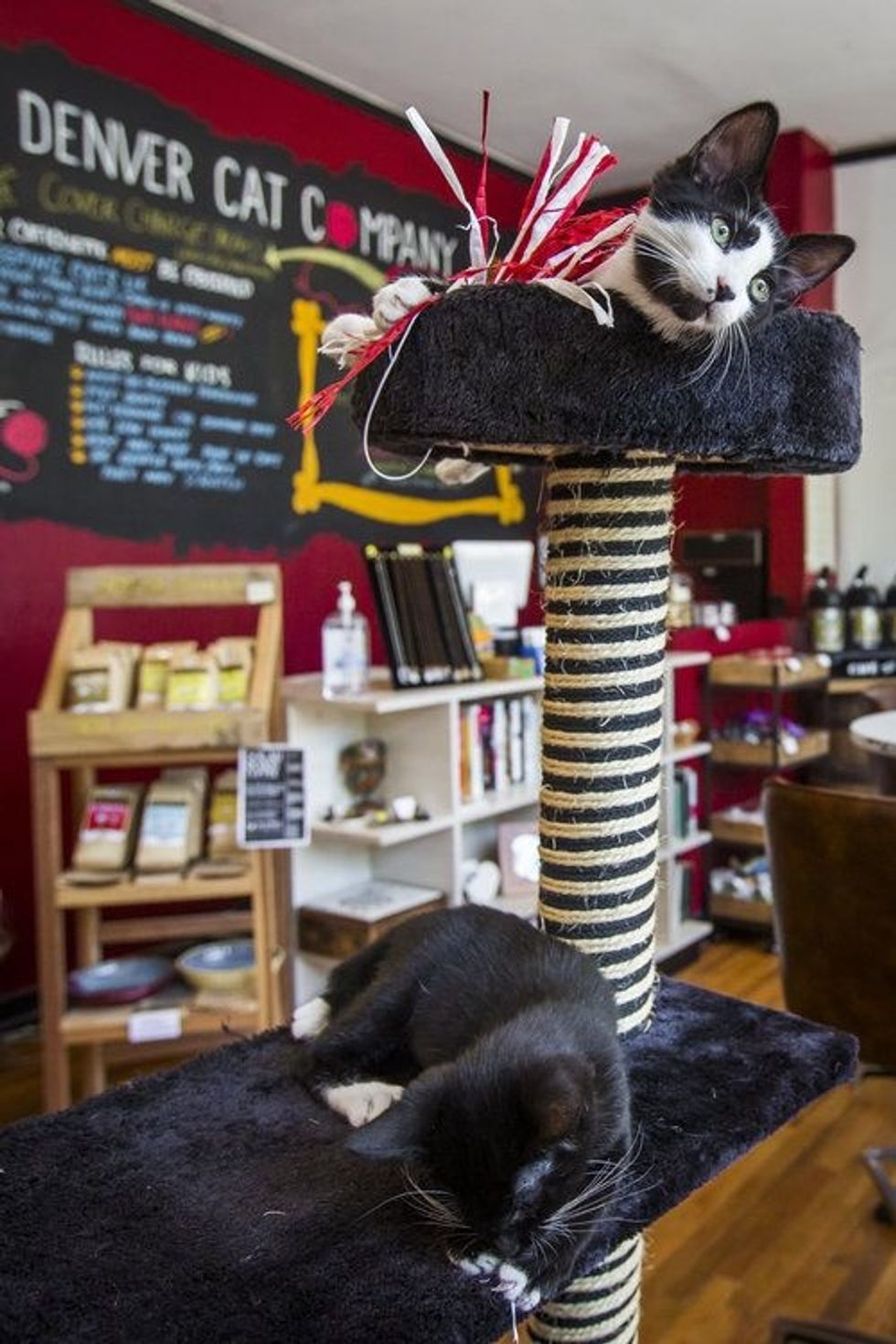 Via pinterest.com
Visit Denver Cat Company to help raise money for fostering rescue cats while you spend time giving the residents plenty of head rubs and TLC. There is no time limit, so spend all afternoon canoodling with the cats and munching treats from the café. Visitors love the special art events which include painting classes with cat themes. And the regulars can become members, paying a one-time fee with special perks like free events and the option to bring additional guests free of charge. About 15 cats are around at a time, so get to know them and show your support.
3929 Tennyson St., Denver, CO
Cat cafés are all the rage. Paws down, you'll have a great time!