Thanks to revitalization initiatives begun in the late '90s and early aughts, plus two colossal restoration projects completed in 2017 and 2018, the Queen City has more to offer than soft wieners and spaghetti with tepid chili on top.
It is a city of contrasts and contradictions: delicacy and brawn, vitality and torpor, vintage charm, and modern edge.
But the once-blazing downtown lights had grown dim for a half-century snooze. Now emerging from hibernation, Porkopolis hopes to dish out some primo prosciutto for a long while, if the price tags are any indication. The newly revealed Music Hall and Union Terminal both join an already dazzling roster of improvements to entertainment, infrastructure, and transportation.
Cincinnati has had a particular allure for centuries, notable for its position on the Ohio River, making it a point of passage for the western frontier. Its penchant for urbane culture started as long ago as the late 18th century when its first French pastry chef moved in to serve what was then the densest population in the country.
Developing as a vibrant publishing center, the Blue Chip City also came to possess its own symphony, opera, ballet, theaters, art museums, and respected institutions of higher learning, all of which put it on track with New York City as a burgeoning high-culture metropolis. That started to shift in the 1950s when businesses moved to the suburbs, and the city went into cardiac arrest.
A Double Grand Finale
Slowly the energy cranked up again. Tripping the light to spectacular effect were the renovations of two crown jewels that had fallen into disrepair. In 2017, after an expenditure of $143 million and following a two-year closure, the Cincinnati Music Hall reopened with improved acoustics and facilities to present the myriad delights of a symphony pops orchestra, ballet, opera, and choir.
In late 2018, the Cincinnati Museum Center at Union Terminal was ready not only for visitors to the various science and history museums therein but also for Amtrak. The $228 million job included cleaning and restoring what seemed like miles of Winold Reiss's "Worker Murals," depicting Cincinnati industry—iron, meatpacking, soap, textiles, pottery, pianos, airplanes, publishing, and printing—bringing the mammoth airplane hangar/Art Deco gem back to its 1930s splendor.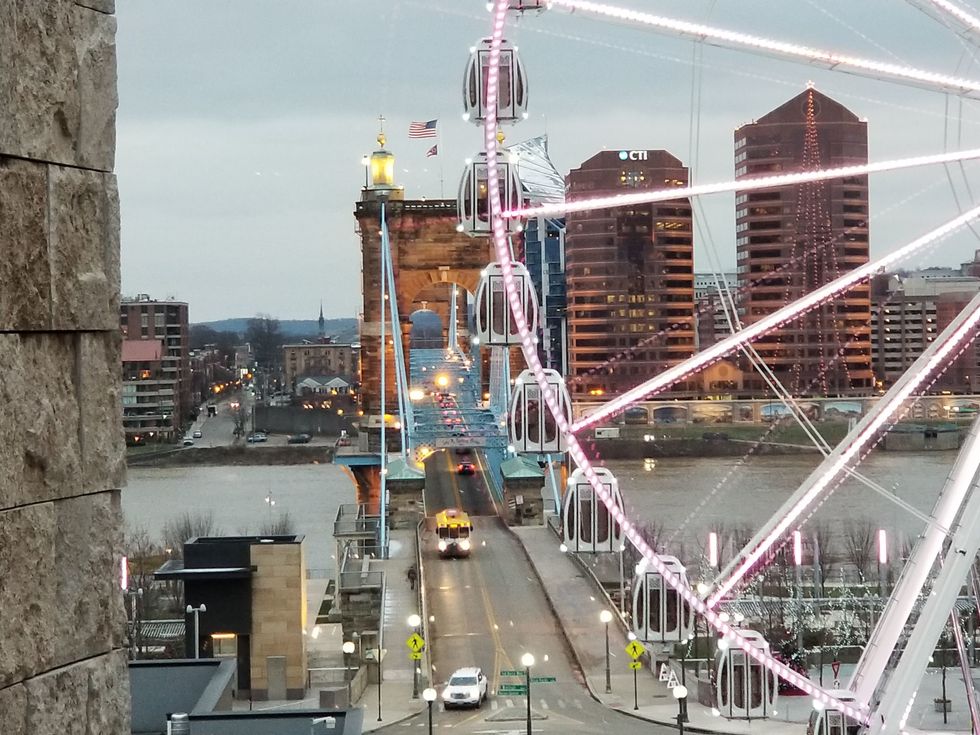 Cincinnati Ferris and BridgeRoxane Assaf-Lynn
Sightlines in Downtown Cincy: Contrasts in Old and New
There's something big and bold looming at the end of every downtown street in Cincinnati: two 21st-century sports stadiums (Reds and Bengals, $290 million and $455 million); a 19th-century suspension bridge; a Ferris wheel; a freeway system; an antique mansion-turned-art-museum.
Getting Around Cincinnati: Recent Upgrades
The shows, jazz clubs, storied bars, and museums are all clustered a Lyft ride from the river, making Cincinnati a veritable carnival. A downtown streetcar system opened to the public in 2016 at a cost of $148 million, but, curiously, most attractions can be reached by a more recent arrival: the self-propelled scooter. Since 2018, Cincy has had two scooter-sharing companies competing for untrained riders. Simply install the app on your phone, give it your credit card number, scan in your driver's license, and you're off. Leave the skinny two-wheeler anywhere deemed courteous. (Protocols become obvious after several rides.) There are also plenty of bikeshare stations around town – old school, by Cincinnati standards (introduced way back in 2014).
Contradictions and Contrasts in Cincinnati Culture: The Chili
Jeff Ruby's Steakhouse and Jean-Robert's Table have set the bar high, but the concoction of soft spaghetti with thin chili under an airy haystack of cheddar is still the city's crowning cultural achievement. Onto a base of obedient noodles, liquid chili is ladled, producing the two most consequential layers of a "five-way." More alternative components include beans, onions, and mounded tendrils of mild cheddar cheese. Subtract an ingredient or two, and you're eating a "four-way" or a "three-way," bearing no resemblance in any case to the "Five Ways" of Thomas Aquinas.
In a stroke of irony, the town credited as the "original American city" for eschewing reliance on immigration, has as its most culture-defining chili chains shops that were created by Greeks and Jordanians.
From Gravy to Gravitas
The city's reputation for right-wing conservatism is challenged by the front-and-center riverside presence of the National Underground Railroad Freedom Center. The modern, multi-level complex highlights the city's strategic location in U.S. history across the river from a slave state. It is also dedicated to raising consciousness on the legacy of racism in the United States. One exhibit offers a virtual reality experience of sitting in Rosa Parks's infamous 1955 bus seat.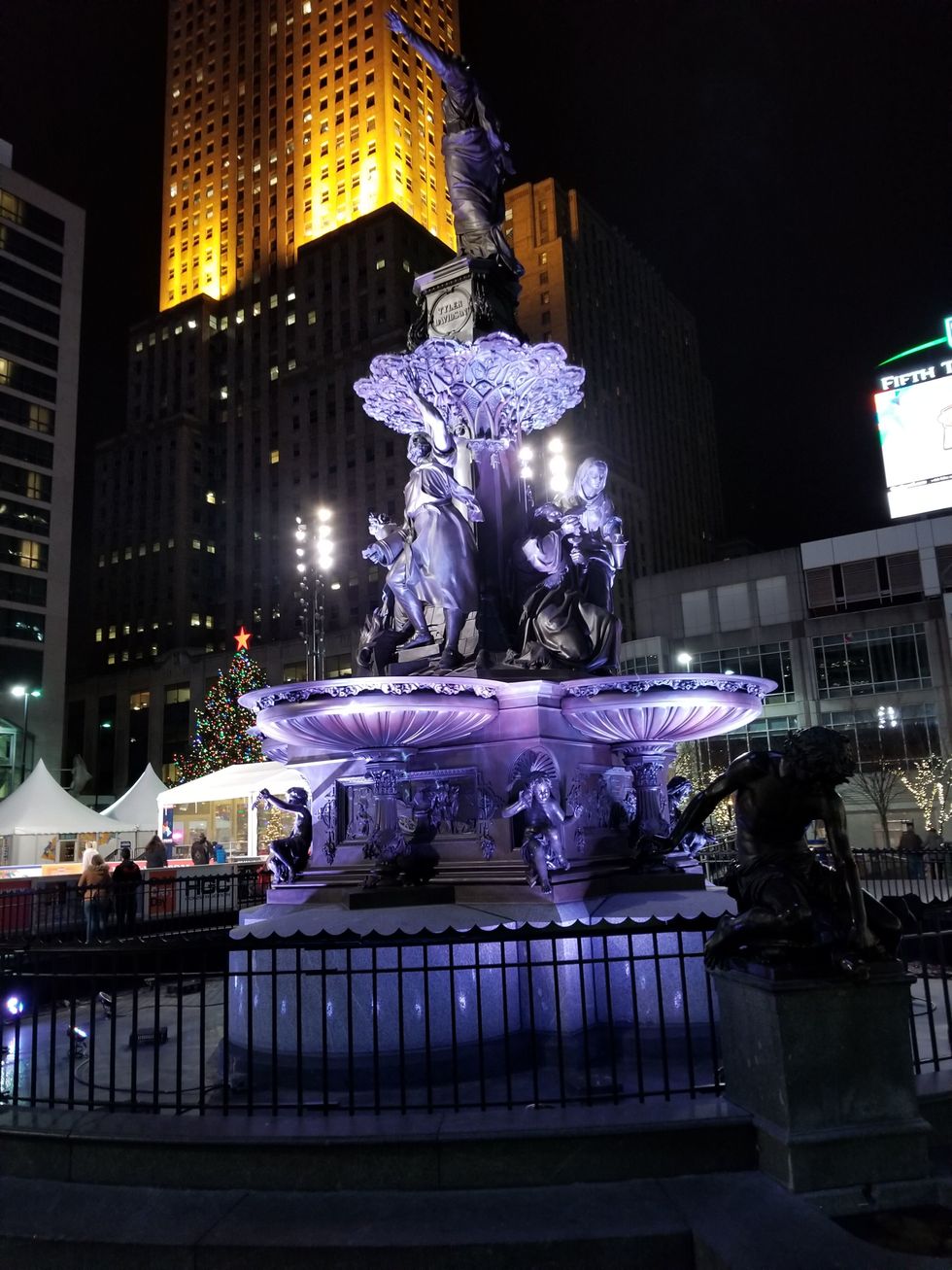 Cincinnati Fountain SquareRoxane Assaf-Lynn
Music, Art, and Post-Prohibition Refreshment
In 2017, Cincinnati's fabled Bay Horse Café opened doors to its latest iteration right on Main Street, having made it through the 1920s with its 1879 name intact. The neon sign pressed tin ceiling, and mirrored bar mean you can absolutely order a gin Rickey and the barkeep will understand.
The controversially gentrified Over-the-Rhine corridor pays homage to its origins in the beer business with lovingly presented heritage brewfests amidst restored Victorian, Italianate, Greek Revival, and Germanic structures. Whatever commercial influx had begun in Over-the-Rhine in the '90s was halted when an off-duty police officer shot an African-American teenager in the chest, killing him. Riots ensued. It was considered the most dangerous neighborhood in the U.S. But in time (and with a half-billion dollars from the project's principal developer), the subdivided area has become a draw for lovers of beer, music in a park, dog-walking, small plates, high rent.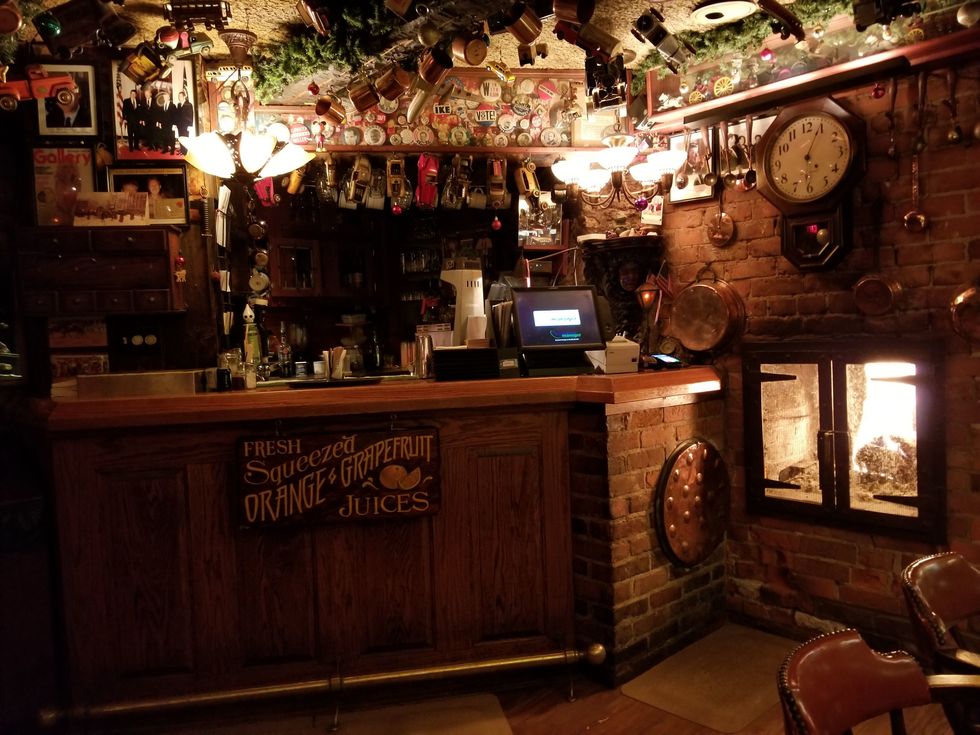 Blind LemonRoxane Assaf-Lynn
The Cincinnati You May Remember
If escaping the Cincinnati renaissance is desired, head up one of the city's seven hills, Mount Adams, and find a bar and a theater that have both been there since the 1960s, an art museum constructed in 1886, and a plant conservatory finished in 1933. Ask around for the Blind Lemon to enjoy live music and drinks in a warmly wacky space. Then head up the hill for a show at the Cincinnati Playhouse in the Park, or save the drinks for after a day at the Cincinnati Art Museum and Krohn Conservatory in Eden Park.
If you're looking for a better-known music act, it's possibly taking place at Bogart's next to the University of Cincinnati, an appropriate neighbor to a school so known for its programs in music, art, and design.
All dressed up for an opera at Music Hall or a stage show at the modern Aronoff Center? End the night enthroned in 1930s Art Deco glamour in the Bar at Palm Court at the Hilton Cincinnati Netherland Plaza. Enter the iconic Carew Tower by way of this extravagant lobby, and the sound of live jazz will sweep you in like Fred Astaire taking Ginger Rogers by the narrows.
More Contradictions
A city that in the early 19th century self-consciously sought a western regional identity as distinct from eastern states, partially by equating artistic expression with prosperity and sophistication, earned a new image as a town intent on being hostile toward the arts. In 1990, its Mapplethorpe obscenity trial resulted from a number of sexually explicit photographs included among approximately 175 prints exhibited at the Cincinnati Contemporary Arts Center. Both the museum and its director were indicted and put on trial. After several days of testimony, the jury returned a verdict of not guilty.
By all appearances, that experience may have been the Queen City's ultimate coming of age. But the facelift that followed will make you forget the bumps. The Queen of the West is up from her nap, and she's ready to see you now.