You can't mess with New Yorkers and their pizza. Just try to convince one that chain store pizzas are as good as authentic city-style pie. If you've ever had the pleasure of enjoying a slice, you know what all the fuss is about. For those who haven't tried it,New York-style pizza is known for its thin crust and crispy texture, topped with authentic tomato sauce, mozzarella cheese, and toppings of choice. True pizza lovers fold the triangular wedges in half and scarf them down. Hot out of the oven, NYC pizza joints serve up super-sized slices that the hungry just can't get enough of.
But some New Yorkers like to change things up every now and then. And while they may fear they're betraying their hometown pizza pride, Chicago-style deep-dish pizza is an equally delicious option. As per The Spruce, "Chicago-style pizza usually refers to deep-dish pizza, which is a thick pizza baked in a pan and layered with cheese and fillings like meat and vegetables, and sauce, in that order. The crust is very deep, creating a bulky pizza that is more similar to a pie than a flatbread." You won't see much of it sold in the Big Apple, but when you find a great place that knows how to make it right, the experience is unbelievable.
These six deep-dish pizza places in NYC are most worthy of a visit. Even if you're a die-hard New York-style pizza fan, there's a slice of deep-dish that's perfect for you.
Emmett's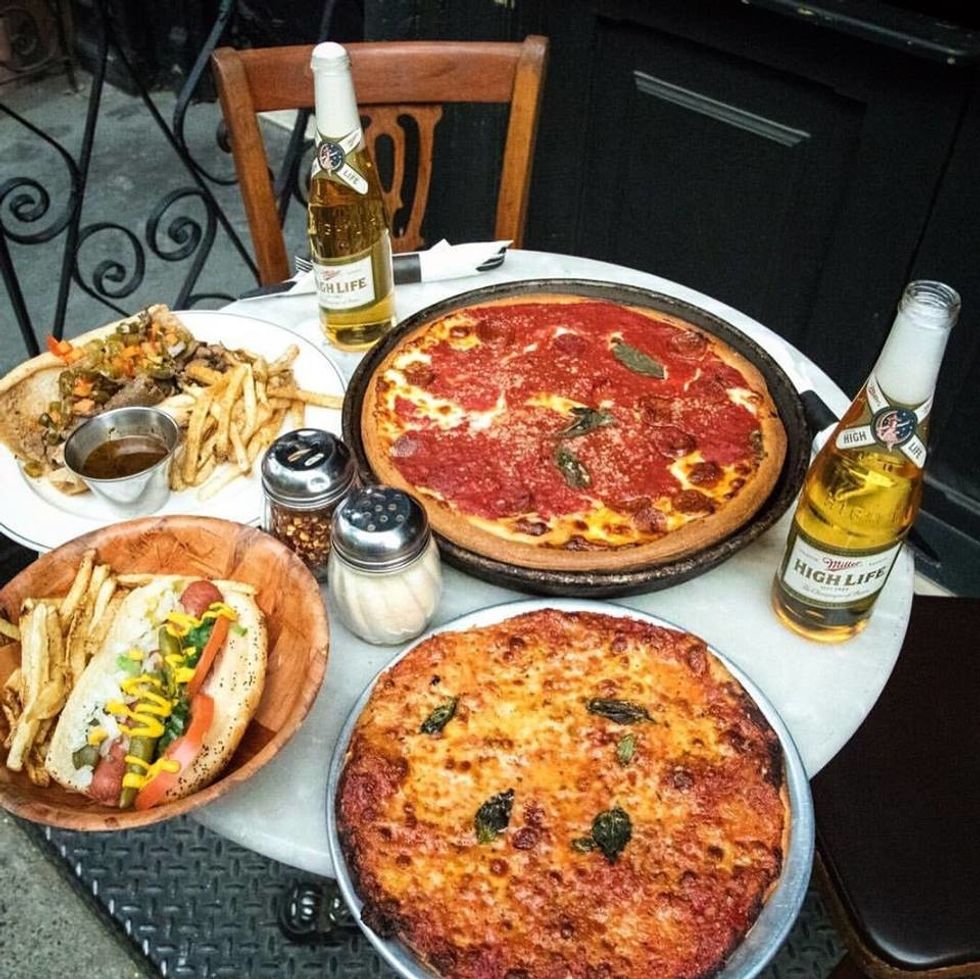 Via facebook.com
50 MacDougal St., New York, NY
In 2013, Chicago native Emmett Burke opened his pizza place, Emmett's to bring the taste of authentic deep-dish pie to the palates of New Yorkers. The restaurant's mouth-watering deep-dish pizzas come in three sizes and take 30 minutes to make fresh. If you come hungry, you may want to order one of their tasty salads or some mozzarella sticks to tame those tummy grumbles. Go for a basic pie, or do it up with a specialty creation like the "Meat Lover" (pepperoni, sausage, and Italian beef),or "This Buds for You"(spinach, white onion, and mushroom). Emmett's sells specialty thin crust square pizzas too, but deep-dish is too delish to dismiss.
Big Al's Chicago Style Pizza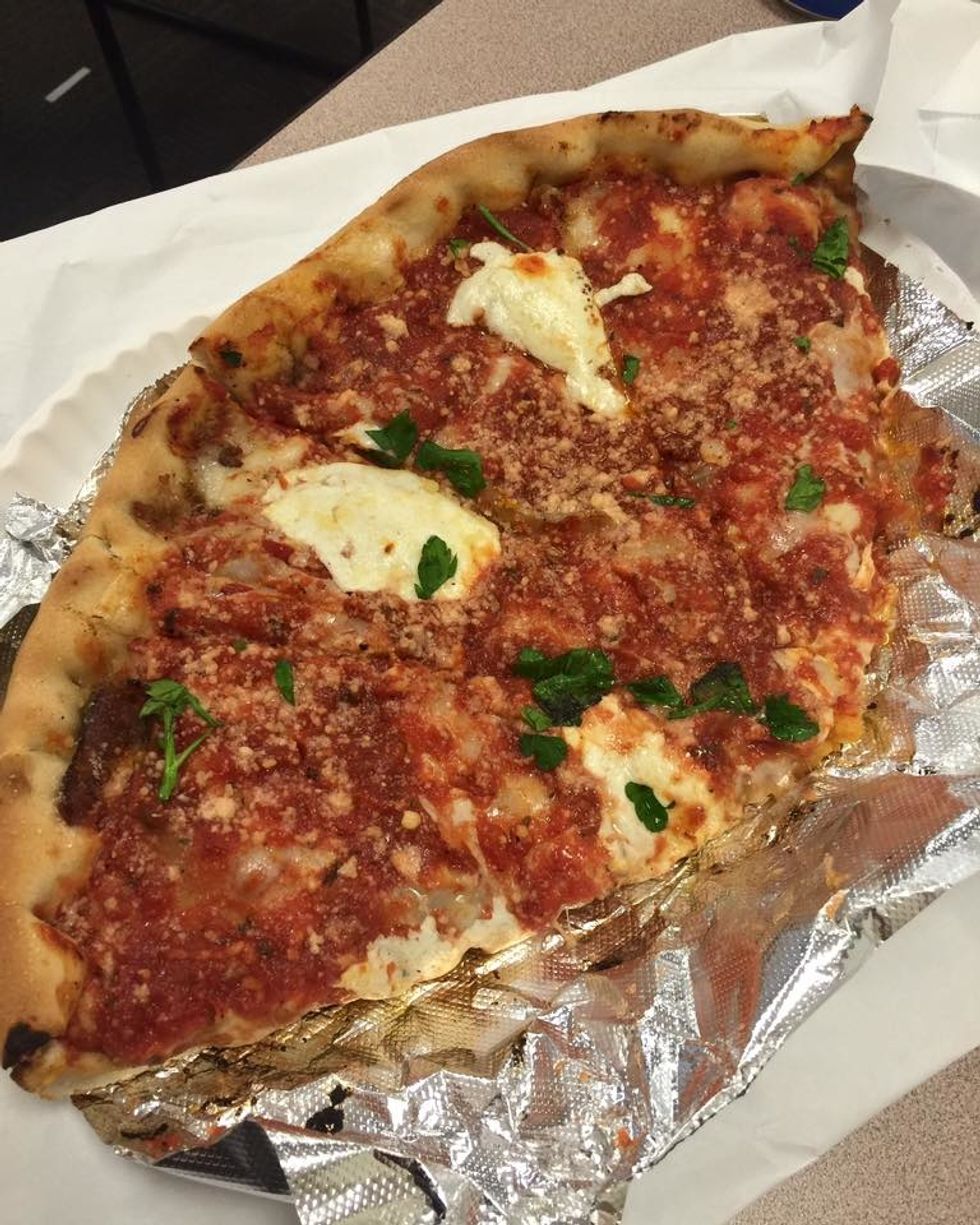 Via facebook.com
9 Thames St., New York, NY
Go big or go home, but we suggest going toBig Al's Chicago Style Pizza for deep-dish pies that are hot out of the oven. With freshness only matched by the staff's friendliness, Big Al's classic Italian food is a local favorite, especially when it comes to their famous Chicago-style cheese pizza with its super-fluffy, crisp crust, and baked-in blend of oils and herbs Big Al's serves New York-style pizzas too, so mix it up visit after visit. Be sure to try a specialty pie like the Buffalo chicken pizza, penne vodka pizza, or the Hawaiian pizza with pineapple and Virginia ham. Calzones are calling your name too, so sample their meatball, spinach, or ricotta cheese calzone. Locals love Big Al's and you will too.
Archie's Bar + Pizza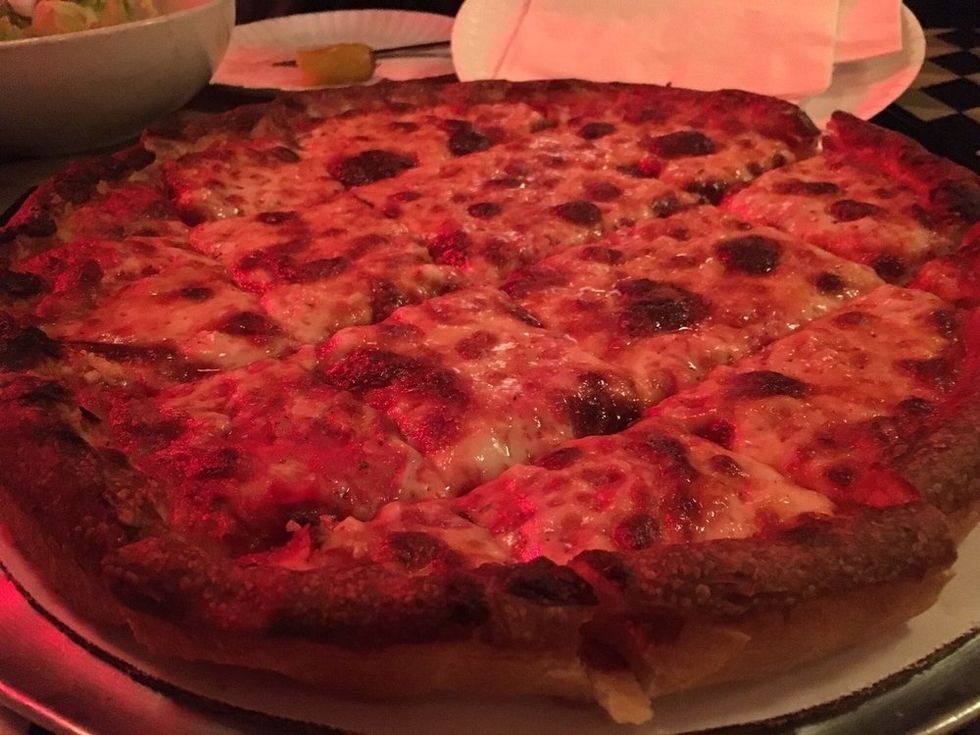 Via yelp.com
128 Central Ave., Bushwick, Brooklyn, NY
Thick crusts are the cornerstone ofArchie's Bar + Pizza's pies, which are cooked in a pan, piled high with tempting toppings, and cut into scrumptious squares. The Brooklyn-based establishment is run by a husband-wife team with a passion for the perfect piece of pizza. Toppings galore allow for creating your favorite pie, from hot cherry peppers to feta cheese to pesto or Kalamata olives. Come for the pizza but split a "grinder" because they are too tempting to pass up. The B.L.T. grinder is a classic combo taken up a notch with gooey mozzarella baked in. Or try Archie's' chicken parm, sausage, or turkey club. Just be sure to save room for a heavenly slice of locally-made key lime pie.
Uno Pizzeria & Grill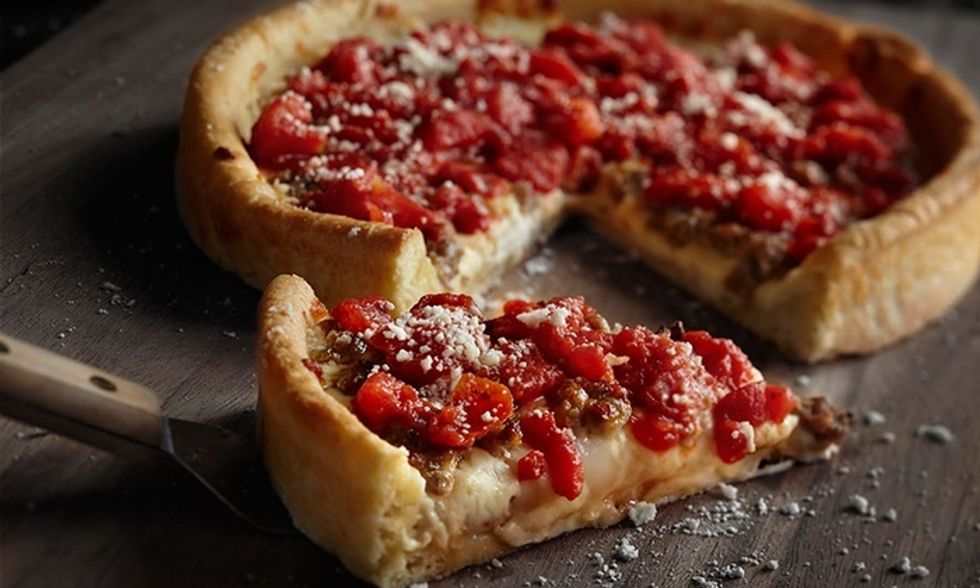 Via livingsocial.com
Click for NYC locations
With seven locations throughout NYC, Uno Pizzeria & Grillhas deep-dish Chicago-style pizza down pat. Customers love that super-tall edge, zesty sauce, and cheesy goodness that's always reliable and ridiculously tasty. Their "Numero Uno" – sausage, pepperoni, onions, peppers, mushrooms, chunky tomato sauce, mozzarella, and Romano is always a favorite. And for those with a gourmet flair, the "Farmer's Market" – caramelized onions, spinach sun-dried and plum tomatoes, eggplant, feta, pesto, mozzarella, and Romano- make for a unique pie. While deep-dish is Uno's claim to fame, their restaurants offer everything from salads to apps,seafood and steaks, burgers and more. Even a kids' menu. No wonder Uno is #1 for New Yorkers seeking fab food at a fair price.
The Big Ragu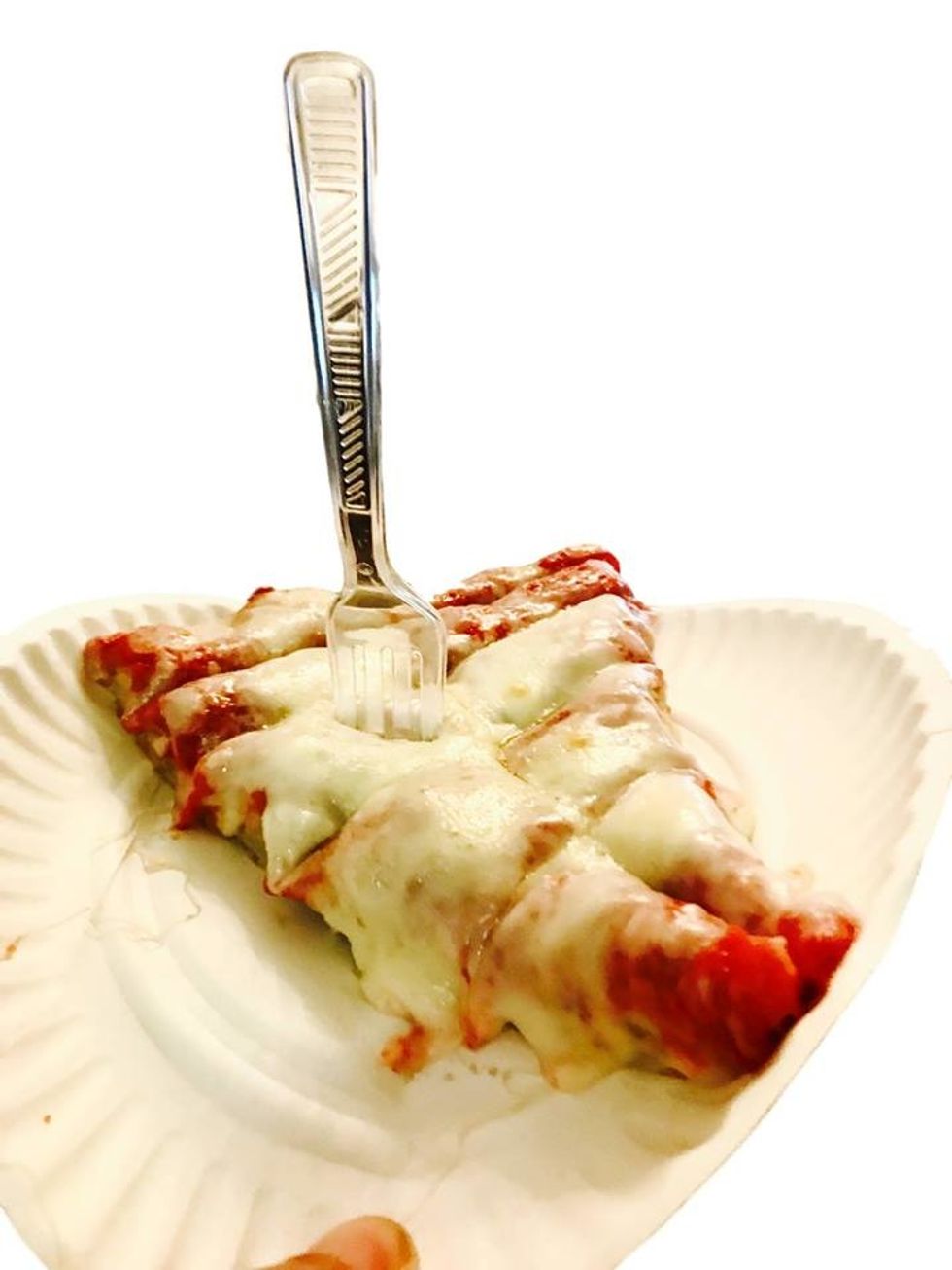 Via facebook.com
679 Grand St., Brooklyn, NY
For a big, super-thick slice that's deep-dish in texture and style,The Big Ragu in Williamsburg is the place to go for "knife and fork" pizza that is cut into hearty squares making it a meal in itself. The fluffiness of the crust makes The Big Ragu's pies unique, and toppings like meat, white clams, shishito peppers, or anchovies take things up another notch. Generous amounts of flavorful sauce and gooey cheese make each slice decadent but save room for their to-die-for garlic knots.
La Villa Pizzeria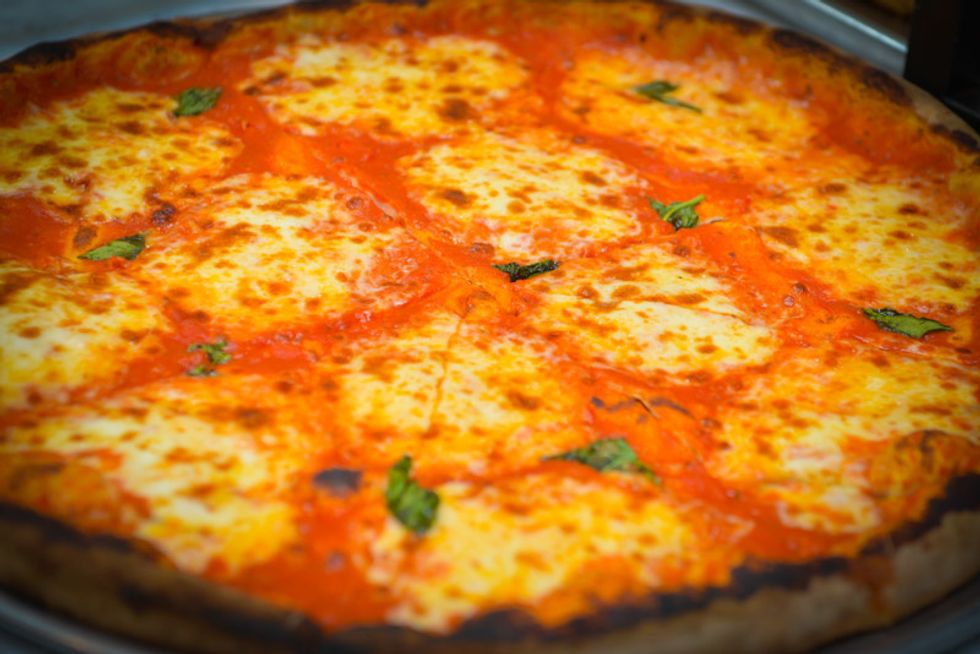 Via lavillapizza.com
Click for locations
With three locations in Brooklyn and one in Howard Beach, La Villa Pizzeria is serving up pizza pies for Italian food fanatics who only go for the perfect slice. Deep-dish pizza lovers can sink their teeth into La Villa Pizzeria's Siciliana, a thick-crusted deep-dish version of their classic Napoletana pies. Split a large pie or keep the yumminess all to yourself with a small deep-dish personal pie. Toppings are a-plenty with choices like sautéed mushrooms, fried eggplant, sweet fennel sausage, Vermont white cheddar, and artichoke hearts. Don't miss out on their gourmet pies, either wood-fired or deep-dish style. And if you're in the mood for pasta, their homemade pappardelle with a Bolognese basil sauce is fantastic.
Deep-dish is deeply addictive. Now you can get your fix in NYC! Check out these bars to grab a beer after your pie.