That means the breakfast treat police officers have famously enjoyed gets special attention from everyone. Now while Dunkin' Donuts and Krispy Kreme will be handing them out to celebrate, there are also some great little shops that honor the tasty treat every day of the year because it's their specialty! This weekend, take the time and visit one (or all — we won't tell).
727 Manhattan Ave, Brooklyn, NY 11222
Never has a donut done so much to change my life as these tasty treats in Greenpoint. Having been around for more than sixty-two years (the Brooklyn Dodgers were still a thing when the doors opened), the place serves all sorts of pastries almost around the clock. Donuts, however, are their specialty. The flavors range from French toast to toasted coconut, but the real specialty here are the cake donuts. Try a traditional chocolate or go for my favorite, the red velvet. Actually, just buy a box and try them all.
448 Lafayette Ave (at Franklin Ave), Brooklyn, NY 11205
14 W 19th St (at 5th Ave), New York, NY 10011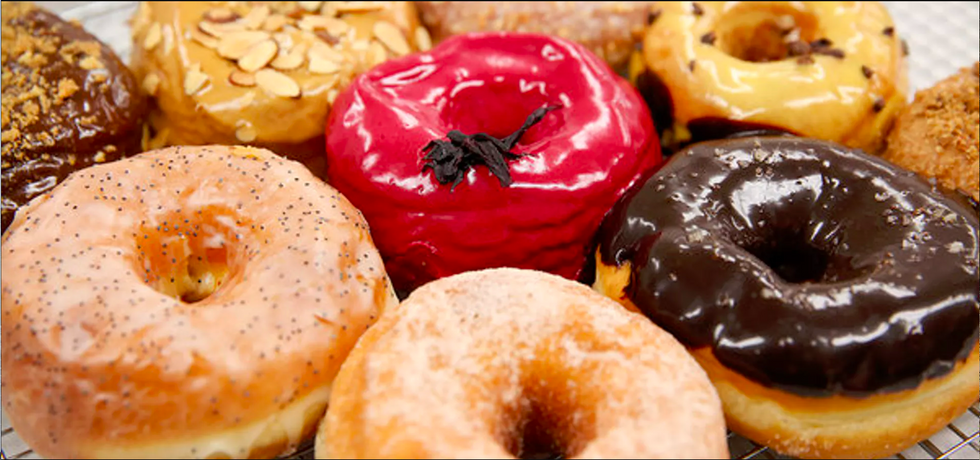 Opening up in 2010, this shop is all about precise, fresh products, meaning that each batch is produced in small quantities. There's also a focus on using new and unique ingredients to create each of the flavors offered. Latin America is the inspiration for many of the fruity options, such as hibiscus and passion fruit. However, if you're more into something a bit more classic, the lemon poppy option is tasty, too. The menu changes a bit daily, so you might want to return a few times with friends in order to catch them all.
102 St. Marks Street, New York, NY 10009
222 Montrose Ave, Brooklyn, NY 10221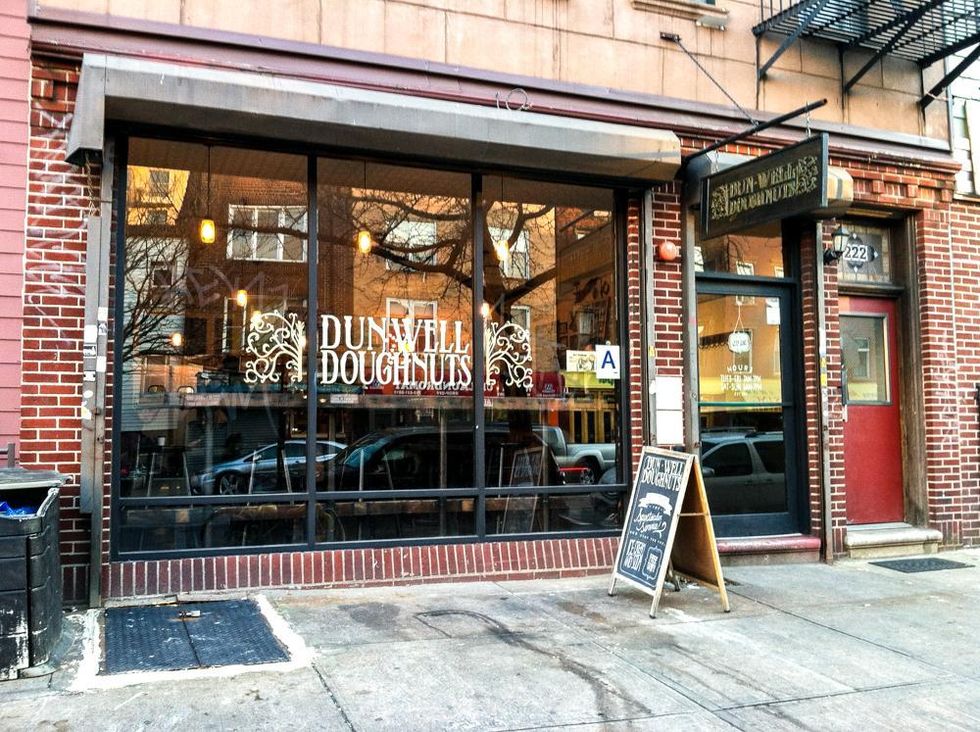 If you never thought you'd hear "Homer Simpson" and "vegan cooking" in the same story, think again! That's exactly where the idea for Dunwell began, a passion project of college buddies Dan Dunbar and Christopher Hollowell, the latter of which got the idea to open the shop after seeing an anniversary episode of "The Simpsons." When the two aren't going on adventures together via bicycle, they're working on unique flavors every single day, which have included peanut butter and jelly, strawberry coconut, and blueberry pistachio.
379 Grand Street (between Essex and Norfolk), New York, NY 10012
220 West 23rd Street, between 7th & 8th Avenues, New York, NY 10011
245 Flatbush Avenue (at the intersections of Flatbush, Bergen and Sixth Avenue), Brooklyn, NY 11217
Falchi Building, 31-00 47th Avenue (47th Ave between 31st Pl & 31st St), Long Island City, Queens)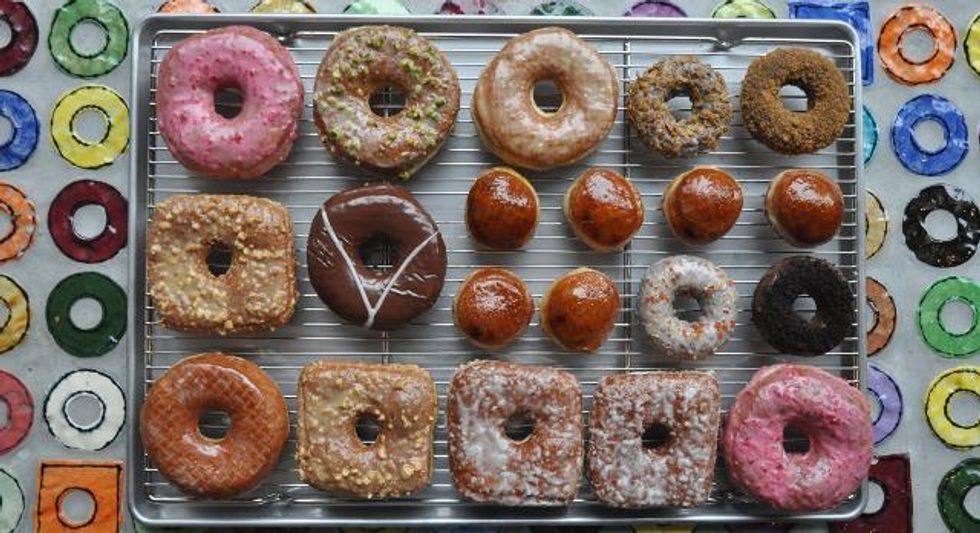 Available in three out of five boroughs (not to mention Japan and Korea), Doughnut Plant wants to provide you with the best donuts in the entire world. It started off with the recipes of founder Mark Israel's father, Herman, who worked as a baker during World War II. Now, it's one of the most inventive bakeshops around. Among their seasonal and organic specialties are a variety of filled donuts, including the famous jelly filled square donut, the blackout, and most recently, the ripple. If you visit one of their many locations, be sure to take a look at the website first to see what the special of the day will be. And depending on the season, be sure to pick up a coffee or a scoop of ice cream to accompany your donut.
10 Morton Street, New York, NY 10014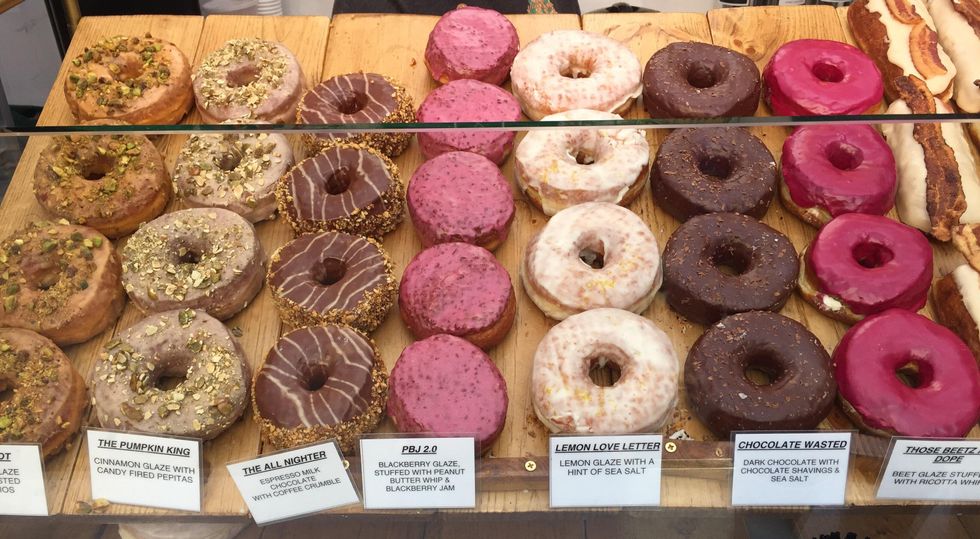 The goal of this doughnut shop is to create the most creative seasonal flavors you will ever come across. Founders Troy Neal and Leslie Polizzotto have experience in the world of food business, so it's no surprise this project has been a success. All products at the shop yeast donuts, made in small, specific batches. The shop is also a big part of the story, as it looks to combine the world of art with the world of food, including cool wall art (and by that I mean literal paintings across the walls) through the store. This shop is all about the social media, too, so if you go, be sure to snap your "Those Beetz Are Dope" donut, or perhaps the "Bacon Maple Bar."
So, to answer Homer Simpson's legendary question, "doughnuts, is there anything they can't do," I think the answer is "no." And thank goodness for that!