Ahhh, summertime. The sun is out, the smell of barbeque is in the air, and your pockets are stuffed to the brim with all of your essentials.
When we think of summer, we often think of comfort and relaxation. But this summer, I realized that stuffing my pockets before I left the house was the antithesis to a stress-free and relaxing day. I would dig important items out of air-tight pockets or fumble around with an assortment of cards only to find the one I was looking for after 2 and half minutes of chaos.
One of my least favorite parts of summer is the lack of pockets (yes, seriously). In the colder months, you can layer-up and add another three or four pockets to your wardrobe. In the summer, you're stuck with the four small pockets sewn into your pants.
I didn't realize how much this bothered me until, one day, I spent 5 minutes trying to find my credit card at the farmer's market. My hands were full from all the food I was holding and my giant iPhone, and my wallet was so bulky and overpacked that I could barely tug my credit card out. I could feel everyone in the long line behind me getting frustrated, and then someone actually shouted out, "hey buddy, you're holding up everybody here!"
Days later, I saw a friend of mine at a barbeque. I told him about my farmer's market fiasco and showed him my genius solution - a rubber band around my cards.
"Why would you do that when you could just buy an Ekster wallet?" he replied. I didn't know what he was talking about until he pulled out a sleek caramel brown leather card case. I liked how compact it was, and then he started showing me all of the wallet's nifty little features. It has a quick card access mechanism that allows you to fan out all of your cards with a simple button click.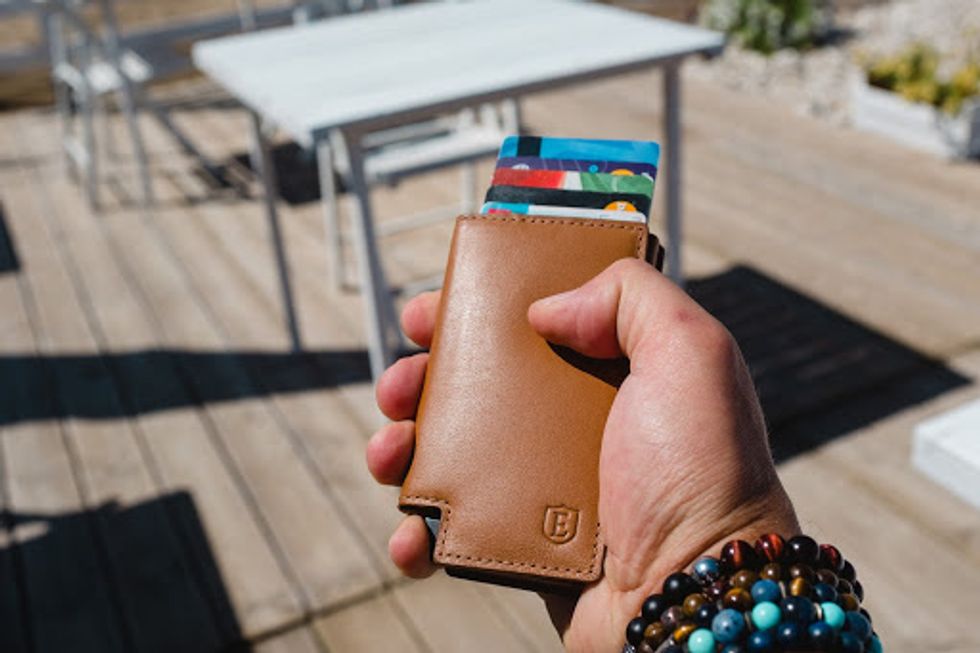 Just playing with the quick access button was addictive, but my friend brought up two more points I never considered.

He first mentioned how crime typically spikes in the summer and how more people attempt to use RFID (radio frequency identification) to scan your wallet and steal your credit card information. Ekster includes RFID blocking technology to prevent these mishaps and keep you safe.
The other thing he mentioned was how often he lost the wallet during the summer. Remember when I talked about the lack of pockets? That's why.
Ekster wallets have the option to add a tracker card that links up with Chipolo, a Bluetooth-enabled device that can track the location of your wallet from your phone (and vice versa). Never lose your wallet again.
I was sold. I got my Ekster in sleek black leather, and after using the card pop-up feature I know I'm never going back. If you're looking to ditch that bulky mess of a wallet, then check out Ekster's diverse offering of smart yet sleek wallets.
SUMMER SALE: For a limited time only, Ekster is giving away 25% off your entire order. Follow this link and use code SUMMER25!