The Daniel Boulud brand has always been about more than just fancy food and spending eight hundred dollars on a dish, even though it is both that and very much worth that. It's about a man, named Daniel Boulud, who was born on a farm near Lyon and, coming close to an age where many retire, still parties as hard as he runs a restaurant empire. In a profile on Boulud for Sharp Magazine earlier this year, Matt Gross describes Boulud's day as a "a constant series of adjustments," tweaking this and that detail of his brand's thirteen restaurants in the world's most luxurious cities, including seven in New York City alone. Two nights earlier, Gross describes the sixty-one year old chef rocking Billy Joel at a Koreatown karaoke joint.
But Boulud can deliver low-brow culture to the connoisseur just as well as he can finesse everything you would expect from some of the best French restaurants in the world. The signature dish, per Bon Appétit, that he's confident will impress everyone from stars like Bryan Cranston to Ferran Adrià, the biggest-name avant-garde chef of in the Western world, is duck à la presse, served with a truffle-laden Brie. But the dish that made his name a worldwide presence was the DB burger. Debuting at the then-new DB Bistro Moderne, in midtown Manhattan, in the early 2000s, the burger was, well, quite extraordinary. Per Adam Platt, one of the city's biggest food critics and author of New York Magazine's Where to Eat list:
"The meat is ground prime rib, leavened with braised short ribs, truffles, foie gras, and a hint of vegetable root. The bun is freshly baked and flecked with bits of Parmesan…take a bite, and these elements dissolve together in rich, almost confectionary layers; the taste is like no hamburger you've ever had."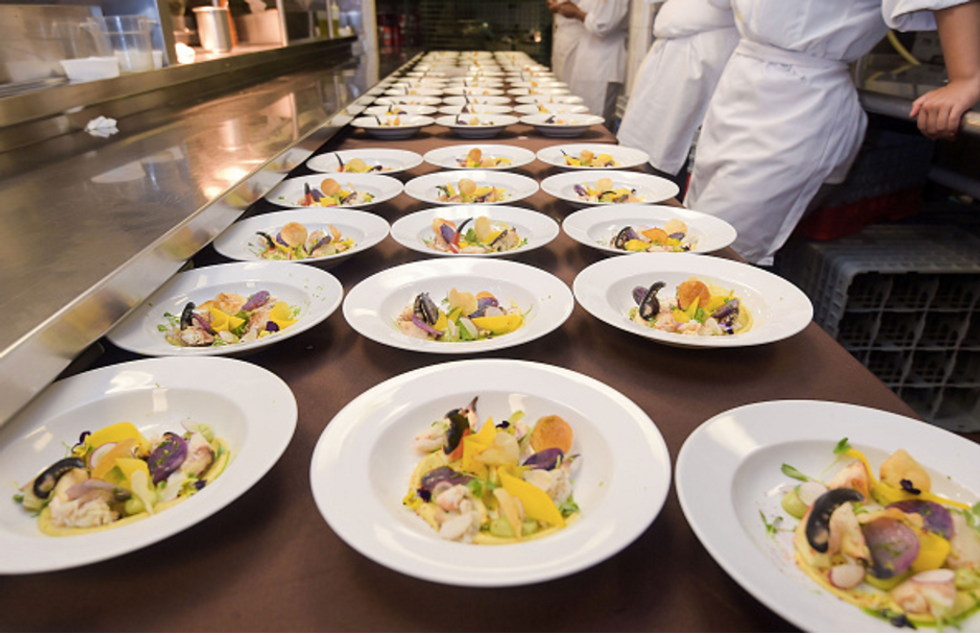 Romain Maurice/Getty
Elsewhere in the world, Boulud's empire stretches from Las Vegas to Palm Beach, from London to Singapore. Here's a few highlights: in Vegas, at the db Brasserie, you'll be able to find an impressive variety of Boulud burgers served alongside Tarte flambes topped with bacon, onion and fromage blanc. "Extraordinary," the Vegas Sevenraved. "The menu reads simply, but what arrives are beautiful," Time Out Las Vegas declared, reminded " why French cuisine is still regarded as the paradigm of fine food."
If you're looking for something entirely different, Boulud's empire stretches into both seafood and Singapore, at db Bistro & Oyster Bar at the Marina Bay Sands--a resort that, otherwise, features the most expensive casino in the world. In London, Boulud operates from the Bar Boulud at the Mandarin Oriental by Hyde Park. Even the notoriously skeptical Jay Rayner, of the Guardian, had to concede that Boulud offers "the kind of French food you would dream of getting in France, but rarely do."
Which is why there isn't a Boulud restaurant in, of all places, Paris. Boulud's art is one of creating the kind of vacation that is implicitly modern: the kind of burger that no greasy diner could ever give birth, the kind of Paris that no city in the world could create. In Daniel Boulud's empire, you can live there, at least for a meal.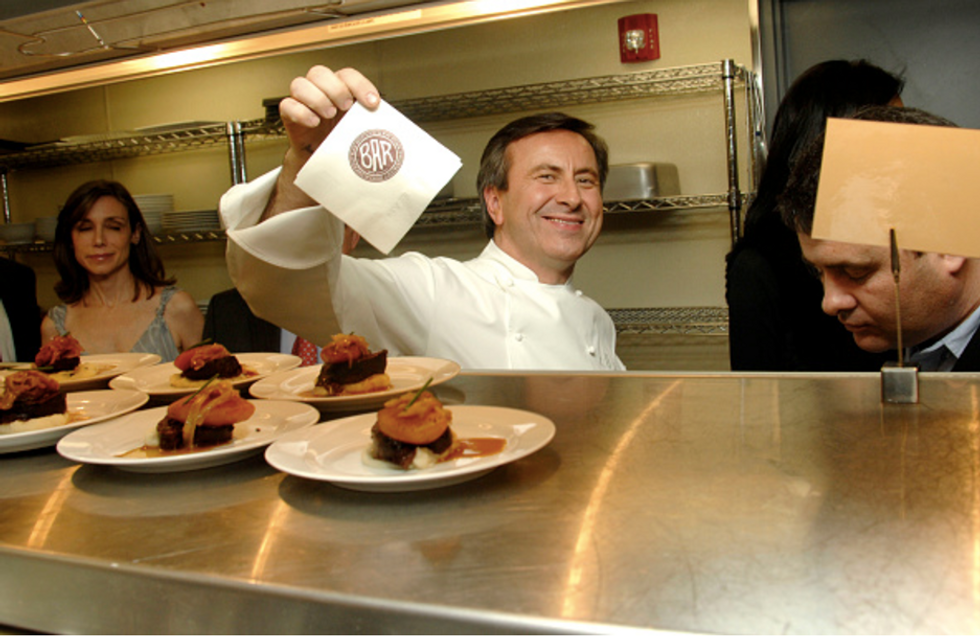 At the opening of another New York establishment of the Boulud empire (Patrick McMullan/Getty)