By now, everyone has heard about Meal Kits. Customized boxes with pre-portioned ingredients and easy-to-follow recipes that are delivered right to your door, what could be better?

It totally eliminates the need to scour the internet, walk through supermarket aisles searching for a bottle of soy sauce or spend hours chopping onions and carrots. They really seemed too good to be true.
But with so many meal-kits out there, its hard to know which one to sign up with. We did some research and narrowed it down to the two top dogs in the space- EveryPlate and Dinnerly. But which one is actually better? Read to find out: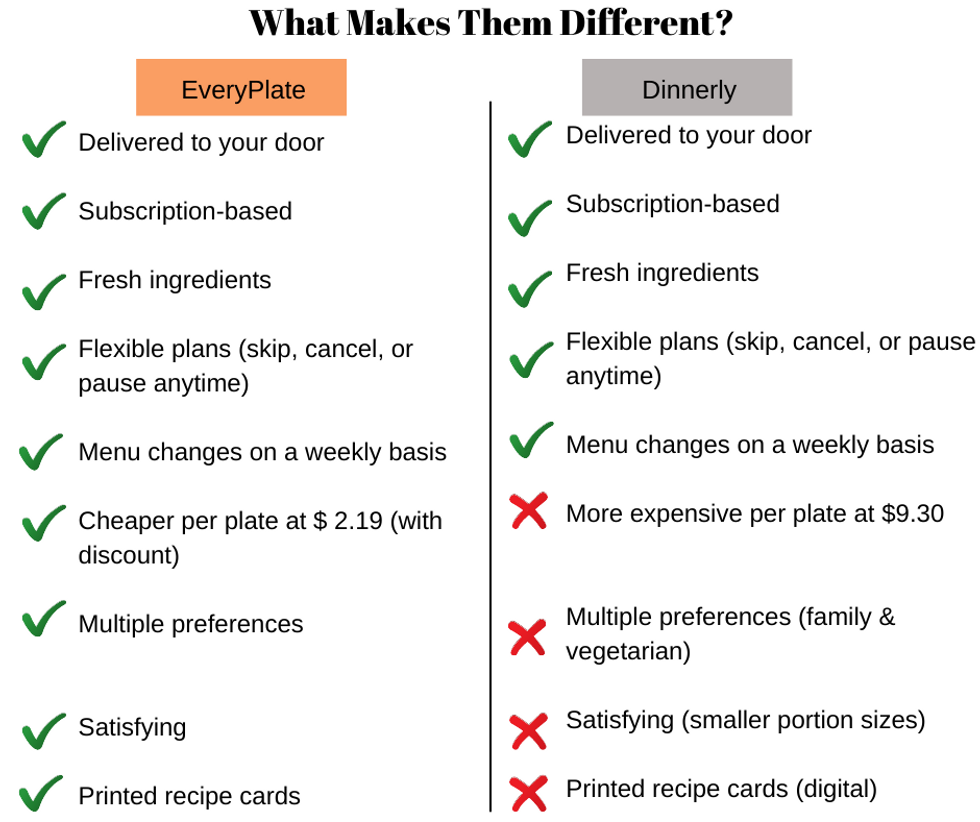 EveryPlate Overview:
EveryPlate is a meal kit that is great in terms of taste, prep, and cost. They have a simple sign-up process and all their ingredients are fresh and individually packaged. They have 22 recipes to choose from every week that include foods from all over the world.

Their plan lets you choose from 2, 4 or 6 people and whether you would like 3,4,5 or 6 meals a week. We picked the 4 person and 4 meals a week plan, which gave us enough food for a family starting at only $2.19 per serving with discount. Plus, they have a wide range of options, veggie, speedy, or most loved
All their recipes come with all the ingredients you need and an easy four-step recipe card. So we never had any fuss cooking and prepping dinner. Our favourite has to be the Hawker-Style Beef Burger with Sesame Sweet Potato Fries had to be our favourite but we also loved the Cheesy Beef Enchiladas with Tomato Salsa.
Plus, their plan is incredible flexible so, you can change your plan, skip or cancel anytime.
Dinnerly Overview:
Dinnerly is a meal kit that follows the same process as a lot of other meal kits, they allow you to choose between a two-person or family box, and how often you would like the meals delivered to your door.
We tried the two-person box, four times a week at $9.30 per portion, plus they have an option to make your boxes vegetarian. Although they have quick meals, their price per serving is more expensive than Every Plate.
We tried their Chicken and Chips with Spiced Butter and Parsley Salad and Tuscan Chicken and Pumpkin Stew with Zucchini Couscous. Most of their recipes include only six ingredients and we were left a little unfulfilled.
Their meals are delicious but we found ourselves wanting to explore more with food.
Final Thoughts:
Both EveryPlate and Dinnerly are great in terms of convenience - no more meal planning, going to the supermarket, or spending hours cooking.
We thought since they are both meal kits, they would be very similar but it out EveryPlate is something we were gonna stick with, their portion sizes and their variety in recipes tipped them over the edge. Plus, it's more affordable!
EveryPlate adds new recipes every week, so we're never going to be bored and makes dinnertime really interesting and fresh. We didn't have to worry about keeping enough time aside to cook or spend hours finding new recipes and ingredients. EveryPlate made cooking easy and fun!
Offer Expires In