When travelling to a famous international destination, we tend to have high expectations. Breathtaking views! Great food! Cultural exchanges with friendly locals! But too many times, our lofty aspirations are met with the harsh reality of dirty, overcrowded streets and pricey hotels. Local flavor? It's nearly impossible to find in many of the world's most touristy destinations. That's why we've created Journi Guides.
Journi Guides tell you where to beat the crowds, experience something authentic, and get the best 'gram of your life.
Check out this week's Journi Guide below to get our top recommendation of places you might not have heard of, but definitely should get to know.
If you're on the internet, then you've seen the sweeping landscapes of Norway plastered across Reddit or populating your feed.

Your best friend from middle school was just proposed to while floating through a fjord. And, your cool Aunt Carol recently posted pictures of her book club's visit to the Ibsen museum. Norway is undeniably a stunning and popular destination. But while Oslo may be an incredible city, you're looking for something a little more wild, a little off the beaten path, a little more authentically Norwegian.You're looking for Bø!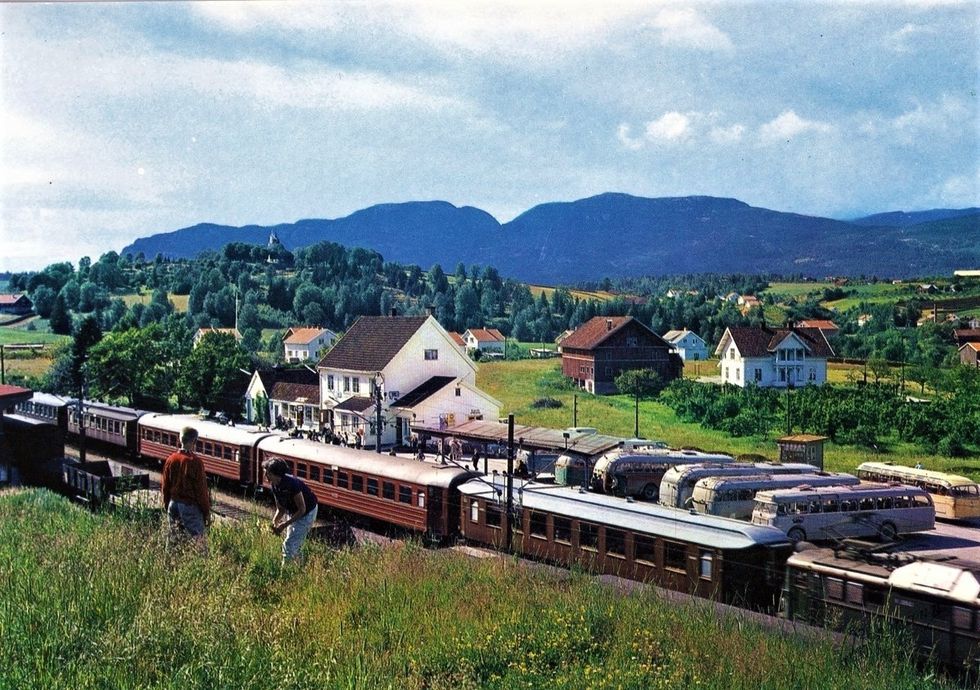 Even Bø's train station is beautiful, as seen in this postcard from the 50'shttps://digitaltmuseum.no
Pronounced "Boe", this quaint little Norwegian village is only 2 hours from Oslo by train, and boasts beautiful nature and comfortable accommodations. I fell in love with Bø while living in Norway for two years, and it quickly became my go-to spot for easy day hikes with friends or week-long backpacking trips followed by a glass of wine. Here are my top five recommendations for your trip to Bø i Telemark!
Stay in a Traditional Norwegian Cabin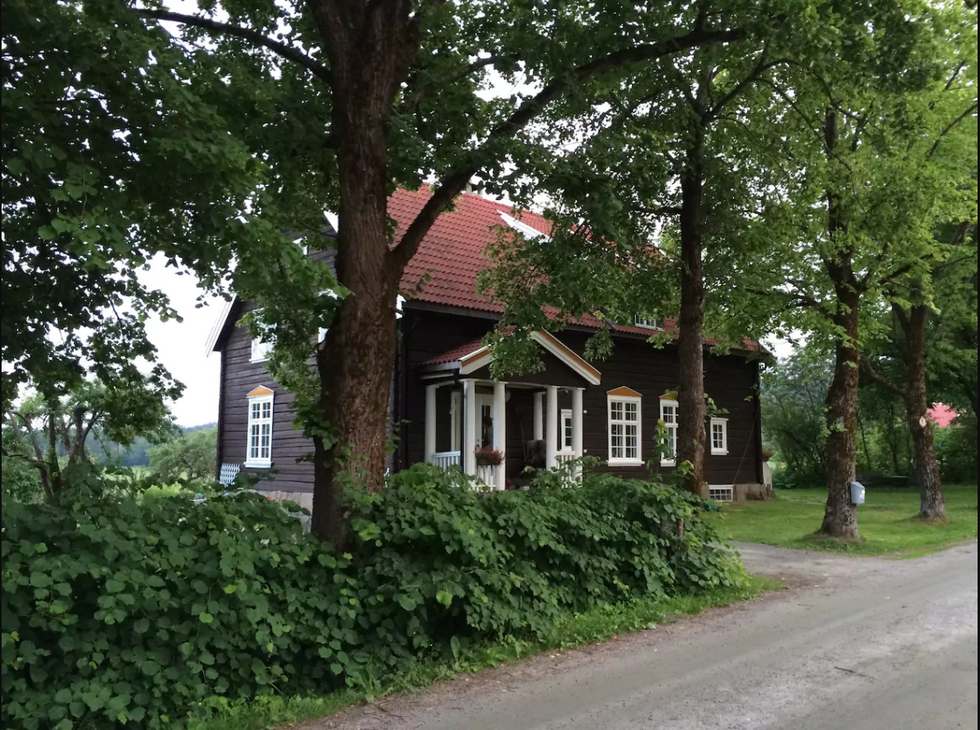 Stay in this Norwegian Cabin, just a short walk from Downtown Bø i Telemark (link below)https://goo.gl/kaP3cX
Nestled below rolling hills, the village of Bø is peppered with picturesque Norwegian cabins built in the traditional style. Many have been remodeled with chic Scandinavian amenities and offer beautiful views of the valley below. Get a taste of farm life while living luxuriously, and find your accommodations on sites like AirBnB, or the Norwegian version of Craigslist, Finn.
Eat and drink at Den Gode Nabo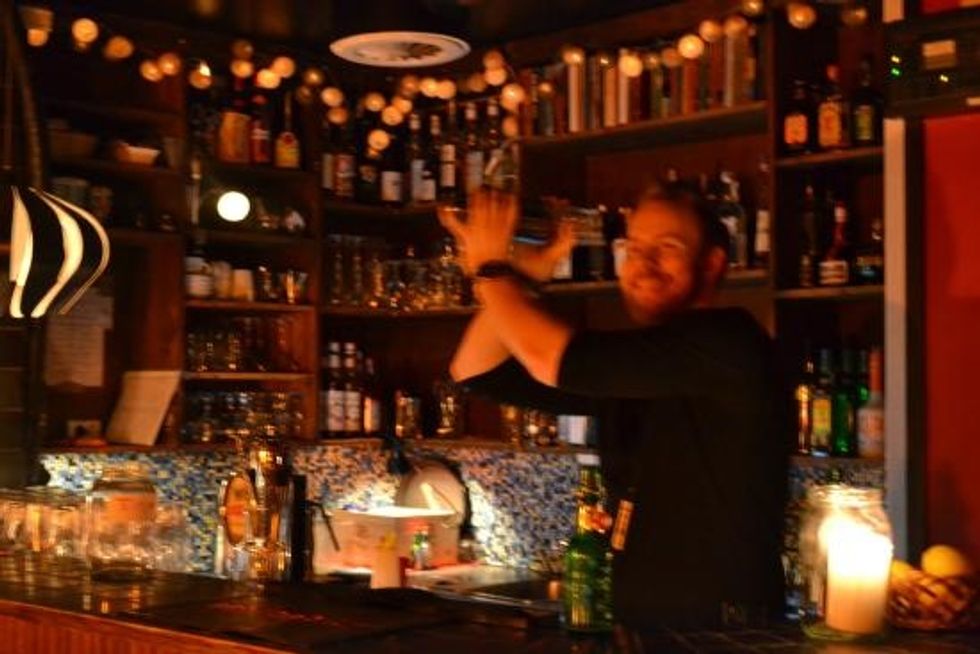 Bartender Anders mixes up cocktails for the evening @sezartheflamingo
Den Gode Nabo offers the best food in Bø! With traditional dishes featuring smoked salmon or modern twists like braised duck, you're sure to find something you'll like to accompany your glass of wine from The Nice Neighbor's robust drink list. In the summer their outdoor seating area is not to be missed, with a patio bar framing views of main street. Join them on Saturday nights and head downstairs to their basement club, Sub 70, boasting Scandinavian house beats and signature cocktails.
Hike Gygrestolen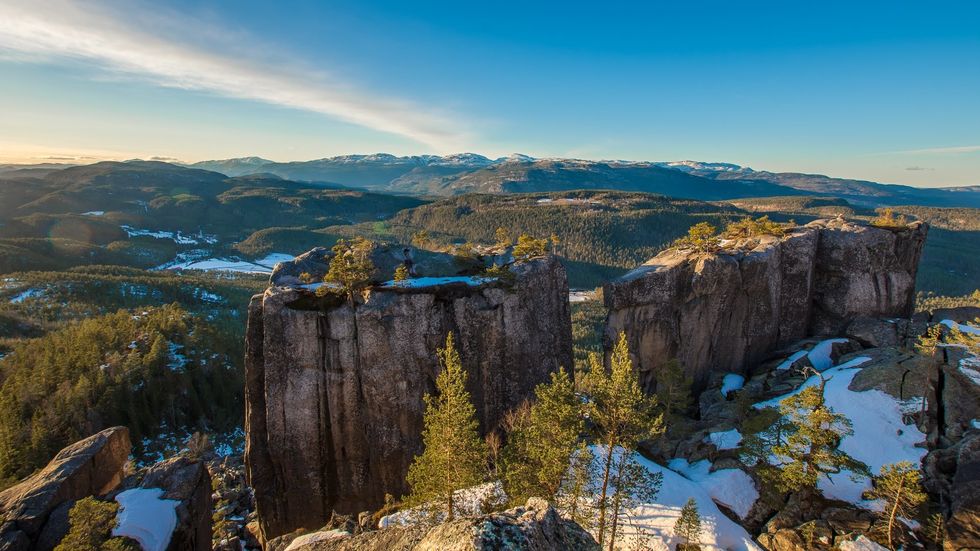 View of the village of Bø from the top of Gygrestolenhttps://goo.gl/HBxoah
Looking for those sweeping Norwegian Vistas? Gygrestolen is your answer. Grab trail maps from the visitor information center on Main Street, and take the local bus to the trail head. Trails around Gygrestolen are well marked with signposts, and the area offers hikes ranging from just a few hours long, to tens of miles into the forest.
Ski or Mountain Bike Lifjell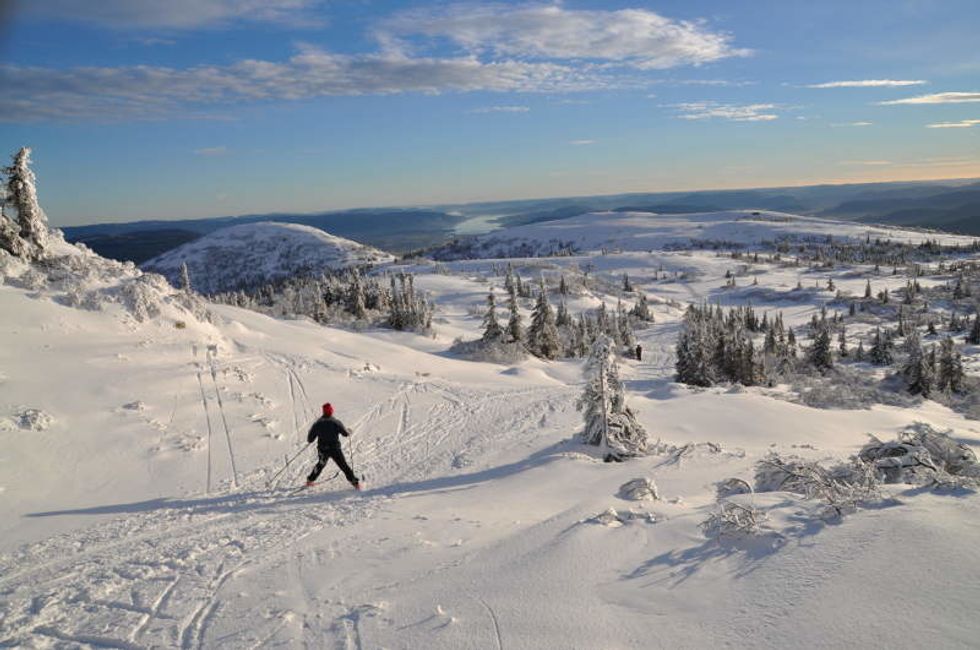 Nordic skiing with a world-class viewvisitnorway.com
Above the village of Bø, you'll find the incredible mountains of Lifjell. In the winter months, Lifjell offers cross country skiing for every skill level on groomed tracks and off-trail paths.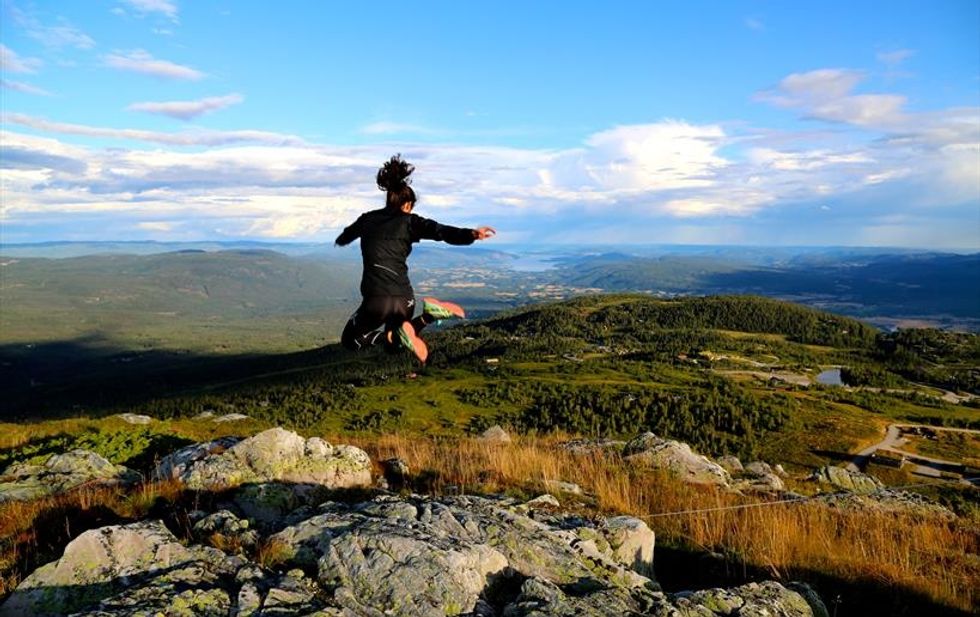 Jumping for joy above Lifiellvisitnorway.com
In summer, hike or bike the same trails to see stunning views of Bø, and the surrounding area of Southern Norway.
Take a walk through town and visit The Old Church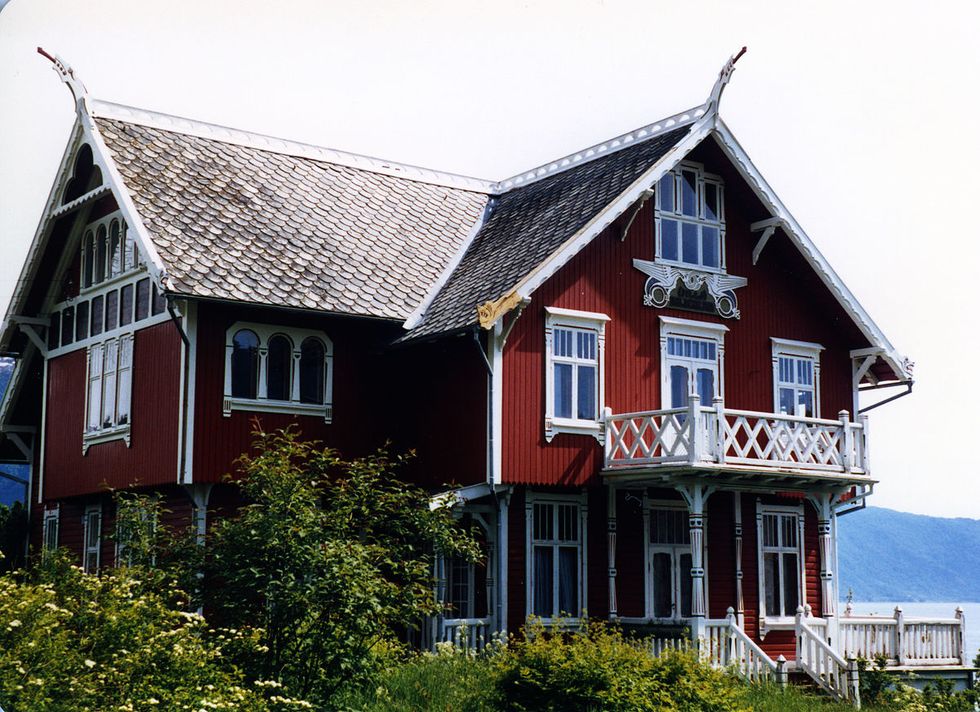 A traditional Norwegian home, decorated by craftsmen with intricate wood carvings.
If you venture beyond the main street in Bø, you're sure to find some beautiful examples of traditional Norwegian wooden houses, complete with ornate wooden carvings. Take a walk around town, and stop by the " Bo Old Church." Built in the 1100's, Bo Old church (or, Bø kyrkje) is an incredible example of Norwegian stone construction in the Romanesque style. Stick around for a tour to see the choir loft from the Middle Ages.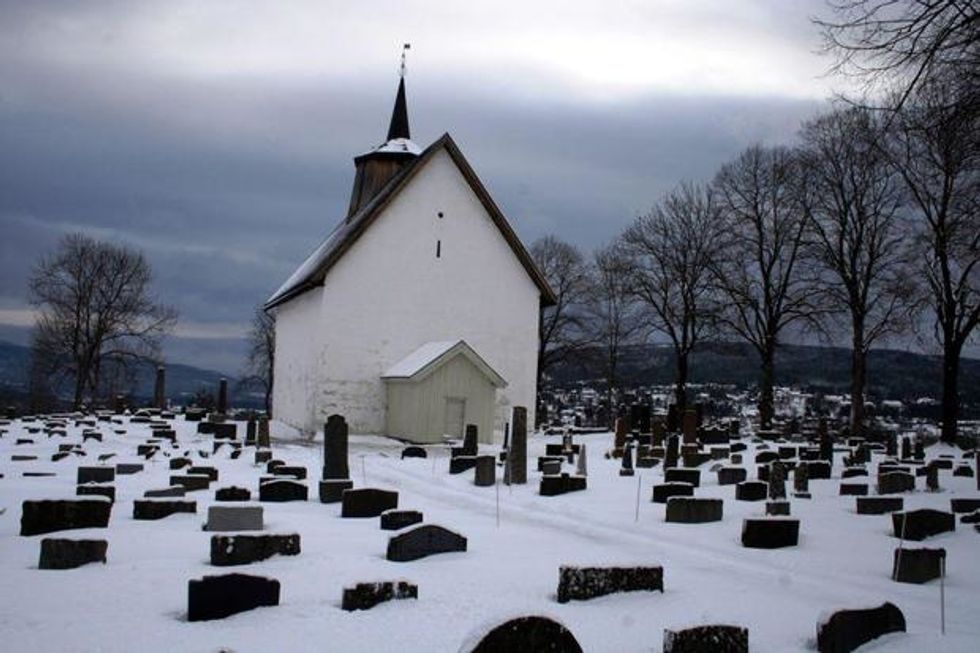 The Old Chruch still stands, surrounded by gravestones https://goo.gl/VKa29M
Bø i Telemark is sure to offer an authentic Norwegian experience, and with its proximity to Oslo it's an easy-to-visit destination that you shouldn't miss!