The Cyclades have long been a source of inspiration for the musically-inclined.
It's probably not a coincidence that wanderers and poets are drawn to the seclusion of the Cycladic islands. There's inspiration to be found amongst the surf, the water, and the laid-back lifestyle so prevalent on these beautiful islands. Exploring the Cyclades isn't hard either; board a ferry, get yourself situated, and you're on your way. Not sold on the creative powers that flow through these islands? Take a look at a few of the islands, and the work that they sprung forth.
Hallelujah from Hydra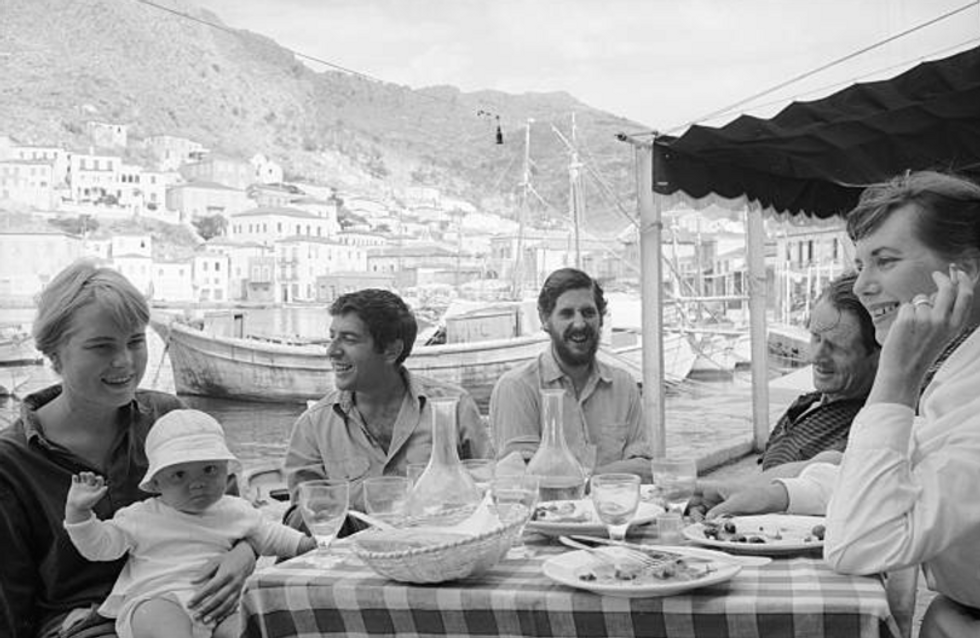 Leonard Cohen in HydraJames Burke / Getty Images
It's no secret that legendary singer-songwriter and The Godfather of Gloom Leonard Cohen bought a house in Hydra with money inherited from his grandmother a few days after his 26th birthday. He would go on to spend the next years of his life writing poetry, working, and falling in love with the island, its people and Marianne, the love of his life. Unhurried by the pressures of the outside world, Cohen honed his skills as a writer, releasing two novels and a several collections of poetry. After tepid reception, he moved to the U.S. intent on becoming a songwriter. The rest, as they say, is history.
"Hippie. Hippie. Matala! Matala!"
[rebelmouse-proxy-image https://media.rbl.ms/image?u=%2Fpublic%2Fresources%2Fimages%2FAR-AH804_JONI_G_20141111102211.jpg&ho=https%3A%2F%2Fsi.wsj.net&s=821&h=47758f4d04b13ae5c9553d0f4ac6ce9d1277ad5a4f9fdb0d7b654fa15a337266&size=980x&c=1139765337 image-library="0" caption="Joni Mitchell and Cary Raditz" pin_description="" crop_info="%7B%22image%22%3A%20%22https%3A//media.rbl.ms/image%3Fu%3D%252Fpublic%252Fresources%252Fimages%252FAR-AH804_JONI_G_20141111102211.jpg%26ho%3Dhttps%253A%252F%252Fsi.wsj.net%26s%3D821%26h%3D47758f4d04b13ae5c9553d0f4ac6ce9d1277ad5a4f9fdb0d7b654fa15a337266%26size%3D980x%26c%3D1139765337%22%7D" expand=1 photo_credit="Wall Street Journal"]Joni Mitchell and Cary RaditzWall Street Journal
Reeling from heartbreak, Joni Mitchell made the caves of Matala in Crete her home for a couple months, guided there by locals who saw her long hair. In broken English, she was alerted of the place where she would find her people: "Hippie. Hippie. Matala! Matala!" This is where she would meet Cary Raditz, the inspiration for what would later become "Carey," one of the more upbeat tracks from her heartbreaking masterpiece Blue.
Skopelos is for lovers (and filmmakers)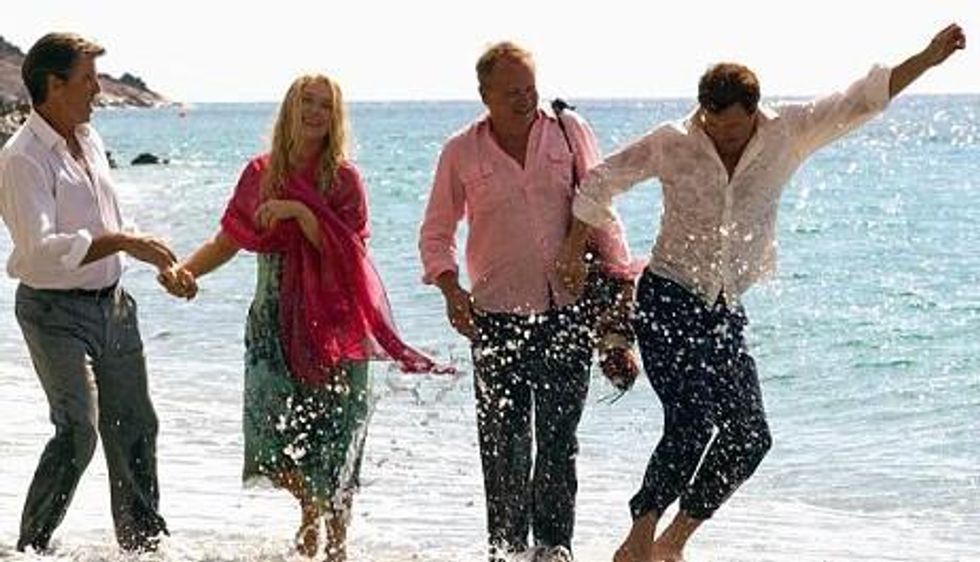 The cast of Mamma Mia! in SkopelosSportsphoto
It's a stretch to call feel-good film Mamma Mia! art, especially with the local backlash that would come after. All this said, the film's romantic, light-hearted vision of the island showed viewers a side of Meryl Streep they had never seen before: she singing, doing splits, and most importantly unwinding. To see a grand dame of the silver screen relaxing and enjoying herself like this was refreshing, and, after all this time, Streep remembers her time on the island with a deep fondness.
Building a bookstore in paradise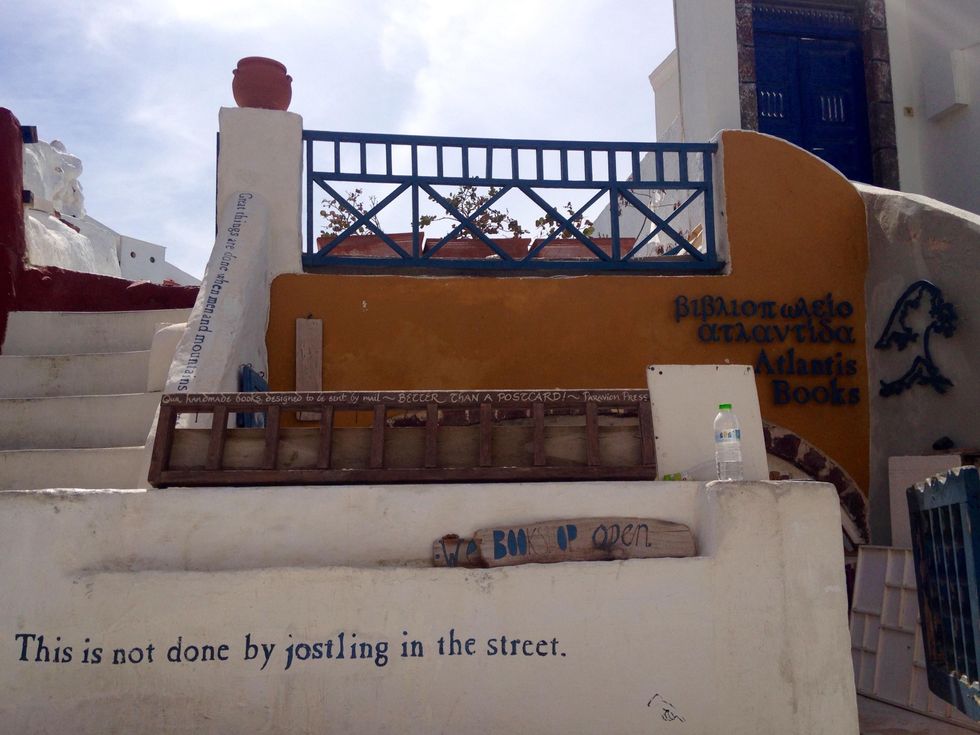 The exterior of Atlantis Books in OiaE.R. Pulgar
The story of Atlantis Books sounds like something straight out of a movie: five friends collect books, save money, and travel across continents to open a bookstore. Now one of the most celebrated locations in Oia, a picturesque little town in north Santorini, the bookstore sees visits from both locals and world travelers seeking out rare tomes from this idiosyncratic bookshop. Run by a revolving staff of workers, this beautiful pocket has established itself as a staple of the area, a literary escape unlike any other and, for the owners, a dream come true.
The Tenth Muse of Mytilene
[rebelmouse-proxy-image https://media.rbl.ms/image?u=%2Fuploads%2Fimages%2Fpreview-2882.jpg%3Fv%3D1485683005&ho=http%3A%2F%2Fwww.ancient.eu&s=788&h=71165f038d26c2ad3d52f54d4cf0a771c50ad8c4b60ac5586a8da2a5488bb7ed&size=980x&c=1631562402 photo_credit="Ancient History Encyclopedia" caption="'Sappho of Lesbos' by John William Godward" pin_description="" image-library="0" crop_info="%7B%22image%22%3A%20%22https%3A//media.rbl.ms/image%3Fu%3D%252Fuploads%252Fimages%252Fpreview-2882.jpg%253Fv%253D1485683005%26ho%3Dhttp%253A%252F%252Fwww.ancient.eu%26s%3D788%26h%3D71165f038d26c2ad3d52f54d4cf0a771c50ad8c4b60ac5586a8da2a5488bb7ed%26size%3D980x%26c%3D1631562402%22%7D" expand=1]'Sappho of Lesbos' by John William GodwardAncient History Encyclopedia
Although the far off island of Lesbos is not a part of the Cyclades proper, the enigmatic isle was the birthplace of Sappho, a legendary lyric poet and philosopher revered in her life as "The Tenth Muse." Her work survives in fragments that have been celebrated the world over for their sensuality, honesty, and depictions of the poet's life. Poets and writers from all over the world head to Lesbos in search of her poetic lineage, and a statue of Sappho with her lyre stands in the main harbor of Mytilene, which to this day remains shaped by poetry.
For more information on visiting The Cycladic Islands, please visit their official website.