On any given night in New York City, you'll be able to find a plethora of live shows, ranging from folk and Americana to urban and bubblegum pop. Whether you're craving the luscious shimmer of arena-sized spaces or longing for the intimacy and seclusion of dive bars, the City That Never Sleeps has it all. It unapologetically aims to satisfy every kind of music fan, and it does so rather well. When all's said and done, you could certainly see a show every night of the week and never get exhausted.

Take a look at five of the must-experience venues of the Big Apple below:
Gramercy Theatre
The venue was built in 1937 and designed by architect Charles A. Sandblom, who designed other area venues and movie theaters. During the '50s, it became known as an art house, for its rather offbeat filming previews--mixing in foreign films and revivals. In the 70s, it shifted to a dollar theater, showing third-run films and then later, second-run features. It closed in 1992 after it was used solely as a movie revival house. Amit Govil reopened the theatre to only include India-produced cinema. Three years later, it was renovated to house Off-Broadway productions. In 2004, it was once again closed down. Concert promoter Live Nation purchased the space in 2006, ultimately switching it over into a live concert venue. Artists from all walks of life have performed on its stage.
Music Hall of Williamsburg
The space was originally called Northsix and founded in 2001. As expected, it helped transform the Brooklyn music scene in immeasurable ways, and was used in the opening shot of the 2003 flick School of Rock. Famously, the venue was shut down in 2003 (for only a month) by the fire department for allegedly having an expire permit; the incident surrounding the booking of a band called Leftover Crack. Bowery Presents (which also owns and operates Mercury Lounge and the Bowery Theatre) bought the space in 2007 and renamed it the Music Hall of Williamsburg. It remains one of Brooklyn's most popular venues, with such recent concerts by Lewis del Mar and SHAED.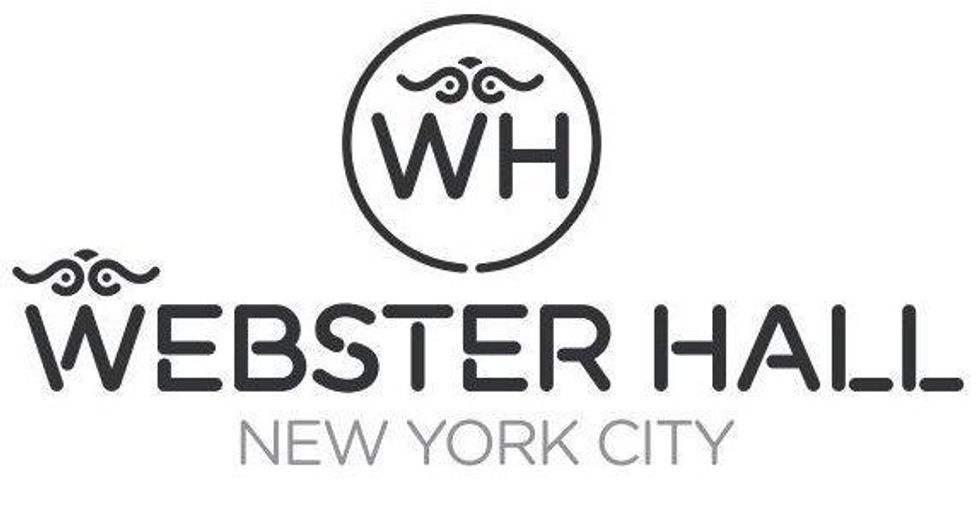 Webster Hall
Webster Hall
Constructed in 1886, Charles Goldstein, a cigar maker from Poland, commissioned the building. Throughout the coming decades, particularly in the 1910s, the locale became integral to various political and social movements. But by the '20s, the political sphere segued into masquerade balls, given such names as "Pagan Romps" and "Art Model Frolicks." Of course, that opened up the space to become a speakeasy during the Prohibition Era. A 1949 fire led to the roof and most of its interior to be destroyed, and the venue shifted away from hardy parties and was essential for emerging Latin music performers, including Tito Puente. RCA Records purchased the building five years later and turned into a double-use space for recording orchestras live. In the 1980s, the venue was renamed The Ritz and housed performances from the Beastie Boys, Guns N' Roses, Iggy Pop and U2, among many others. By 1992, however, it returned to its original name and was taken control by the Ballinger Brothers (who stepped in three years earlier). In 2004, it introduced shows seven days a week. To this day, it is one of the hottest venues in the city, featuring shows from Betty Who to country troubadour Justin Townes Earle.
The Cutting Room
Adorned in saloon-style decor, the intimate venue houses several bars and a restaurant. It was originally founded in 1999 and closed 10 years later. Such pop acts as Lady Gaga, John Mayer, David Bowier and Sheryl Crow have performed on its stage. Co-owned by actor Chris Noth (known for Sex and the City, The Good Wife and Law & Order) and Steve Walter, the lounge moved to its current location (on East 32nd Street between Park and Madison) and reopened in 2013.
Beacon Theatre
The brainchild of Samuel "Roxy" Rothafel (who also birthed Radio City Music Hall as its "sister" venue), the theatre was designed by Chicago architect Walter Ahlschlager, and it opened in 1929. The space has housed performances from Adele, The Allman Brothers (who hosted an annual spring show since 1989), The Rolling Stones, Michael Jackson, Radiohead and Queen, among countless others, and productions of Madame Butterfly (in 1988) and Ballet on Broadway (in 1978). Madison Square Garden bought the venue in 2006.
--