Florence, or Firenze, is known for its duomos, its terracotta rooftops, its gelato, and its awe-inspiring Uffizi Gallery. It's a city where you can eat a cacio e pepe good enough for the David himself, behold the beauty of early musical notation, and traipse around churches, shops, and restaurants studded in history. The streets may be narrow and crowds may be dense, but that doesn't stop the experienced history- and food-lover from spending some quality time in Italy's sparkling crown jewel.

While I could go on forever about the butteriness and char of a steak Florentine spritzed lightly with lemon, I'm here to focus on one of the finest experiences any traveler can experience in Firenze: a stay at the Four Seasons.
Any luxury traveler will know of the spectacular reputation of the Four Seasons, but perhaps their most transcendent hotel is located in the once historic 15th century Palazzo Scala Della Gherardesca. When I had the unlikely fortune to stay there for one magical evening, I was placed in a room in the 16th century Conventino, which yes, used to house nuns. But you would hardly believe it.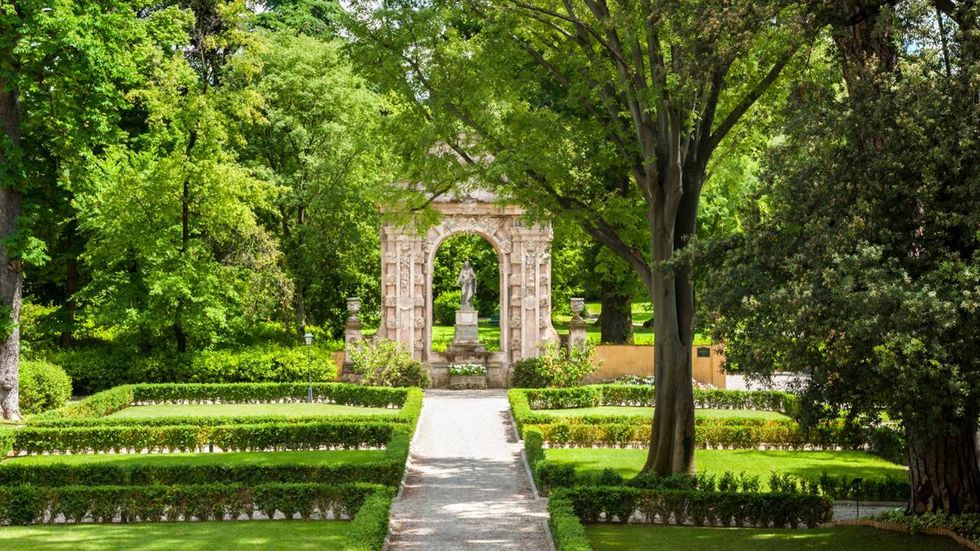 Four Seasons Florence
Opulence is an understatement when referring to the Four Seasons in Firenze. The sheer sight of the gardens, greenery, pool, and stately villas are enough to lower even the most stressed traveler's blood pressure. While life is a little crazy in the city center, this oasis is tucked away on a sprawling escape in what one might as well call, Paradise.
The gardens are fit with cobbled footpaths, stone contemplation benches, and floral archways. I found it difficult to even read a book there. It's sometimes better to just sit and listen to the wind through the trees and the soothing call of birds. The grounds are maintained to perfection; I found not one twig or leaf out of place.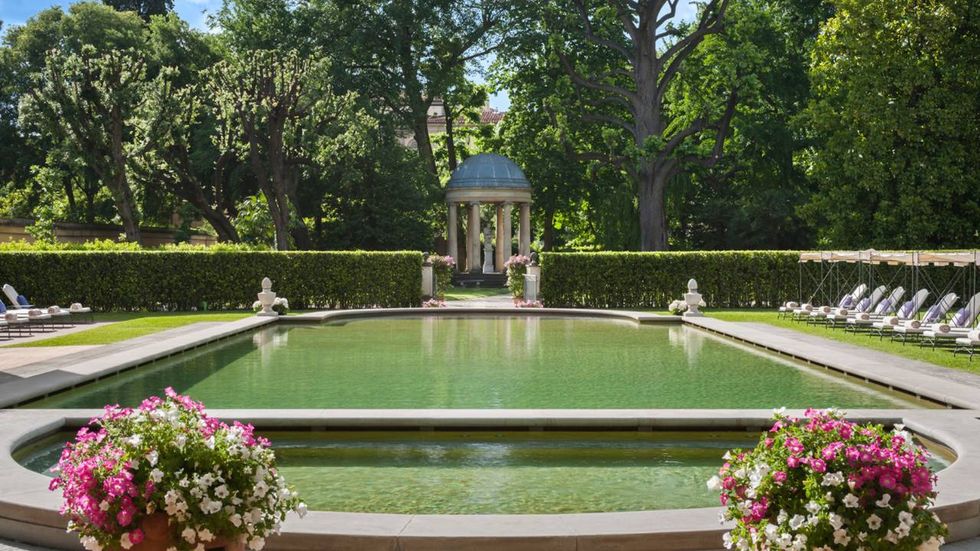 Four Seasons Florence
The pool, a little over 91 feet long, is enclosed by stone with water a luscious shade of aqua: not at all like the all-purpose-cleaner-blue you see at other pools. The pool is flanked by a fleet of luxurious chaise lounges equipped with cushions, towels, and canopies to protect you from the bright Florentine sun. There, you could enjoy being spritzed like a steak Florentine with fresh orange water and delivered cocktails on command.
Are you already salivating? We didn't even get inside yet.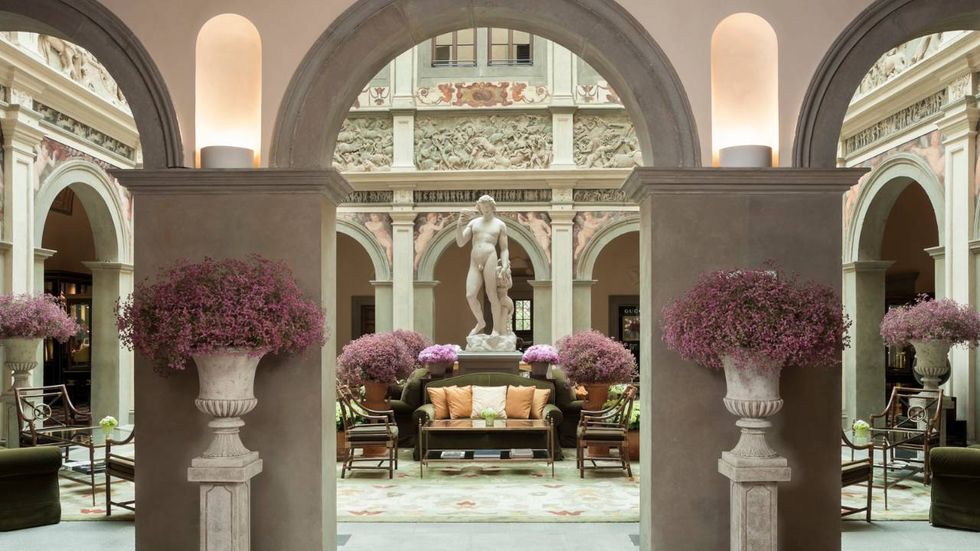 Four Seasons Florence
The first thing you notice about the lobby is the David-like statue (let's call him Alfredo) standing heroically in the center, looking down on bouquets of fresh cut flowers, lounging hotel guests, and dollies packed tightly with luggage. The staff is attentive, caring and considerate to the last detail, reflecting the luxurious look of the hotel with their attitudes. I wouldn't think it would be such a tough job to work there.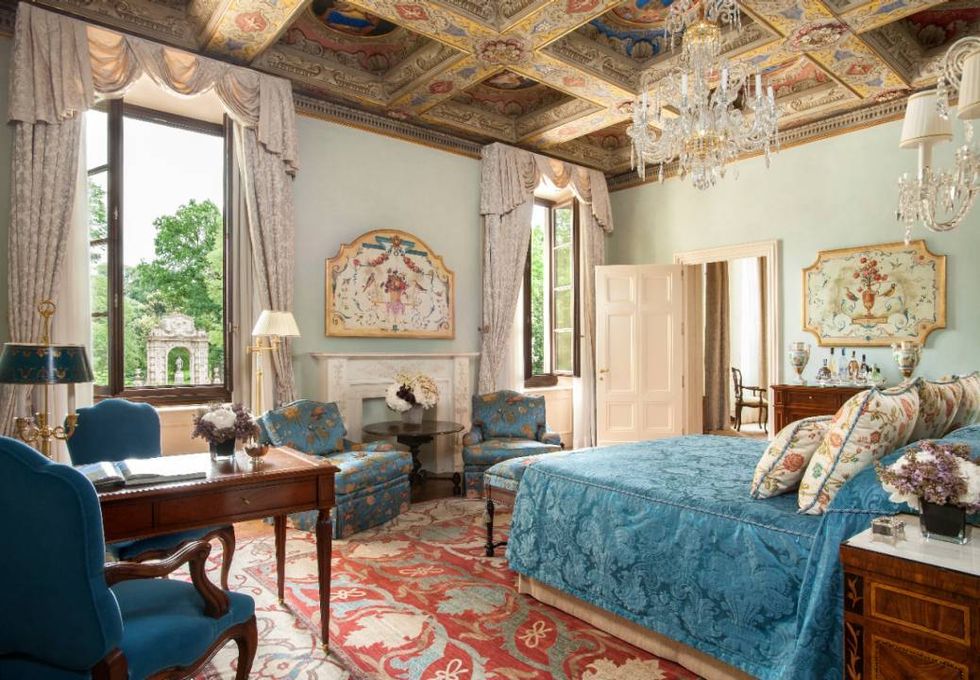 Four Seasons Florence
I got a Junior Suite, from which I had a stunning view of the gardens through the French windows, gorgeously draped in rich fabrics. I always judge a hotel by its bathroom, and this one had two! Plus an extravagant European soaking tub and vanity. The bathroom was big enough to sleep in. The rest of the room was drenched in ornate wood furnishings, fresh flowers, and portraits of Italian noblemen. I felt like I was truly part of another era.
My day at the Four Seasons was spent thusly: walking along the garden paths, munching croissants at the pool, turning in for a spaghetti pomodoro and prosecco (or five) in the outdoor terrace of their Michelin-star restaurant, Il Palagio, and enjoying live piano music in the lobby while sipping a delightful blueberry and Limoncello cocktail.
When you're through with the bustle of the city of Florence, there's no more calming place to retire than the Four Seasons. You can get lost here, and you might just not ever want to be found.
For more information about how to book your stay at the Four Seasons Firenze, click here!