When my social life suddenly dried up one weekend, I spent it with myself, and that meant I finally had more time to play with my hair.
I usually just throw it up in a ponytail, but I was French braiding, blow-drying, and having so much fun with it. It also meant I got to really study my strands, and I noticed they seemed drier and less shiny than they used to.
My cousin is a hairstylist, so I asked for her honest rec's, and she told me a lot of her clients have switched to the customized Function of Beautyhaircare line, especially since it gets delivered to your door.
The packaging looked beautiful, and they had everything I needed to repair my hair. I decided to sign up and document my process to see if their stuff actually made a difference. Here's how my first month went:
Week One
The Quiz: Function of Beauty starts with a quiz. They ask for information on your hair type and your top 5 hair goals, so they can customize. For example, I wanted to cut down on frizz, so my shampoo and conditioner contained tamarind extract + argan oil.
The Basics: For scent, I chose the limited edition "strike a (r)ose" fragrance in strong, and for color, I went with a pink shade for both, but you can mix and match if you like.
The Rest: I also got the custom hair serum for styling, the weekly hair mask, and the leave-in conditioner.
When everything arrived, the colors were prettier in person, and everything smelled amazing. They at least looked high quality! I was excited to see if they would really help my hair.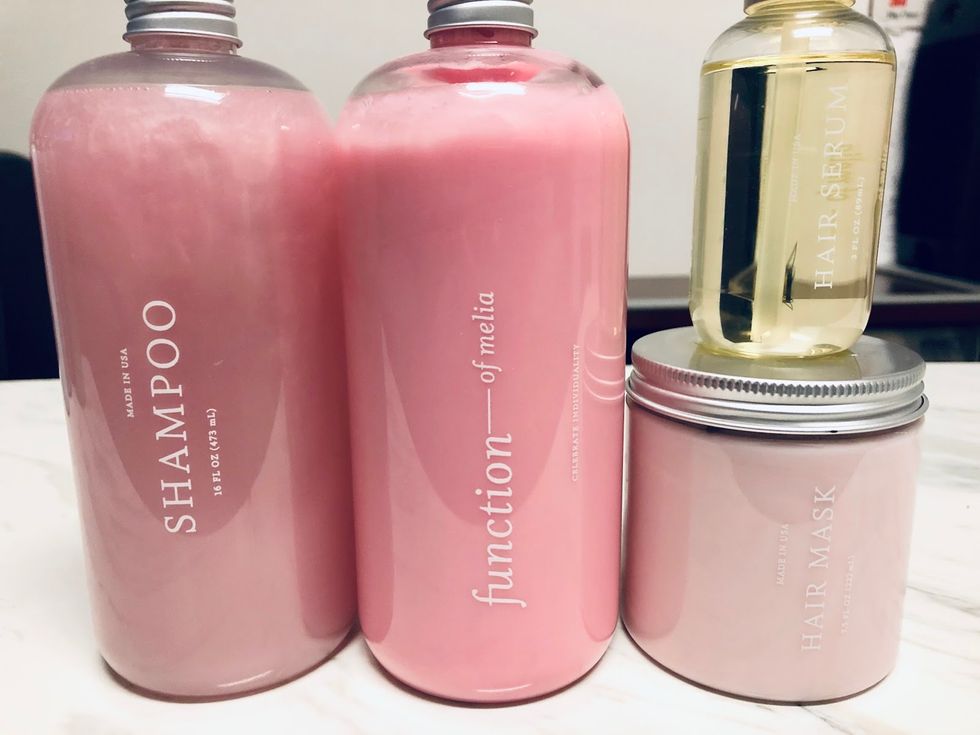 Week Two

I figured I'd forget to use some of my products some days, but everything smelled so good, I was really looking forward to my self-care hair routine!
The S & C: So, because I chose the strong scent for my shampoo and conditioner, every time I shower, I get to smell the rosiness in my hair for hours! That's a really nice touch.
The Serum: I'm using the hair serum now before I blow-dry my hair, and it definitely makes a difference - I notice my hair gets more volume without looking so dry and looks much glossier.
The Mask: The weekly hair mask was super goopy in a good way - it'll definitely last a while, even with medium-long hair. I don't know if I noticed a difference afterward, though.
The Leave-In: The leave-in conditioner isn't greasy at all, which is fantastic, and sooo much better than the last one I used, that would also leave me looking a lil' greazy.
Week Three
I was doing the mask when video chatting my friend in a different state, and she thought I was dying my hair blue. Since my hair is looking healthier, it gave me the idea that maybe I could dye it lighter soon, and not turn it into a pile of straw.
Oh, my Function of Beauty package also came with stickers, so I spent a night putting them on all the bottles.
Week Four
Ok, my hair definitely looks healthier.
This guy I was talking to on a dating app asked to FaceTime me the other day, and I was super nervous - what if we had no chemistry? Or literally, anything to talk about?
I did a fun blowout just to calm my nerves, but we ended up having a weirdly huge amount of things in common, like breaking the same 2 bones - so weird!! We're making plans to meet up sometime in the future.
After four weeks of taking care of my hair with Function of Beauty products, I can't imagine using anything else - even if my hair changes (like, if I do dye it blonde), I can easily change my formula for special purple shampoo or change my hair goals, to keep it healthy.
I really like all the products and their scents, and it's so convenient getting everything shipped to my door every 3 months (you can also choose every month, every six months, or a one-time purchase).
Since the packaging is so cute, I'm probably going to gift this to my best friend for her birthday! We can do hair masks together online, while she walks me through my upcoming date. 😂
UPDATE: Function of Beauty is offering our readers a special offer! Get $20 off your first order above $60! Follow this link and start the hair profile quiz!