My phone is pretty much an extension of my hand, and it's never out of it. If I'm not checking my work emails, I'm on Insta, or texting my friends, or googling the next random thought in my head.
My family couldn't stop commenting on mine and my sisters' terrible phone habit, to the point that it became the joke of the holidays. It was funny, but also kind of embarrassing.
This really got me thinking and made me realize that I need more breaks from my phone - for my mental health along with everything else. So I decided that I wanted my new year's resolution to spend less time on my phone.
Like all my resolutions, I keep them up for a week and feel great, and then I forget all about it come the second week of January. When I was checking my emails, I felt myself falling back into endless scrolling on Instagram and never being able to get off Whatsapp. But this time I was really disappointed in myself.
I was telling my sister how hard I was finding it, as we both made the same resolution together, and she told me she had the perfect solution for us. She was also struggling, so I looked up some things we could do, and that's when she came across Getaway.
She said it was exactly what we needed - a couple of nights away in a cozy cabin tucked away with no distractions, just nature and you. It was exactly what we needed to kick us into a real digital detox - you can lock away your phone while you're there so you can completely disconnect from technology while reconnecting with yourself and what really matters.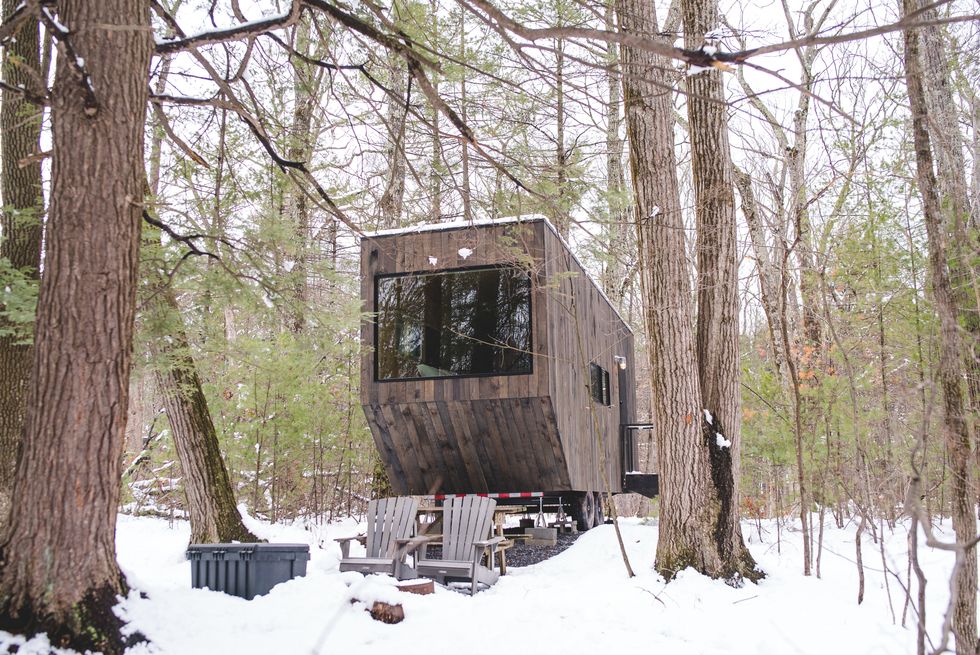 She showed me their website, and it looked amazing, I felt relaxed even looking at the pictures of the cabins. She booked us a cabin for the next weekend. I was delighted and couldn't wait to go but also kinda apprehensive in case I got bored. It looked gorgeous, but what was there to do without WiFi?!

The next weekend, my sister and I set out on our travels. Checking into the cabin was super easy. They send you a lock code and the cabin name, so you just have to drive up and walk-in. It was beyond cute and even more beautiful in person. We unpacked our bags and explored the cabin - It had everything you could need; queen-size bed, AC and heat, two-burner stove, hot shower, and private toilet, sink, pot and pan, shampoo and conditioner, even a campfire and grill with a picnic table and chairs.
First thing we did was lock away our phones. Then we made some pasta, and I cracked open a bottle of wine while my sister took out a checkers board. I couldn't stop laughing, and we used to play for hours on end when we were kids. It was so much fun playing it again, and seeing our competitive sides were still going strong.
The next morning was so picturesque- we could see the sunrise through the trees from the huge window at our bed, I loved lying there looking out at all the nature and the morning unfolding. We got up and decided to go for a hike, the cabin was perfectly located near a really good hiking trail. It was nice to go hiking without the distraction of your phone going off every 2 seconds, or trying to get an outrageously cool pic to update the gram. We just enjoyed the beautiful views, fresh air, and the sounds of nature.
When we got back to the cabin, we felt so refreshed and ready for more food. We both read our books that night and had the best sleep ever. The next morning as we woke, we both felt super recharged and relaxed, like that feeling after you get a really good massage.
We checked out, packed up the car, and got our phones back. We checked them and answered any messages or important emails, but then we put them on silent and back into our bags. We didn't want to ruin our amazing feeling.
Getaway really taught us how to reconnect with ourselves and each other without any technology. Since coming back, we had both noticed how much less we are checking our phones, and we are trying to fit in at least one hike a month together. And that Getaway cabin hasn't seen the last of us - my sister and I both agreed that as a gift to ourselves for keeping up with our resolution, we'd be back at the end of the year.
Plan Your Winter Escape With Getaway!
Offer Expires In