If you've got wanderlust and you've got it bad, you don't have to wait for your vacation days to get away. There's a world of travel in your backyard, and it's easier than ever to plan a last-minute outdoors vacation; let's go camping! (If that phrase fills you with fear, don't worry; this is a guide to camping and glamping - what is glamping? camping's fancy cousin with running water.)
To some, camping is the greatest hobby alive, and to others it's a dirty word to be feared. Camping can mean connecting with nature in a way that makes you feel alive, but it can also mean bug bites and horror stories.
Here are all our recommendations on how to plan the best ever last-minute camping or glamping trip on a budget. (Yes, it can be done.)
Get Your Buddies
First: Who's coming with?
No One: Just you, the open road, and maybe that novel you've been waiting to finish (or start). Everyone should go on a solo trip at least once in their lifetime - no comparing schedules, you can pick and go whenever you're ready. Man's best friend optional.
Your Significant Other: Plan your romantic getaway for two to celebrate your anniversary, honeymoon, babymoon, or just the fact that it's finally the weekend. Nothing's more intimate than stargazing with the one you love.
You & Your Besties: Go on a life-changing social media detox with your besties or just catch up on everything with a magical trip in nature.
You & Everyone You Know: It's possible! Camping's a great idea for a family reunion or a bachelor party.
Do You Need A Tent?
If the thought of putting up a tent fills you up with anxiety, head to the next section.
But if you're brave enough, you have some options if you don't already own one!
Approach your more outdoorsy friends and see if they'll lend you a tent! Return it in the same condition.
Rent one: Even as a nonmember at REI, you can rent a tent for cheap! It only costs about $25. BUT you do need to know how to set it up, so be sure to figure that out before you end up in the middle of the woods without wifi.
Buy one: They aren't as expensive as you think - There are great options at REI, Home Depot, or even Amazon. Make sure everyone has a sleeping bag, too! Patagonia's another go-to.
Where To Go
There are plenty of outdoor and indoor options.
YOUR BACKYARD
PROS
It's pretty close, there's easy access to a restroom, and plenty of snacks.
CONS
It's not a real getaway, and unless you have a woodsy backyard, this isn't an option for a lot of people.
CAMPING SITES
PROS
As classic as it gets. There will be other campers nearby, so it's not completely private, but not too isolated. They're also often in beautiful areas, like near national parks and might provide facilities like showers and restrooms (but don't expect luxury).
CONS
They fill up on popular weekends! If it's Memorial Day weekend, you may need to book space weeks (or even months) in advance. Also, make sure your site has a potable water source.
AIRBNB
PROS
Log cabins, A-frames, Tiny houses, Bungalows - AirBnb has it all. This can also be a fantastic option if you're booking a large group, for a bachelor party or other vacation, Airbnbs often come with most accommodations (towels, sheets, etc.).
CONS
You need someone responsible - owners can be tricky about certain things like hot water use or how to clean up, and you can get easily charged extra. You also may find yourself in a place that has amazing pictures online, but scares you silly. It's not uncommon to find a doll collection in the basement of a stranger's house.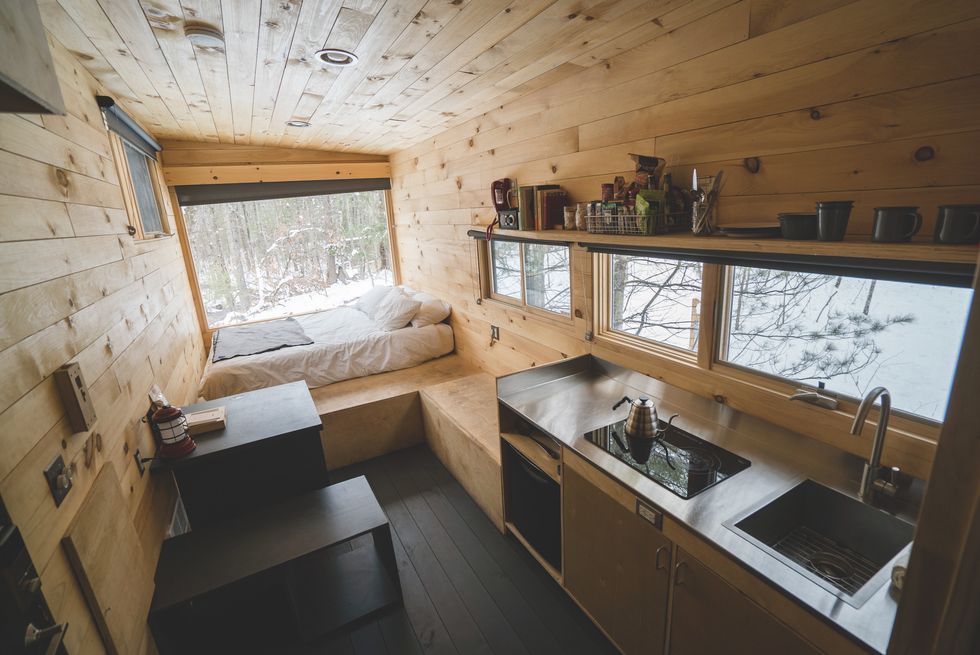 PROS

Situated about 2 hours away from most major cities, Getaway offers private luxe, but rustic wooden cabins with running water, huge beds, and windows, and the full amenity suite. If you don't do camping, but love the outdoors, you'll fall in love - they're all situated near major nature landmarks, like the Catskills or Blue Ridge Mountains, so there's so much to do and your surroundings are gorgeous. The outposts feel intimate individually, but you'll get a glimpse of other cabins nearby through the trees, and maybe share a campfire near some Adirondack chairs.
CONS
They book fast and aren't available everywhere. But if you're lucky and there's an opening near you, they start at only $99 a night.
Getaway
Love nature but hate camping? Getaway has got you covered
Plan Your Winter Escape With Getaway!
Without preparation and the necessary tools, you could have a less-than-fun experience. There's so much camping gear and so many camping gadgets out there, so make sure you do your own research based on if you're going rock climbing or heading to Alaska.
Here's our camping checklist!
Clothes
Enough shirts and pants for each day, plus extra socks and underthings
Hat
Sweats for sleep
Rain gear, like a jacket or poncho
Heavy-duty boots
Sneakers
Swimsuit
Flip-flops or shower shoes
The Basics
A Towel, always
Snacks, like gorp (aka trail mix!) and jerky
Food in coolers or safe packaging
Sunscreen
Water thermos
Matches, for candles or fire
Toiletries
Medications
Laundry bag for dirty clothes
Backpack or fanny pack
Sunglasses
First Aid Kit
Reservation Confirmation
Directions
Flashlight
Bag of rice (to save wet phones!)
For the Outdoors
Tent & Pegs
Sleeping bags & Sleeping pads
Pillows & Blankets
Firestarters
Toilet Paper
Bug repellant
Pocket knife
Hammock
Stove
Hand sanitizer
For Fun*
Playing cards
A book or two
Board games
Camera
Alcohol (for the 21+ crowd) & Bottle opener
*Many of these are included with Getaway! They offer a full suite of snacks and other things that are available for purchase at the cabin. When you book your trip, you can also add things to your cabin like a full kit for painting or intimate items.
Our Top Camping Hacks And Tips For A Great Weekend Away
Try a social media detox - what, you need to scroll Instagram on your hike? There are so many reasons to quit social media - put down your phone for a day or even the whole weekend for a much-needed break.
Set realistic expectations - you may not achieve enlightenment or finish 3 novels, but remembering to breathe and set aside this time for yourself and with loved ones is enough.
Memorize the rules to popular card games - Know the classics like Gin Rummy, Cheat, and War and the cult faves like Egyptian Ratscrew, Cambio, and Mao.
Don't complain - maybe it'll rain the whole time or you'll get stung by a bee. There's no such thing as the perfect trip, so roll with the punches and despite the discomfort, you'll have the time of your life.
Clean up your stuff - leave your area as pristine as you found it to preserve the environment and as to not attract unwanted friends like bears or more bugs.
Give your campfire a little help - it's hard to start a fire! Bring a duraflame firestarter log, some Fatwood kindling sticks, and some newspaper to get going, along with some marshmallows for when you finally do.
Coordinate who's bringing what - don't arrive with 20 bags of trail mix and no soap.
Remember it gets cold at night - warm climates can still plummet when it gets dark! Bring warmer socks than you think you'd need.
Ready to escape for the getaway trip of a lifetime? Relive the magic of summer camp with any of these types of camping. Get away today on a budget in the great outdoors or a secluded cabin in the woods. Stay safe and have fun!