It's been a busy past few months, and my husband and I really needed a vacation.

The two of us haven't been on a holiday alone in nearly five years. With both our jobs and the kids, "just us" is hard.
My husband, John, decided to book a weekend away (the closest four-day weekend) and said let's just do it. We looked for Wimberley vacation rentals and wanted to find something that would give us a little bit of luxury but would also be close to the outdoors (it is summer after all!).
We wanted to find a scenic cabin that would give us all the best parts of camping without having to rough it, and luckily we stumbled across Getaway. Their Wimberley outpost is nestled in spectacular scenery and best of all, it's only a one-hour drive from our home in Austin. No kids, no cooking, nothing but peace in the great outdoors.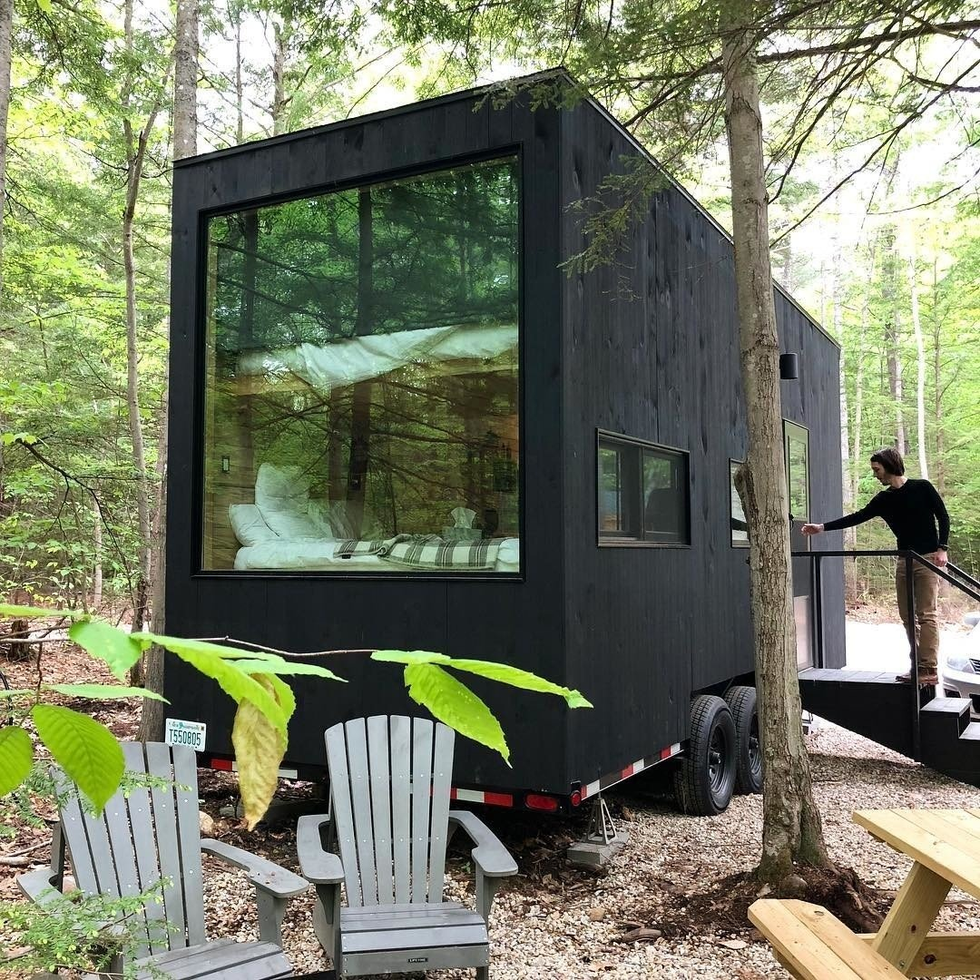 Getaway offers a break from our tech-controlled lives with their WiFi-free cabins and cell phone lockbox. Although I couldn't even imagine staying away from the kids, I was excited to turn off my cell phone and live in the moment.

I like my creature comforts, so I was a tad worried about staying in a cabin, since I've never been in one before. (Let's just say I need a clean toilet!) I was also unsure about how safe they would be. I need to have my privacy. But Getaway had everything planned out, as each cabin has a private toilet and a hot shower. Their cabins are deep-cleaned after every stay and there is 50 to 150 feet between cabins.
The cabins have comfy queen-sized beds with AC and heat, a kitchenette with a two-burner stove, mini-fridge, and even things like salt and pepper. We both agreed that if campsites had Getaway cabins when we were in college, we would have explored so much more!
The first day I slept in and woke up around noon when the sunlight filled the cabin through the enormous window. John went for a walk while I relaxed with my morning coffee, or should I say afternoon coffee. On our first day, we decided to take it easy, so after lunch, we checked out Getaway'sselection of books and board games. I'll admit, I grabbed my phone from the lockbox to quickly check in with the kids, but once that was out of the way it was banished back to the box!
I decided to make the most of our time here and woke up early the next morning and lounged next to the picnic table. I let my mind roam as I watched the sunrise. When was the last time I saw that in the city?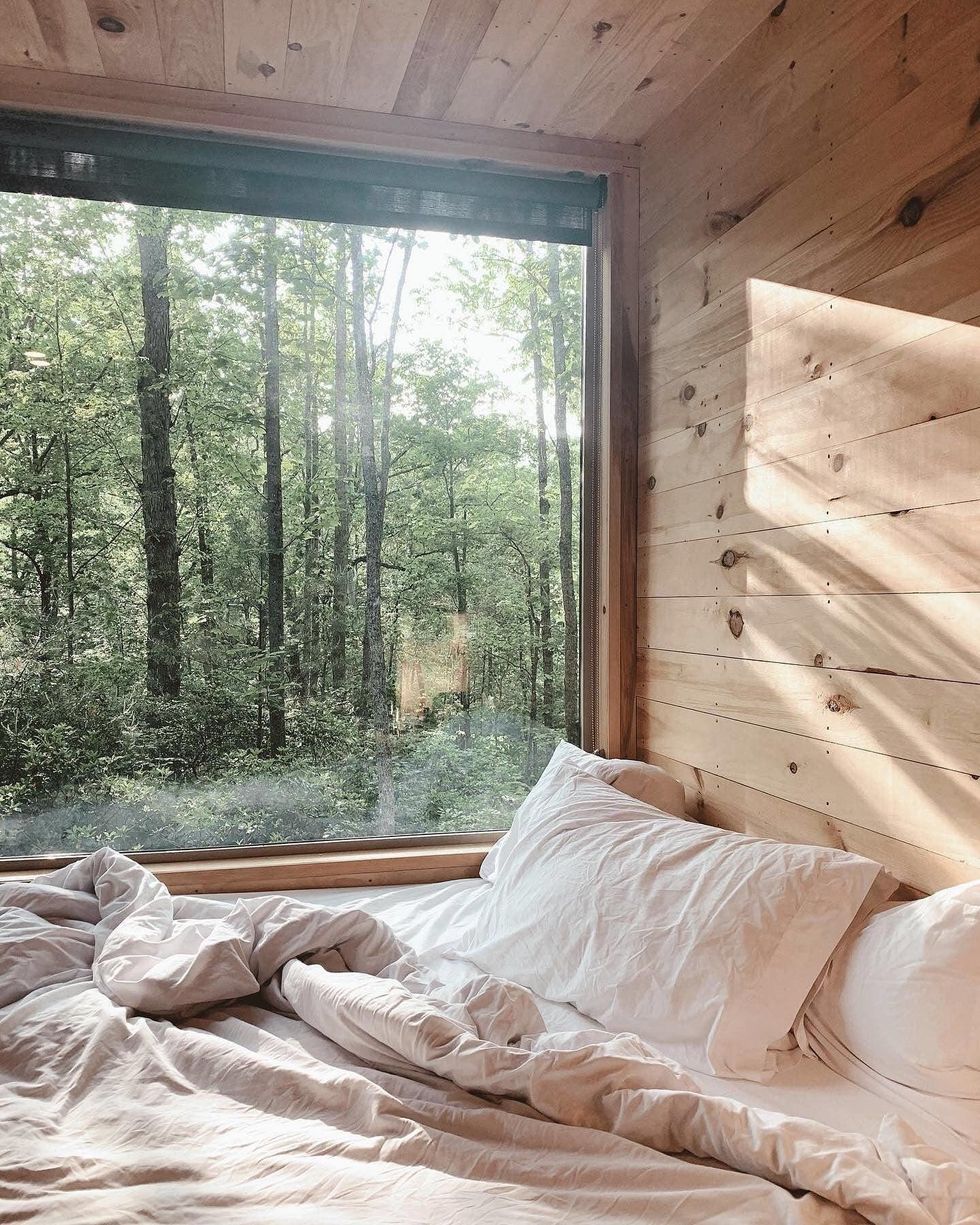 We decided to use the rest of the day to explore — there's so much to do around the cabin. Wimberley is truly one of the most stunning places in all of Texas with so many beautiful trails nearby. Getaway makes it easy by listing all of the amazing activities near their Outposts, and we both agreed we couldn't leave without seeing the Blue Hole and the Cyprus Creek Trail.

We spent the afternoon hiking and soaking in nature, then cooled off with a dip in the stunning Blue Hole waters. That night, we were exhausted, but the good kind of tired. We enjoyed the night by sitting by our private fire pit with a glass of wine and just talked. It was a real heart-to-heart.
I couldn't believe how much John and I connected. We stared at the stars in the night sky, roasted s'mores, and woke up to birds chirping (no kids screaming or dogs barking!).
I'm gonna be honest, when John first told me about these cabins nestled in the middle of nature, I was really hesitant, but my experience with Getaway changed my opinion.
It's luxury in the middle of the woods and the perfect way to switch off all of the chaos and reconnect with nature. Starting at $99 a night and a mere one to two hours away from major cities, it feels like you're in a completely different world.
If we've learned anything from the last year, it's that the virtual world is convenient but the actual world is priceless. After our trip, we both felt completely rejuvenated and agreed to make it a twice-yearly occurrence. Getaway's Wimberley cabins are a little piece of heaven, if you live in the Austin/San Antonio area, then you need to check it out!