Instagram has been blowing up with pictures of people traveling this spring
If you want to get the photos you've always dreamed of, you can find a Getaway Outpost two hours outside major cities
Getaway's private cabins allow you to camp without roughing it
Does it live up to the Instagram hype? Check out the pics below or visit Getaway for more information
Instagram has changed the way people travel. While people used to focus on all the new and exciting places you can travel to, now there's an element of getting that perfect postable picture.
We all need vacations — days when we simply take a break from the laptop, catch up with friends, or reconnect with nature. Our editors have found the perfect place for you to relax, unwind, and capture amazing photos.
Meet Getaway — they combine the best parts of camping without roughing it. You still get glorious views of nature, while sleeping in your very own cozy cabin. Getaway's Outposts are about two hours away from major cities.
Their cabins feature huge windows where you can take in incredible views of trees and trails. Wake up to the sounds of birds chirping in the crisp, fresh morning air. Each cabin has a comfy queen bed or two queen beds that hold up to 4 people. There's also a toilet, shower, kitchenette, mini-fridge, firepit, chairs, and a picnic table.
It's an oasis where you can escape and take a breath. Here are a few Instagram pictures of the amazing Getaway holidays.
1. Private cabin with stunning views: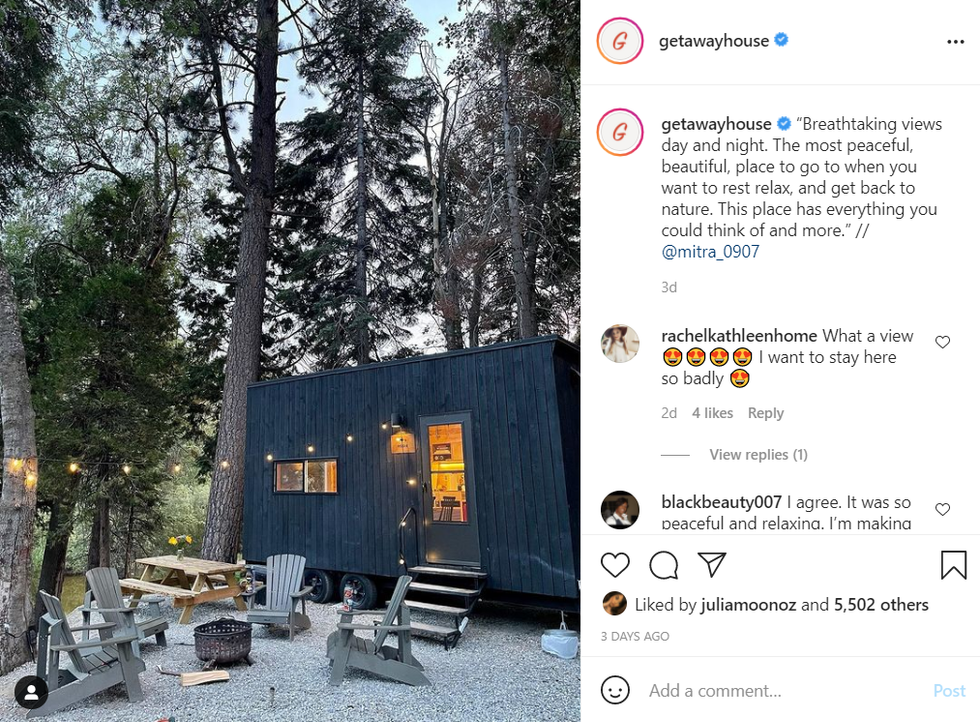 Getaway cabins are nestled in nature and very secluded. Each cabin has a giant, floor-to-ceiling window that makes it feel like you're sleeping in nature. Wake up and watch the sunrise while snuggled up in bed!

2. Getaway cabins have everything you need: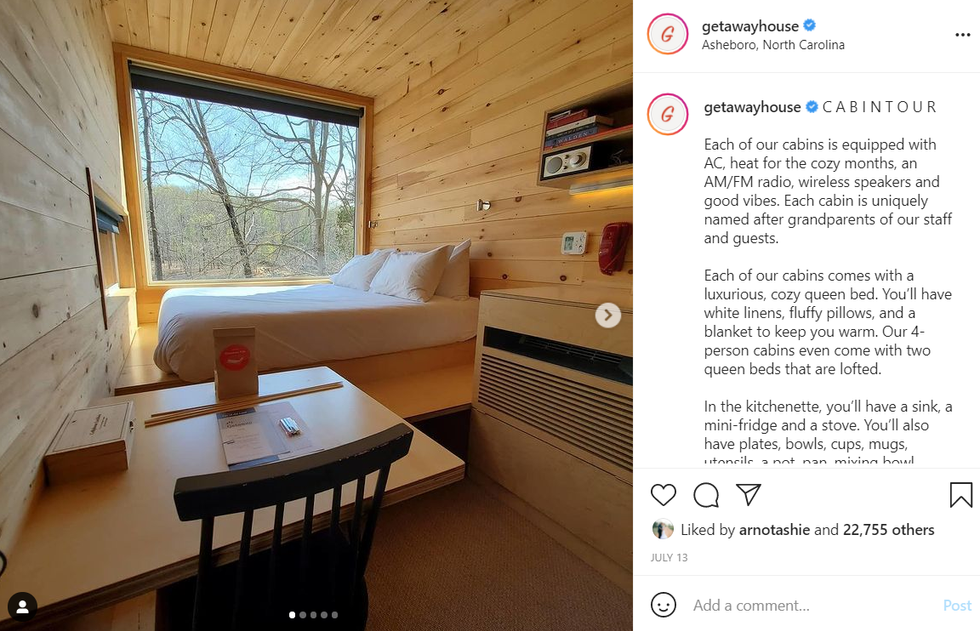 From a cozy queen-sized bed to a kitchen stocked with cooking gear, each Getaway cabin is equipped with everything you need for a relaxing, care-free stay.

3. Pet and kid-friendly: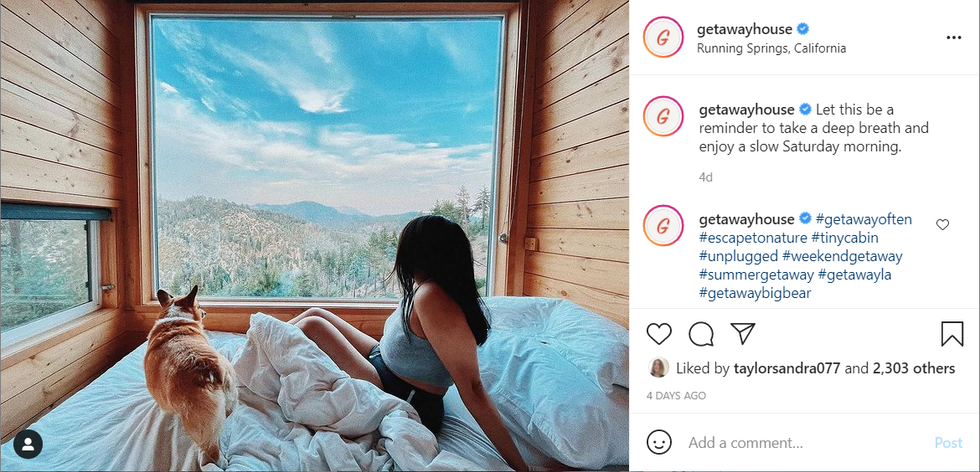 If your furry friend has an Insta too, you can get a ton of pics with mountains, rivers, and cabin shots. Your pups might even appreciate the cozy beds or crisp outdoors more than you do.

4. Numerous activities: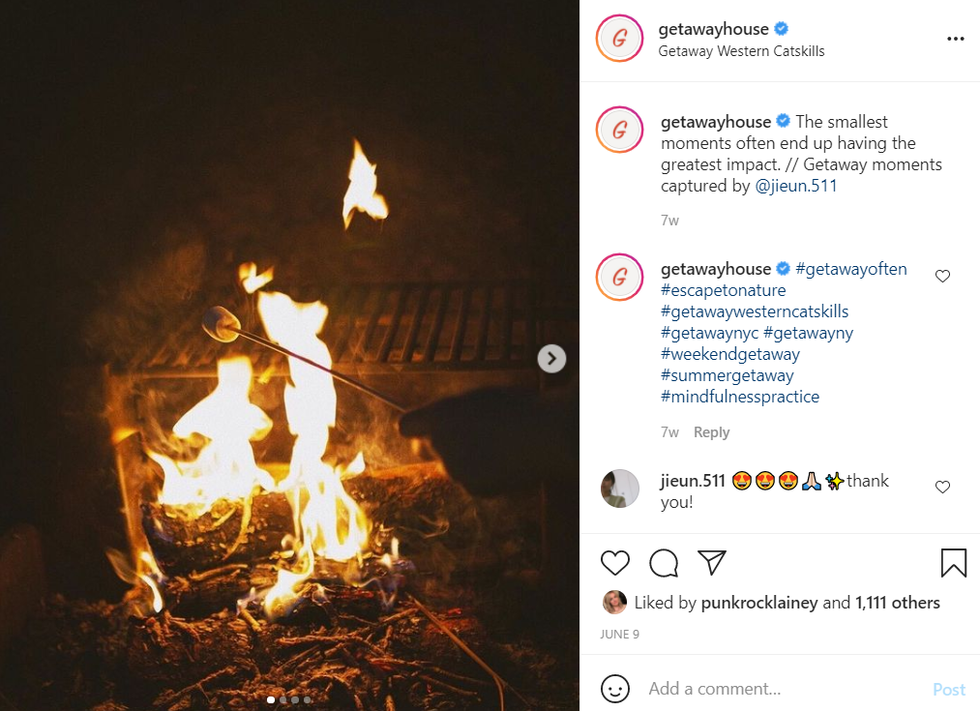 Forgot marshmallows? You can purchase extra provisions from Getaway, either beforehand or right inside your cabin. It can just be added to your tally later, so you can worry less, and eat more s'mores.

5. Starts at $99 a night: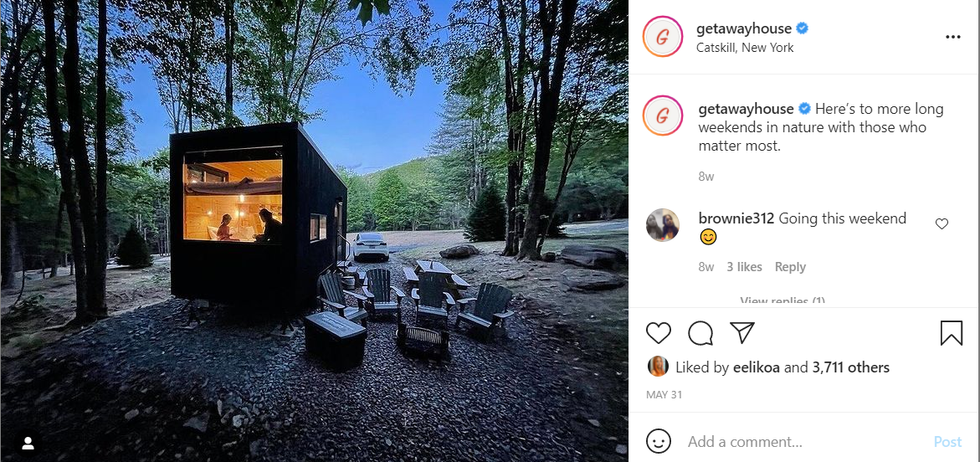 For your own private cabin with Adirondack chairs, a firepit, and a view you can't get anywhere else, rates start at just $99 a night.

The pictures say it all. There's no in-person check-in or check out and all the cabins are 50 feet apart. The wifi-free cabins come with a cell phone lock box, so you can do a total tech-detox if that's what you need. There's also a selection of books, a deck of cards, some fun board games, and a fire to sit around. Getaway is an awesome way to kick back and recharge.
Each Outpost has its own set of activities to bring you closer to nature. There are hiking trails and spectacular views. Some posts have nearby vineyards, antique shops, or even apple picking, which is great for kids!
If you want to take a few days for yourself or your family, check out Getaway for an incredible adventure.