Travel is slowly on its way back, and people are already starting to plan their next vacation. A deciding factor is always accommodation — where can I find the nicest possible place to stay?

Most people know about Airbnb by now, but are there any alternatives? What's the ultimate accommodation for a relaxing break away from our busy lives?
We want to make sure our readers know the best options out there. Our editors tried four accommodation options from four popular companies — Airbnb, Getaway, VRBO, and Hipcamp — to find our favorite. Here's what we found:
Key similarities:
All four services allow you to book rental accommodation online
All four services provide images and reviews about the accommodation offered
Key differences:
Airbnb, VRBO, and Hipcamp are third-party booking platforms and do not own the accommodation
Getaway allows you to book Getaway's own cabins
Airbnb and VRBO allow you to book a variety of different rentals
With Getaway, booking payments are fully refundable up to 15 days prior to the reservation, which isn't the case for all rentals on the other sites.
Airbnb, VRBO, and Hipcamp all hit you with service and cleaning fees before you check out, which can dramatically increase the cost of your trip.
All services and cleaning fees are included with Getaway in one, clear price
Getaway Overview

Getawayhas all the great parts of camping, but with the added comfort to their cozy, secluded cabins tucked away in the trees. Before booking, we emailed their team and they couldn't have been more helpful.
They promptly reassured us that they've upped their cleaning procedures and there are 50 to 150 feet between cabins. Check-ins are completely contactless, and the cabins are only a two-hour drive from the city.
It's the perfect place for a technology detox. There's no WiFi in the cabins, just a landline. There are tons of nature trails near the cabins, plus a cell phone lockbox to keep your phones in for the trip! So you can go on nature hikes, toast s'more by the fire pit, have a BBQ, play cards and just enjoy your beautiful surroundings!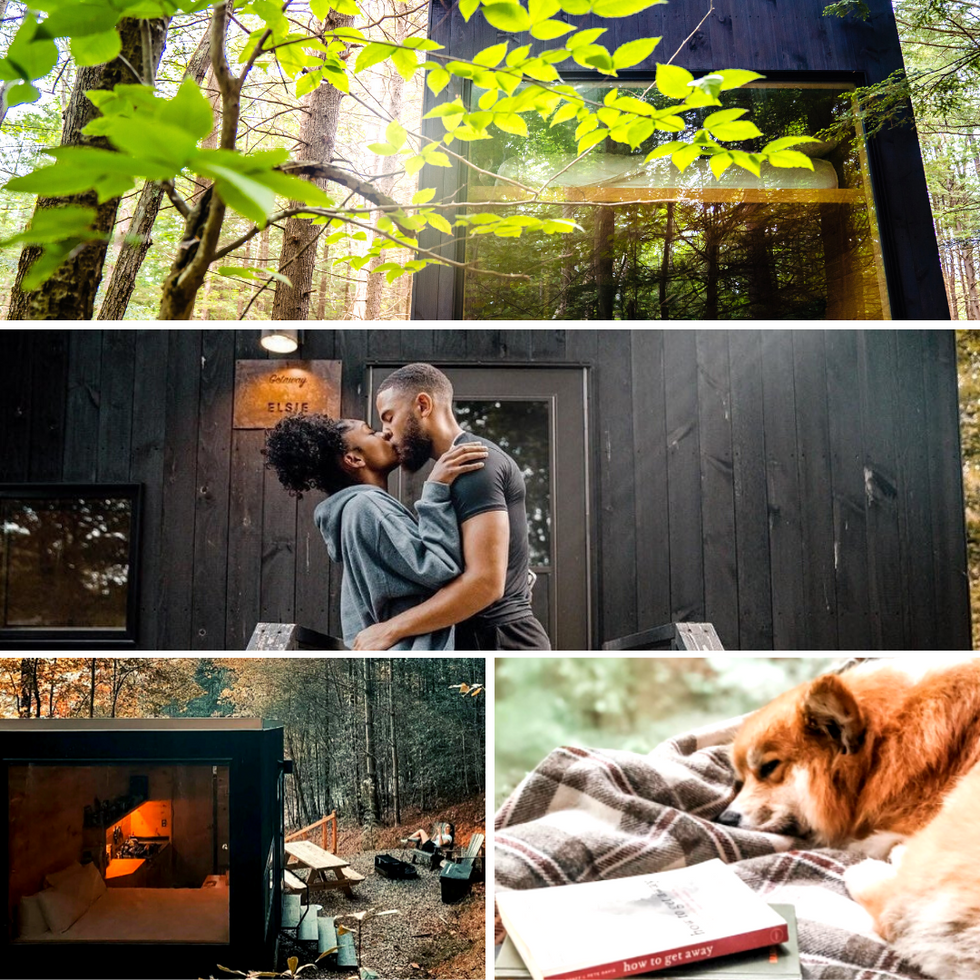 Airbnb Overview
I think we're all familiar with Airbnb, and at this stage, we've probably all used it to book a rental. Airbnb offers a lot of different options, and it's a global company, so no matter where you travel you can find a rental.
Our experience so far with Airbnb rentals have been so-so. Since rentals are owned by individuals, it's hard to know what you're going to get. While they do offer images and reviews of each rental, there's no way of knowing if what you see is what you're going to get.
The worst thing about Airbnb is its extortionate "service" fees, which are about 20 percent on top of the overall cost (not to mention the cleaning fees).
VRBO Overview
VRBO is very similar to Airbnb. It's a global company that specializes in condos, cabins, lake rentals, and beach houses but also offers city apartments.
When you go to book, you'll notice VRBO seems to have fewer options overall than Airbnb. But you're still hit with the same service and cleaning fees, which add up to about 20 percent of the rental cost.
Considering VRBO only offers a fraction of the bookable rentals that Airbnb offers, you would expect it to be reflected in a more affordable service fee, but that's not the case.
Hipcamp Overview
Hipcamp is specifically for camping rentals. It's another booking service that offers third-party rentals for people who want to stay in nature. You can search for campsites, RVs, tents, teepees, and more.
We found this site to be too niche for us as it's aimed toward avid campers who want to rough it in nature. If that's not you, there's no need to use this site.
Again, Hipcamp also has a "service" fee — about 12 percent. Not as bad as Airbnb and VRBO, but it's still pretty significant.
Final Thoughts
All services have their merits, but if we had to choose one, we'd recommend Getawaybecause it's the best of both worlds: comfort and nature. Hipcamp offers camping rentals, and Airbnb and VRBO offer houses and apartments, and Getaway has all the best parts of camping without having to rough it!
The Getaway cabins come with everything you need: freshly made beds, along with AC and heat, a private bathroom with a toilet and hot shower, a deck of cards, and a selection of books. The kitchenette includes a two-burner stove, a mini-fridge, and cooking essentials, like a pot and pan, a tea kettle, a bottle opener, and essentials like olive oil, salt and pepper! Plus, the large window overlooking lovely views of nature.
If you book with Getaway, you're not booking with a third party, so you are not met with hidden "service" fees when you go to pay. We found this kind of ironic given the amazing customer service we experienced with Getaway.
Our Getawaytrip was blissful. If we need anything after this last year, it's more fresh air and less screen time. We spent the days going on hikes and taking in the scenic mountain views. The evenings were all about chatting and eating around the fire pit, while staring at the stars in the night sky.
Getaway is the remedy we all need right now, so if you're booking a vacation, book with Getaway.