I think that winter is fine, but not ideal, especially when I'm trying to enjoy nature. This December, my partner and I are looking to take a weekend trip to celebrate our anniversary. We wanted something rustic, but modern. Something that offered a traditional outdoor experience with a slightly elevated feel. After scouring online, my friend recommended Getaway.
She said that her Getaway cabin was like being in a snow globe - truly magical. I don't believe in magic so that seemed to be a bit of a stretch. Plus when I asked her what she did all weekend, she said they went on snow hikes. Hiking? In the snow? I'm not that outdoorsy and this vacation seemed less than relaxing to me if all I could do was hike (more realistically, crawl) through the snow.
I figured I would be stuck in the cabin surrounded by snow and worried that there'd be nothing to do. My partner, on the other hand, was so excited when he heard about Getaway that I decided to give it a chance. If anything he would get his fill of nature and I would just be reading my new mystery novel inside.
Pulling up to our cabin, my jaw dropped - it was a winter wonderland. Coming from a city, I mostly associate winter with slush and was not expecting to see clean snow covering the trees. The cabin itself looked picturesque, nestled in the forest like it was straight out of a movie.
While the scenery was great, I was still unsure if this trip would be a success. I was freezing when we stepped out of the car and hurried into the cabin. The inside was just the right amount of space for two people.
I took off my jacket and boots and jumped into the queen-size bed. While I thought that our whole stay would be spent buried under the covers for warmth, once my partner turned up the heat, our cabin truly started to feel cozy.
The huge window next to the bed gave me the perfect balance of nature and warmth. I loved getting to embrace nature without having to feel the chill. But while the window was a peaceful spot to relax, I knew that wouldn't keep me occupied all day. Again I worried about how we would pass the time.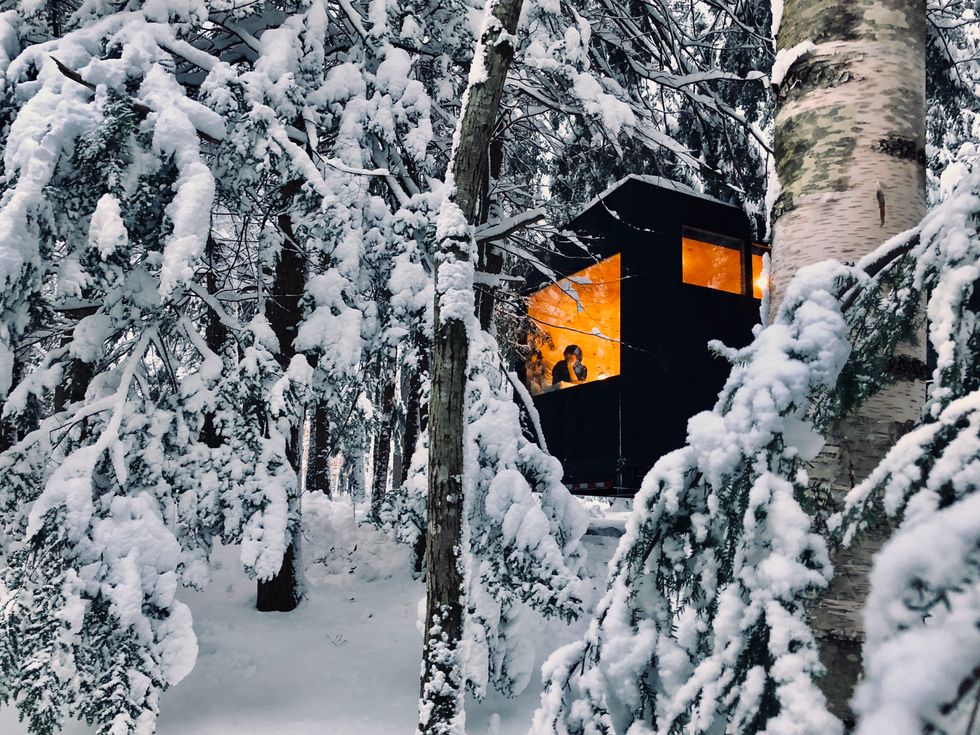 Thankfully, Getaway really anticipated our need for entertainment. We found a deck of cards and I got to relax with a game of Go Fish, which not only let me and my partner unwind but also brought back the nostalgia of playing with my family.

After a while, things started to get too competitive and we had to give the cards a break.
I was upset when I realized I had forgotten my book at home, as that was going to be my main past-time in the cabin. Getaway saved me when I noticed a bookshelf by the bed. I got to page through their little collection and even got into reading How to Stay Alive in the Woods.
Dinner was another great surprise. My partner and I had so much fun cooking together. It felt like the perfect way to reconnect without the hustle and bustle of city life getting in our way. The cabin provided all the cooking supplies we needed - no need to bring any of our pots or pans.
Even though it was chilly at night, we lit the fire pit outside and roasted marshmallows to have s'mores for dessert.
After the first day inside I started to get a bit restless. We decided to go for a mini winter hike and despite not being an outdoorsy person, I still loved it. The air was so crisp and clean--our walk was truly the refresh I needed. The best part though was coming back to our cozy cabin and warming up.
Overall, Getaway was definitely the right choice for us this winter. The peaceful, snowy backdrop was just what we needed to make our anniversary truly special. My partner got his share of the outdoors while I got to snuggle up with a book inside. So grateful that our friend recommended Getaway to us, despite my hesitation.
I can't wait to come back to Getaway again for our next trip and try a different outpost. This time we went to Blake Brook outside of Boston but Getaway has outposts across the country. They're also only 2 hours (or less!) from cities like New York, Los Angeles, Atlanta, Washington, and Houston. Plus, it starts at$129 a night.
I can't believe I was so worried about our trip. Getaway is the perfect winter vacation.