It all started when my neighbor Kate spontaneously invited me over for a cuppa tea. I was almost out the door when she texted that she'd just tossed some steak in a pan. It'll be ready in 25 minutes - how do I like my steak? I realised I'd been working all day and was absolutely famished.
When I popped round the corner Kate set down a plate of Steak & Balsamic Onions in front of me. I took a bite of the super-tender rump steak and spring greens. And I can't forget those garlicky portobellos - divine. Her meal was far better than the local gastropub where my partner and I ate once or twice a week!
Kate admitted that she was excited to share Green Chef with me. It's a popular recipe box subscription service that makes it easy to eat healthy. It's really popular in the US and she subscribed as soon as it landed in the UK. She was surprised that I hadn't noticed it because it's all over Facebook, Instagram and TikTok.
Once we'd finished our catch-up, I went home and immediately pulled it up on my mobile to show my partner, Tom. We scrolled through 17 tempting, nutritionist-curated recipes that were available the following week. The photos are so delicious-looking we knew we were heading in the right direction. So, we skipped straight to the diet preferences. They have keto, lower carb, vegetarian, vegan and flexitarian - serving either 2 or 4 people with 3 or 4 recipes each week.
We signed up as 2 people for 3 meals a week, made our selections from the Green Chef menu, and couldn't wait for our box to arrive.
What happened next? Well, I kept a journal of our first 4 weeks with Green Chef.
Week 1 - The Arrival
When our first Green Chef box arrived on our doorstep it felt like a birthday present. All the ingredients came neatly packed and pre-portioned for zero food waste. Quick aside: Green Chef truly is green. They offset their direct emissions and box plastics by investing in green projects across the UK making them the first carbon-neutral recipe box company.
That first night I was really nervous because I'm no cook. But Tom quickly took the lead on the Golden & Purple Beetroot Salad with Cranberries and Pumpkin Seeds. He read out from the step-by-step recipe card, I rinsed and chopped and dealt with the cavolo nero. It's a type of kale I'd never seen before! Tom took care of the sauce and turning the root vegetables in the oven.
We chatted the entire 35 minutes and before we knew it we were savoring a delish nutritious dinner!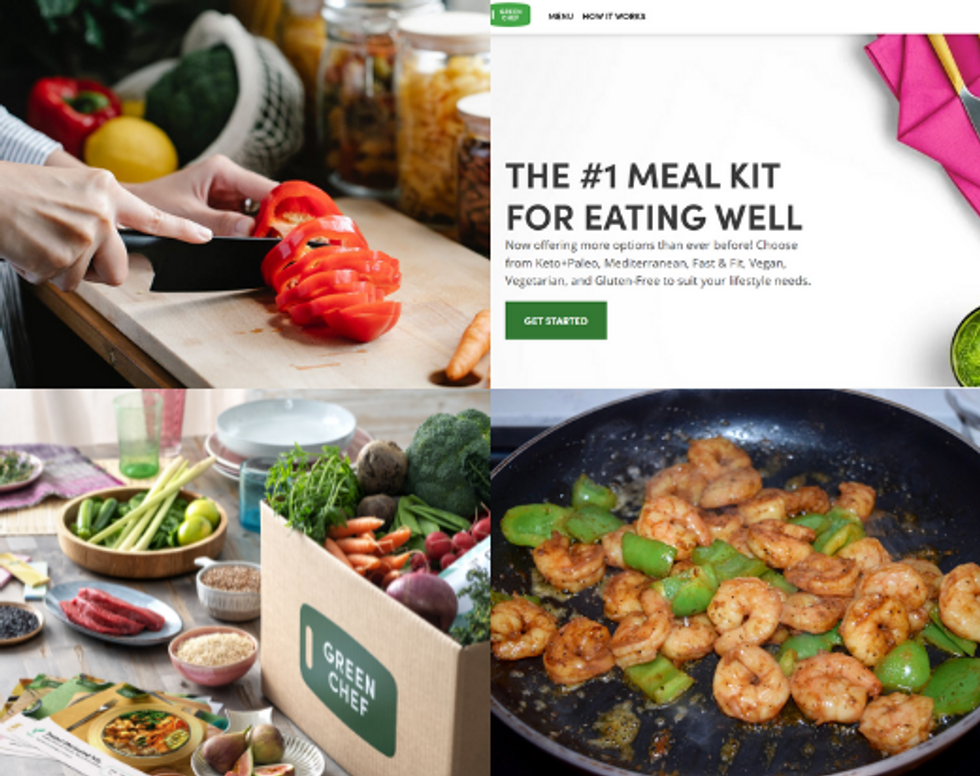 Week 2 - Around the World - Without Leaving Our Flat
TBH, Green Chef has been a lifesaver and a real eye opener. For one thing, we've really cut down on our trips to the shops. And during our second week, Tom and I branched out into global cuisine. Our culinary adventures brought us the Bahn Mi Inspired Pork Ciabattas. The Ciabattas are surprisingly fresh!
Another night we relished the Creamy Peanut & Kaddu-Inspired Curry. It's yet another tasty plant-powered vegan recipe that's the perfect weeknight meal. So, we committed to sampling at least 1 international meal each week.
What's remarkable about Green Chef is they feature seasonal ingredients and local suppliers wherever possible. And because they're part of the Sustainable Seafood Coalition their meat, fish, and produce are incredibly fresh.
Week 3 - Gaining Kitchen Confidence
I can't believe how much we're enjoying cooking. In fact, I'm so confident now that we increased our box size to 3 meals a week for 4 people. What a time saver! Now we still cook 3 times a week but we get 6 nightly dinners - or leftovers for lunch. Although we worry that it may be a bit ambitious, we can change, skip weeks or opt-out if we ever want to. But why would we?
Week 4 - Life Is So Good
We're astonished by how much money we're saving. Our jobs are so hectic we relied on deliveries and takeaway - not to mention the local. All together we used to shell out £200 a week on dinners alone.
Starting at only £2.82 per serving, Green Chef's an unbeatable value for anyone. For 12 servings a week we pay a fraction of what we used to spend on subpar food. We're already popping that money into our bank account!
Finally, life is so good. Thanks to Green Chef, we eat well. We have fun times together. And we'll go out for a meal when we decide to.