Welcome to the Azores, the little-known wonderland archipelago of Portugal. These islands are truly a nature lovers paradise, with hydrangea-dotted rolling hills overlooking the steely Atlantic, and verdant caldeiras housing glittering blue and green lagoas. Boasting a rare combination of impressive mountains, pastoral plains, and lush tropical vegetation–minus the bugs–the Azores' unique allure sets them miles ahead of many other Instaworthy destinations. Moreover, the Azores have been consecutively named one of the most sustainable sites in the world.
If you are looking for a still relatively undiscovered natural paradise where you can spend all day engaging in a range of outdoor activities, the Azores are for you. That said, depending on what time of year you go, it's likely that you'll get rained on, so bring an umbrella, waterproof shoes, and expect some unpredictable weather.
Here are some additional travel tips to make sure you get the most out of these miraculous islands.
When to visit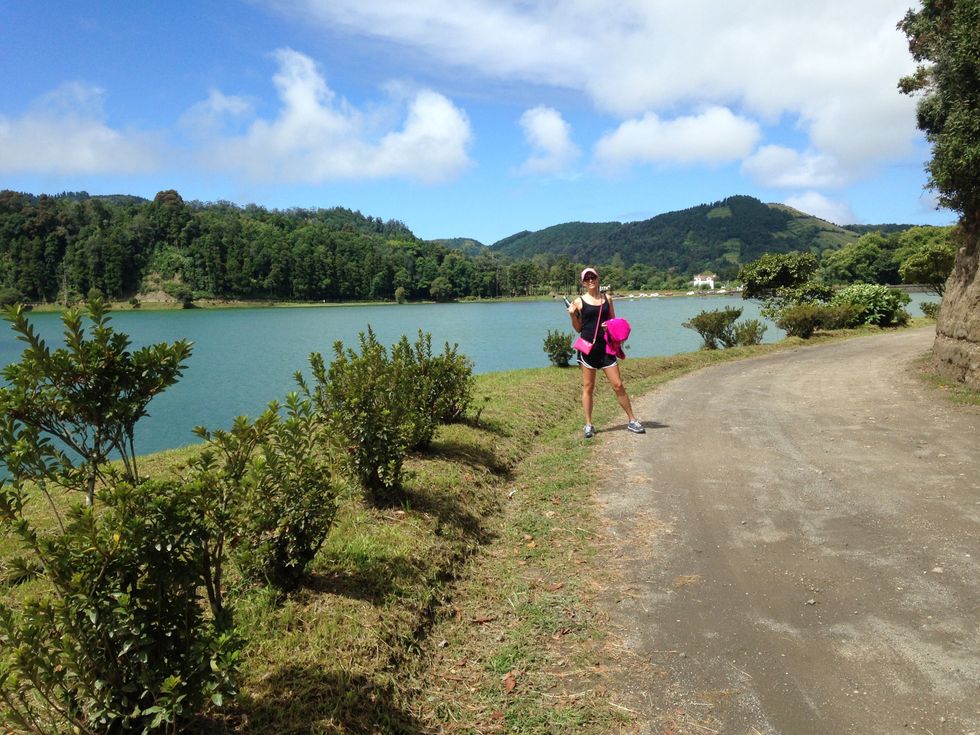 Ten minutes before the rainstorm
While the Azores have a subtropical oceanic climate (meaning it never really gets below the low 50's) this also means they get a lot of rain. Winter (November – March) is considered the rainy season, during which time it's overcast, gloomy, and wet most of the time. While this may not dissuade hardier travelers, for most people visiting during the summer months (June - August) is ideal. While there may be sporadic rain showers during the day or night, they rarely last for long, leaving you free to enjoy a guilt-free nap or two while you're waiting for the weather to clear up. If you're into swimming or diving, June – September is best, as the weather in the fall months gets too chilly to comfortably spend time in the water.
No matter what time of year you go, crowds should be sparse because the Azores haven't been "discovered" yet by the hordes of tourists. But it does have a steadily growing tourism economy, so go now before the spring breakers and Instagram fiends overrun it.
Getting to the Azores
For a tiny archipelago in the Atlantic, the Azores are surprisingly accessible. Multiple carriers offer daily trips from all over Europe and the US. If you're already in Portugal, the Azores are just a short flight from Lisbon. From the US, Azores Airlines offers a short (4.5 hour) direct flight to the island Ponta Delgada from Boston. Once you're there, you can take ferries or flights to access the other islands.
Choose an island, any island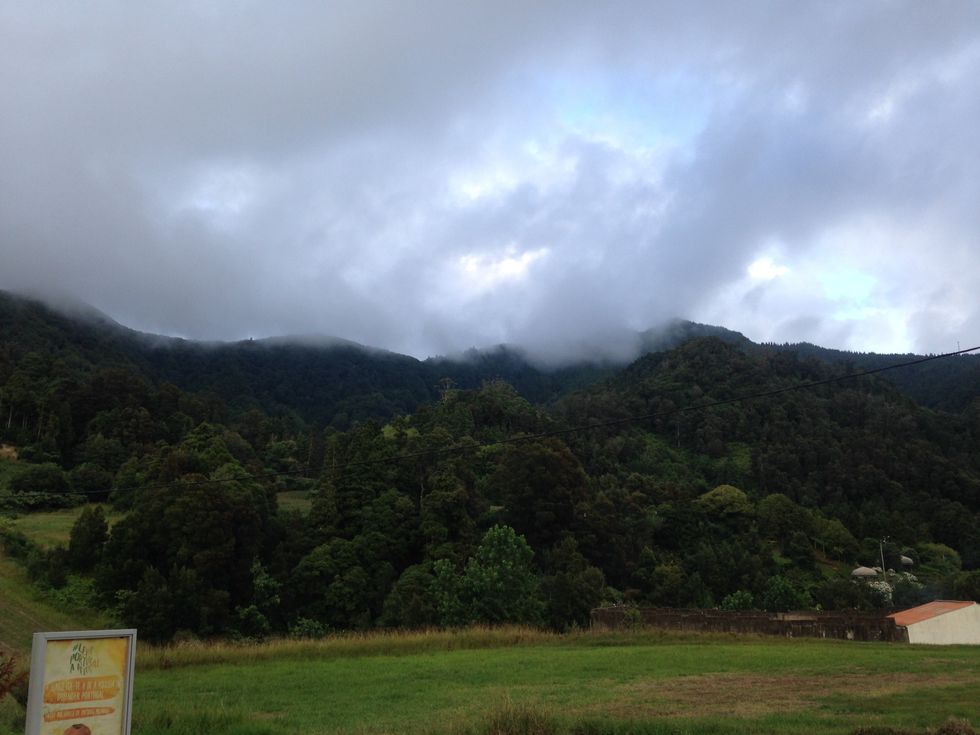 The fog only adds intrigue to this place
With nine islands to choose from, the Azores have a wide variety of options for those planning a trip. São Miguel is the largest island and hosts some of the more famous natural wonders, like Sete Cidades and Lagoa do Fogo. Pico has a colossal volcanic mountain Montanha do Pico that just begs to be climbed. (It doesn't hurt that Pico also hosts Unesco-listed volcanic vineyards and 5 kilometers of lava tubes.) Terceira Angra do Heroísmo is the Azores' oldest city, a primitive 16th century ville that's home to Monte Brasil, a hike up a half submerged crater that meanders through a 500-year old castle's ruins. Faial is best known for its superlative whale-watching expeditions. Flores is the most verdant island, thanks to copious amounts of rainfall, but if you're willing to endure a little moisture you'll be rewarded with beautiful coastal walks and hikes dotted with clambering waterfalls. Corvo is a tiny dot of an island: with just 430 year-round residents who still lock their doors with juniper leaves, this is a quaint island best reserved for avid bird watchers and hikers who are fluent in Portuguese. Graciosa is tiny, but punches above its weight in terms of activities. You can hike, dive, go whale watching, and even explore Furna do Enxofre, a 120-foot tall volcanic cave. Last, but certainly not least, is São Jorge. Rather than wonder what you can do on São Jorge, you should ask yourself what you cannot do. Because the answer is not much. Mountain-biking, swimming, diving, whale-watching, hiking, canoeing, canyoning–the sky is the limit here.
Land bound activities
Hiking is obviously one of the most attractive outdoor excursions in the Azores. With seemingly limitless options throughout the islands, you're never far from a lush jaunt in the pristine wilderness: the volcanic archipelago's terrain is as hilly as the roads are twisted. (Pro tip: if you're prone to car sickness due to winding roads, you may want to reconsider your trip. The Azores are not known for their direct highways.) While you don't technically need traditional hiking apparel like walking sticks, hiking boots, and gators to navigate the often-muddy trails, it may not be a bad idea to pack them if you have them. An unexpected cloudburst can turn a steep trail into a mudslide in a matter of minutes, and your sneakers may not be quite up to the task. It goes without saying that you should never attempt to hike in sandals or open-toed shoes here, as you'll most likely regret it within the first several minutes.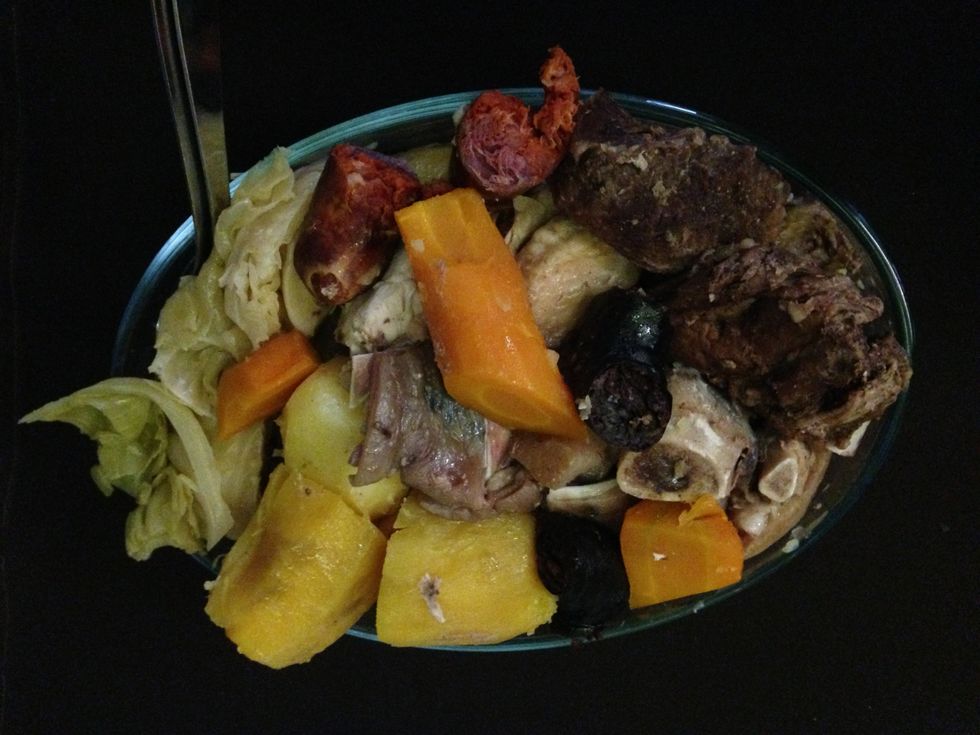 Cozido-licious
Geothermal pools are also attractive destinations for residents and tourists alike. Furnas, a picturesque town on São Miguel, is neatly situated among a volcanic complex of geothermal springs. Meander up and down tiny cobblestone streets and you'll be surrounded by steam rising from piping hot geothermal springs running throughout the village. If you're feeling peckish, try the local Portuguese stew that cooks while buried underground, courtesy of the heat billowing just under the surface. Every afternoon you can see many locals pulling pots full of Cozido das Furnas out of the steaming ground. Try a bite at Caldeiras e Vulcões; it's a hearty stew made with three different types of meat (pig, chicken, and beef) as well as sweet potatoes, yams, and black pudding (blood sausage). Be warned: it may taste faintly of the sulphur that bubbles through the hot springs. If you're not a fan of potatoes, you may be best served by splitting one of the generous portions with a companion.
The Terra Nostra Gardens, a historical residence-cum-natural park that's been around since the late 18th century, is another must-see. Once inside you can wander the beautifully landscaped grounds (don't miss the topiary garden) or relax in the sepia-colored natural geothermal pool. Just don't wear a bathing suit you care about, as the water has been known to stain fabric.
When the water beckons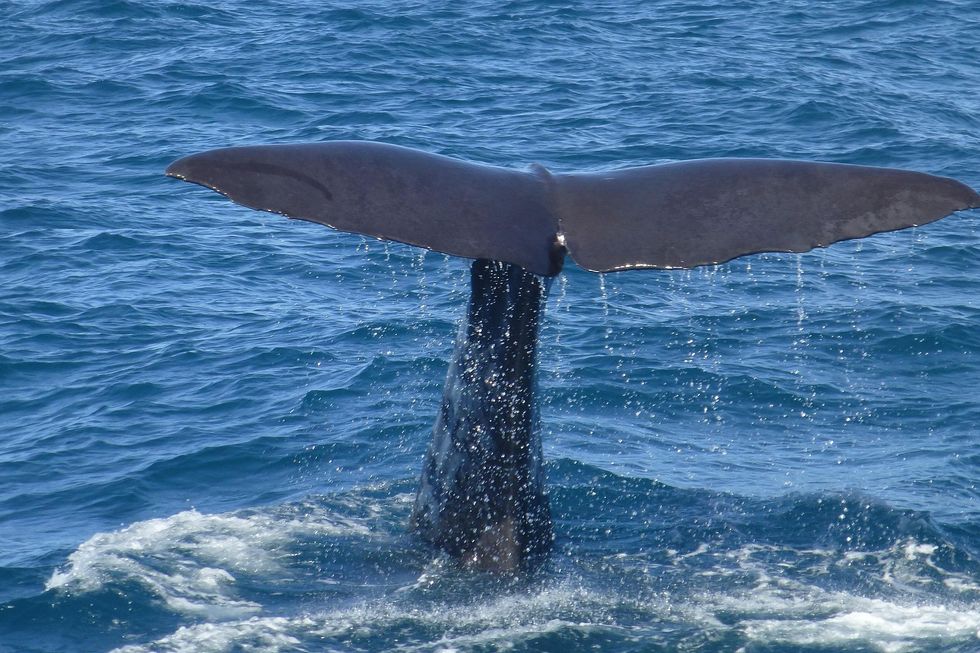 Eat my dust, humans!
Whale watching is an appealing option to those who enjoy being surrounded by water but would rather stay dry. Over 20 different cetaceous species reside in these fertile waters and there's something almost magical about watching these enormous gentle creatures crest above the waves.
If diving is more your speed, you'll find pristine bodies of water throughout the archipelago. Princess Alice Bank, situated around 50 nautical miles from Pico, is a prime contender for the best place to dive. If you can stomach the 2.5 hour boat ride to the diving site, you'll be richly rewarded by hordes of pelagic fish and fairytale-worthy deep ridges and gorges, not all that different from the magnificent spectacle above ground.
A must see for outdoor enthusiasts
The Azores is one of the most visually arresting regions in the world. The terrain is a magnificent combination of England's verdant pastures, Iceland's craggy mountains, and New Zealand's shameless explosion of lush foliage. It is truly one of the world's natural wonders and it's opulent beauty will remain in your memory long after you return home. However, take note that the Azores are not a destination for those seeking Michelin-starred restaurants and exciting nightlife. You're far more likely to find unpretentious local bars serving up generously portioned table wine, than au courant clubs prowled by glowering bouncers.