DAYTIME
For some family-friendly fun, a lot of New York City's wonderful Botanical Gardens are hosting fun Halloween events all week. The Bronx's Botanical Garden has its Spooky Pumpkin Garden on display through Thursday, October 31. Open from 10-6, you can also stay after and meet some skeles and ghouls from 6:30-8:30 PM for Spooky Pumpkin Garden Nights.
At the Queens Botanical Garden, there will be a Halloween celebration from 12 to 4 PM on Sunday, October 27, featuring a trick or treat trail, arts and crafts, and much more. For more spooky Queens fun, check out the Queens County Farm Museum, which hosts an expansive corn maze, a Children's Fall Festival, and a haunted house recommended for ages 4-12. The museum is open daily from 10-5 PM.
Of course, The Tompkins Square Park Halloween Parade runs from October 24 to 27, and the best part of this classic attraction is that it's a parade for dogs.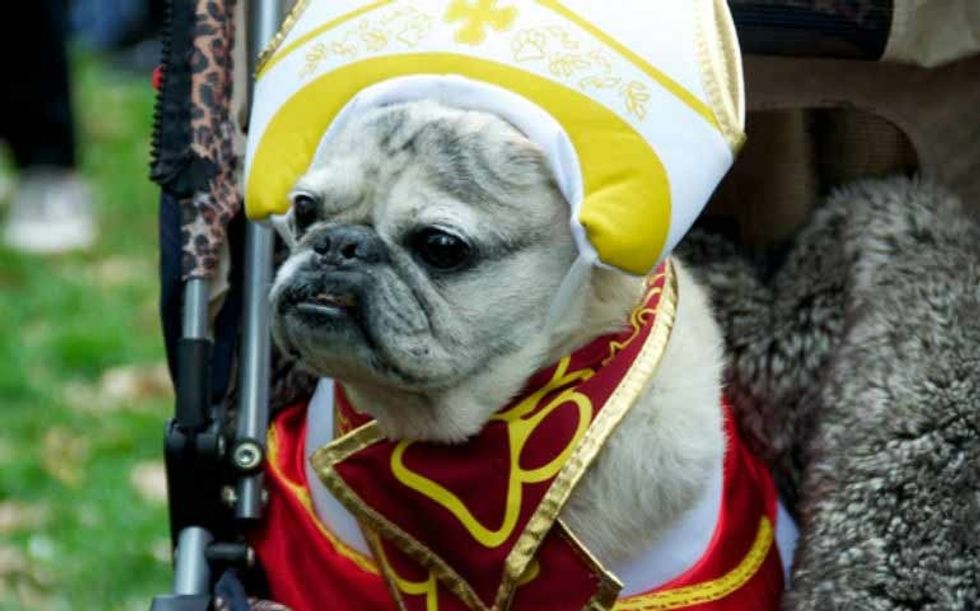 American Kennel Club
If you're looking for an excuse to go to Central Park, the Halloween Parade and Pumpkin Flotilla kicks off at 5:30 PM on Sunday, October 27. Register in advance for the chance to send your very own Jack O'Lantern floating out over the reservoir, and best of all, it's free.

For Brooklynites, Prospect Park hosts a Halloween Haunted Walk and Fair on Saturday October 26, from 12-3 PM. It's perfect for kids or the young at heart.
NIGHTTIME
Evening Events:
The Village's Halloween Parade is probably NYC's biggest and most famous Halloween event, and that's saying a lot. Costumes are no laughing matter here (you have to dress up to march), and you'll find over 50,000 zombies, ghouls, witches, and monsters coming together for one wild night. The parade typically runs from 7 to 10:30 PM (line-up starts at 6:30!), running from Spring Street on Sixth Ave to 16th Street. If you don't want to march, try setting up shop around the parade's starting point or finish line.
If you're looking to get out of the city, check out the Great Jack O'Lantern Blaze in Sleepy Hollow (yes, the legendary home of the Headless Horseman) and see 7,000 illuminated pumpkins. Times and tickets vary by evening and cost $22.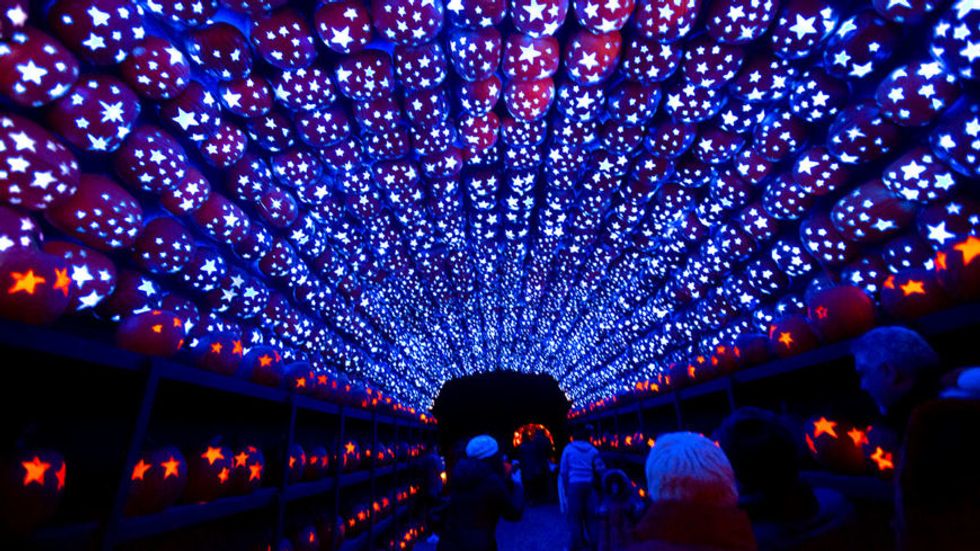 hudsonvalley.com
If the Great Blaze is too far away, you can head out to Governor's Island to see a slightly smaller (around 1,000) but still impressive gathering of artfully carved orange gourds. Running from 5 to 10 PM, it's $26 for adults and runs from October 24-29 at various times.
And if you're looking for some more intellectually stimulating and/or introvert-friendly entertainment, you most definitely have options. If you're not exhausted by the end of Halloweekend because you've spent the whole time indoors watching scary movies and eating candy corn (totally understandable), you can get a more in-depth history of all your favorite Halloween candies at the Brooklyn Brainery's October 29 event, Candy: From Early History to Halloween. And don't worry, there will be candy samples. Tickets are $15 and the event is 6:30-7:45.
Haunted Houses and Immersive Events:
Enter the 5,000-foot labyrinth that is Manhattan's Blood Manor and forget that you're in ritzy Tribeca.
Then there's the Merchant's House Museum, said to be one of the most haunted houses in New York City. This macabre destination hosts a variety of events, and you can pick from everything from an Evening with Edgar Allan Poe to a 60-minute candlelit ghost tour ($30-40, every half hour from 6:30-9:30 PM, various evenings) to even spookier midnight tours, also on various evenings throughout October.
Being NYC, there are no shortage of immersive events that sound genuinely terrifying. At the event called The Cooping Theory 1969, you'll travel back to the 60's to meet the members of the so-called Poe Society, who try to channel the dead poet via a seance. Things don't go well, if that weren't obvious. This event runs through November 2, and costs $75.
Then there's the supposedly terrifying Bane Haunted House, which makes its Hell's Kitchen debut this year. If you get too scared during the half-hour trip you can yell "Mercy," and in the two weeks it's been open this year, there have apparently been over 200 mercy cries. If you want to brave it, the event takes place at various hours, runs through November 9, and costs $35-55.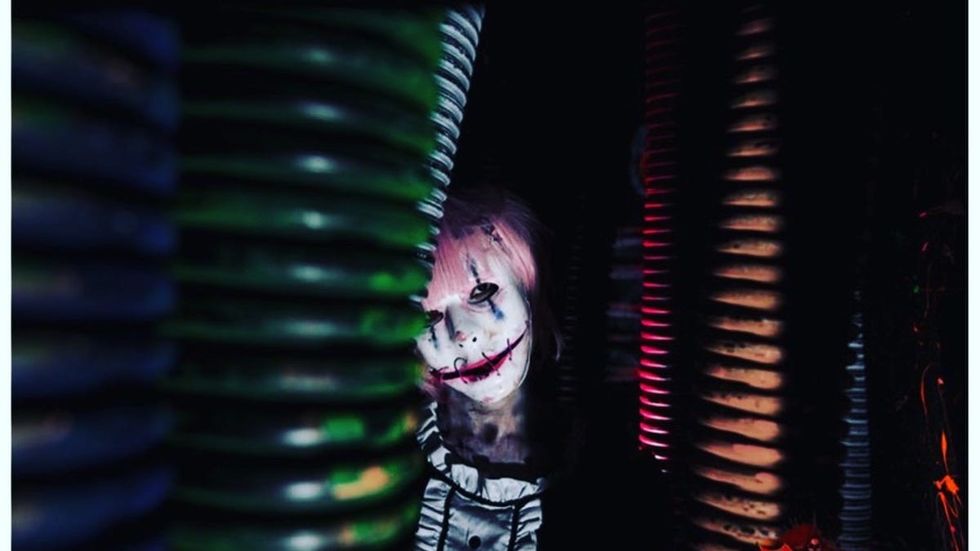 Asbury Park Press
For Those Who Want to P$arty:
Looking to celebrate Halloween like Old Hollywood stars? Look no further than the Sleep No More Hitchcock Party at Chelsea's McKittrick Hotel. Running from Friday October 25, 2019 to Thursday. October 31, a ticket (expensive $) will get you admission to Sleep No More, the immersive Macbeth-inspired experience, as well as admission to a fancy dinner and the luxe all-night hotel party.
If Manhattan parties aren't your thing, don't worry: Brooklyn and all its resident hipsters have got you more than covered. First and foremost, there's Brooklyn's infamous House of Yes. From a so-called Poetry Brothel (Thursday, October 24, 6:30-9:30 PM, $50-250) to the House of Yes Horrorvaganza (Friday, October 25, 6:30 PM, $20-100) and the subsequent Cirque Nouveau freak show, this venue is sure to give you all the saturated, freaky Halloween party vibes that your heart desires.
There's the BangOn!NYC Warehouse of Horrors, which fills Queen's Knockdown Center with freaky performers, huge art installations, vendors, and all the glitchy DJ performances your cold, dead heart could desire. The event happens on Halloweekend (Friday, October 25 to Sunday, October 27) and a general admission ticket will cost you $75.
Brooklyn Bazaar also has a party on Friday the 25th, entitled "Halloween Massacre," so if you're looking to get murdered this is the place. Plus, it's only $8.
For more themed entertainment, check out Queens' It-themed Halloween party at the famous Doha Nightclub on Saturday, October 26. Admission is free before midnight. If none of these parties catch your eye, check out Eventbrite's hundreds of Halloween parties—or forgo it all for a movie.
Film Showings:
For some of us, Halloween is basically Rocky Horror Picture Show night and nothing else. Rocky Horror showings are happening all over the city, so get your fishnets out and check out one of the dozens of options. In Manhattan, every Friday and Saturday in October finds a shadow cast shaking to the Time Warp at the Cinéapolis Cinema in Chelsea at midnight. Tickets are $10, and it's recommended that you arrive early. In Brooklyn, you can sing along with four-piece group The Occasionalists at Union Hall, who will play the movie's score live (the film won't be shown).

If you're looking for something a bit witchier, Nitehawk Cinema in Williamsburg is exclusively showing movies about witches for all of October. Check out their schedule here—tickets still remain for the Friday, October 26 showing of Drag Me To Hell.
For an even more immersive experience, head uptown to the Cathedral of St. John the Divine, which holds an annual scoring of Nosferatu with a live score. Plus, after the showing, you can follow their macabre Procession of the Ghouls down Amsterdam Avenue. Tickets cost $27.50.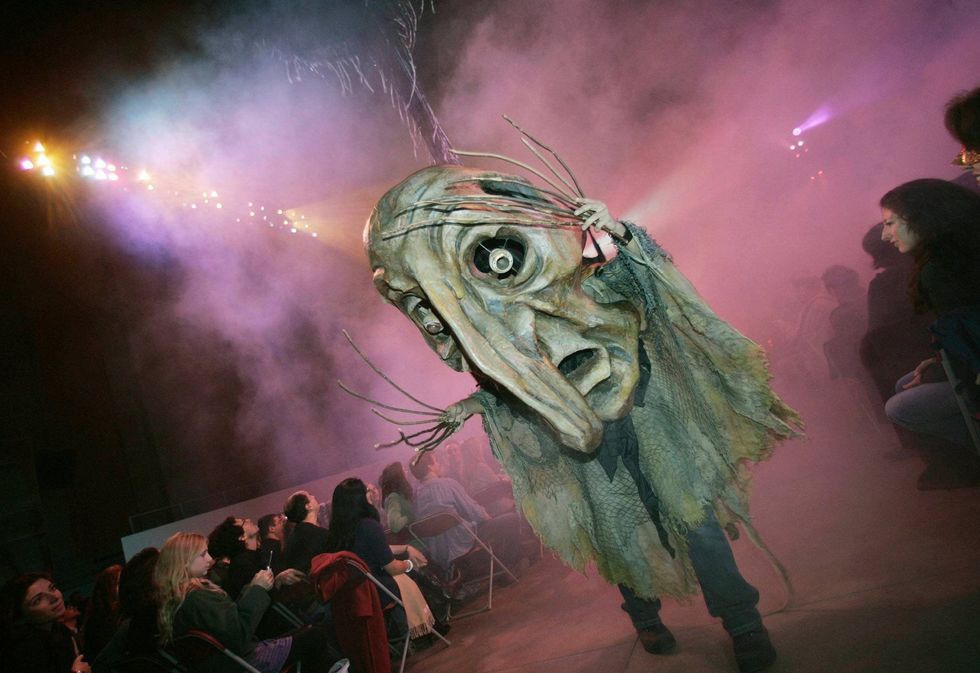 Observer
AVOID AT ALL COSTS

Halloween is a time to be free and release your inner monster. But there are some places you absolutely should not go, namely the Joker Steps in The Bronx.