Instead of celebrating Halloween next year with tired old apple picking, pumpkin carving, and too many costume parties, book a stay in one of the spookiest hotels in America. The East Coast, in particular, has a storied past that's rife with ghost stories throughout the span of American history.
Here are four haunted hotels on the East Coast with Halloween-worthy fright factors.
Hotel Henry - Buffalo, New York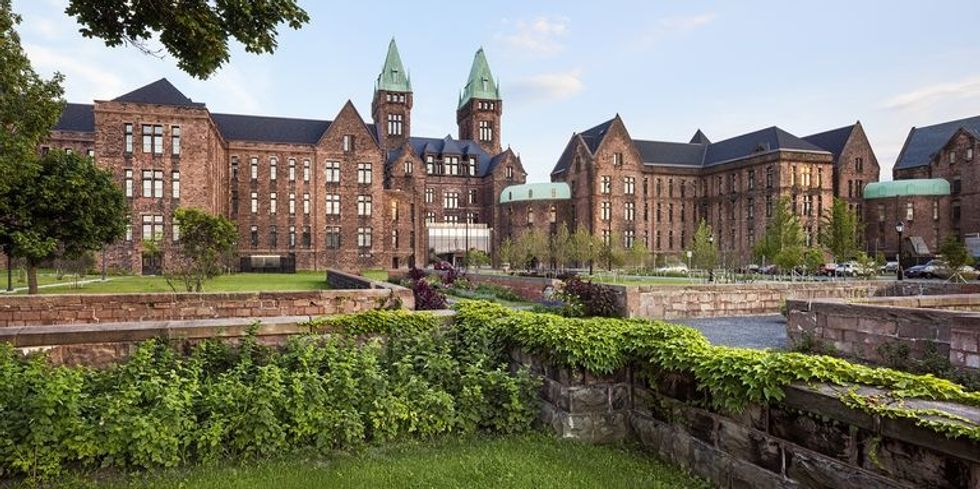 Hotel Henry
If you want to be spooked while lounging in luxury, book a room at Hotel Henry in Buffalo, New York. This lavish lodge offers quaint features like a modern design and its own farm-to-table restaurant, as well as a number of reported ghosts. The hotel used to be known as The Buffalo Asylum for the Insane. Designed by Richard Olmsted in 1880, the facility quickly became overcrowded with thousands of patients, resulting in multiple reports of patients being tortured during the asylum's operations. After closing its doors, the palatial building was abandoned for years, but it's rumored that patients who died in the facility still roam the halls of the since remodeled hotel.–visitors to the property report paranormal activity of repeated ghost sightings.
Address: 444 Forest ave, Buffalo, New York
Room Cost: Standard one-bedroom starts at $134/night
Features: Farm-to-table restaurant, conference center, lounge, modern design, luxury gym
Hotel Chelsea - New York, New York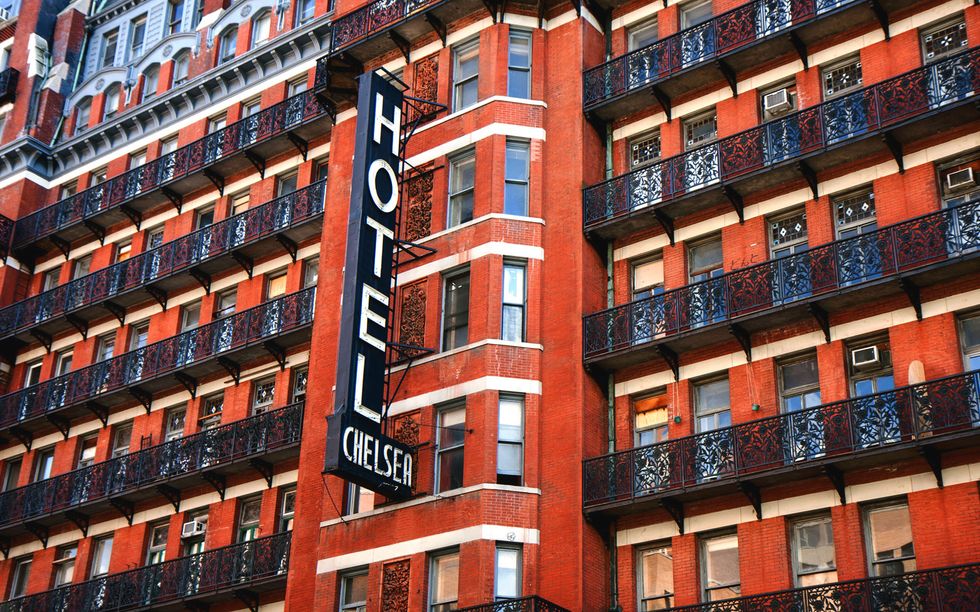 Hotel Chelsea
This iconic New York building is known for its 100-year history of scandals. Divided between permanent apartment buildings and hotel rooms, the Hotel Chelsea has been home to both famous and infamous figures of the 20th century, from literary giants like Mark Twain, Allen Ginsberg, and Jack Kerouac to music icons like Leonardo Cohen and Janis Joplin.
For instance, Nancy Spungen, the girlfriend of Sex Pistols guitar player Sid Vicious, was murdered inside room 100 (allegedly by Sid), and is reportedly seen roaming the halls. The hotel elevator is rumored to stop at Nancy's floor, unprompted, from time to time. You also might glimpse a female ghost staring at her own reflection from mirror to mirror; hotel lore suggests that a lonely woman named Mary resided in Hotel Chelsea after surviving the sinking of the Titanic, having lost her husband to the accident. Overall, residents of Hotel Chelsea describe uneasy feelings about the place, so much so that "lots of people move in, get a room halfway painted, and want to leave."
If that piques your interest, add a stay at Hotel Chelsea to your 2019 To-Do list. The hotel is currently being remodeled and due to reopen its doors in early 2019 (sneak peak at the new interiors here).
Address: 222 West 23rd Street, New York, NY (are triple digit addresses a hallmark of haunted hotels!?)
Room Cost: Reopening in 2019
Features:New Interiors and a few old ghosts
The Logan Inn - New Hope, Pennsylvania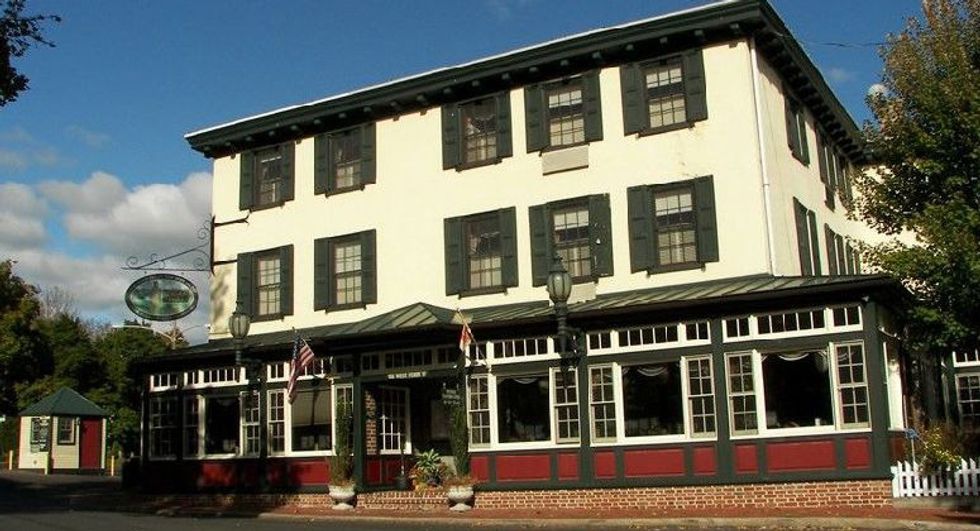 The Logan Inn
The Logan Inn in New Hope, Pennsylvania, has a dark history dating back to the Revolutionary War. Recognized as one of the oldest inns in the country, it's also cautioned as one of the most haunted places in America. Eight different ghosts have been reported roaming the halls, including the specter of Aaron Burr. (Thankfully, all of them are said to be friendly when encountered).

The inn was originally built in 1772 by John Wells, first operating as a local tavern. During the Revolutionary War, the tavern housed George Washington and his troops for the lethal winters, requiring that the dead be stored in the inn's basement. Today, guests have reported seeing the spirit of a Union soldier wandering the inn while beating his war drum. In room 6, you may feel the homey touches of Emily, a young woman in a long, dated dress who has been known to crank up a room's heat, rearrange guests' luggage, and occasionally pull the pillows out from under guests while they're sleeping. She's also known to leave her favorite lavender scent lingering in rooms behind her and by her portrait hanging in the lobby.
The Logan Inn also offers lantern-led ghost tours of New Hope, where you can stop by all the spookiest places in town. October tours meet every Friday and Saturday night, as well as Halloween night. Tours cost $10/person and start at 8 PM.
Address: 10 West Ferry Street, New Hope, PA
Room Cost: Standard rooms start at $180/night
Features: Historic tavern, farm-to-table dining, spa, elegant rooms, and several permanent guests.
Ships Inn - Nantucket, Massachusetts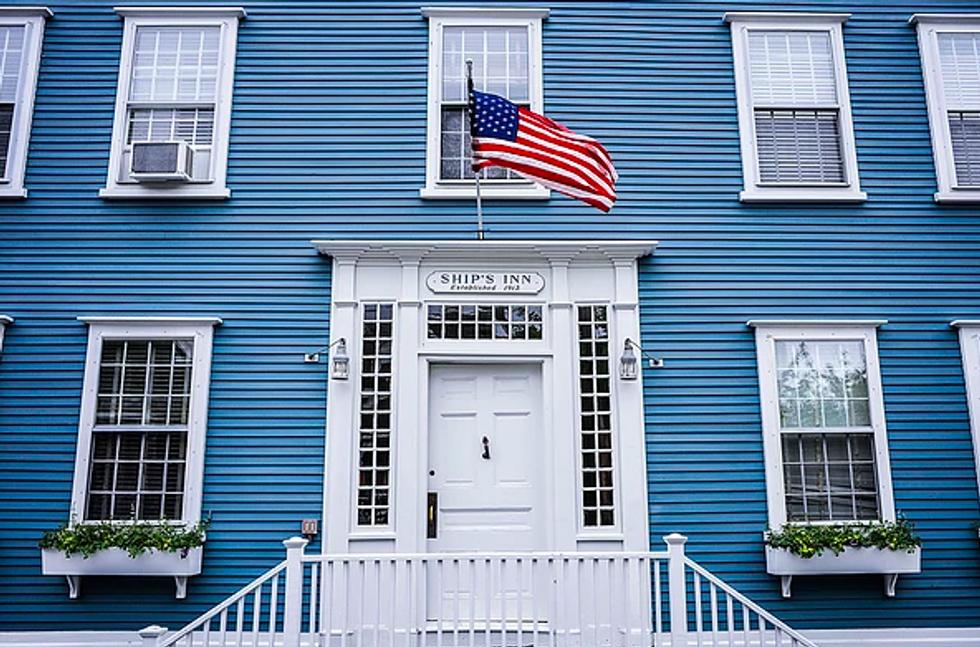 Ships Inn
A historic boutique inn on beautiful Nantucket Island, Ships Inn was built in 1831 by whaling captain Obed Starbucks, the man who inspired one of the main characters in Moby Dick and later became the namesake of the ubiquitous coffee franchise. Captain Starbucks has been seen by guests and current owner Ellie Gotwalt. The captain is seen materializing through walls as he stalks from room to room.
Address: 13 Fair Street, Nantucket, MA
Room Cost: Standard rooms start at $250/night
Features: Amazing restaurant, boutique Nantucket style rooms, breakfast buffet, concierge service, and the ghost of the man who inspired the largest coffee franchise in the world!