Explaining why I became vegetarian is easy. Heart health, clearer skin, keeping weight off, and being better to the environment were all reasons why I made the switch.
Explaining how I stay vegetarian…now that's a much harder (and embarrassing) question to answer.
Burgers, chicken breasts, and tenderloins were always the main attraction of my family dinners growing up, so I don't have many go-to recipes. I rely on pasta a lot—and trust me, I could eat tortellini for days—but everyone has their limit.
Going out to eat is always tough too. You either go to a restaurant where the veggie option is an afterthought (Caesar salad for the hundredth time), or you go somewhere that's trendy and healthy, but really expensive. There's not much in between.
Luckily, I was over at my friend, Sharon's, house for dinner one night, and even though she's not vegetarian, she tries to eat meatless a couple of nights each week. She calls it "flexitarian," since she's flexible about when she is and isn't eating meat. She made these Mediterranian chickpea bowls with roasted zucchini, tomatoes, and crumbled feta cheese that were incredible—something I would have never thought of.
I asked her where she got the recipe, and she told me HelloFresh. It's a weekly meal kit subscription that sends ingredients and recipes to your door. She called it a grocery delivery service and cooking class all in one, with the recipes only taking around 30 minutes to make. She chose the meat and veggie plan but said there was a veggie-only plan too.
My expectations were low at first, but after doing some research, I was surprised how many options they had for me, with the recipes on the menu changing each week. I thought a week trial run wouldn't hurt, so I picked out three meals: Black Bean and Poblano Flautas with Guacamole and Pico de Gallo, Roasted Vegetable Paella with Garlic Aioli, and Zucchini & Chickpea Tagine with Couscous & Chermoula. To be honest, I didn't even know what a tagine was, but why not try something new!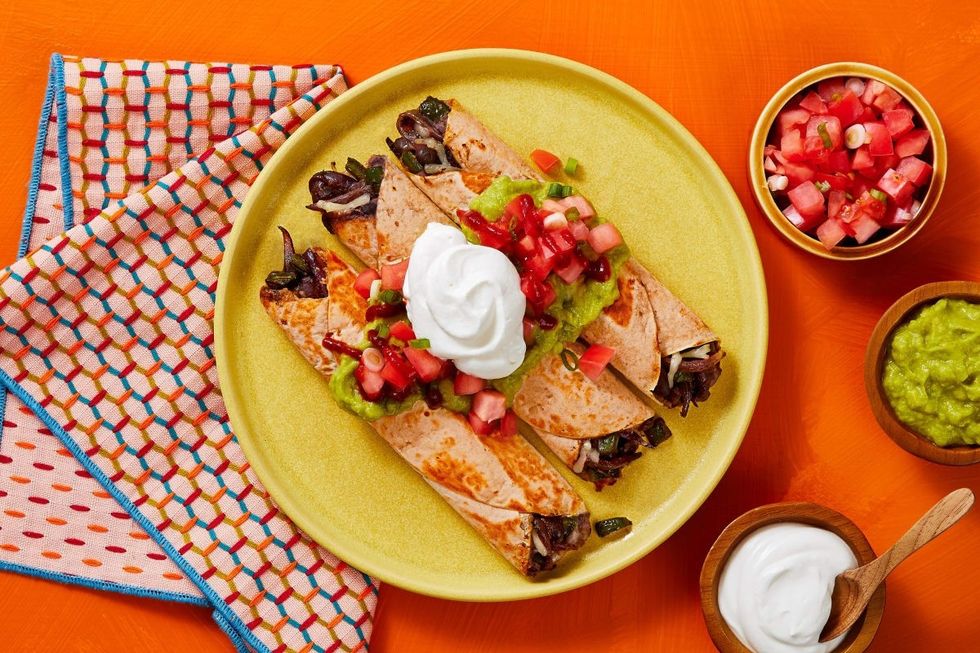 I scheduled the HelloFresh box to show up that upcoming Monday, and after work, when I got home, it was right there waiting for me! I chose flautas first. I loved how they gave me just the right amount of ingredients for the recipe—nothing extra—and the recipe card was really clear. I would've never known how to make flautas either, but after half an hour, I was staring at a pretty amazing-looking meal. I dug in, and it was way better than I expected. And the kicker—I cooked it myself!

Midweek I went for the paella. I loved the lemony, garlicky sauce they had me drizzle on top, and it was something I thought I could recreate without HelloFresh, maybe for a date night meal.
Last but not least, I made the tagine Saturday afternoon. The fluffy couscous and the spice blend and herbs for the veggies were so yummy that I put it on my Instagram story.
Me thinking I might cancel the subscription after one week, I had skipped the upcoming Monday's delivery just in case, free of charge. However, I really enjoyed my week of cooking, so I picked more recipes for the following Monday.
So far, HelloFresh has opened me up to vegetarian cuisines from around the world, and I got out of my pasta rut. I'm not ever worried about getting enough protein, and I also managed to convert a few carnivores into curious vegetarians! I've been using it as the base of my groceries each week, which helps reduce my usual weeknight dinner stress.
Answering how I stay vegetarian now is just as easy as answering why I started. Vegetarians, HelloFresh is worth a shot!
Update: Our friends at HelloFresh are extending a special New Year's offer to our readers. Follow this link to get 10 meals free, including free shipping!