The Brooklyn Museum lives at the Eastern Parkway/Brooklyn Museum stop of the 2 and 3 trains. Over five floors, permanent and rotating exhibits span centuries of painting, sculpture, photography, furniture, Korean art, feminist art and more. Its collections tell stories of civilizations and wars, art and cultural movements, religion, philosophy and the human relationship with nature. Open Wednesday through Sunday, the Brooklyn museum is a necessary excursion (that might well become a regular destination) for any art enthusiast or human being interested in artistic creation. In addition, admission is by donation—pay what you wish—every day, so take advantage of this incredibly inexpensive museum. There is a lot to see inside. Here are some of the highlights and hidden gems that should be part of your visit.
Floor 1
The wide lobby of the museum is full of benches, bar seats and some tables that are open to public use (as is the beautiful plaza in front of the building). To the left of the ticket counter, through tall, glass sliding doors, currently sprawls the "Infinite Blue" exhibit. It showcases the color blue in a staggering variety of media and shades. One standout piece in the collection is the three-foot-long stoneware sculpture by Kishi Eiko, Shinsho fukei.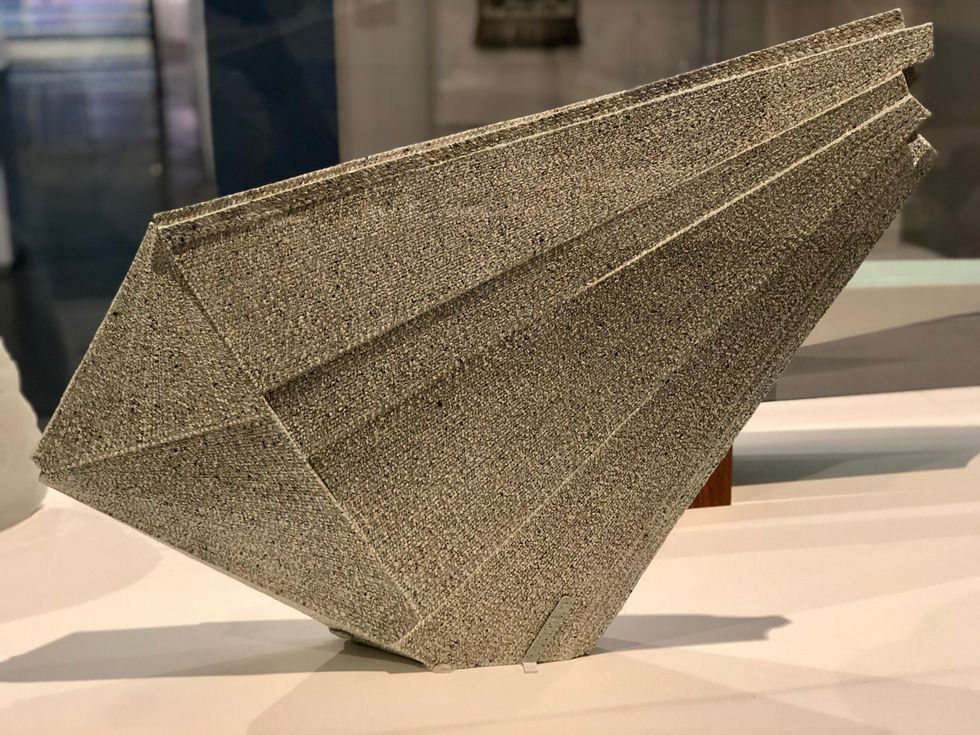 Kishi Eiko, 'Shinsho fukei'
The piece features blue clay chamotte that makes its texture looks like fabric, its shape like various pieces of paper folded together. In other, seemingly unrelated but accurate words, it bears striking resemblance to an Imperial Star Destroyer crashing into the ground.
Behind it sits Sueharu's Inifinity II, a wonderfully smooth piece of glazed, blue-green porcelain. And next to that is Jun's fierce-looking Untitled, a sculpture of fused glass and unfired clay that resembles the entrance to a frightening cave.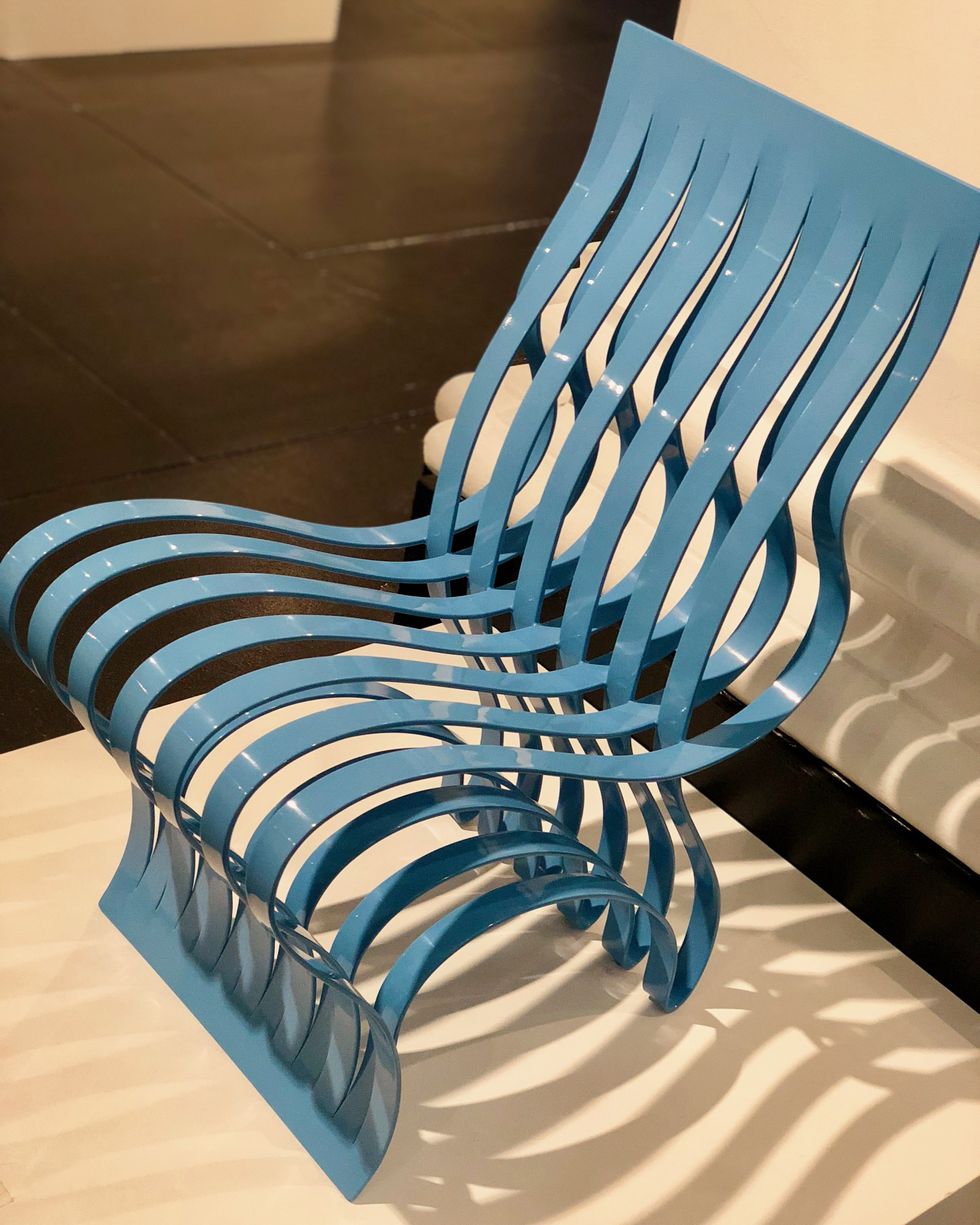 Vivian Beer, '"Current" Chair'
Next to this case stands a curvy blue chair: "Current" Chair by Vivian Beer. Meant to imply water, the design's swoops and divisions make it look like one piece of steel shaped into a chair. Stand anywhere near these pieces and you'll certainly notice one piece attracting lots of attention. Anish Kapoor's Pink to Mika 5 Blue hangs on the wall nearby, a circle of purplish-blue, shaped like a contact lens, that distorts your image when you stand in front of it in a way that makes walking toward it physically difficult. It's hilarious, and most people who wander up to it unknowingly let out shocked laughter and take many selfies. You'll want to, too.
Floor 2
Up the stairs or elevator to the second floor, you'll find the Korean Art exhibition. Here are some excellently strange pieces to wonder about, like Nam June Paik's Mr. Kim, a "Robot" figure constructed using old radios and featuring a tiny TV screen in its head. It's actually a portrait of Kim Yangsoo, an art collector. Ponder the past's vision of the future in its brightly-flashing chest and robot eyes.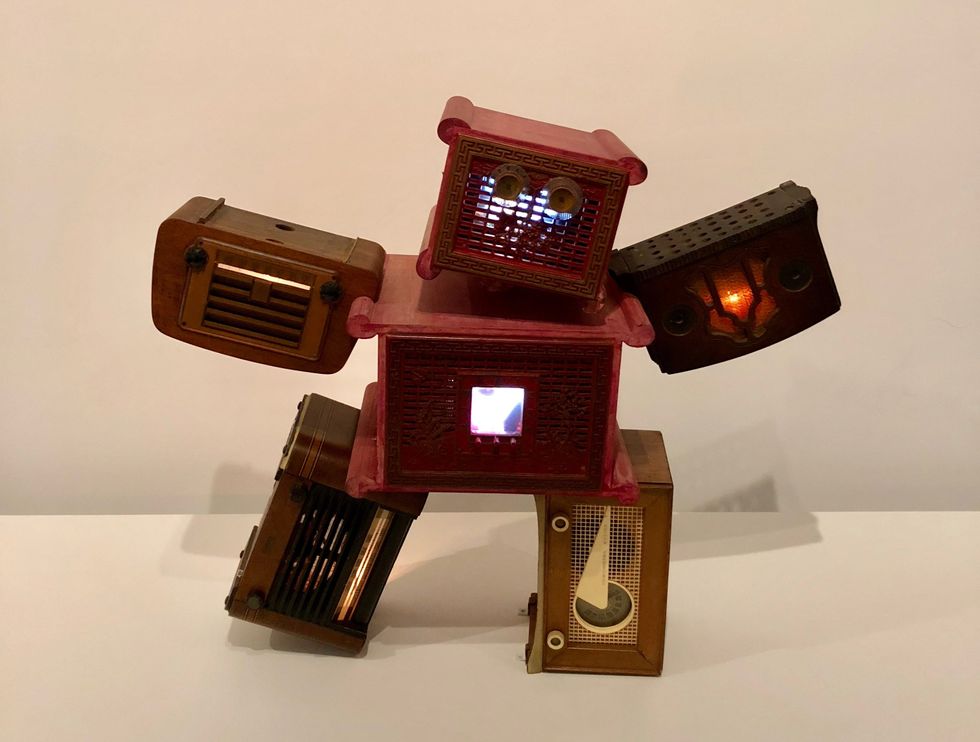 Nam June Paik, 'Mr. Kim'
Nearby, see if you lose yourself in Lee Ufan's Correspondence, a mostly-empty canvas with three thick brush strokes that, on a compass, would mark West, North and East. For something more solid, check out the rectangular sculpture, Untitled, by Kang Seok Young.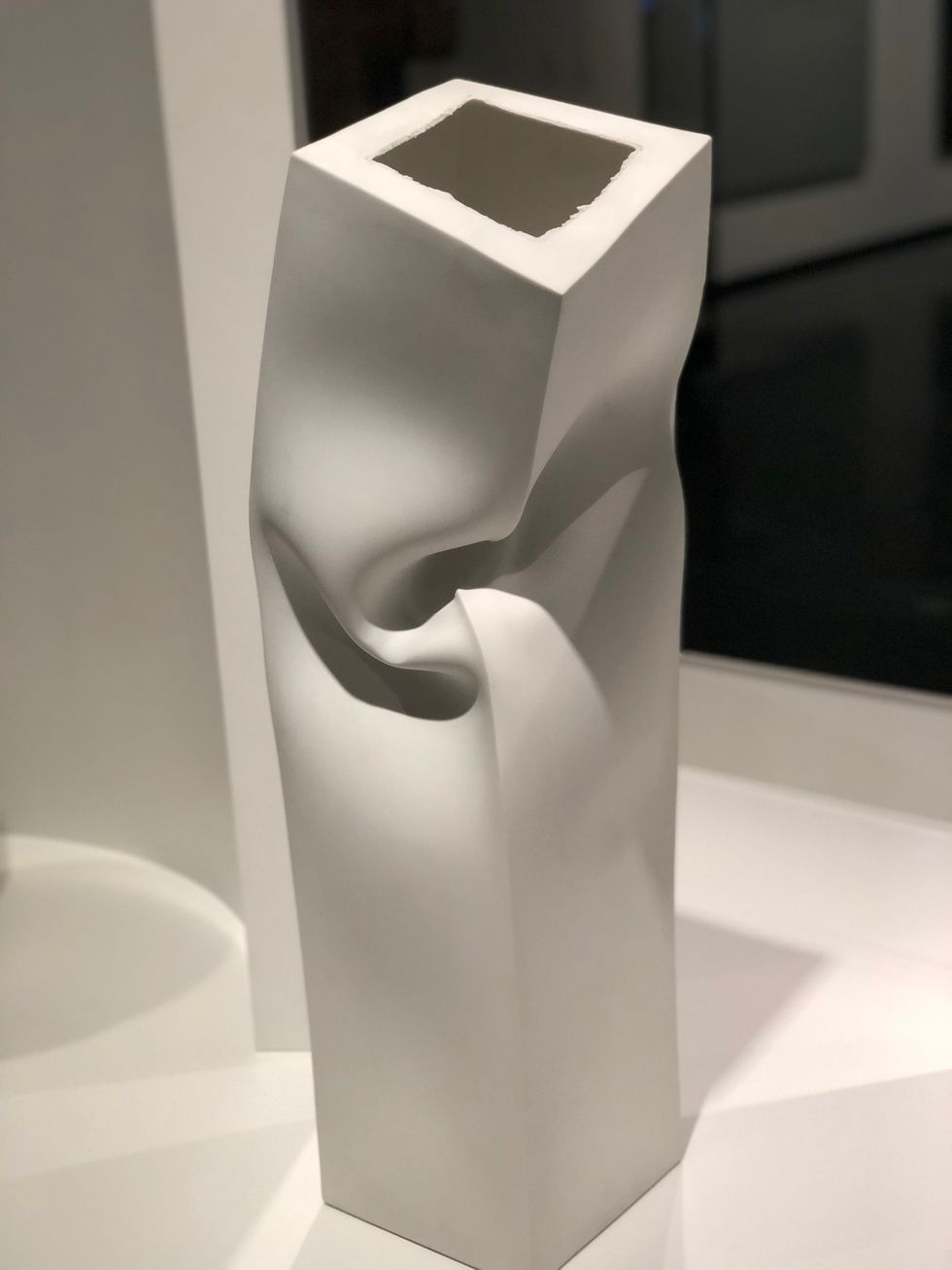 Kang Seok Young, 'Untitled'
This two-foot monolith of unglazed porcelain is remarkable because 1.) it's unglazed and pure, matte white and 2.) Young bent and twisted the porcelain when it was nearly dry to produce impure but striking sculpture.
Floor 3
Another floor up, the space is dominated by a wide, blue-tiled square—square, as in its shape and the way it seems like a plaza in the center of the museum, a plaza that's mostly empty and that echoes your footsteps in all directions. On the walls around it hang paintings like Picasso's Woman in Gray and an exhibition of "Menacing Landscapes." Check out the landscapes by Vereschagin, Mesdag, Hamilton (James) and Colman.
Floor 4
The fourth floor is extremely exciting, with exhibitions by Ahmed Mater and Judy Chicago.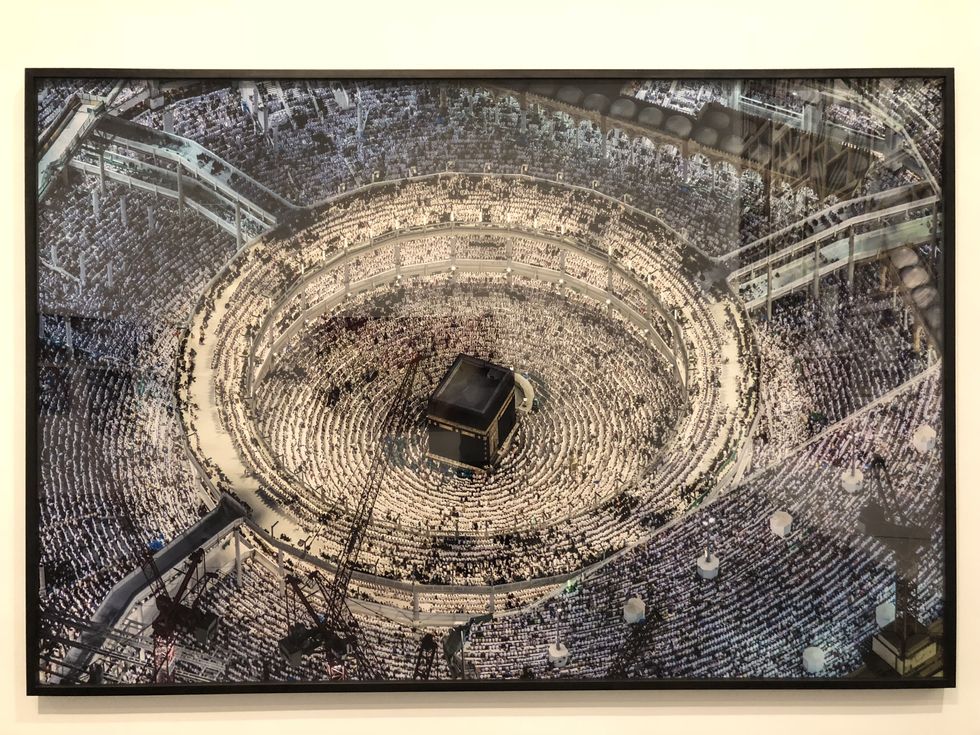 Ahmed Mater, 'Ka'aba'
Mater's exhibit, titled "Mecca Journeys," opened in December. It takes a photographic journey through the past eight years of the development of Mecca as a city trying to accommodate more than 3 million pilgrims that come during the annual Hajj season. Ka'aba is an aerial shot of the tens of thousands of pilgrims praying in the massive building that surrounds the Ka'aba. The scale of the building is epic and does justice to the importance of the pilgrimage.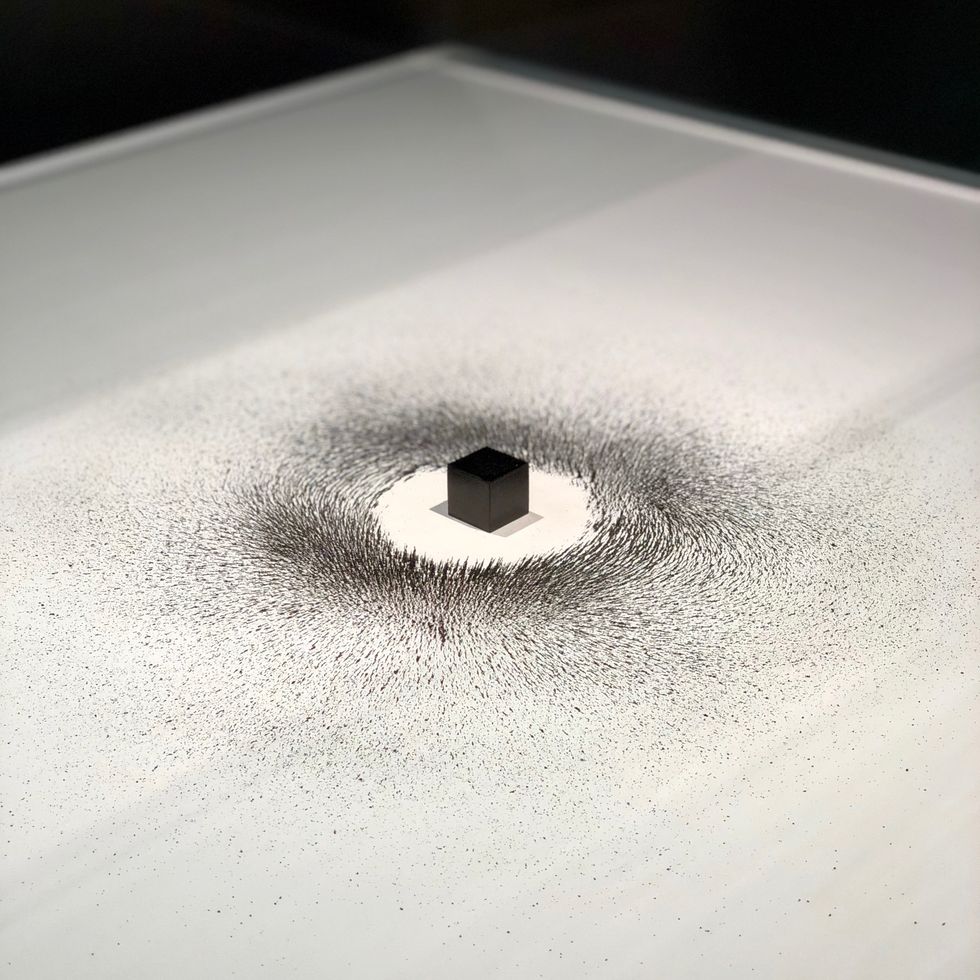 Mater, 'Magnetism'
Mater's Magnetism explores the same scene in extreme, simple miniature: a black magnetic cube circled by tens of thousands of iron particles, arranged by magnetic attraction. Despite its tiny scale, the feeling of grandeur remains. Along with other photographs, like Metropolis, Walkway to Minh and Clock Tower, the entire exhibition is stunning.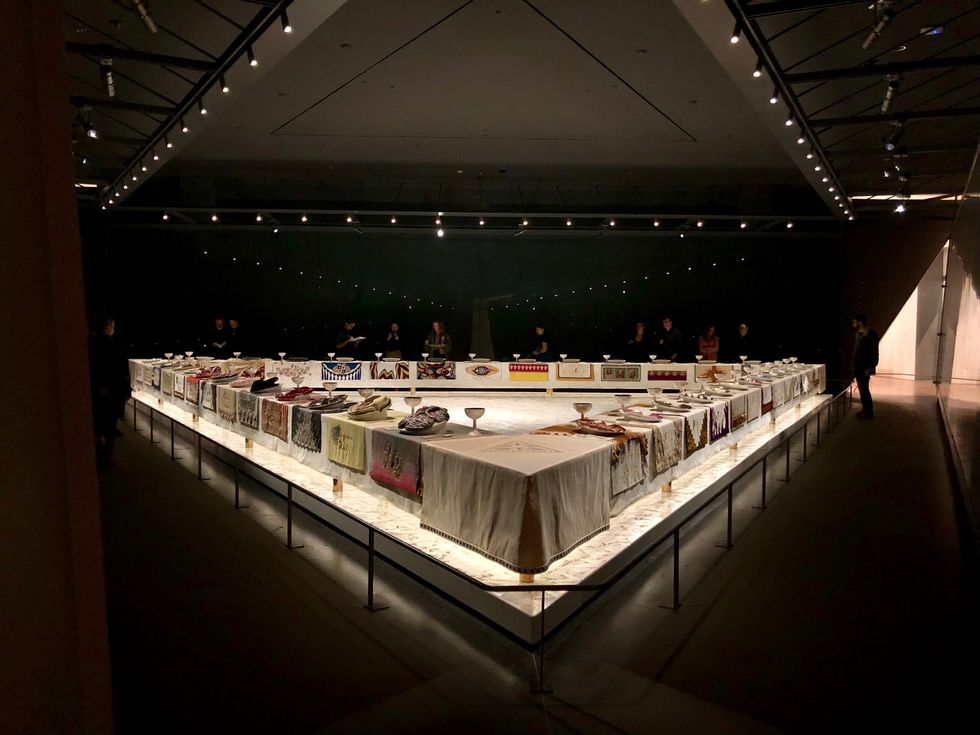 Judy Chicago, 'The Dinner Party'
Judy Chicago's The Dinner Party is equally enthralling. Her work of feminist interactive art lets you walk around a triangular table on which lie thirty-nine place settings for important, historical and legendary women. Each place setting has, embroidered, the woman's name and a decorated porcelain plate symbolizing her significance. On the floor within the triangle are written the names of another 999 women. Books are available to carry into the room that have information on each of the thirty-nine women represented by place settings.
Floor 5
The fifth and top floor will, as of March 2, be home to the exhibition, "David Bowie is." Exploring his creative process through original costumes, lyric sheets, photographs and more, the installation will include music and a guided audio tour. The museum recommends buying advance tickets. The fifth floor's visible storage room is also temporarily closed, but is always an interesting journey through a museum's closet and should be reopened soon.
For now, you'll find paintings by familiar names, including Gilbert Stuart's George Washington and Thomas Cole's A View of the Two Lakes and Mountain House, Catskill Mountains, Morning and A Pic-Nic Party.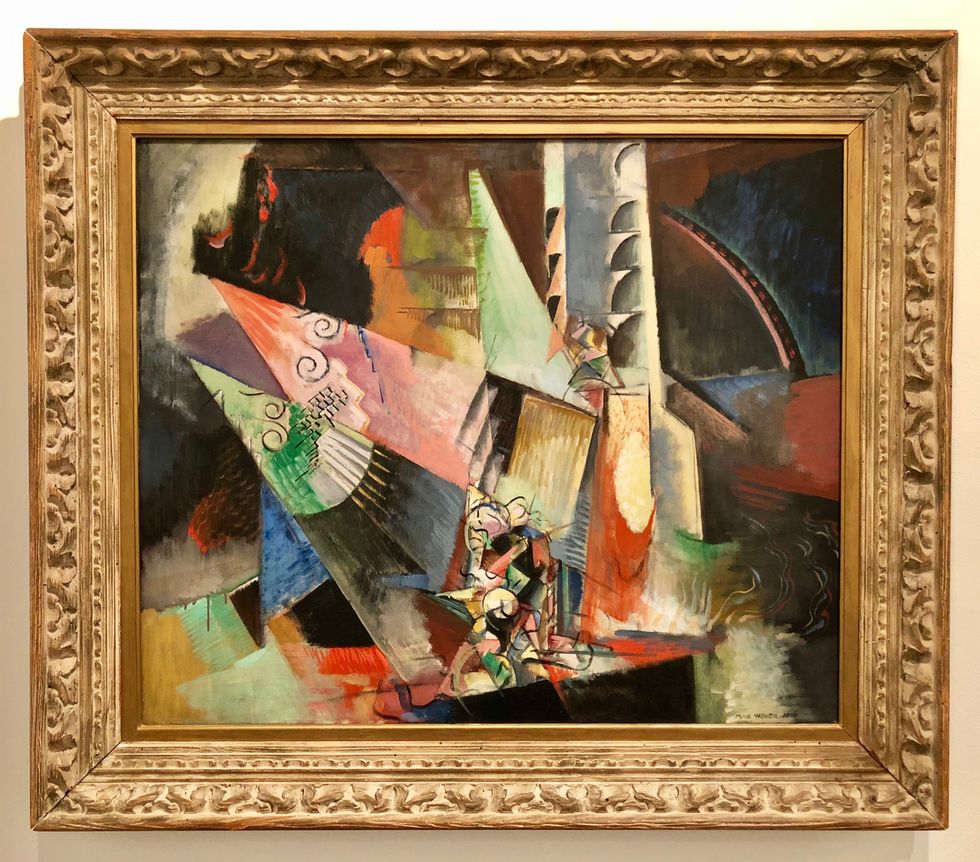 Max Weber, 'Russian Ballet'
Max Weber's Russian Ballet is a frantic, wild, abstract vision of the Russian ballet theater, like Rock of Ages in a painting. Frederick Arthur Bridgman's An Interesting Game presents a chess game at a Cairo cafe in the late nineteenth century. Apparently he was praised for treating his subjects in this piece as people rather than stereotypes, even though he actually painted it in his studio in Paris.
Move on from the past to the past's vision of the future with the last two highlights on the fifth floor: a coffee set and a record player. Coffee Urn, by Walter von Nessen is a old-fashioned futuristic look at what coffee breaks could and should look like. It would've been a Jetsons favorite. Across the room, John Vassos's RCA Victor Special Model K, Portable Electric Phonograph, from 1935, looks more futuristic than any briefcase-style turntable currently on sale at Urban Outfitters. It's basically an advertisement for the commercial versatility of a relatively new material: aluminum.
Keep an eye on the museum's website for upcoming exhibitions and events, and take time to explore the rest of the collection after you've experienced this small sample of art.
Tom Twardzik is a travel writer for the Journiest. He also covers music, film, TV and gaming for Popdust and contributes financial tips to Paypath. Read more on his page and follow on Twitter.