When Honey made its debut, I was one of the first on the bandwagon — adding the extension to my browser certainly made my life easier. Instead of using sketchy sites or snooping around different coupon websites for some extra discounts, Honey basically did it for me.
Although Honey is handy for most online shopping, many fail to see its additional perks — like travel discounts.
If you're traveling this season — like me — you've probably been hunting for deals since last year. There's so many websites and applications to comb through that it would take ages to find the 'perfect' deal. And sometimes — you just can't.
Lucky for you, Honey is here to sweeten up the situation. Not only does the extension hunt for shopping deals, it also finds promo codes for trip booking sites and makes sure that you pay the lowest price for your trip. Thank God, too — coupons for this category aren't advertised very often.
How it works:
Of course, install the extension first. You can find it easiest on Google Chrome, but it works with most major browsers. Honey is completely free and you can even earn cash bonuses for shopping — normally from one to 15 percent.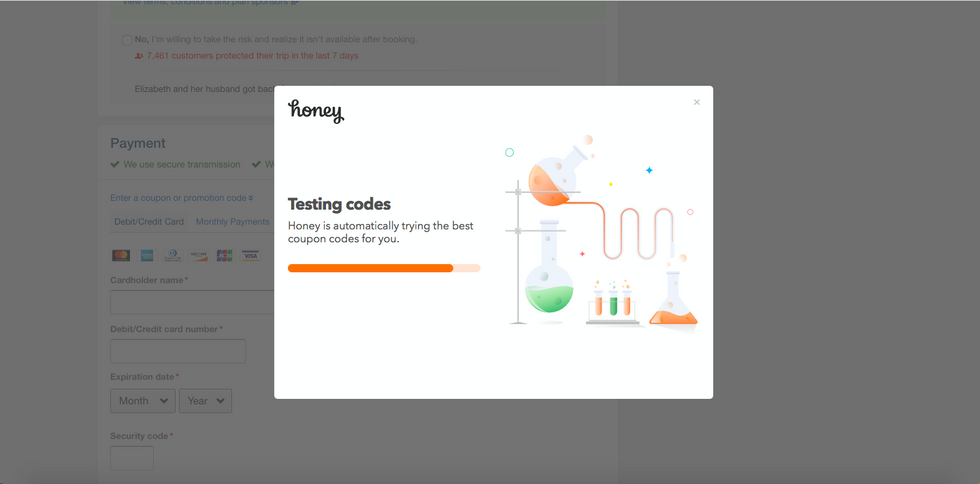 Then, go on your favorite travel booking website — Orbitz, Expedia, Travelocity, you name it. When you find a package or a flight that looks good, add it to your cart. When you get to checkout, Honey will pop up and prompt you to click on it.

You can watch as the extension works its magic and test out every coupon code it finds in order to get you the best price. You might get lucky, you might not. However, it's really worth a shot considering there's literally zero effort involved.
On your trip: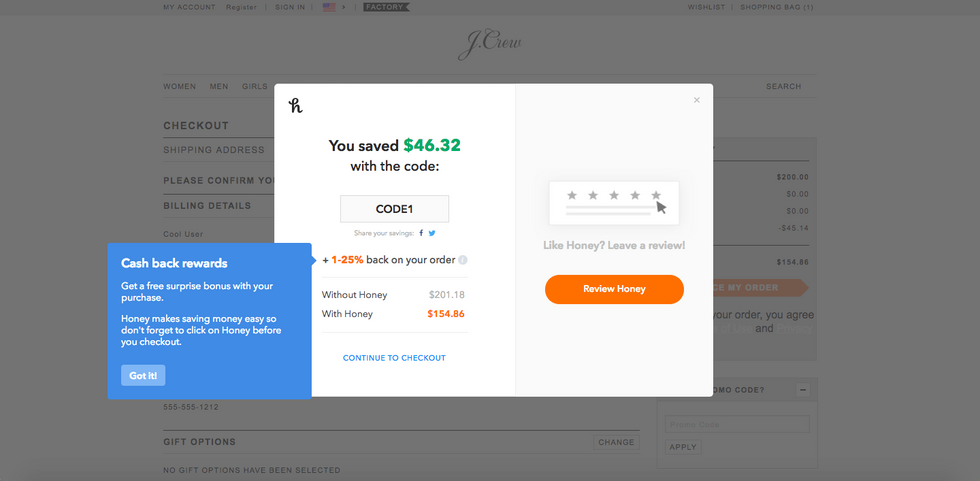 Honey
Once you're on your trip, Honey can also help you get deals for other stuff — whether you want cheap activities or need to buy toiletries, the extension works with thousands of stores to bring you what you need. Honey will even pop up on Amazon while you're doing your shopping to alert you of a good deal.

Take Groupon for instance — usually Honey will find you a deal and give you a cash bonus. You will have to make an account to obtain it, but that's really not that hard either. Another way to make money is to share Honey with your friends. Who doesn't need an extra five bucks?
I personally use Honey because it shaves a lot of time off my planning. Instead of going to sites like Retailmenot or Coupons.com, Honey can do it for me — which cuts out another layer of finding codes in addition to comparing websites. In addition to that, the extension has also been featured on Forbes, Time magazine and more.
If you're looking to save money easily, give Honey a try! Seriously, what do you have to lose?