As a fashion editor, I'm always looking to see what's next. What's about to pop off?
One of my biggest discoveries has been Honeylove. The brand has redefined how we see shapewear… by not being shapewear. Their self-proclaimed Sculptwear has transformed my life and that of thousands of women looking to feel confident, sexy, and in love with their look no matter what they wear.
At first, Honeylove got me with their Sculptwear classics like the Queen Brief and SuperPower Short. They felt comfortable and secure while still being stylish even for undergarments. Then I dipped my toes into their bras and let me just say I was not disappointed.
Pro tip: Their Crossover Bra is a must-have! Get your size before it sells out.
However, Honeylove is not stopping there when it comes to game-changing apparel. I got my hands on a pair of their new EverReady Pant and wow. You might be thinking "pants from a Sculptwear brand?" Well, let me break it down for you.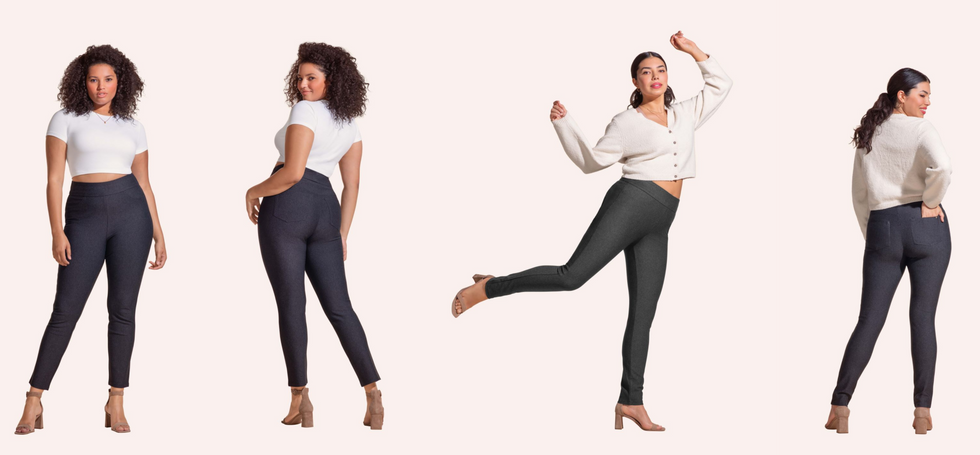 Honeylove's EverReady Pant is the holy grail of stylish pants that feel comfortable without the need for added shapewear - because it's built-in! No need to layer shapewear when Honeylove puts exactly what you need in every piece.
Whether you're WFH like me or headed into the office a couple of days a week, you'll want to wear these 24/7. They're quite the step up from the leggings you've spent months lounging in thanks to the smoothing fabric and tummy shaping panel.
You can be on the go or curled up at home in these pants. Honeylove has added a stretch waistband and a material that never wrinkles. Yes, never. Plus, the cherry on top has to be the functional back pockets. I'm obsessed with any pant that goes above and beyond like the EverReady Pant.
They come in three versatile shades (black, grey, and blue) that go with all the tops in my wardrobe. I can relax in them all day, then switch my blouse and head out the door for a night out - my favorite so far is the blue (similar to a dark denim wash). While Honeylove Sculptwear is typically a must for me when I go out, the EverReady Pant is packed with tech that lets me skip the extra garment.
The inside shaping panels really do give me the defined tummy, hips, and booty I love to see. Honeylove continues to deliver on compression in all the right places with unbelievably soft fabrics. I just can't imagine not having a pair of these pants in my closet now.
So what's about to pop off? Honeylove's EverReady Pant is doing more than making a scene; they're starting a movement for functional, flattering pants that can do no wrong on anybody. Get into a pair of Honeylove's finest - trust me, you won't regret it.
JUST FOR YOU: Our friends at Honeylove are giving a special offer to our readers. Buy one item, get 20% OFF the rest of your order + FREE shipping on all orders over $75! Follow this link to shop!