My calendar is booking up with friends, concerts, and dinners, which means it's also booking up with booze. As someone who savors sitting down with a fine glass of wine, I've noticed I might be loving it a tad too much.
Last week I realized I had a glass of wine every night of the week – whoops! While I'm not opposed to a few drinks, I've been waking up groggy and sluggish, and on top of that, TBH I've gained a little bit of weight. I missed my morning Pilates class a few days ago…
I know I need to cool down, but I just like toasting with my friends! And when I searched for alternatives I wasn't interested in buying mocktail ingredients or settling for club sodas.
My friend, Jessica, who was going through the same realization as me, was looking into some non-alcoholic wines. She couldn't decide which one to try since there were so many, so I suggested we order the top three. We could give them a quick taste test and see which one we like best.
Since we wanted to keep it fair across the board - and we're entering patio season, after all - we decided to test only whites and rosés. Featuring Surely, Fre, and Starla, here's our little non-alcoholic wine haul for y'all:
Surely | $50 for both Sauv Blanc and Rosé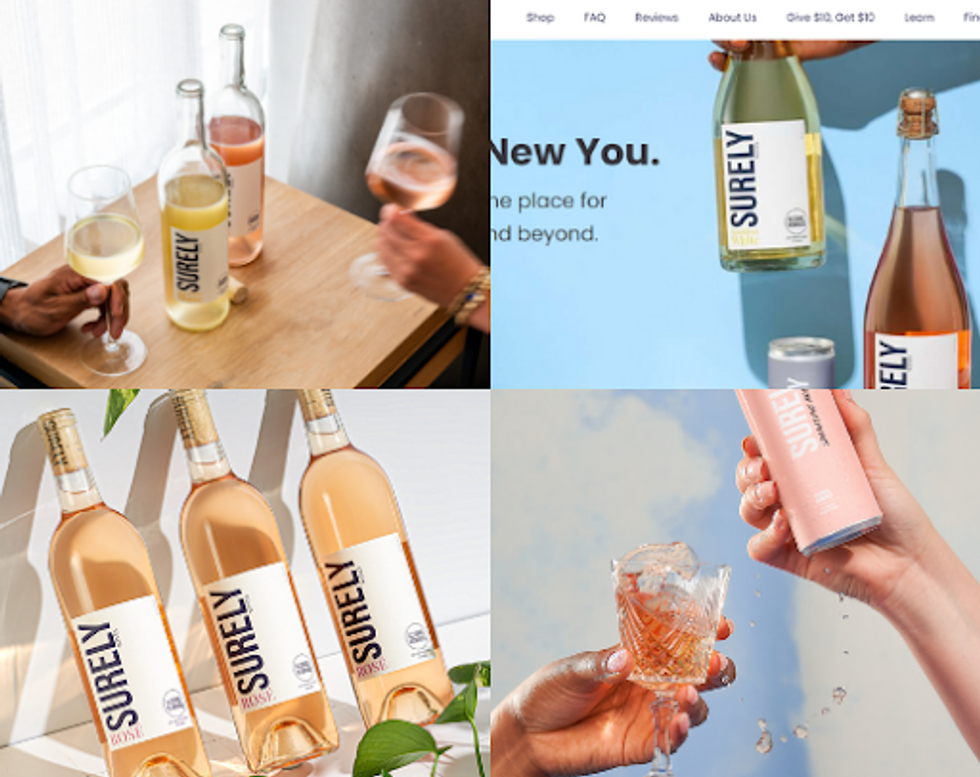 Surely's wines are made from premium California grapes and they not only offer a Red, White, and Rosé, but also sparkling whites and rosés. They're consistently ranked in the top 10 NA wines and they're gluten-free, low-sugar, and vegan, so it can accommodate any lifestyle.
Since they were the first NA wine I tried and there's no alcohol included, I was expecting to be sipping grape juice out of a wine glass. But I was pretty shocked by the flavor!
Surely starts with alcoholic wine that they then remove. By using innovative Spinning Cone Column technology, it eliminates the alcohol without sacrificing any of the taste. It honestly had the same aroma and natural flavor that I love about wine.
We started with the Savvy B since it's perfect for spring - actually it tastes a bit like spring. It was floral and oaky and not nearly as sweet as some other whites I've had. We went with rosé next, and in my opinion, it's pretty hard to mess up a rosé. And I was right! It was crisp, light, and even has hints of strawberries - how fresh!
Both the Rosé and Sauv Blanc are $24.99.
Fre | $14 for both Chardonnay and Rosé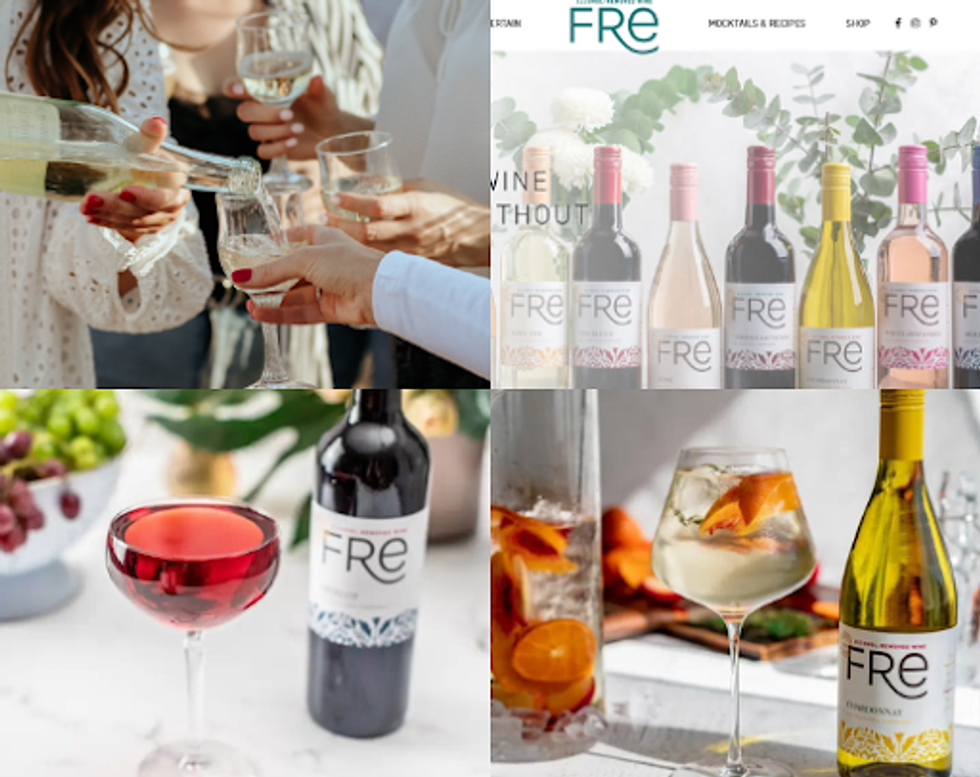 Okay, off the bat I was kind of surprised that each bottle cost $7. Usually, this would be a red flag. But Jessica and I still went ahead and gave them a go even though their website was tricky to figure out.
Fre is an alcohol-removed wine that uses California grapes as its base, but they remove the alcohol using high heat which sometimes changes the flavor. They offer several bottles including Chardonnay, Moscato, White Zinfandel, Merlot, and several others.
We were bummed they didn't have Sauv Blanc to keep it an even competition, but we went ahead and tested the Chardonnay. It had super creamy flavors of apple and citrus but was a tad too sweet for our liking and tasted a little too much like grape juice.
We moved on to the rosé which we liked much better than the Chardonnay – it had a big berry flavor with fruity notes throughout. All in all, a solid rosé!
All of Fre's bottles are $7.
Starla | $60 for Rosé and Sauv Blanc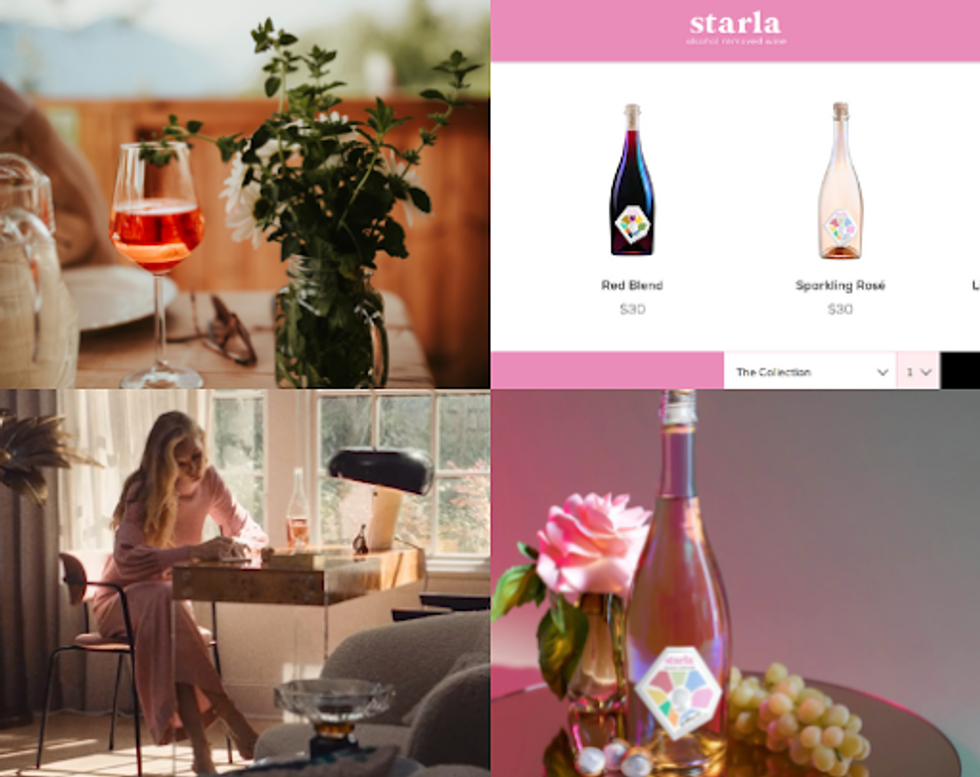 Our last competitor was Starla, and I could already tell by the website and packaging that it was more on par with Surely and real wine companies.
Starting with the Sauv, we were impressed! It was super fruity and had notes of honeysuckle, pear, and lemon, and they even infused it with a white peach blossom parfum. It was definitely more than what I'm used to!
Sadly, they only had a sparkling rosé, but we gave it a go nonetheless. It was pretty dry and honestly tasted pink. There were strawberries, gardenia, and lychee notes throughout every sip.
All of Starla's bottles are $30.
Final Notes
All in all, I'm astonished that NA wine that actually tastes like wine exists!!! All three were great but Surely is the most up my alley. While Fre's flavor matched the low price tag, Starla was far too floral and extra for me.
Surely has such a full-bodied flavor and feels like real wine to me - it truly satisfies. I don't have a super-advanced palate and even I could tell they use the highest quality grapes. With low calories, crisp and delicious flavors, all without alcohol, we're officially Surely converts.
The team at Surely are extending a special limited-time offer to our readers! Follow This Link & Save 15% Off with Code: SLEEPBETTER