Twentynine Palms Highway is a dream drive for lovers of outsider art.
Also known as State Highway 62, the road leads from I-10 near Palm Springs, Calif. through Yucca Valley, Joshua Tree, and Twentynine Palms before it eventually merges with Highway 95, the background to Laughlin.

Along the way, there is a treasure trove of art to find.
61855 Highway 62, Joshua Tree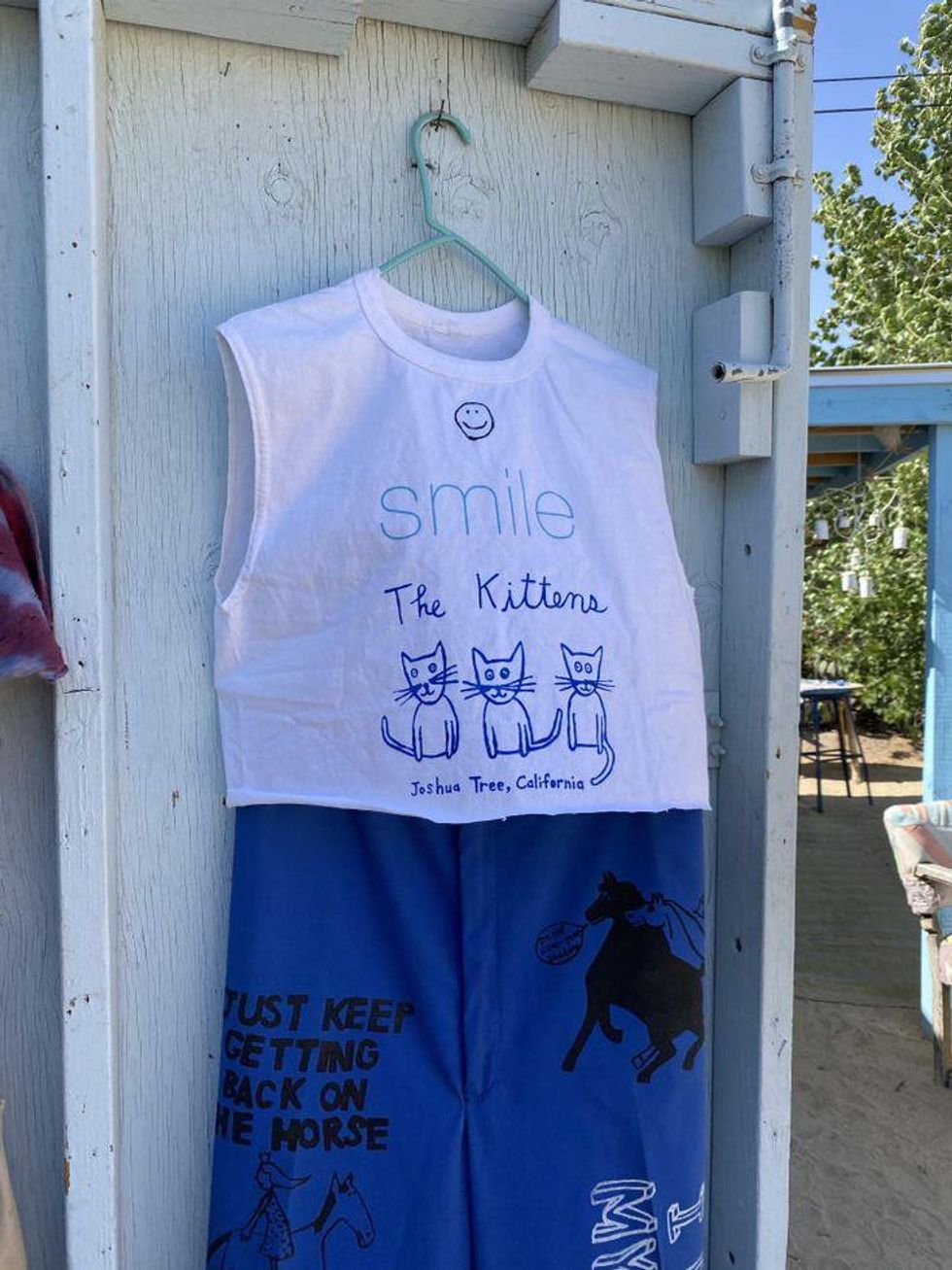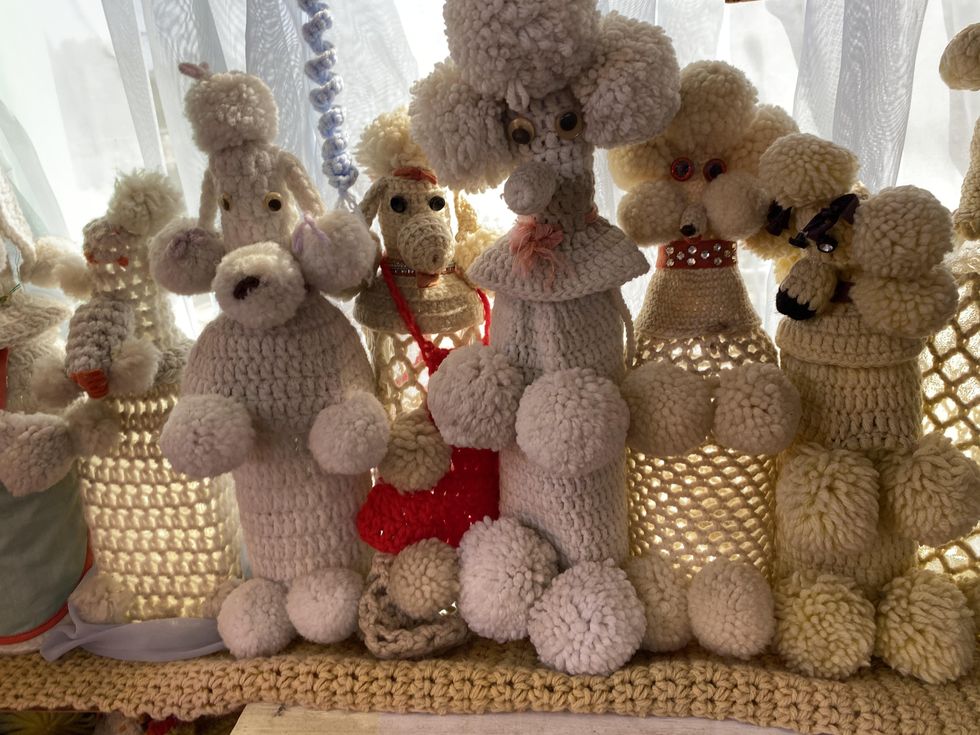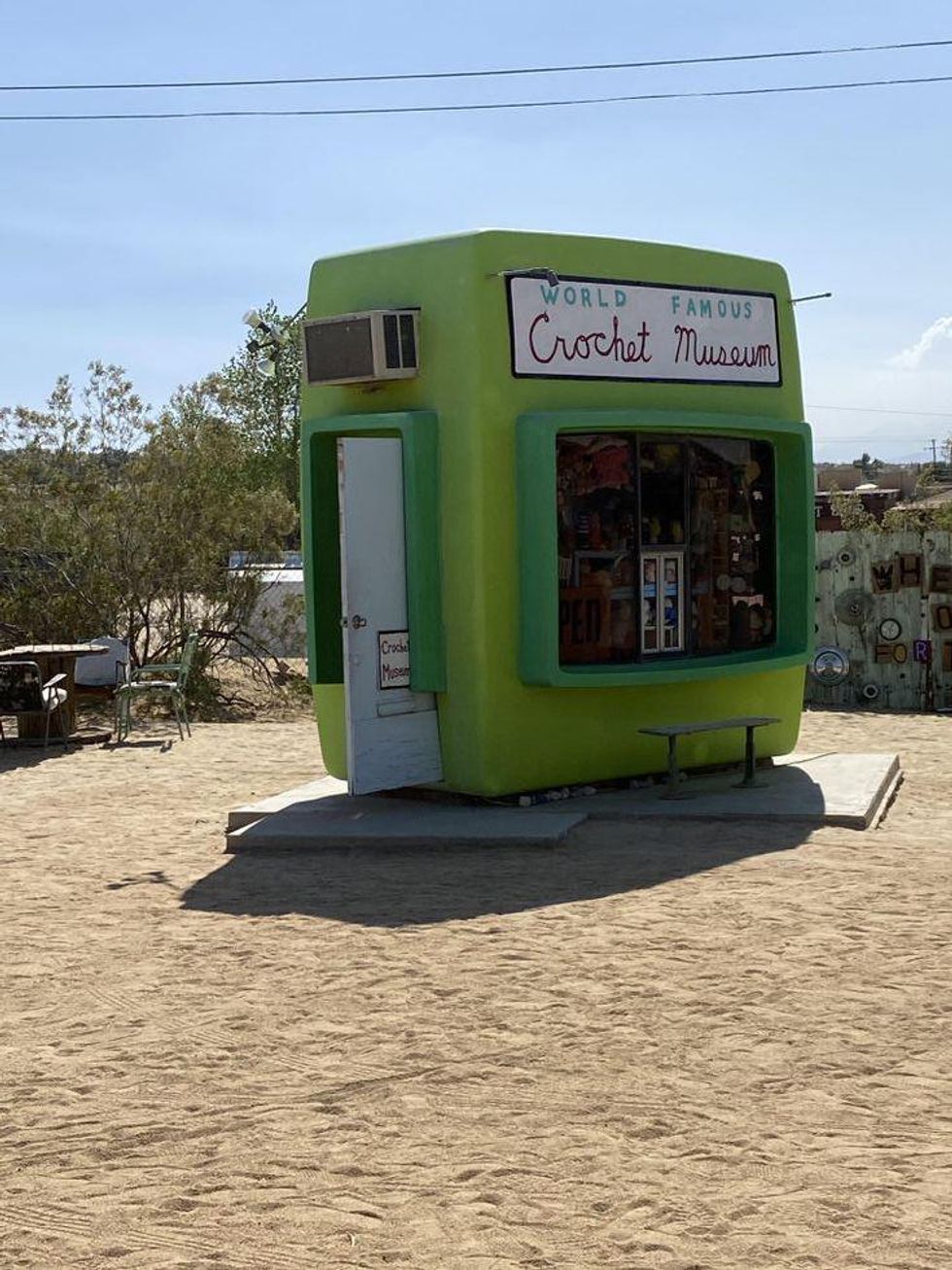 Starting in Joshua Tree, the Crochet Museum and Art Queen offer an experience not to be missed. Situated in a courtyard slightly to the east of the Joshua Tree Saloon you'll find a delightful installation of crocheted figures, located in what was once a drive-through photo-developing kiosk now painted a bright chartreuse, curated by artist Shari Elf Shari began the project in 2006 and now has shelves filled with a wide variety of crocheted creatures purchased and donated from artists, eBay, and yard sales.

Once she established her website, donations grew, and she started receiving items in the mail, which she used to create an eclectic collection of everything from poodles to people to lions to unicorns and bears. Museum stickers, pins, and items are available for purchase in Elf's adjoining store, Art Queen, where recycled art-added clothing such as an adorable "Smile: The Kittens" tank top set are sold, too.

Along with Elf's crochet collection and store, sculptural works large and small dot the courtyard, including two works — one massive and climbable when open — from artist Randy Polumbo. A shiny, silvery, and fascinating work, Polumbo has created other even larger-scale works on display in Bombay Beach by the Salton Sea and for the well-known arts and experience festival Burning Man.
Polumbo says, "Recycling and adaptive reuse turn me on infinitely…My work often relies on taking something violent and scary and retooling it so speaks to its original use, plus it's beautiful and perhaps a gathering place or accelerator for human experience and energy."
Exterior spaces are open daily; shop and Crochet Museum hours vary.
62975 Blair Ln, Joshua Tree, CA 92252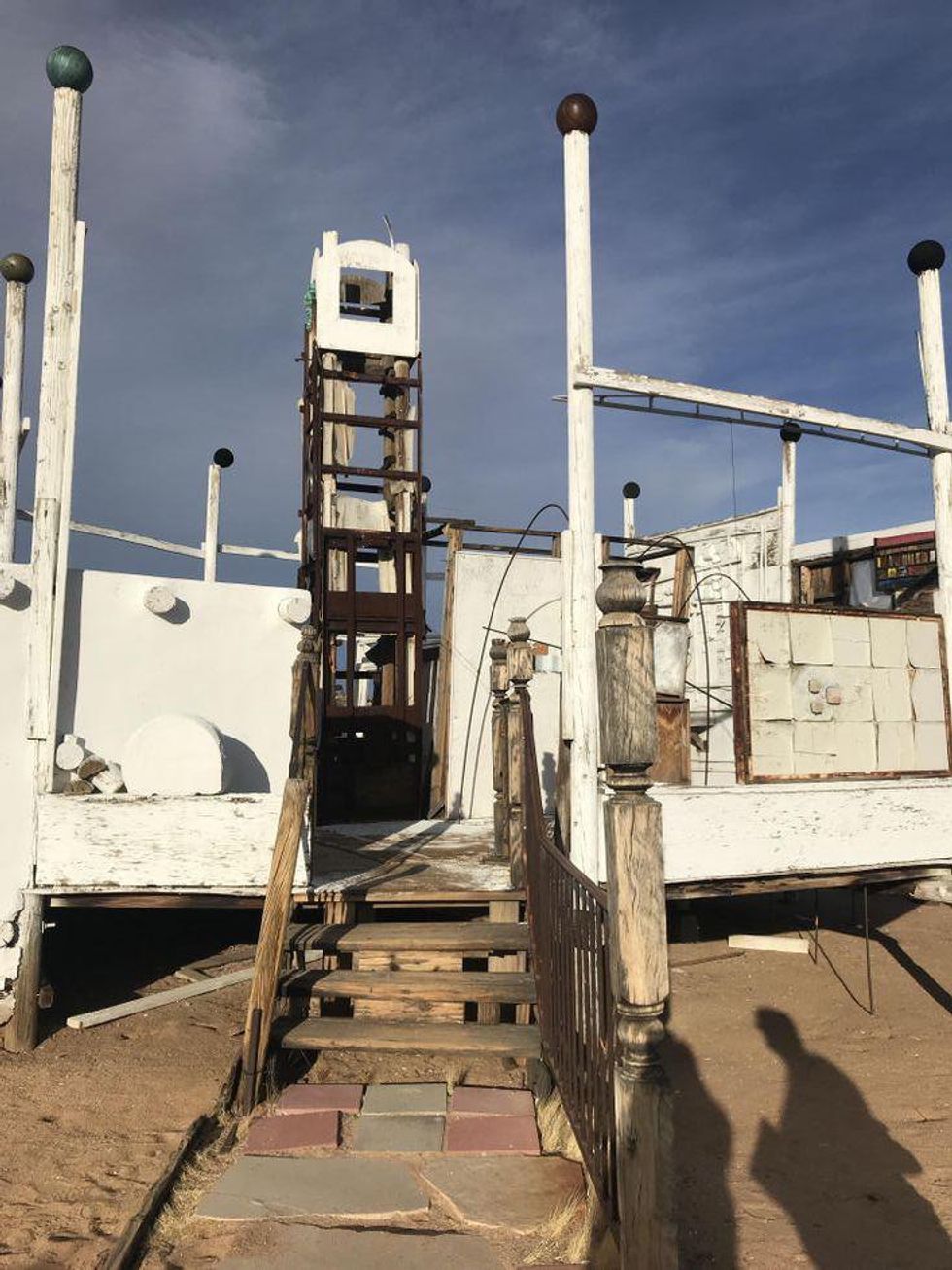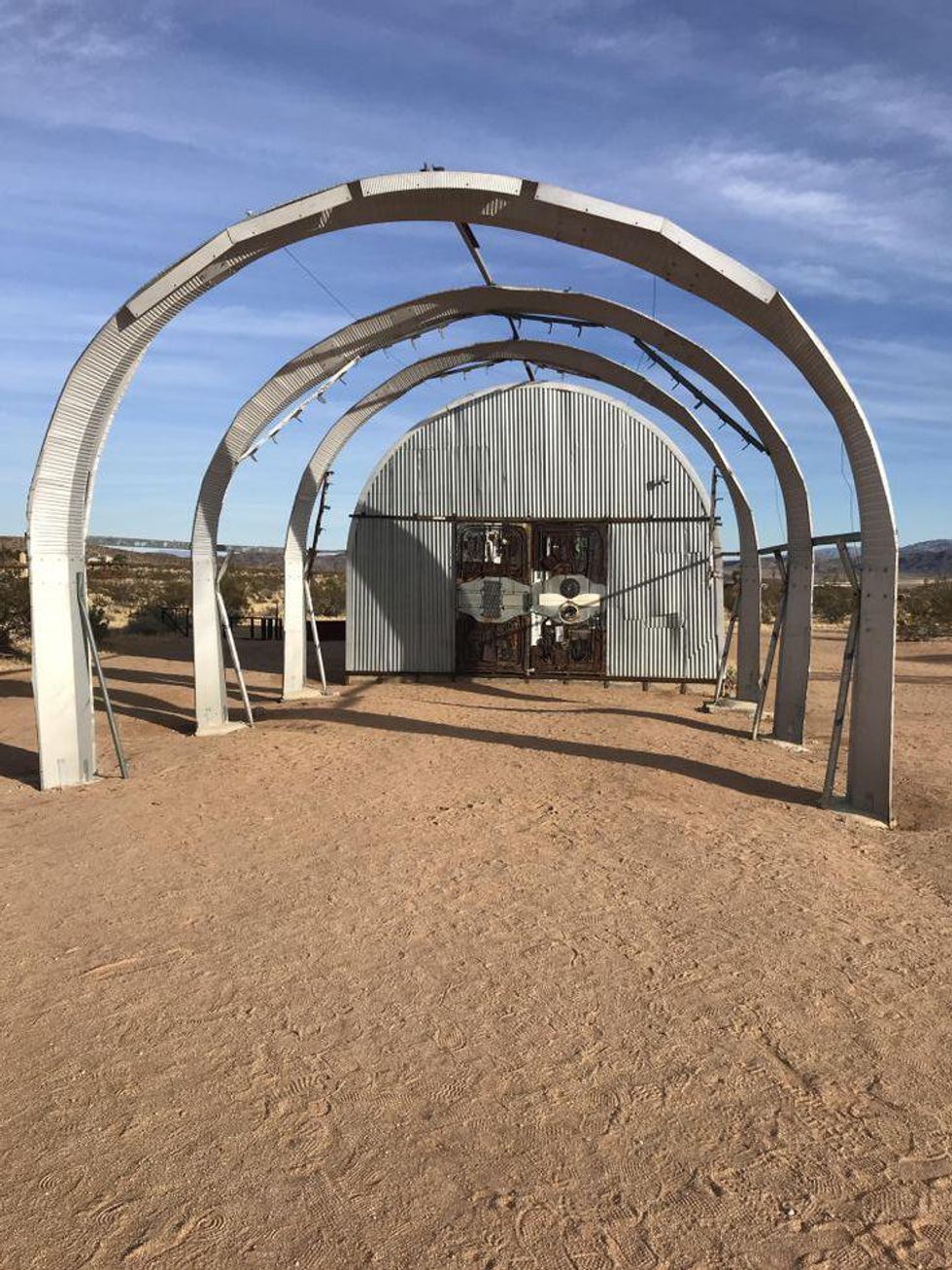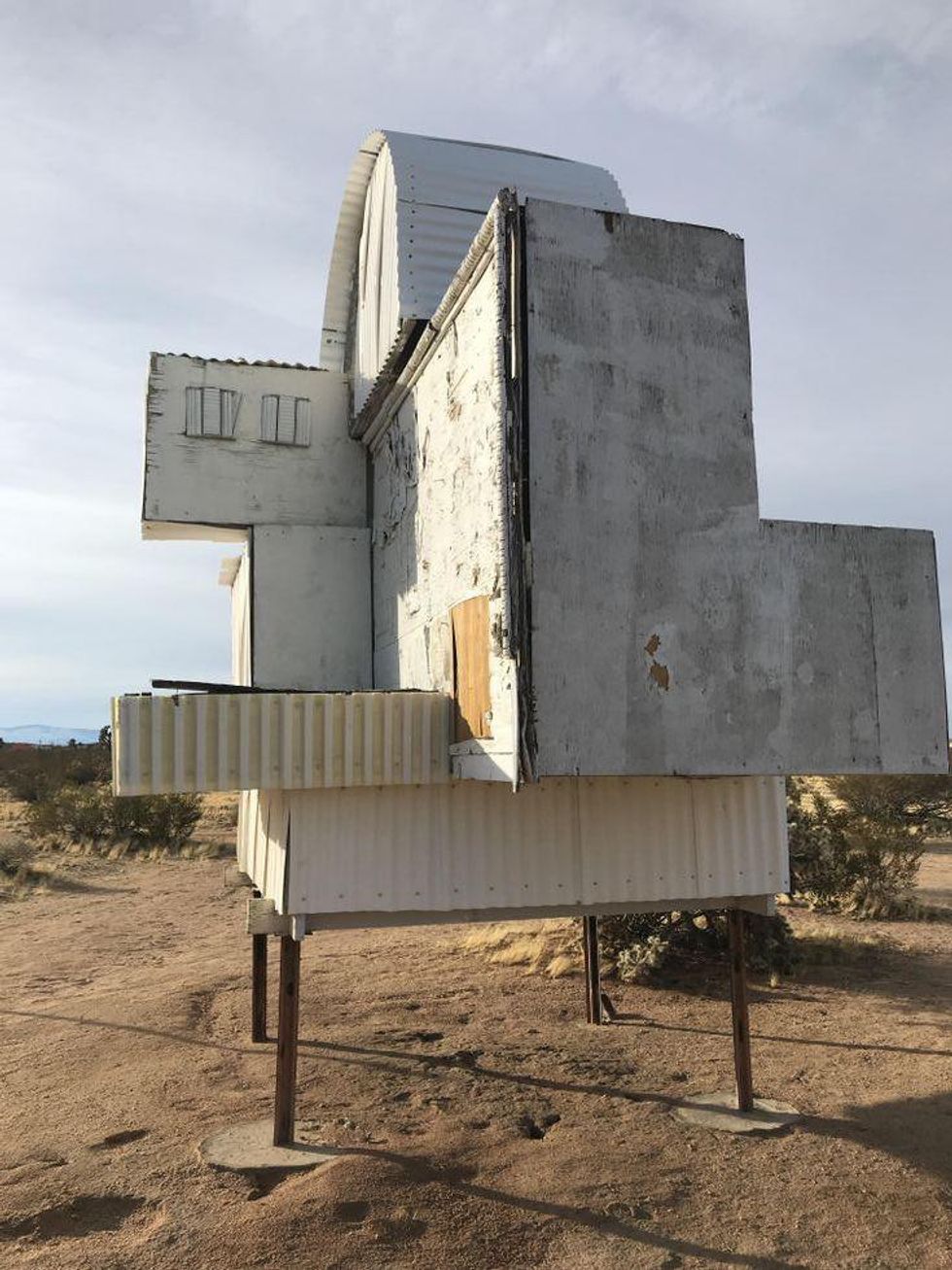 Just a short drive away from the Crochet Museum is the Noah Purifoy Desert Art Museum of Assemblage Art, which offers a brochure for a free self-guided tour from dawn to dusk. For the installation, which consists of a vast collection of large scale sculptures, artist Purifoy created works informed by history and wisdom, as well as some whimsy.

His work here is dedicated to using found objects and to expressing the need for and force of societal change. These large installations were created during the last 15 years of his life in the 90s and early 2000s and are constructed of everything from toilet seats to chairs, bikes, and shopping carts.
Viewable sun-up to sundown.
5157 Adobe Rd, Twentynine Palms, CA 92277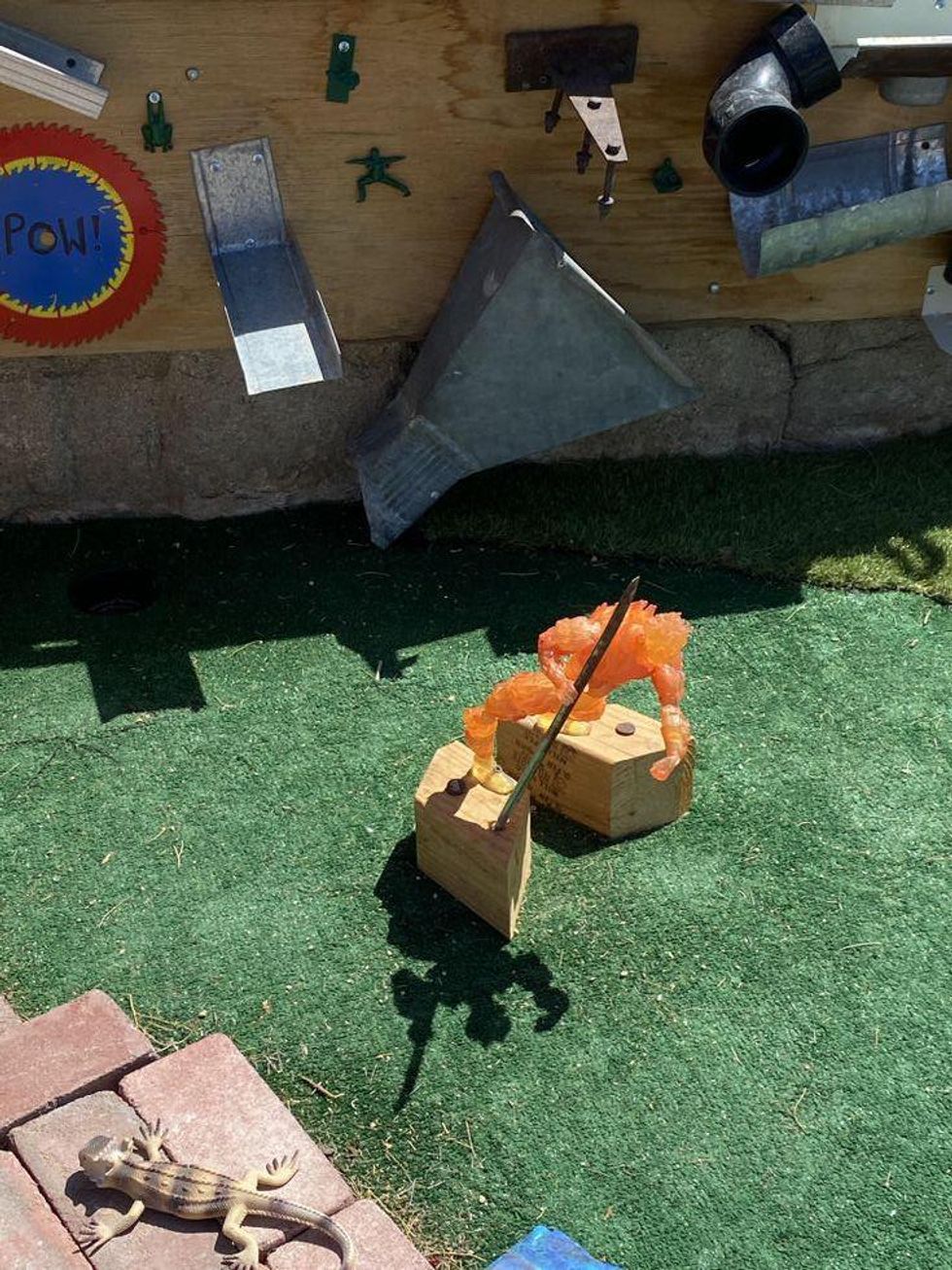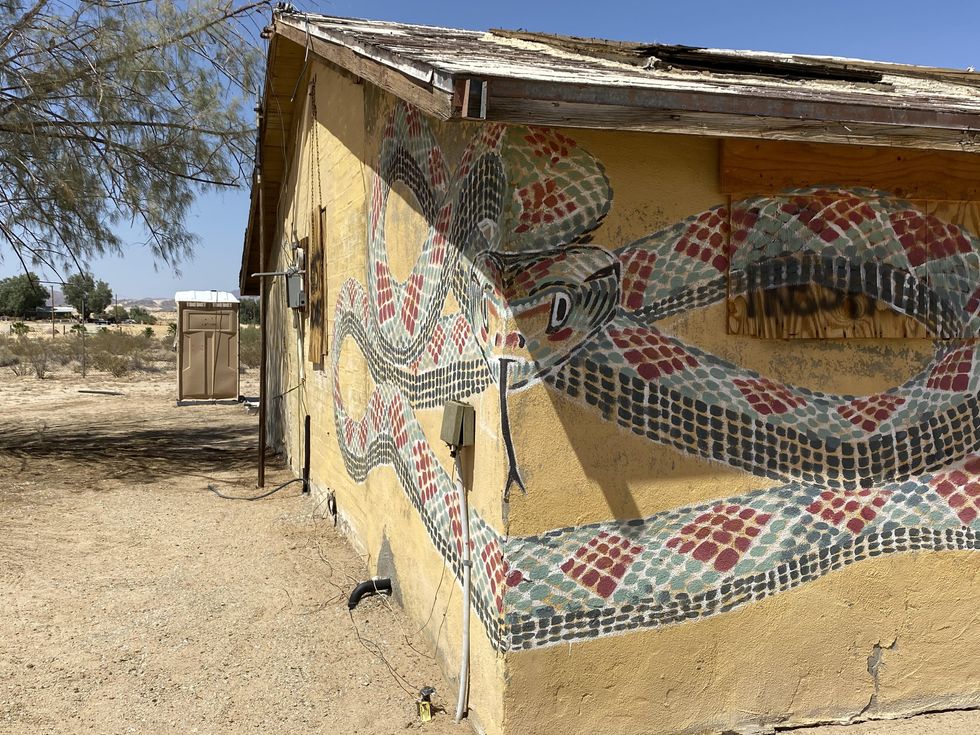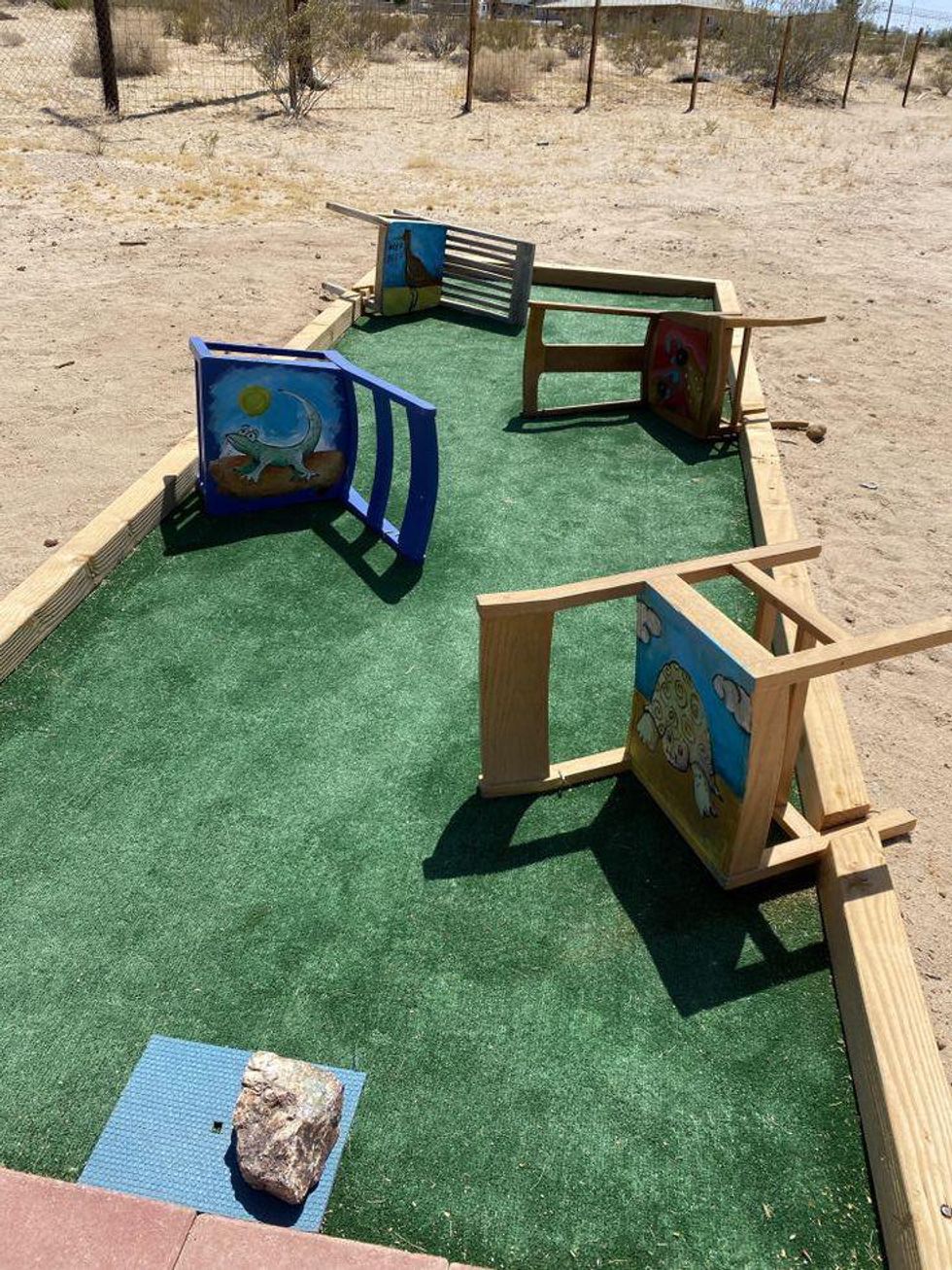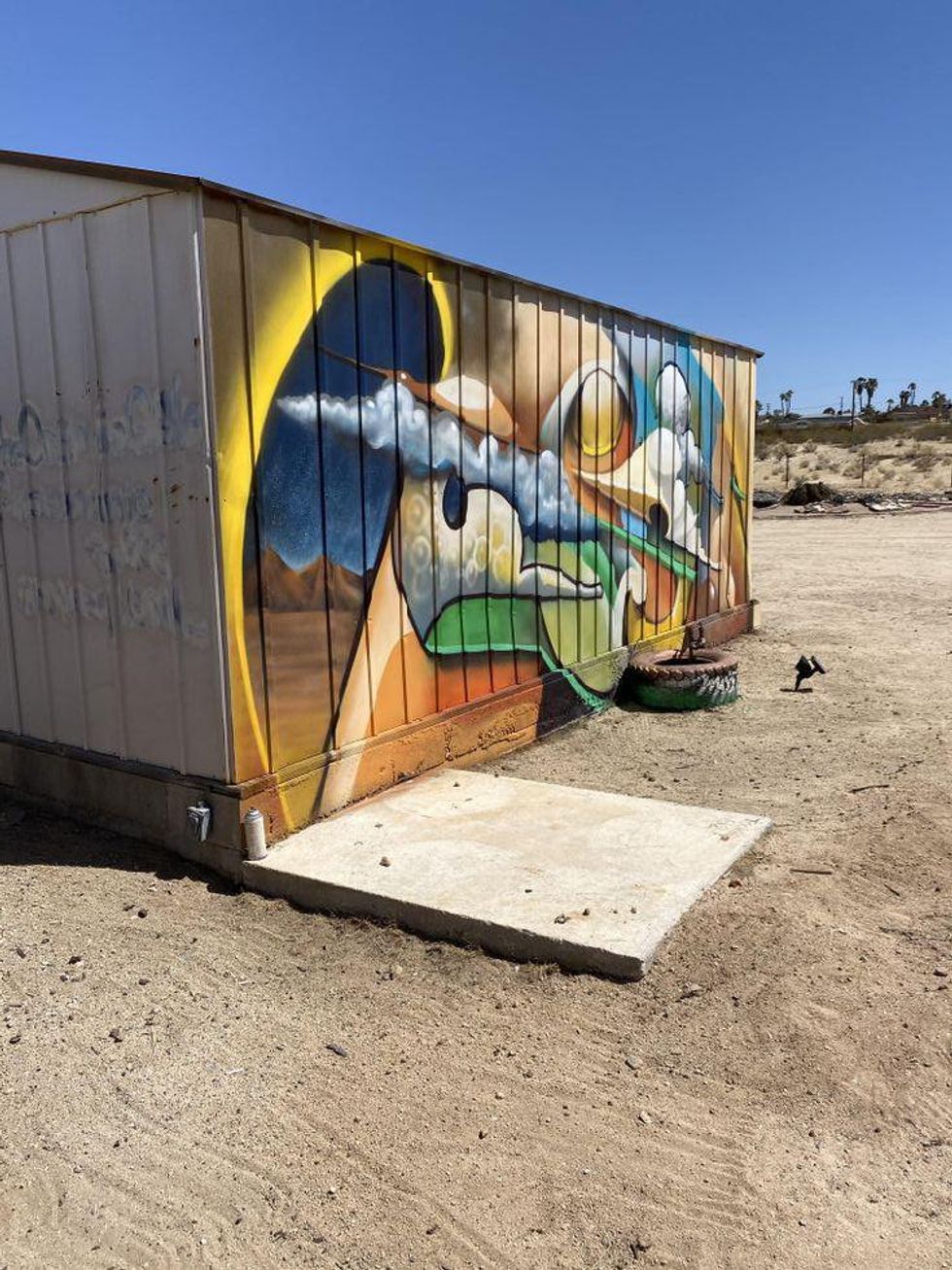 Artist Anna Stump is behind the creation of Mojaveland, a mini-golf course in the heart of 29 Palms. "It's currently under development and a pop-up only, open about once a month and free, but donations are accepted," Stump says. "Each hole is designed by a different desert artist." Visitors should check the website for open dates, which are typically one weekend a month.

Contributing artists include Ted Meyer, Anna Stump, Amanda Maciel Antunes, Ben Allanoff, Linda Litteral, Mr. Maxx Moses, Harper Neveu, Arthur Ciprut, Abe Delacerda, Lynda Kessler, and Angela Aylward. Located on local homesteader Tookie Smith's old residence site, the course also features several murals and historic buildings, one of which currently houses an indoor art installation by Amanda Maciel Antunes. Stump reveals that the site, which will eventually include 18 holes and other outdoor artworks, was inspired in part by the work of Noah Purifoy.
77575 Twentynine Palms Highway, Twentynine Palms, CA 92277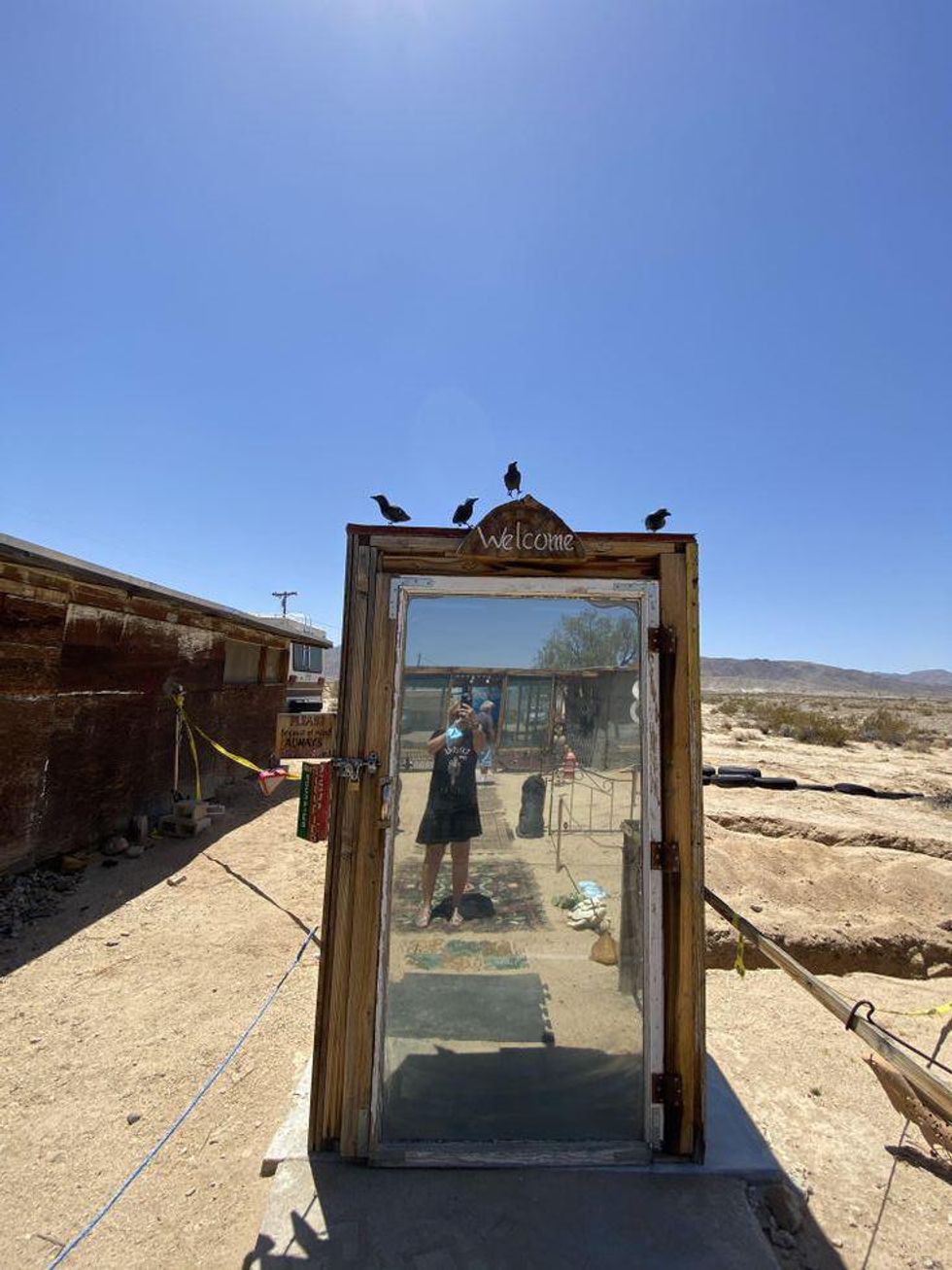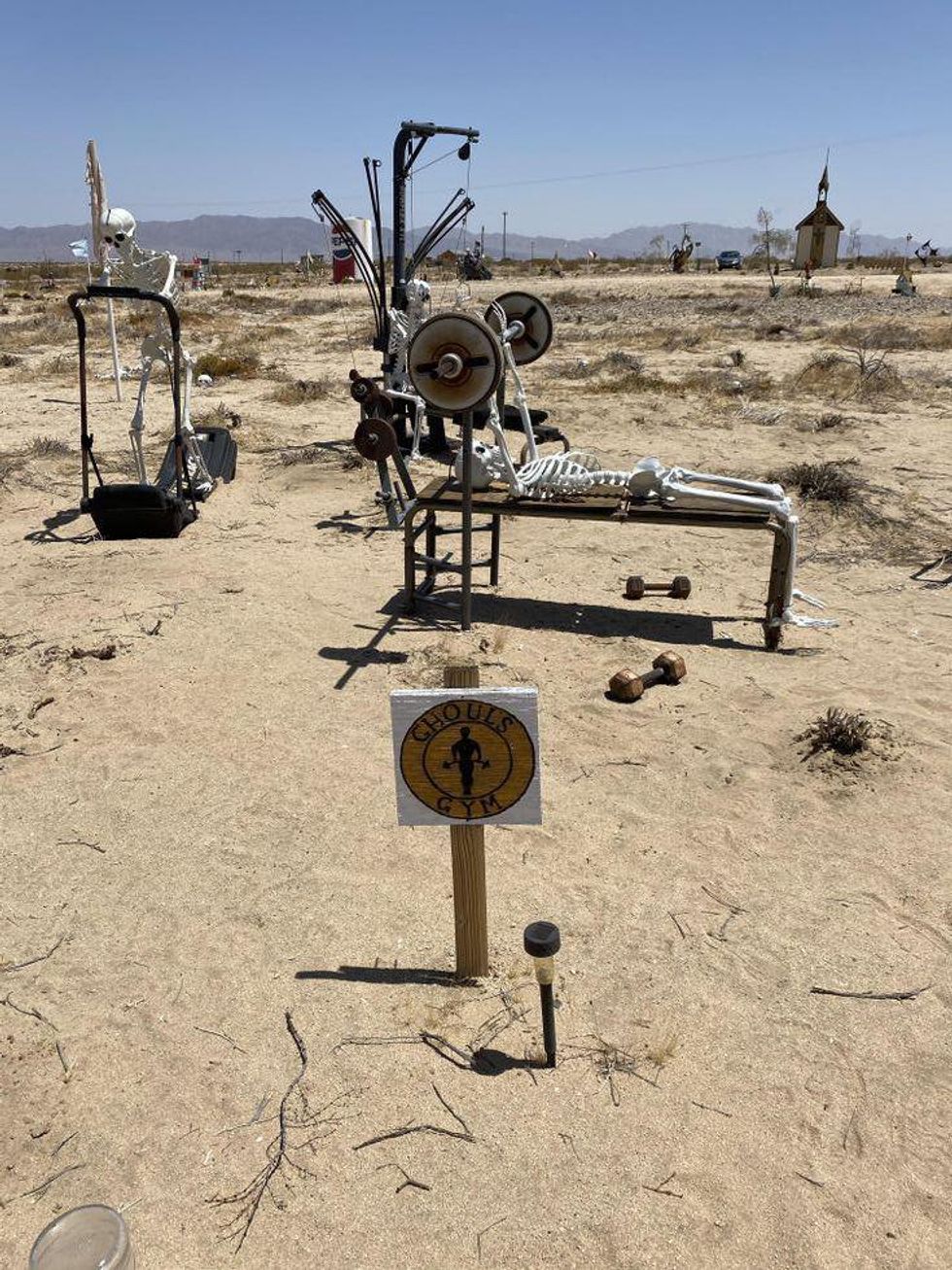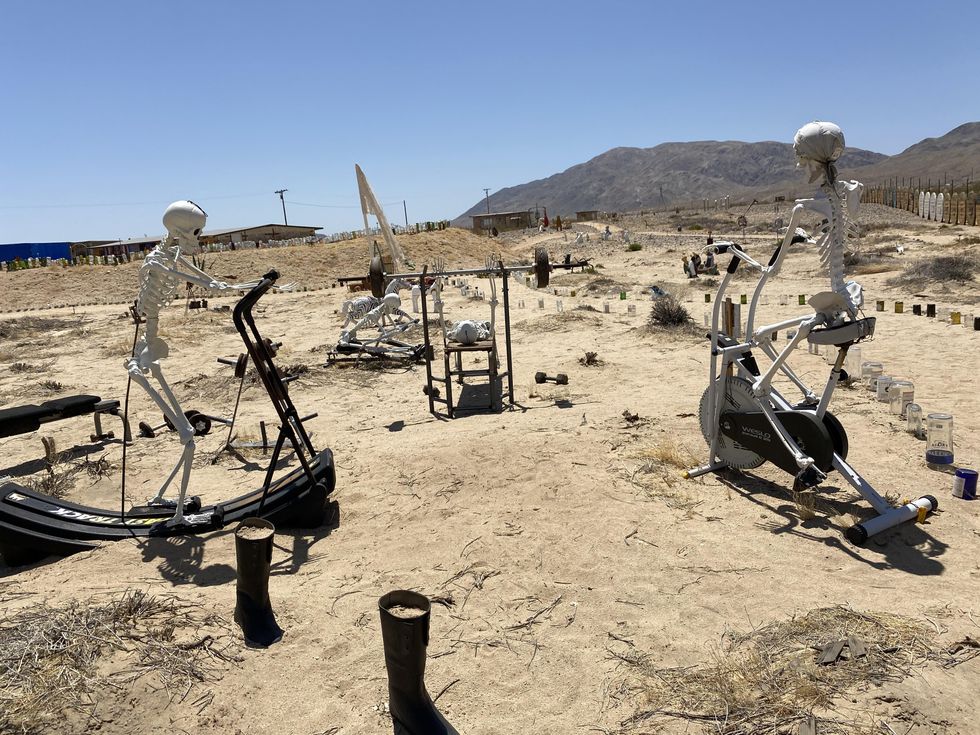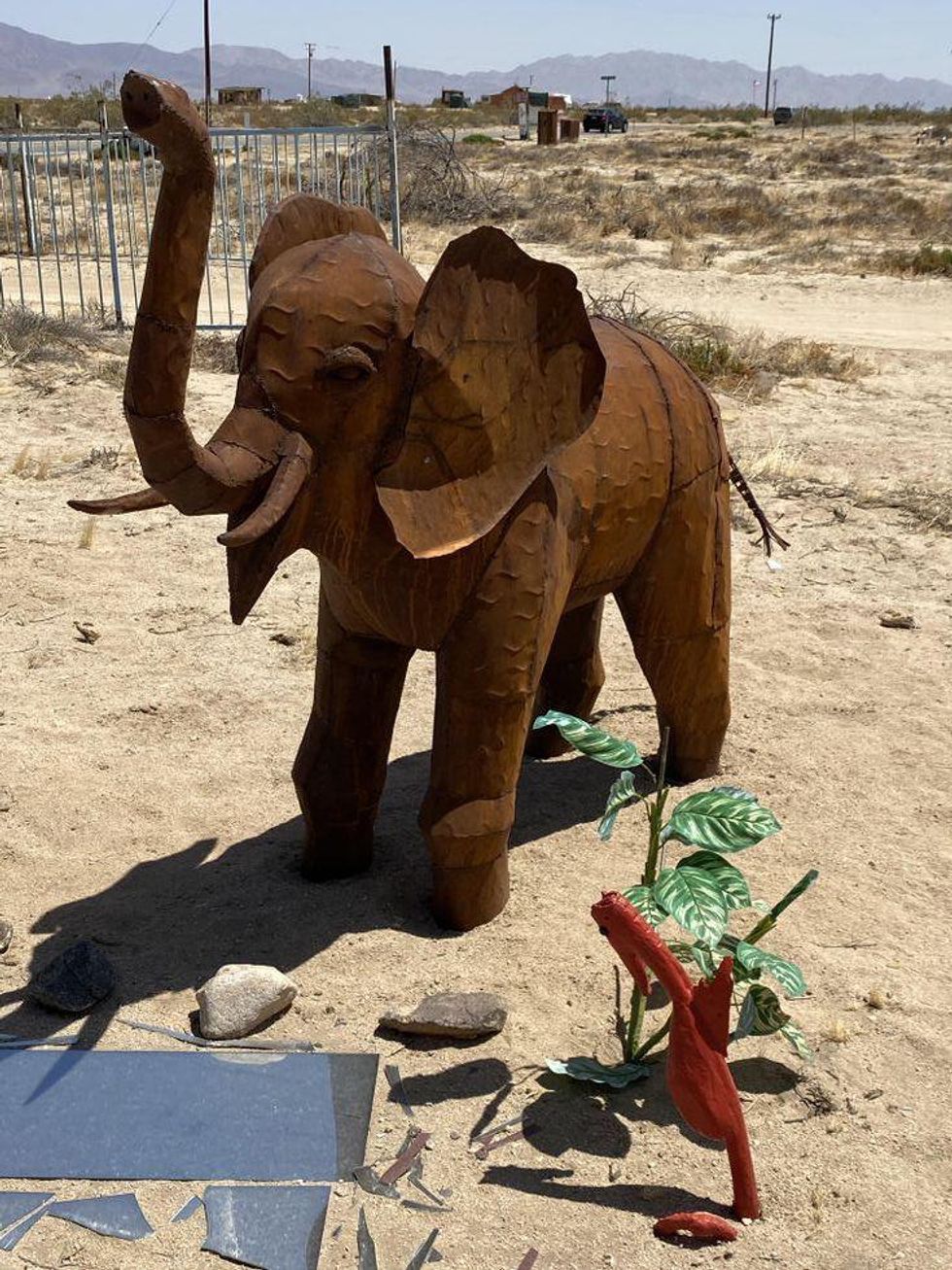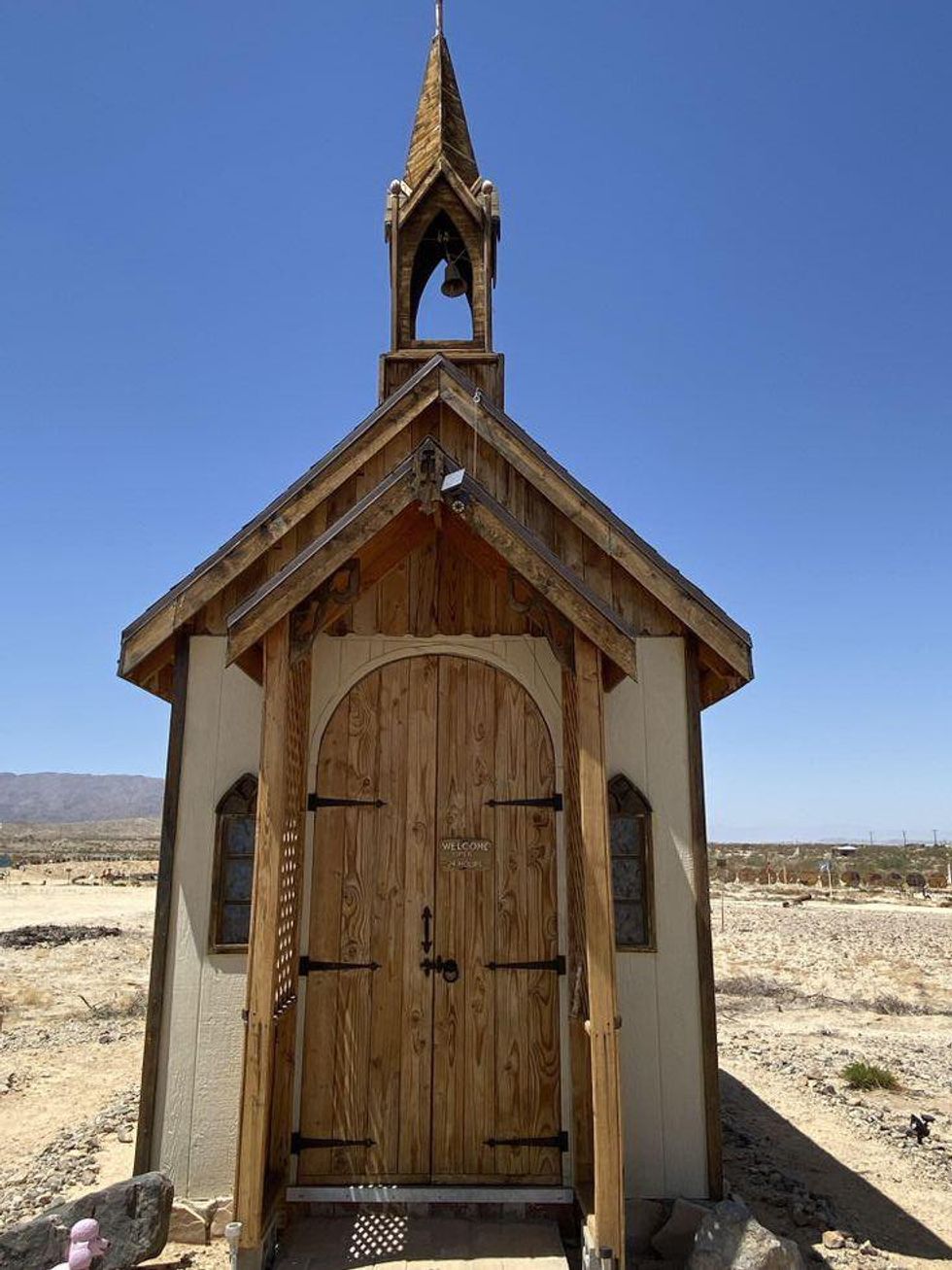 Founded by artist Laurel Siedel in 2009, The Glass Outhouse is a community gathering spot as well as an art gallery, and altogether it is a delightful and innovative spot located just outside Twentynine Palms. Eclectic and unique, the spot hosts monthly Grand Openings that reveal the work of artists in an indoor gallery while live music is performed at an outdoor patio, and Siedel even offers free cold sodas and popsicles to guests.

The outdoor exhibition space is always open, and features warm and witty sculptural works by a variety of artists. There is a tiny, charming chapel with pews and stained glass; a small fenced cemetery with markers indicating the demise of hate and greed; skeletons working out at "Ghoul's Gym," a mirrored reflective place – both literally and figuratively – commemorating a beloved kitty; metal dinosaur sculptures; wildly imagined toys; and abstract shapes. Then there is the titular outhouse itself, with a two-mirror that allows you to see outdoors while others outside can't see private business within. (Note that the outhouse is locked when the artist is not present).
The exterior exhibits are open daily.
79100 Sunvale Road, Twentynine Palms, CA. 92277
Google Maps Plus Code: 43x7+4R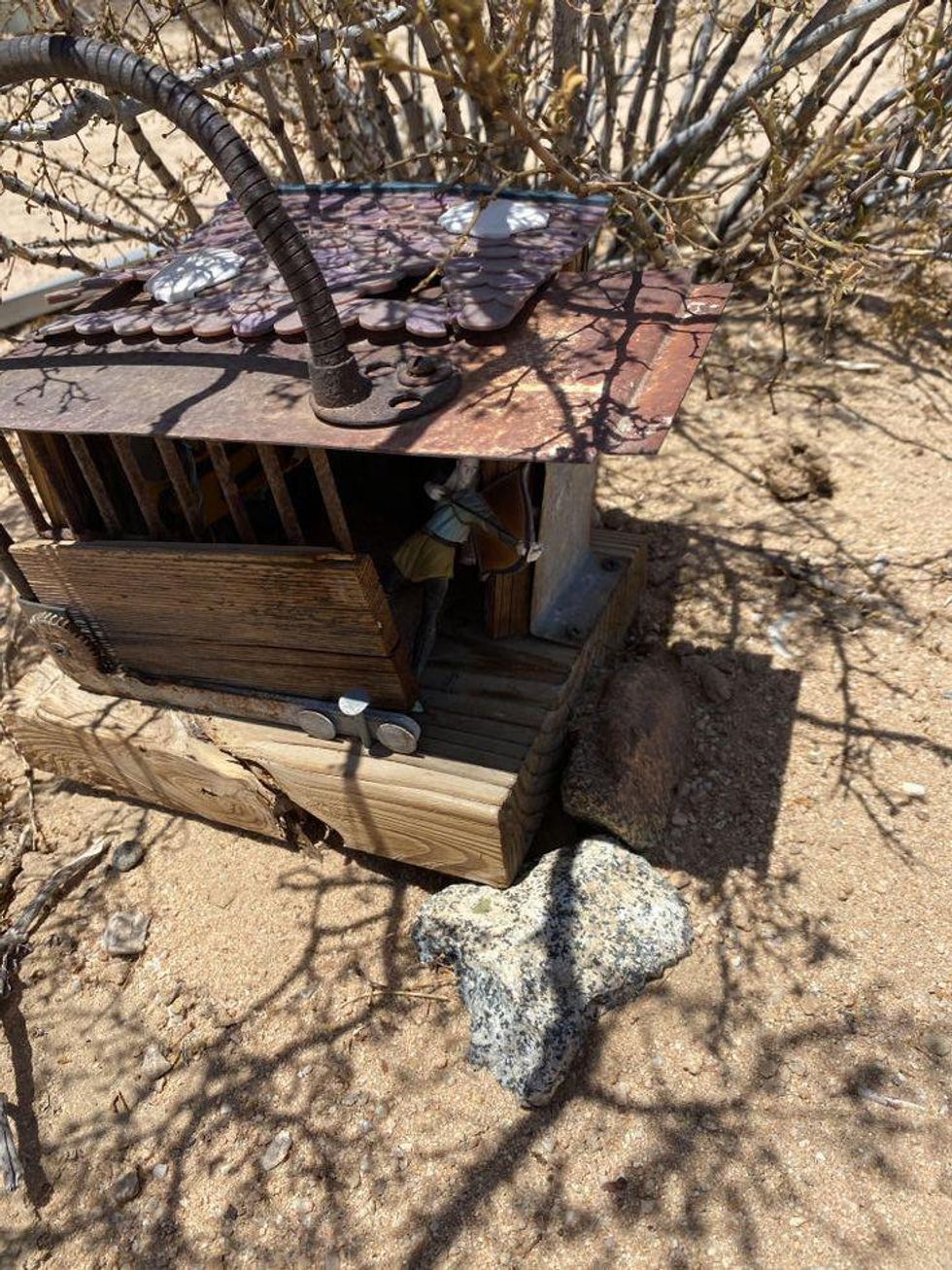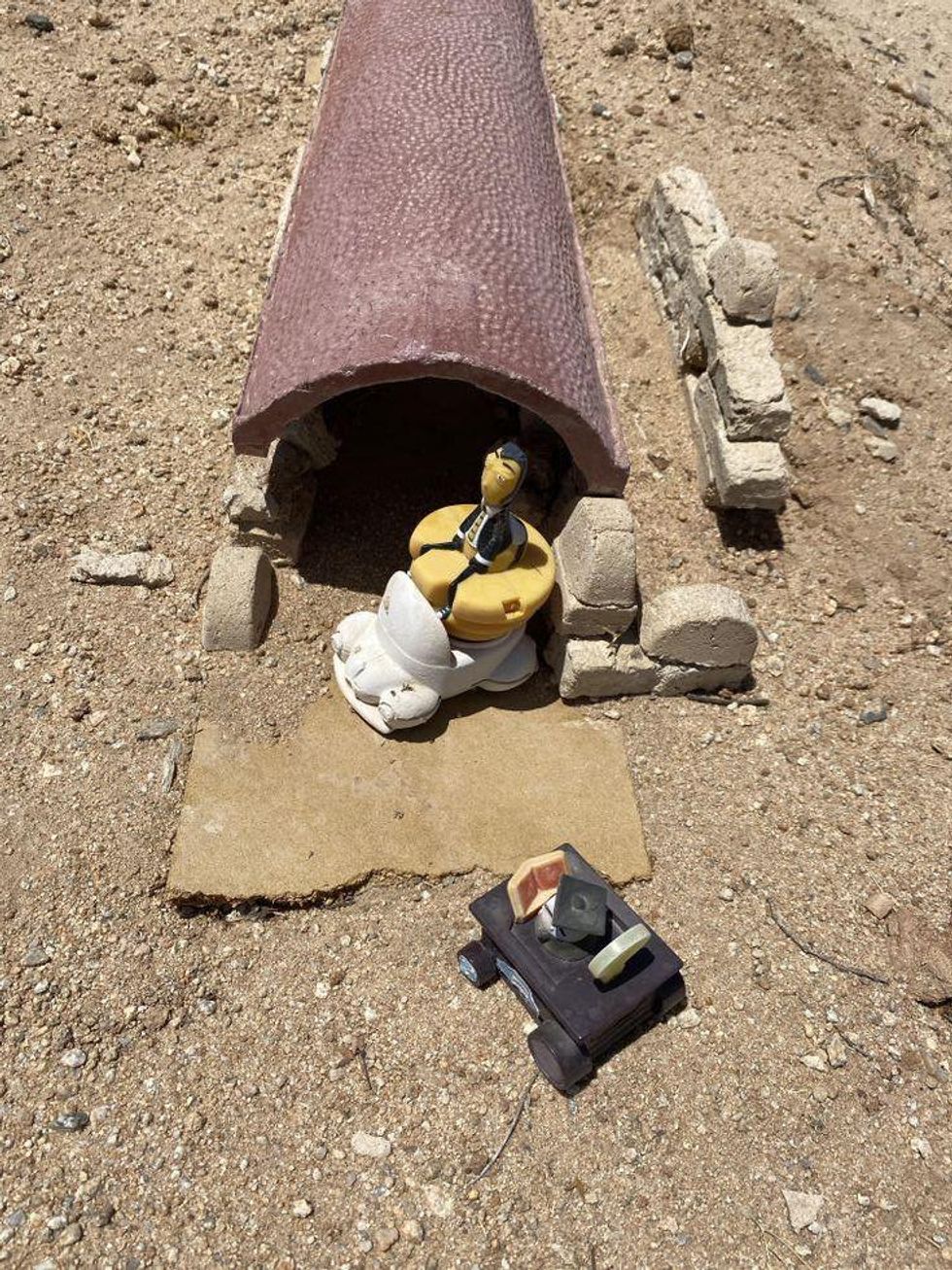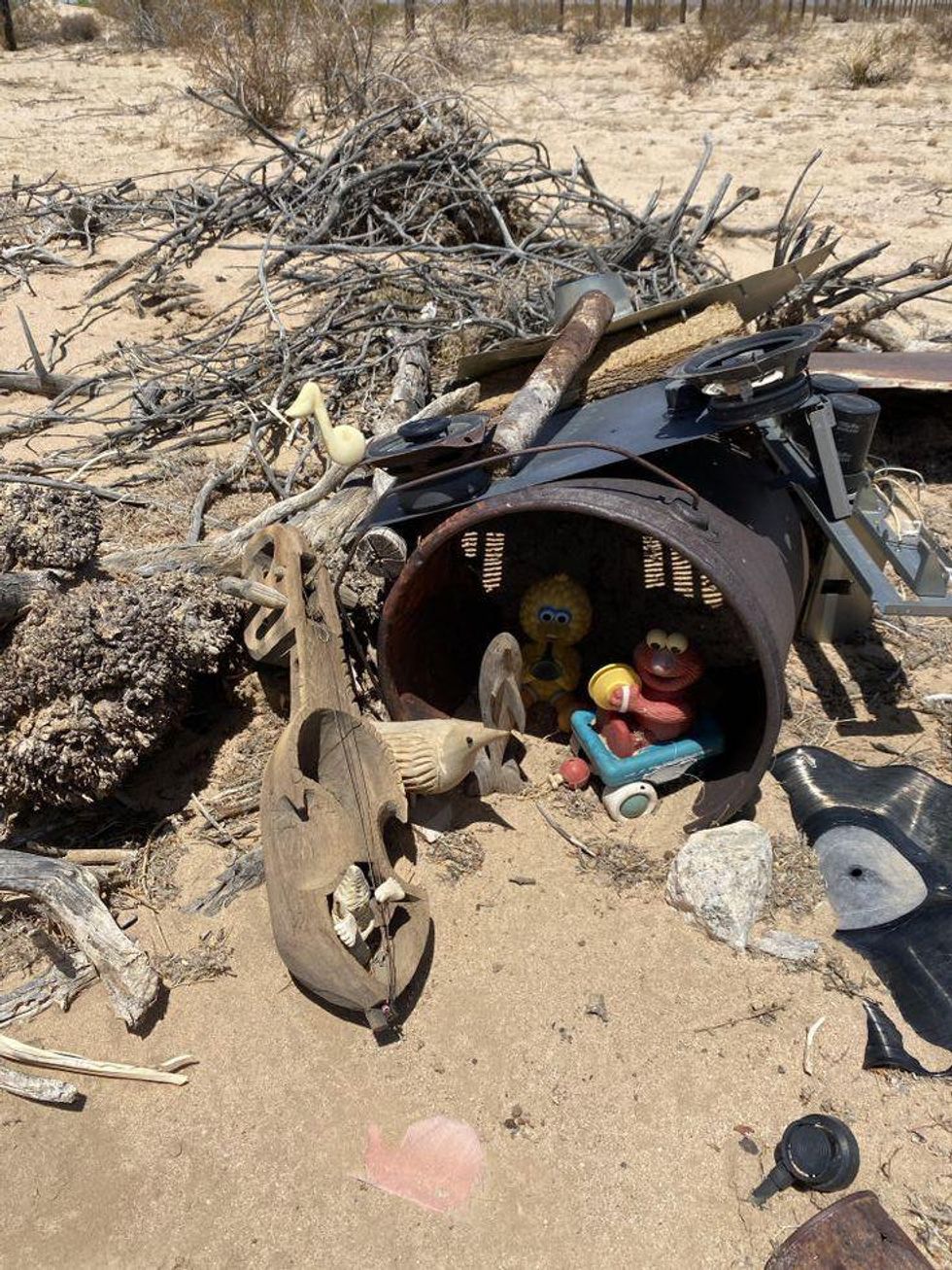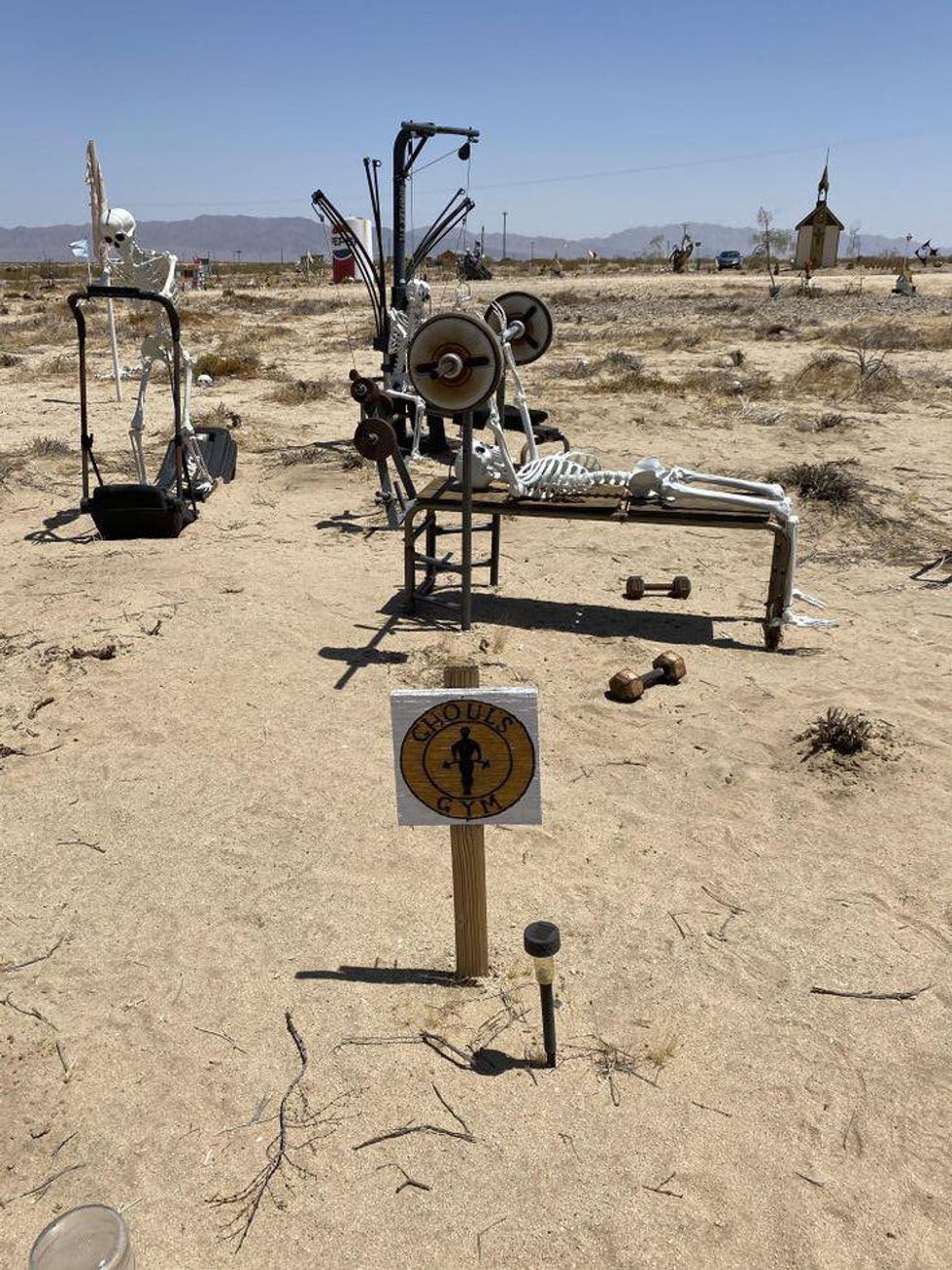 Sunvale Village is an artist-designed town of small, discarded toys which have been turned into residences, unique individual dwellings, and "community centers." Miniature and magical, these tiny "junk art" homes lead visitors on a meandering desert path abutting a dirt road. There's a map of the village and engaging biographies of the residents available for visitors who are also encouraged to sign in.
The installation was created in 2017 by artist Cathy Allen, who describes the installation as "a community for the small…each inhabitant has adopted a new identity, and many have changed their name to reflect their new philosophies of life. They are all proud to be small and have now made it their life-long mission to celebrate all things small."

According to Allen, "The site-specific installation of Sunvale Village is a playful commentary on significant contemporary issues such as the environment, gentrification of communities and ownership, and politics. Individual sculptural pieces are assembled mixed media junk, with all materials scavenged from abandoned refuse or illegal dump sites. The characters of Sunvale Village have also been recovered from the desert and are play companions in the ongoing story. As of August 2020, there are over 90 smalls living in the village."
The installation is open 7 days a week.
Located throughout Twentynine Palms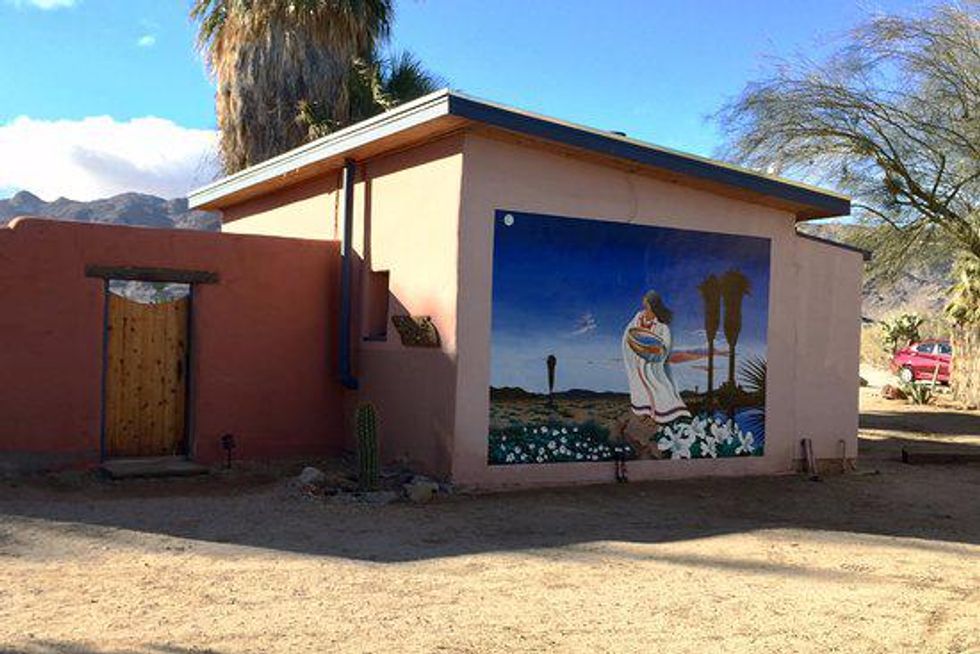 Oasis of MuralsTripadvisor
Scattered throughout Twentynine Palms are a variety of sculptural works, including several by desert artist Ricardo Breceda, and the Oasis of Murals, a project begun by a local committee of merchants in 1994. Today, over 26 murals illustrate the town's history and natural environment. They are scattered both on and off 29 Palms Highway, and a map is available online and at local businesses indicating both murals and sculpture locations.

***
There are also more traditional gallery spaces to be found along Twentynine Palms Highway, too, showing terrific work by desert artists.

58325 CA-62, Yucca Valley, CA 92284
A showcase for local artists, this expansive gallery also has an ample gift shop where works are available for purchase. The arts center houses the region's largest art gallery and champions the experimental and experiential art of desert-area artists. Also on site: art studios, outdoor sculptures and art, dance and broadcast studios. Check website for hours.
61607 Twentynine Palms Highway, Joshua Tree, CA 92252
From group exhibitions to solo shows, JTAG offers a variety of exciting gallery exhibitions as well as rotating murals on the exterior of the building. Here you'll find art in a wide range of mediums by many artists from the desert region to Los Angeles, including Ted Meyer, Coco Hall, Anna Stump, Barbara Spiller and Mardi de Veuve Alexis. Check the website for hours.
74055 Cottonwood Dr, Twentynine Palms, CA 92277
Located in the former home of western writer Tom Hopkins, 29 Palms Art Gallery was founded by the area's oldest art organization, the Twentynine Palms Artists Guild. The spacious adobe contains several gallery rooms, sculptures located in front of the building and in its small courtyard, and a as a gift shop. The gallery offers new exhibitions every month, usually featuring locally based artists such as Abe Delacerda with often desert-themed and juried art works. The gallery holds opening receptions on the first Saturday. The site also offers art classes for all ages. Check website for hours.
6540 National Park Dr, Twentynine Palms, CA 92277
Offering a robust collection of eclectic outsider art, this gallery space is located in an old Tire Shop in downtown Twentynine Palms. Message for hours.
***
If all this art has made you hungry or thirsty, here are a few suggestions for a bite to eat or a brew.

Joshua Tree
61695 Twentynine Palms Highway, Joshua Tree, CA 92252
Homemade vegan baked goods, sandwiches, and salads — specifically, the best "egg salad" around.
61715 Twentynine Palms Highway, Joshua Tree, CA 92252
Burgers, brews, coffees, tacos, and sandwiches with an outdoor patio as well as indoor dining.
61835 Twentynine Palms Highway, Joshua Tree, CA 9225
Burgers, steaks, seafood, and drinks served up in an Old West atmosphere.
Twentynine Palms
73491 Twentynine Palms Highway, Twentynine Palms, CA 92277
Baked goods, breads, sandwiches and pizza, too, all on artisan bread.
73950 Inn Ave, Twentynine Palms, CA 92277
Hotel restaurant with beer, wine, and cocktails; outdoor and indoor dining. Try the salmon with dill sauce.
6427 Mesquite Ave, Twentynine Palms, CA 92277
Caribbean twists add verve to rotating main dishes, drinks, and smoothies. Lovely outdoor patio.
73570 Twentynine Palms Highway, Twentynine Palms, CA 92277
Don't let the name fool you. There's pho, along with daily-made fresh donuts, eclairs, and apple fritters all in what was once a roadside gas station with picnic tables around the antique pump.
83131 Amboy Rd, Twentynine Palms, CA 92277
Live music many nights, casual dining. Located in the Wonder Valley area.