When travelling to a famous international destination, we tend to have high expectations. Breathtaking views! Great food! Cultural exchanges with friendly locals! But too many times, our lofty aspirations are met with the harsh reality of dirty, overcrowded streets and pricey hotels. Local flavor? It's nearly impossible to find in many of the world's most touristy destinations. That's why we've created Journi Guides.
Looking to travel to Paris? Skip the lines and pigeon poop at the Musee d'Orsay, and head to Aix-en-Provence. Interested in Oslo? Why not try Norway's traditional little mountain town Bø in Telemark County.
Journi Guides tell you where to beat the crowds, experience something authentic, and get the best 'gram of your life.
Helping us kick off our Journi Guide series is none other than travel blogger and serial entrepreneur, Yasmine Akermark (@travelyas). Rather than head to Bali, Yasmine recently spent some time in Taghazout, Morocco while working as a digital nomad. Check out her recommendations below, and follow her journeys on Instagram at @travelyas.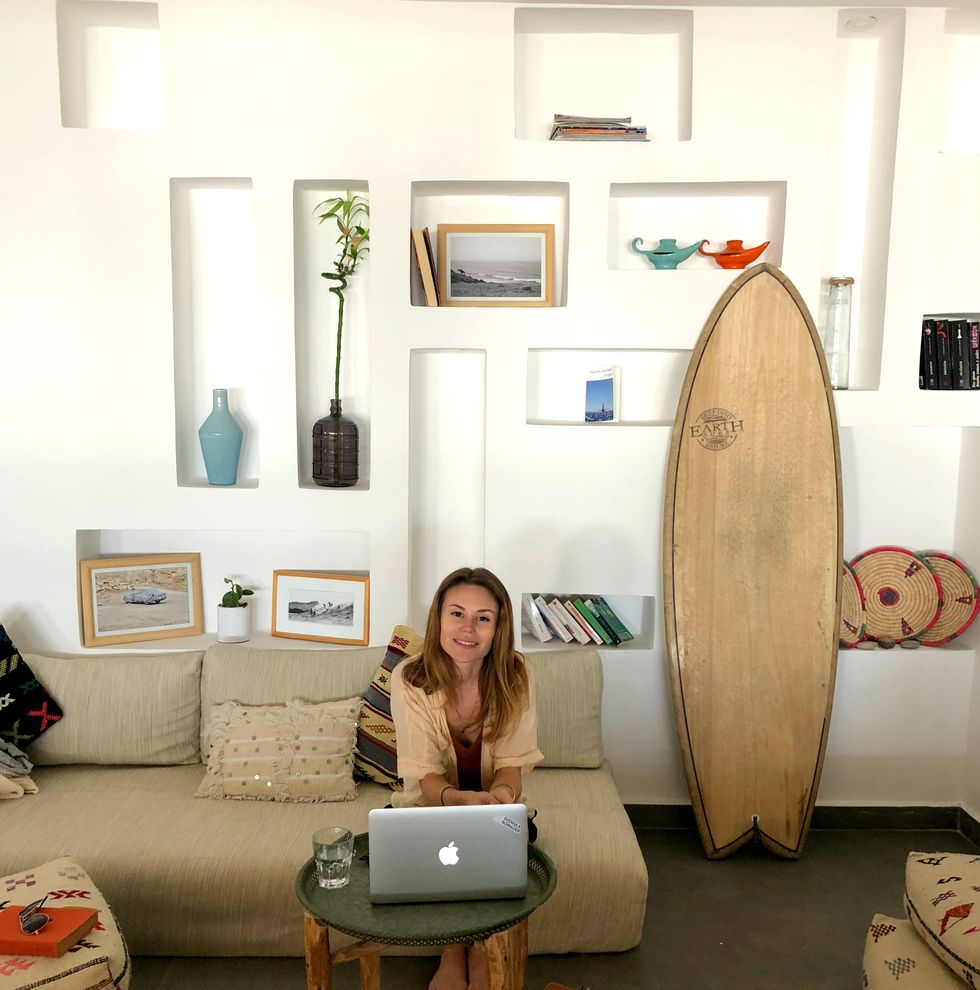 Yasmine hard at work in her digital nomad "office" in Taghazout @travelyas
I knew Taghazout was about to become the next hot destination when my friends in Bali decided to travel to Morocco, and spend their entire spring in this beautiful North African town. As it turns out, I was right, and Taghazout is quickly becoming Europe's Bali. Like Bali, you'll find world class surf, beautiful scenery, smoothie bowls, digital nomads and people from all over the world. I spent a few weeks in Morocco in March 2018, and visited several cities in Morocco. Among other things, I traveled to Agadir, Taghazout and Marrakesh. In this mini guide, I share my Taghazout attractions and tips. And for my Swedish fans, check out my travel vlog here!
1. Learn to surf
Taghazout is world-renowned for its surfing, and surfers from all over the world have been wondering here since the 70's. Taghazout offers classes for all levels, and you can even go to surf camp.
2. Yoga and meditation
In recent years, the surf culture in Taghazout has expanded to include yoga trips and meditation. If you're like me - just here for the yoga - there are several yoga teachers you can organize private classes with depending on where you're staying. You can also visit the boutique hotel Amouage, which offers 5 classes for under $50 USD. You'll even have 2-3 classes to choose from during the day; one at sunrise and one at sunset.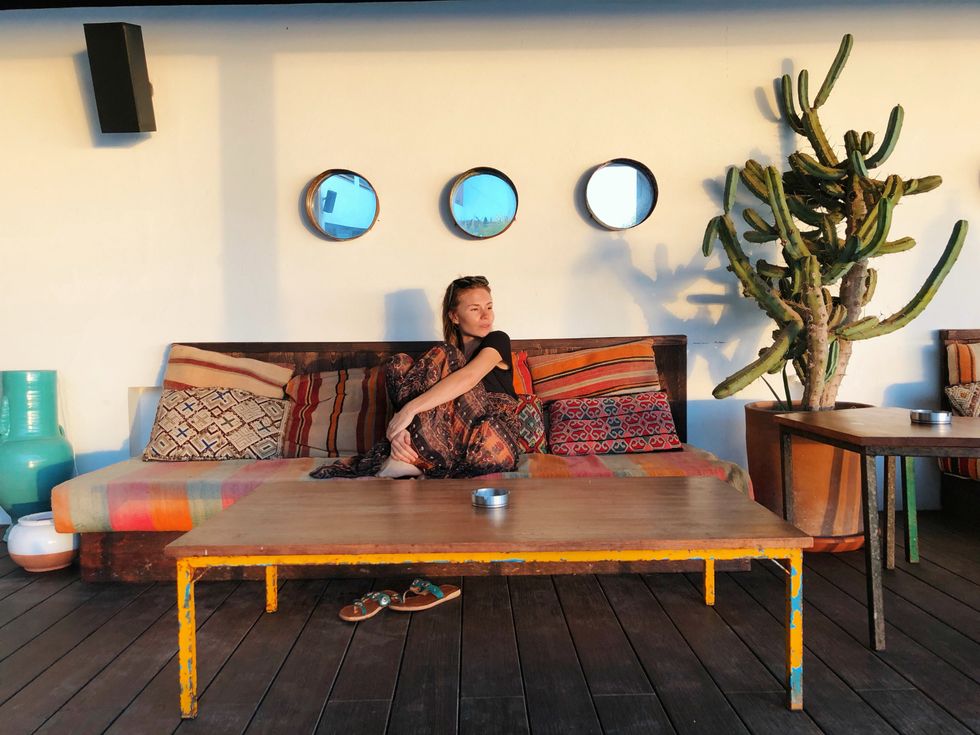 Enjoying the view of Morocco's beautiful beaches@travelyas
3. Find one of the world's largest "souks"
If you travel 30-40 minutes from Taghazout you'll arrive in the town of Agadir, home to Souk El Had, North Africa's largest indoor market. Here you'll find just about everything, from candy, turtles, and TV sets to knock-off sunglasses. Drink freshly squeezed orange juice for $5 and find argan oil and rugs at the lowest prices.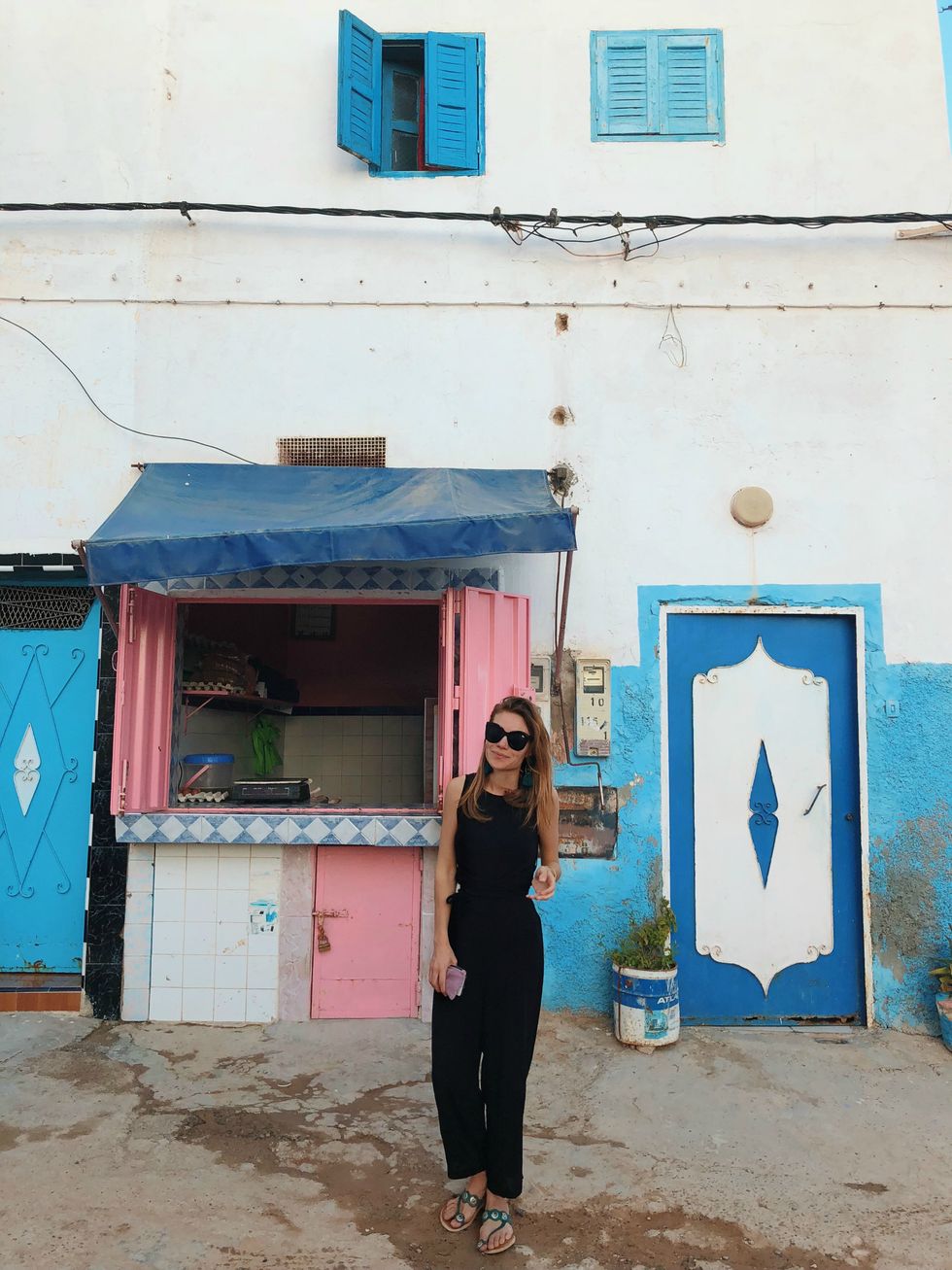 A village kiosk in Taghazout@travelyas
4. View of Agadir from Oufella fort
In 1960, a major earthquake struck Agadir and many of its old buildings were completely destroyed. Today, Agadir is Morocco's most modern city. The oldest building is Oufella fort, and even though vast parts of the fort have been destroyed, it's worth a visit. Here, you will have a panoramic view of the town of Agadir and it's sweeping beach.
5. Tagine Barbecue
One of my favorite memories from Taghazout was tagine barbecue (stews made with slow-cooked flavors and Moroccan spices) on the roof deck at sunset. If your hotel or hostel doesn't offer tagine barbecue, head to Amouage on Thursday evenings. This delicious restaurant serves a huge tagine BBQ, followed by DJ and dance floor for getting your boogie on.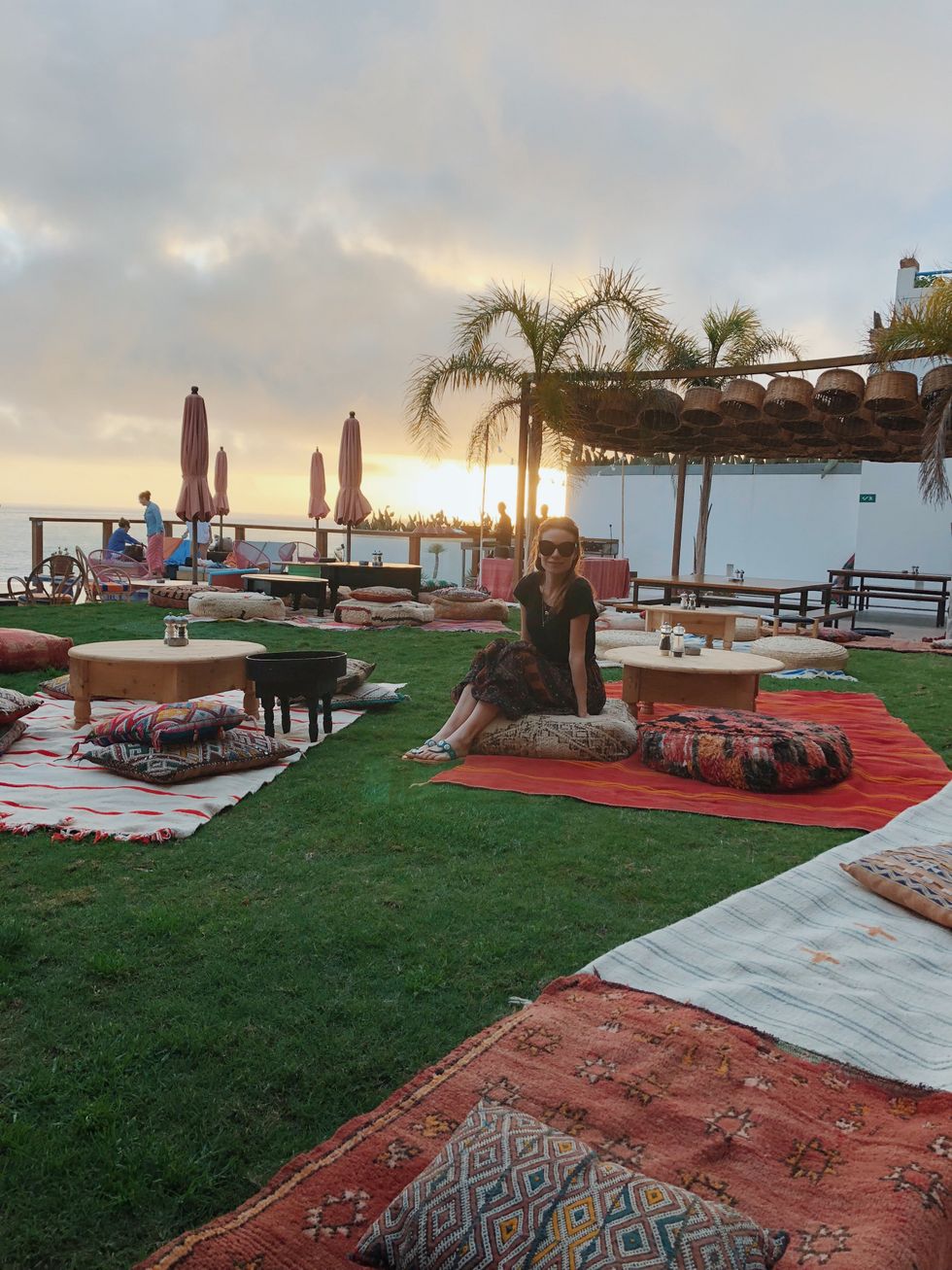 Relaxing after too much tagine barbecue @travelyas
6. Get lost in nameless streets
There are no names on the streets of Taghazout, so it's incredibly easy to get lost... but it's just as easy to find your way back. It's said that nothing is farther than a five minute walk in Taghazout. Even though the alleys are a bit worn, the blue little houses are incredibly charming, so don't be afraid to get a little lost.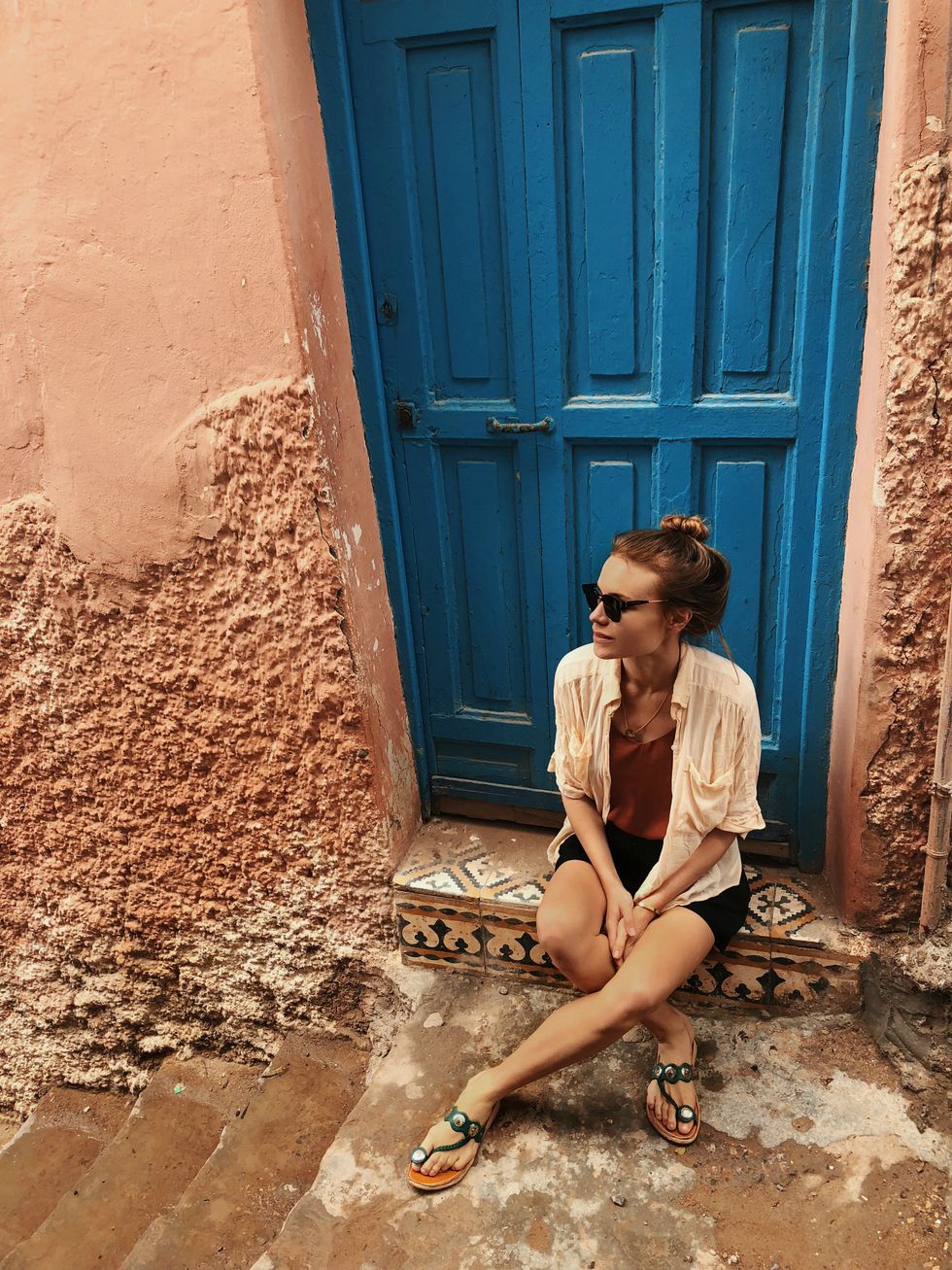 You never know what you'll find when you get lost in Taghazout@travelyas
7. Surf breakfast at the World of Waves
Although there are a ton of places to eat in Taghazout, be sure to visit World of Waves and eat their Surf Breakie. You'll be served mint tea and freshly squeezed juice along side a delicious avocado and egg toast. Still not full? Try my favorite juice bar, Cafe Mouja!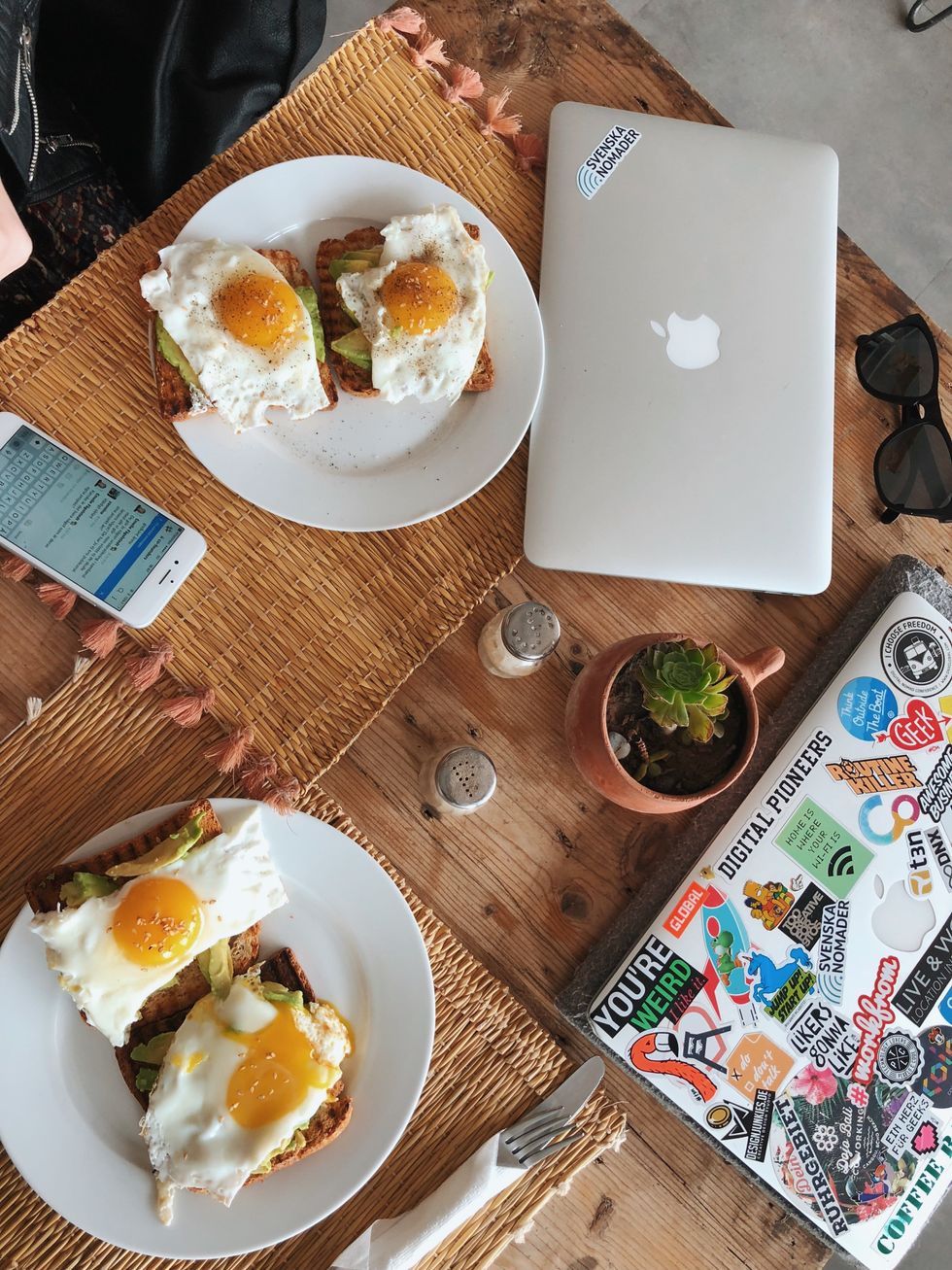 The Surf Breakie at World of Waves@travelyas
8. Eat fresh calamari
Yum! If you like seafood, you've come to the right place. Locals love to dine at Surf It, which can be found by walking north along the beach - the restaurant has neither a website nor a Facebook page. Enjoy lounging along the water in plastic chairs, and eat the best squid Taghazout has to offer.
9. Live as a digital nomad in Taghazout
Because Taghazout is equipped with an incredible fiber network, it's well-suited to host digital nomads from every corner of the world. In fact, my internet connect in Taghazout was even better than back home in Sweden! And with Taghazout's proximity to the ocean, walkability and earthy activities, you really couldn't ask for a better office. I, myself, lived with WifiTribe, but you can also live and work through SunDesk. But be sure to book several months in advance, as these tend to book up quickly. Should you arrive in Taghazout without advanced notice, you can always stay at one of the many hostel for about $12 USD per night. Generally, they're quite clean and almost every one comes with an incredible roof deck.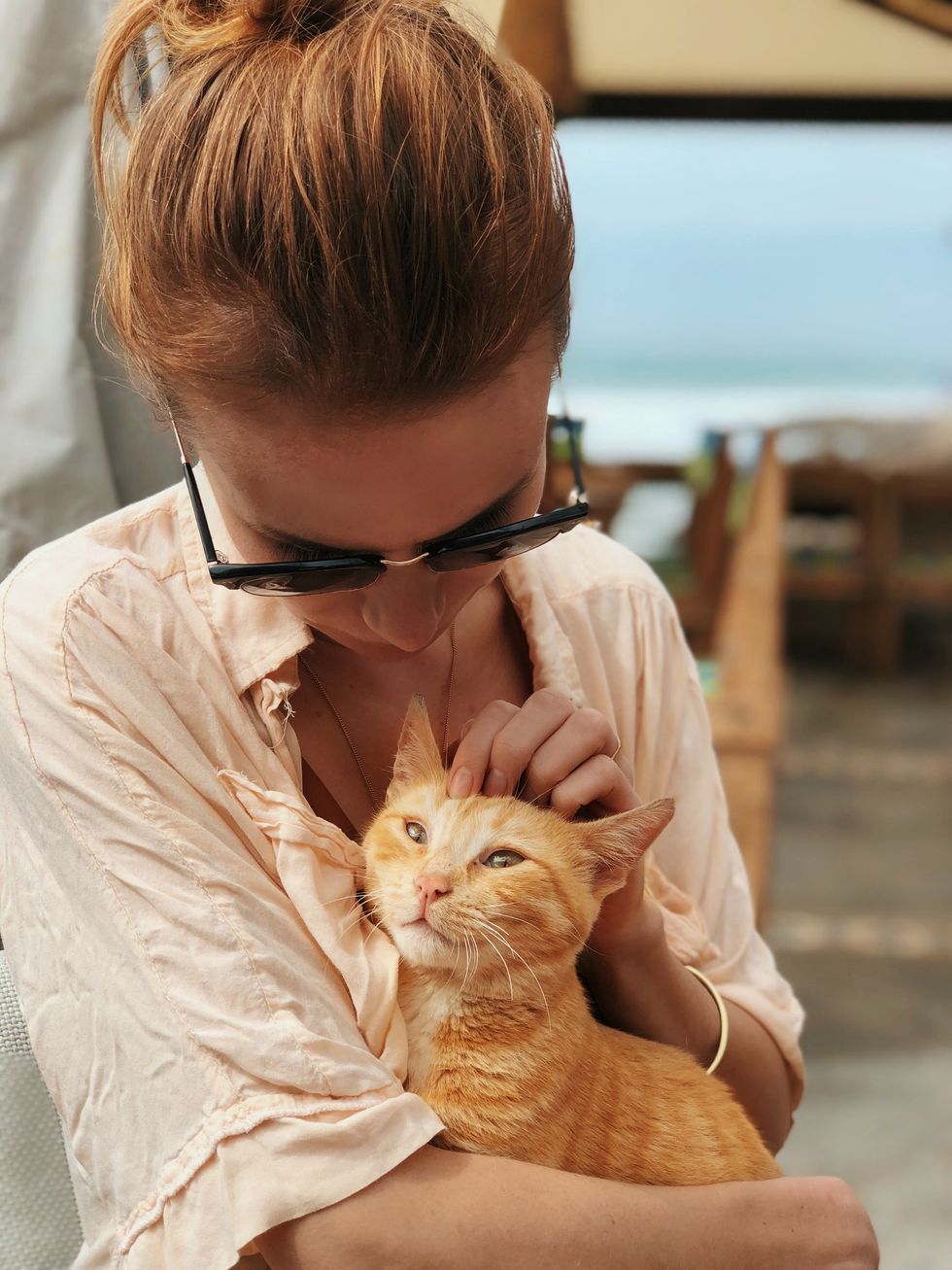 Making friends with the locals@travelyas
10. Best Instagram photo: Surf in the sunset
Morocco is, in itself, an Instagram dream; more or less everything is Instagram perfect! That said, be sure to snap a pic of the beach surf at sunset. It's definitely an image you'll want to share, and a memory you're not soon to forget!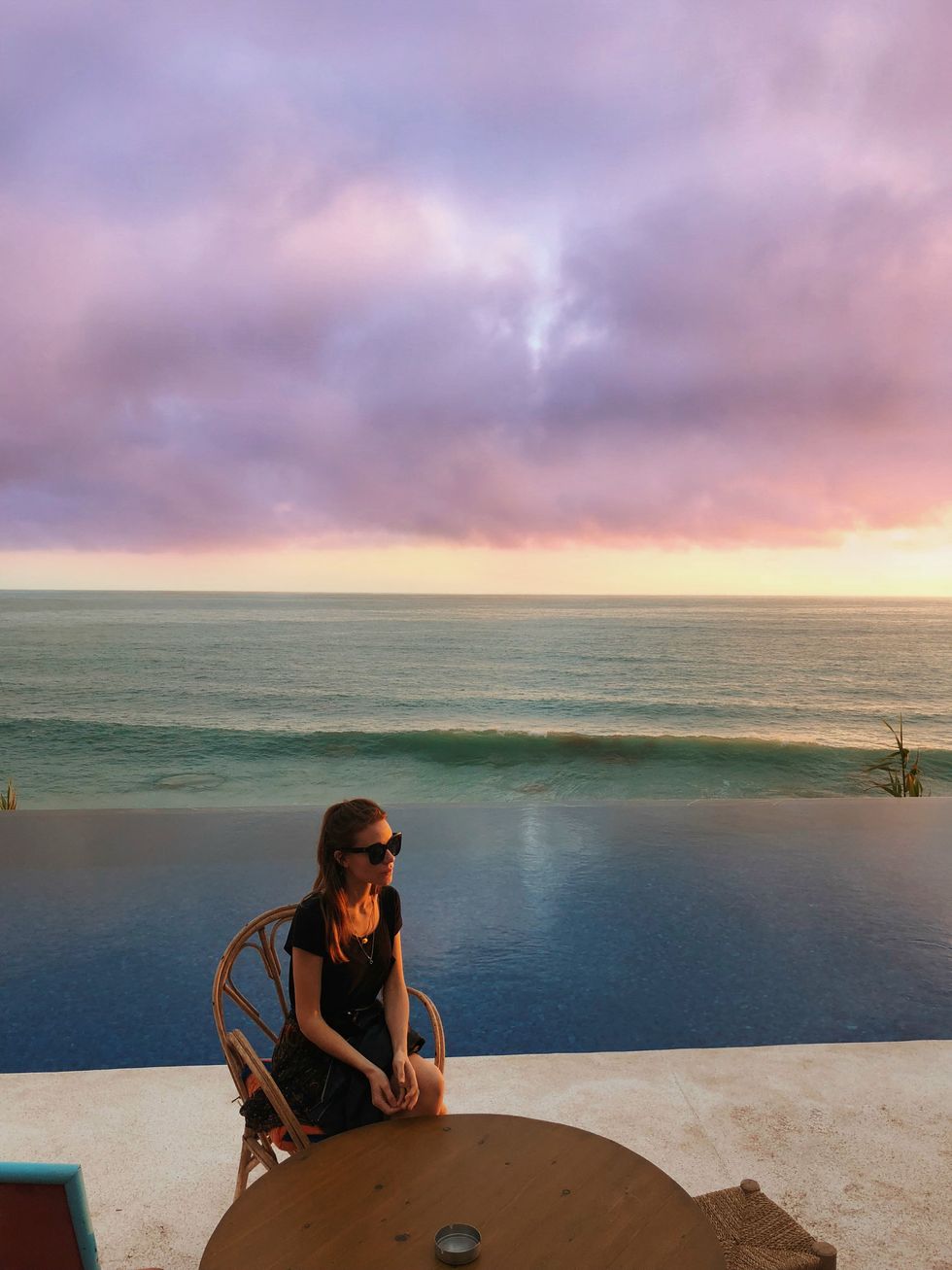 Gettin the 'gram with Taghazout's surf in the background@travelyas
---
Yasmine Akermark is the Co-Founder of Swedish digital nomad platform, Svenska Nomader and Founder of the women's digital marketplace, Sharehive. She's passionate about building an online community where women entrepreneurs can support each other, and thinks you should definitely check out her 'hive and Ambassador program if you're a woman who does cool, creative stuff.