What do you think of when you think of Louis Vuitton? The fashion house is on a mission to reinvent your answer to that question.
Louis Vuitton has brought one of their most innovative and immersive experiences to New York City, in the form of a ten-chapter exhibiton titled "Volez, Voguez, Voyagez." As stated best by the fashion house: "Curated by Olivier Saillard, the exhibition retraces the adventure of the House of Louis Vuitton from 1854 to the present. A story told through the portraits of its founders, as well as those who today are inventing the Louis Vuitton of tomorrow." It is ambitious, yet fulfills every single one of it's ambitions.
Located at 86 Trinity Place, visitors are welcome to explore the history behind one of the world's most iconic and enduring houses right from it's very inception. The show takes up two expansive floors that lead you from the past, to the present, to the foreseeable future - from 1854 to 2017. Historian Saillard had quite a big task on his hands: to reinvent the way people remember the founder behind Louis Vuitton. After all, it's traditional checkerboard pattern isn't just a pattern - it's a beacon of all the history it has endured time and time again. "It was quite a big challenge to do a big exhibition for Vuitton because there are so many exhibitions we could do devoted to Vuitton," Saillard admits to Vogue. Ultimately, the focus became the boy who left home at the age of fourteen to begin a life as a trunk maker. "I was very fascinated about this story of this young boy who decided to leave his family and travel for two years to work in Paris, so I tried to do, in each room of the exhibition, in each chapter, a self portrait of a man," he said. The goal: "Sometimes to forget Louis Vuitton, the big brand, in order to remember the man that started this huge story."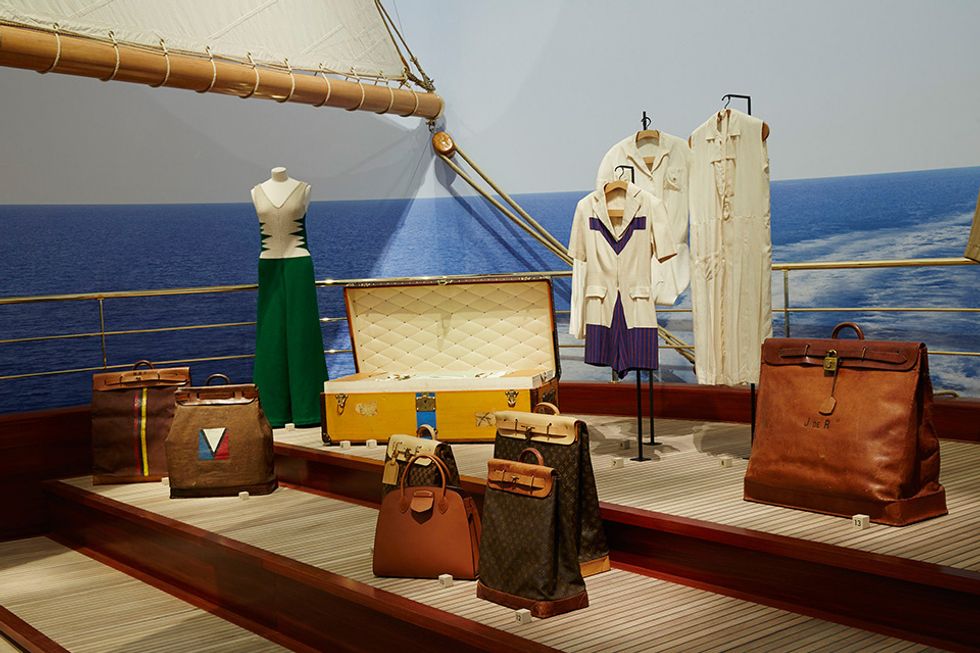 Worn-Through
The founders of the fashion house seem to haunt the exhibit, with their influence lingering at every corner. It becomes more and more apparent at every turn how calculated each evolution of a Vuitton bag has been - no silhouette feels out of place. There's rooms dedicated to the loved trunks (back then often used by French royalty), as well as a room dedicated to their cruise collections (which includes the fascinating monogrammed trunks used by Wes Anderson in his film, The Darjeeling Limited). From then on, capsule collections come at you from every corner - including those by Marc Jacobs, Kim Jones, and Nicolas Ghesquiere.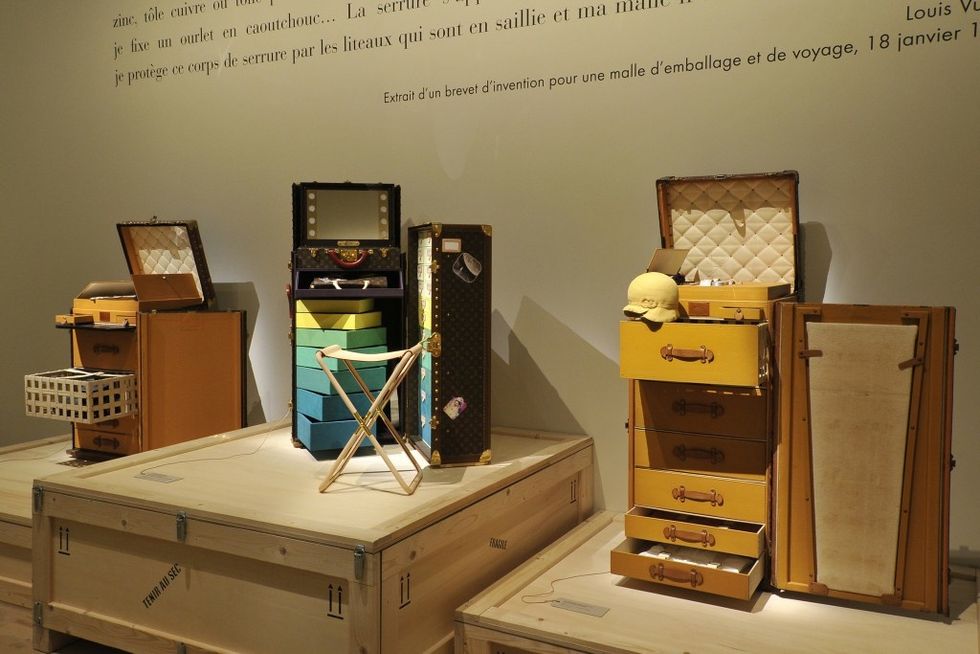 The Neo-Trad
"Because the title of the exhibit is 'Volez, Voguez, Voyagez,' we tried to create this idea of always moving or dreaming," Saillard says. "You can imagine how you would move when you are seeing the clothes, but also the way to dream." He pauses, as told by Vogue. "Since the beginning of the story of Louis Vuitton himself, it is about travel, about bringing something with you in your trunk, in your bag, and this idea of travel is following the story of motion through trains, boats, planes, but also traveling in dreams, in art. That is for me, the soul of the brand."
As if you need any more convincing to take the trek down to Wall Street, you'll also find hand-beaded dresses worn by Alicia Vikander, Kate Moss, and many more. It's a journey through the lens of a house who have established themselves as innovators in the fashion world. Saillard's final plea to you: "We are always talking about fashion, we are always hearing that there is a Fashion Week somewhere all around the world, and at the same time there is an impossibility for everyday people to see an haute couture dress, to see a very creative piece."
Louis Vuitton's Volez, Voguez, Voyagez is now on display at 86 Trinity Place from October 27 through January 7, 2018.