Ok theatre lovers and travel-lovers, this one is for you. I was walking through Times Square for the third time that day. One audition was there and the other was further downtown. I had to make a few trips back and forth to sign up and also check the status of auditions and after getting asked for a fourth time if I wanted to see a comedy show tonight I knew it: I was jaded. Instead of being filled with awe and butterflies like I used to in walking past all of the Broadway theatres, that day I felt frustrated. My family vacation to London came at just the right time and visiting another theatre Mecca of the world removed from my home was just what I needed to fall back in love with theatre.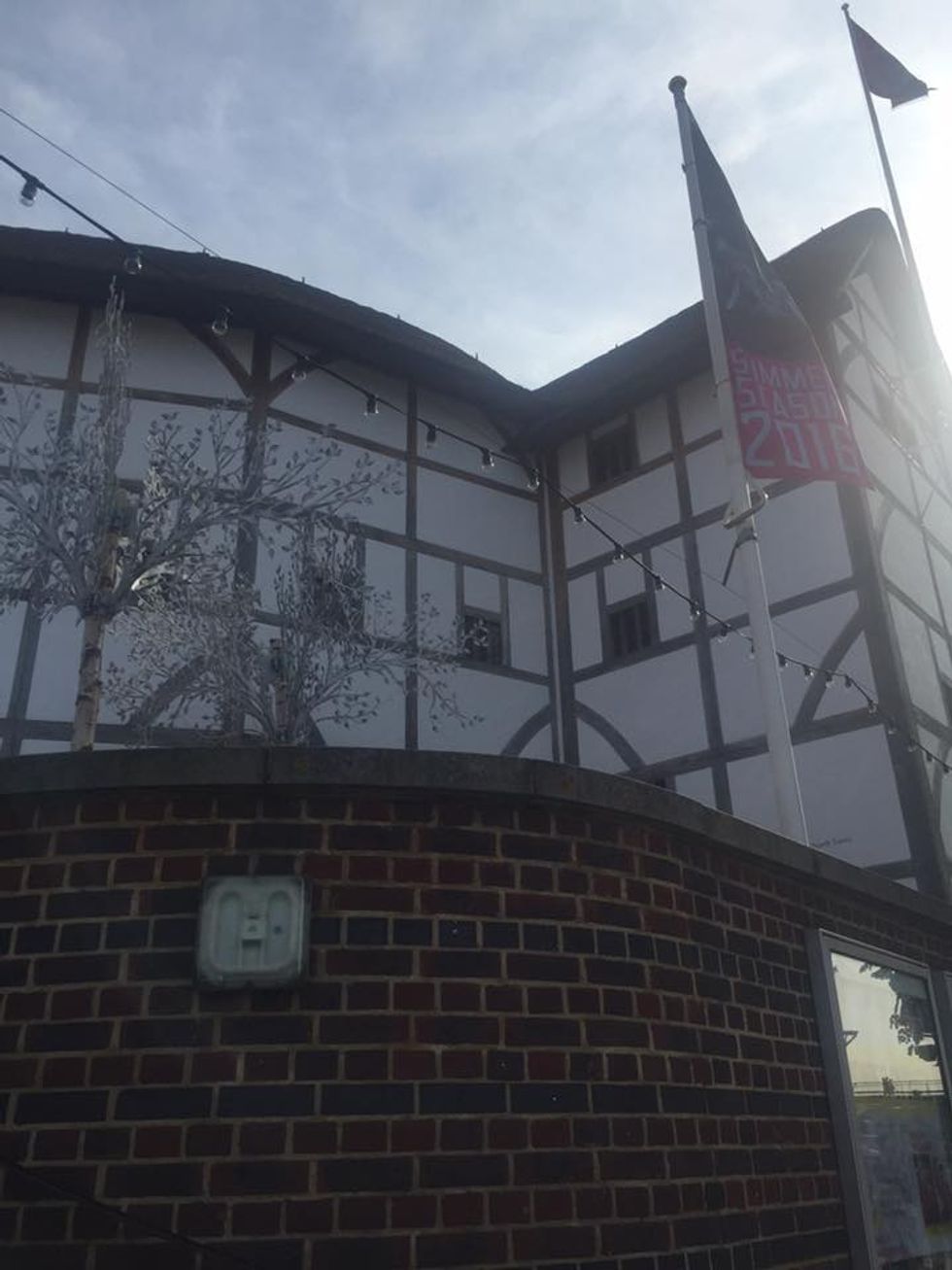 Exterior of the Old GlobePhoto by Anie Delgado
We only had a few days in the city because we had other destinations on our agenda but we mainly made this detour so I could see the city so I got to make our travel plans pretty theatre geared. My biggest must-see was the Old Globe and though I was already excited to see the home to Shakespearean theatre, I was pleasantly surprised how cool the surrounding area was too. South Bank is a vibrant neighborhood flanked with yummy craft bars and restaurants and street artists. One big disappointment in visiting the Old Globe was that all of their shows for the weekend were sold out. Used to New York City with the ease of TodayTix and various other second party ticket retailers being able to get a ticket for almost anything last minute, I hadn't thought to purchase tickets in advance. Because of that I wasn't able to see the house or stage that I was really looking forward to admiring as I had studied it in college. I did get to see the exterior of the theatre and purchased the complete works of Shakespeare which felt really special doing so at the Globe.

Lucky for me, TodayTix is very much a thing in London and though many shows were sold out, I was able to snag tickets to see Sideways at St James Theatre. Having seen the famed movie I was surprised to see it in play form, but it really worked! In purchasing tickets to the West End I found that tickets are about the same price as TodayTix in the US but be prepare for a little bit of inflation based on the exchange rate. We ended up getting tickets for about $30. Musicals were a little pricier.
Another notable thing to do in London when you're there is to see Off-West End and indie productions throughout the city. Some of London's most talented up and coming actors perform at places like Jermyn Street Theatre, Southwark Playhouse, and The Yard. These venues host anything from updated takes on classics and also new plays. If you like theatres like Ars Nova, Robert Moss, and The Davenport in NYC you'll love these theatres for a glimpse into indie theatre culture in London.
Looking for affordable accommodations? London can be an expensive city! Though we wanted a luxorious stay, we opted for a nice hotel off the beaten track to save a little money. Hotels near Picadily Circus and Buckingham Palace as you can imagine were a little pricier. We were able to stay at The Hilton Metropole just a busride away from the West End and it was the perfect getaway after long days of walking around the city.