A day at the spa is certainly one of the best ways to pamper yourself, and while in NYC, some time to decompress is a must. But not any old spa will do when Manhattan offers some of the world's finest in-hotel spas a person could ask for.
Luxurious, lavish, and lovely, these six hotel spas are unique and special, offering top-notch services in beautiful surroundings, with attentive staffs, the best products, and experiences you won't soon forget.
Relax and refocus as you let yourself melt into the massage bed and get treated like royalty.
The Spa at the Mandarin Oriental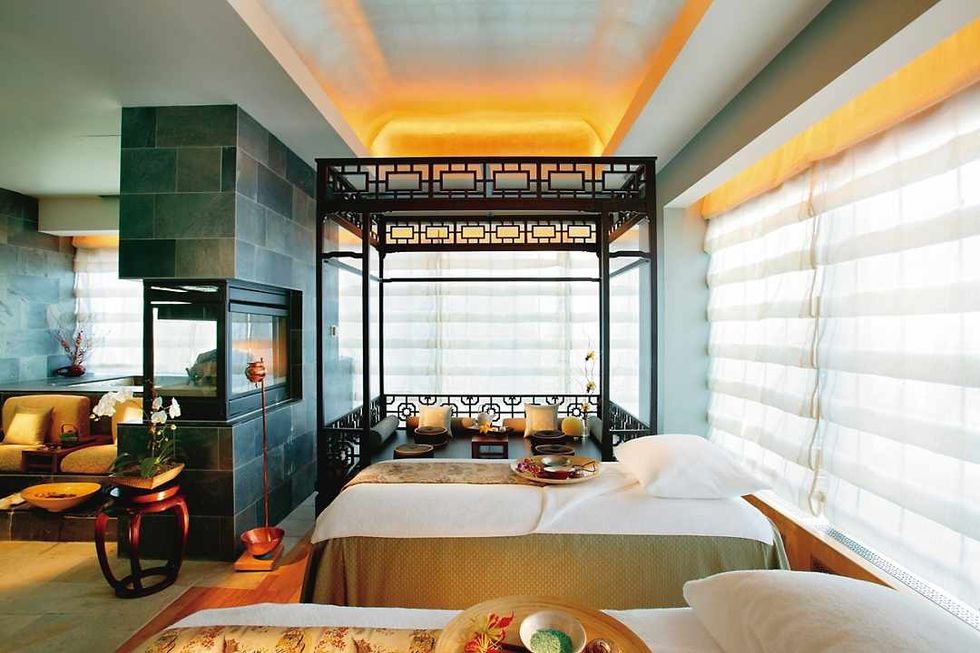 Via mandarinoriental.com
Located in the heart of Columbus Circle, The Mandarin Hotel is one of the most elaborate and elegant hotels in Manhattan. Part of the hotel's glamour is one of its finest amenities - thespa and wellness area, located high up in the building to allow for a spectacular skyline view. You'll begin your day of pampering in the Oriental Tea Lounge followed by heat and water facilities to soothe the system before your spa services. Various private suites, including the VIP Spa Suite with a fireplace and private steam room, are high-end, as expected, and the massages, facials, wraps, detoxes, couple's services, and even yoga are provided by top-of-the-line professionals who aim to please. Finish off your spa splendor with fresh spa cuisine and call it a delightful day.
80 Columbus Circle, New York, NY 10023
Cornelia Spa at The Surrey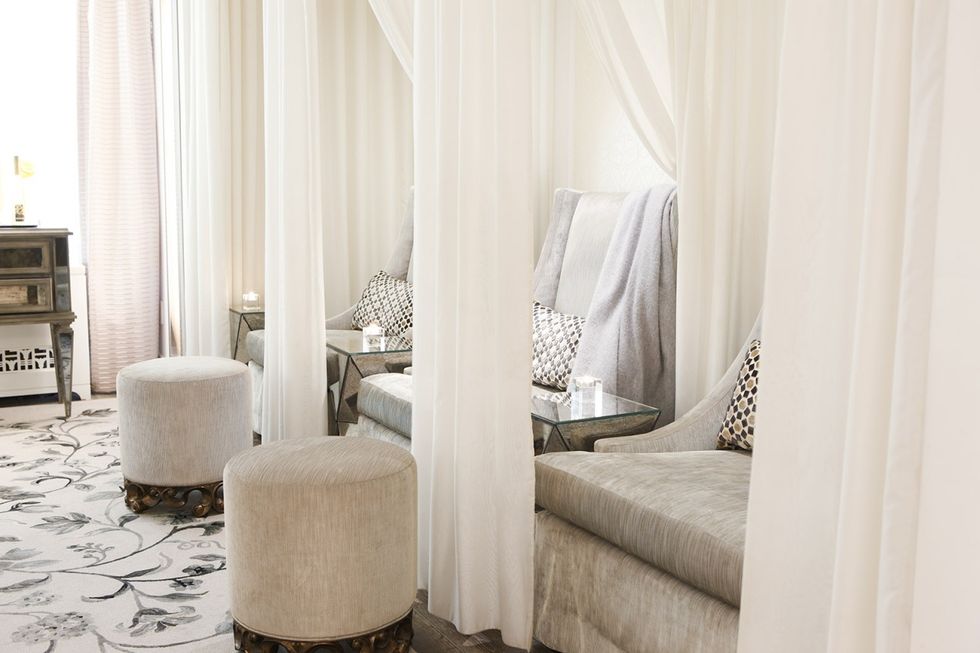 Via thesurrey.com
New York's Upper East Side is known for elegance and sophistication, makingCornelia Spa at the Surrey fit in perfectly with the area's ambiance. This "intimate pied-a-terre-style luxury Manhattan spa" is a quiet getaway from the bustle of the city, noted for its restorative treatments, rose petal foot baths, and sensory-stimulating aromatherapy. Treatments are all personalized to the individual's massage, mani-pedi, waxing, or facial desires, and extravagant offerings like the Champagne Shimmer Aroma Massage and the Reparative Caviar & Oxygen Quench make Cornelia Spa extra-special. Before or after your spa experience, nibble on an amuse-bouche tasting as exquisite as The Surrey itself.
20 E. 76th Street, New York, NY 10021
Guerlain Spa at The Plaza Hotel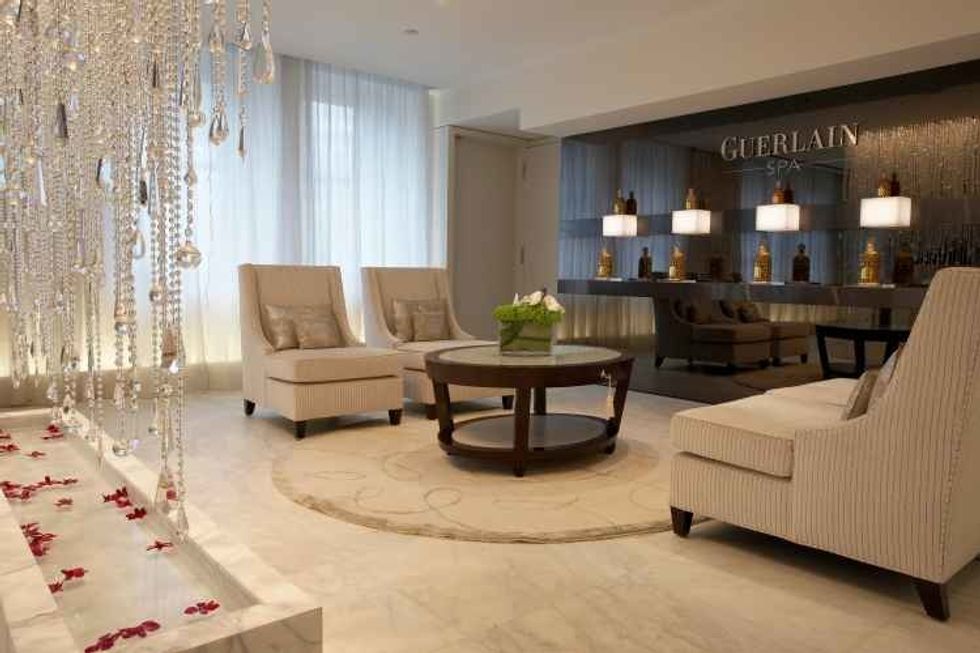 Via nycgo.com
The Plaza Hotel is an NYC landmark, made even more spectacular by Guerlain Spa. Spacious, soothing, and swanky, this spa is meant for total indulgence, just what The Plaza Hotel guests expect and enjoy. Treatments include massage, facials, makeup, waxing, and body polishing, and there are wedding packages for bridal parties, mother-to-be offers, and couples' massage. Fragrant flowers and elaborate chandeliers decorate the waiting area as you prepare for a day of destressing and decompressing. Take advantage of "The Best Kind of Happy Hour" specials at the spa from 5 – 9 PM 7 days a week with deep discounts on Guerlain Spa's signature massage service.
1 West 58th Street, 4th Floor, New York, NY 10019
L. Raphael Beauty Spa at the Four Seasons Hotel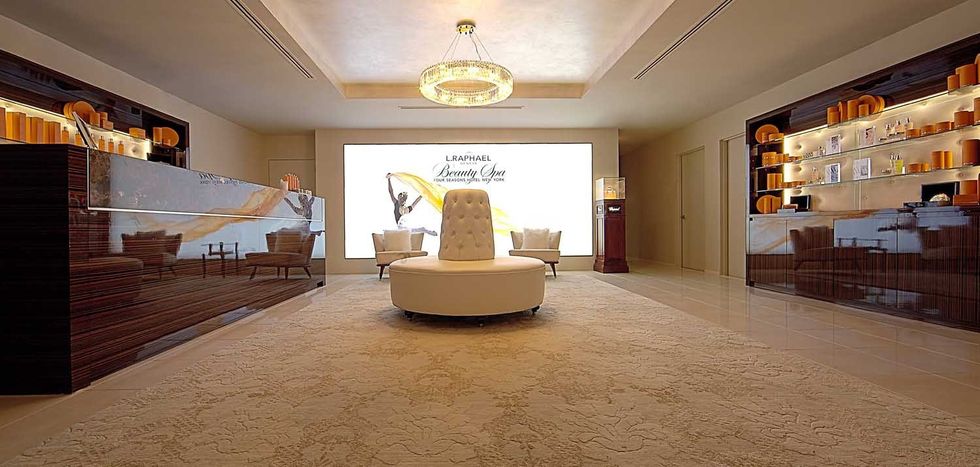 Via trulyexperiences.com
L. Raphael Beauty Spa at the world-renowned Four Seasons Hotel is all about anti-aging skincare in a luxe 4,500-square-foot setting. Along with standard spa offerings like massages, facials, makeup, nail care, and saunas, this spa also features a full-service hair salon for beauty from top to bottom. L. Raphael uses a holistic approach for all their services for a mind-body connection that relaxes and rejuvenates. The Dead Sea Scrub and Massage is a visitor favorite, with exfoliating and detoxifying properties, and the Ultimate Firming and Lifting Revitalizing Facial restores youthfulness and firmness to skin that needs a reboot. For those interested in taking their beauty care beyond pampering, the spa offers beauty, anti-aging, slimming, and wellness programs with private consultations and personalized direction.
57 E. 57th Street, New York, NY 10022
Shibui at The Greenwich Hotel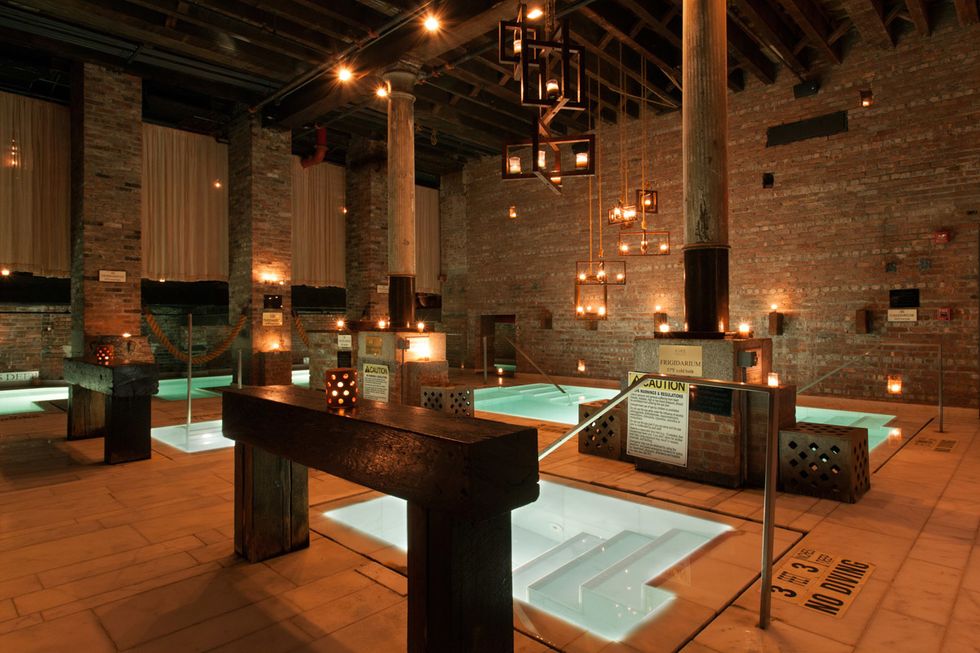 Via thegreenwichhotel.com
Inspired by the power of nature and balance, Shibui Spa is an oasis of simplicity and spirit nestled inside the chic Greenwich Hotel. As Shibui spa explains, "The Japanese word 'shibui' has no exact translation into English, but it refers to a beauty that is low-key and grounded, not opulent, yet rich. The same may be said of the Shibui experience. It is luxurious and uncomplicated." From the pool and lounge area to the treatment rooms to the body-healing baths, Shibui's calming atmosphere and caring staff will transport you from the fast-paced rhythm of Manhattan to a Zen-like zone you'll never want to leave. Massages, body treatments, shiatsu, facials, waxing, and more are offered to hotel guests and visitors who seek a unique and unbelievable spa experience delivered with precision and compassion. Try poolside yoga and meditation as well for a full day of "me time" the Shibui way.
377 Greenwich Street, New York, NY 10013
Spa Nalai at Park Hyatt New York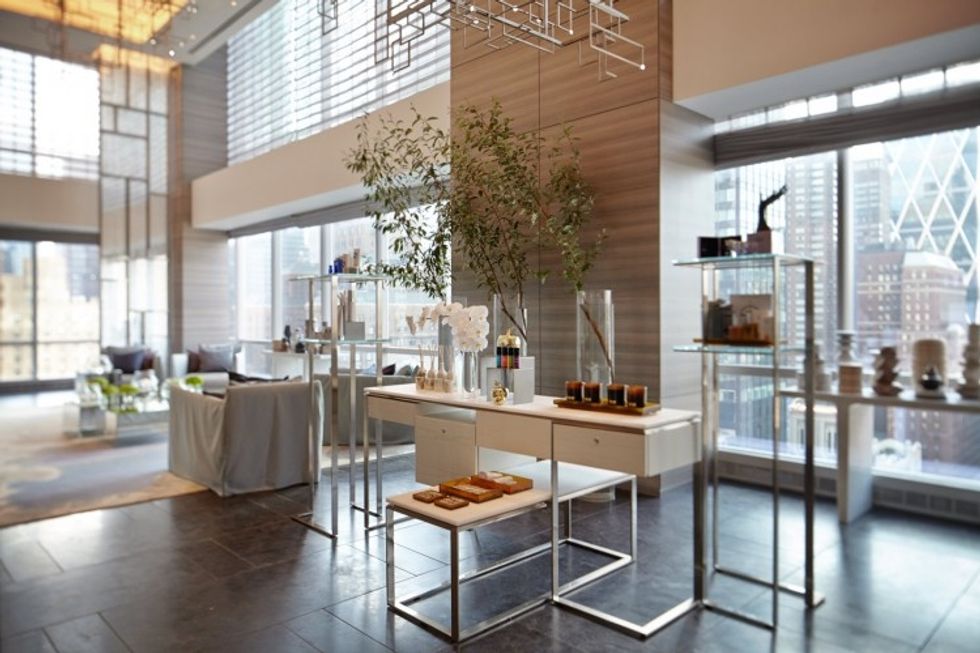 Via trendland.com
Nalai means "serenity," the perfect name for a spa that delivers just that. Once you step inside the bright and clean Spa Nalai at Park Hyatt New York, serene is the only way you'll feel, and once you leave, your body and soul will take that peace with you as you make your way back to the rush of the city streets. Indoor hydrotherapy is a special feature at Spa Nalai with a whirlpool and a eucalyptus steam room, and each of their treatments are hand-tailored towards the individual's needs. Facials, massages, body treatments, couples' retreats, and a fitness center provide everything from relaxation to revitalization to regeneration. The views from the spa are breathtaking and the interior is just as special.
153 W. 57th Street, New York, NY 10019
Slip into one of these spas and let your body feel the fine-tuning it deserves.