"Chefs are in the pleasure business," the late Anthony Bourdain told Men's Health in a 2012 interview. "It's important to understand your subject. If you know what it's like to be stoned and hungry at one o'clock in the morning, it's helpful when you're trying to create a menu for people who are stoned and hungry at one o'clock in the f**ing morning."
In fact, prior to his death, Bourdain was a long-time cannabis advocate who managed to highlight a cross-cultural appreciation of cannabis-infused foods as he explored global cuisine and made exacting social commentary on his series No Reservations and Parts Unknown. The chef enjoyed Cambodian "happy pizza" with a "powerful herbal component...that makes you insane in the membrane," sampled a quail egg cured with cannabis smoke in Copenhagen, and learned how Moroccan cannabis cooks prepare mahjoun, a hashish delicacy of chocolate, nuts, fruits, and honey.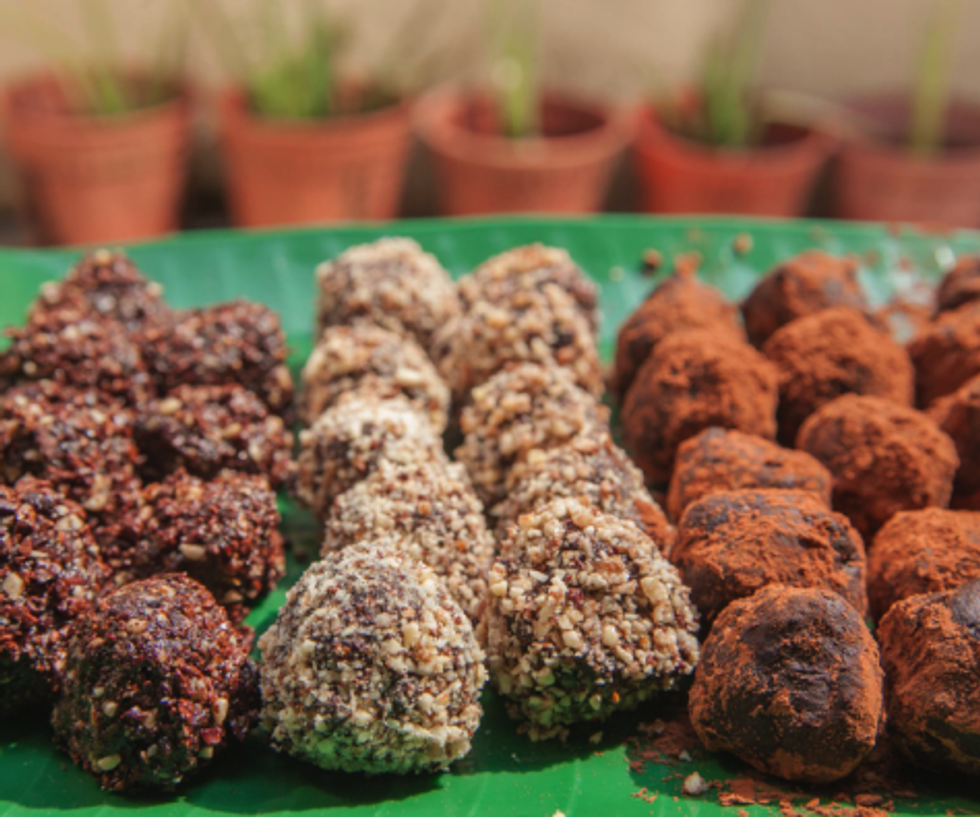 Moroccan hashish mahjoun CBD Magnates
In the U.S., cannabis chefs across the country are carrying on the tradition of culinary cannabis as a simple pleasure, countering a western tradition of weed criminalization and social stigma dating back to the "Reefer Madness" of the 1930s. Marijuana is now legalized in nine states, opening the door for chefs to broaden their menus and offer cannabis-infused fine dining to American palettes. For customers 21 and over, a niche group of gourmet chefs are offering cuisine prepared with cannabis butter, CBD oil, cannabis flowers, and low-dose THC infusions. Among this cohort of James Beard Award winners and chefs trained in Michelin-star kitchens, pro-legalization activism meets culinary artform as they prepare innovative dishes that destigmatize and surprise with one of the world's oldest medicinal plants.
In Los Angeles, top cannabis chef, Christopher Sayegh, founded his catering company The Herbal Chef after he realized how misinformed he'd been about marijuana and its benefits. "I had been lied to," he says. "Once I started to do more research into it, it was really about becoming an activist and telling people this plant really helps people in a multitude of ways, not only medicinally but the human race industrially, as well."
But the food remains paramount. Above all, Sayegh hopes that customers appreciate the nuances of textures, flavors, and the dish as a whole, rather than view gourmet marijuana cuisine as glorified edibles. The Herbal Chef offers meals infused with an average dose of about 10 milligrams of THC, but no more than 15. The 25-year-old chef asserts, "The way I look at it is that people shouldn't be so fixated on the THC and the cannabinoids. They should be fixated on the food. The food comes first."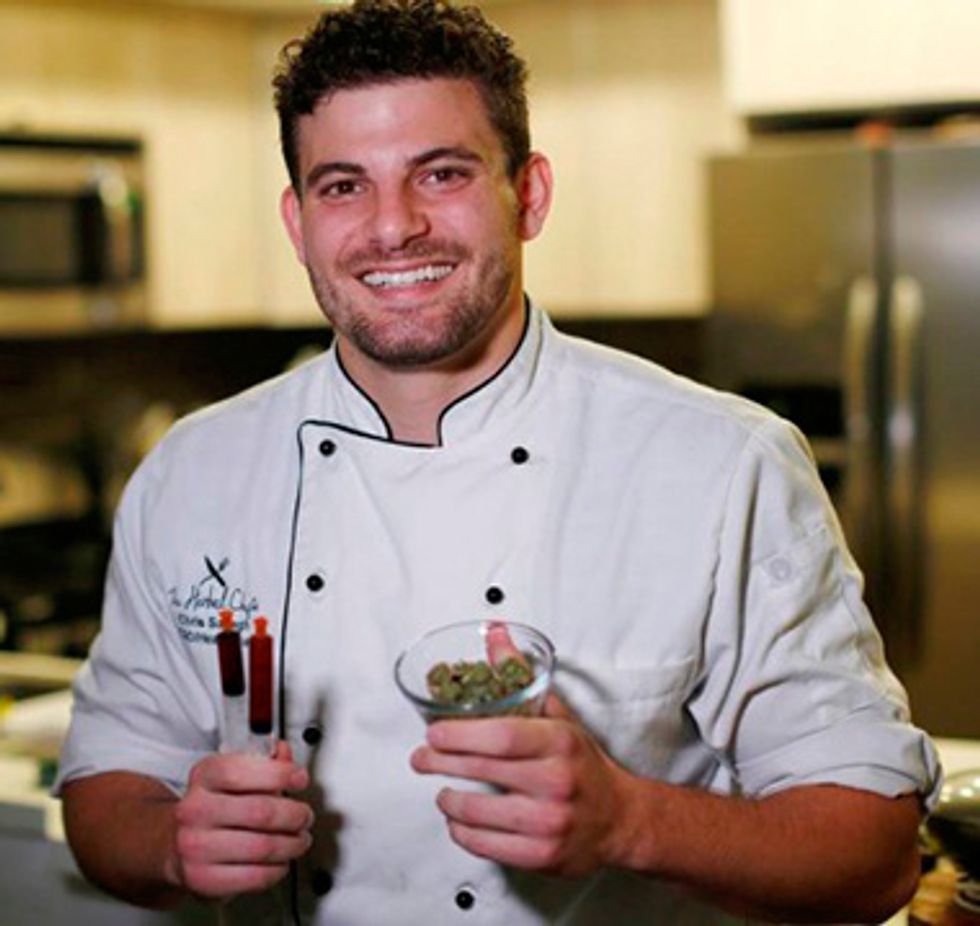 Chef Chris Sayegh holding THC and CBD oils and cannabis budsReuters
True to his word, Sayegh's menu includes delicacies like smoked salmon topped with poached strawberries and spiced meringue drizzled with bourbon caramel. All ingredients are purchased from local vendors in the L.A. or Santa Monica area, according to The Herbal Chef's website, and "occasionally menus will feature produce from the chef's personal garden." Sayegh hopes to open his first restaurant, Herb, in West Hollywood by the end of 2018. He plans to use the restaurant as a "culinary showcase," offering a 10-15 course tasting menu that presents information on the benefits of cannabis. "Under it all," Sayegh reflects, "We just genuinely care about bringing people the best-of-the-best ingredients and having it infused with the best-of-the-best cannabis."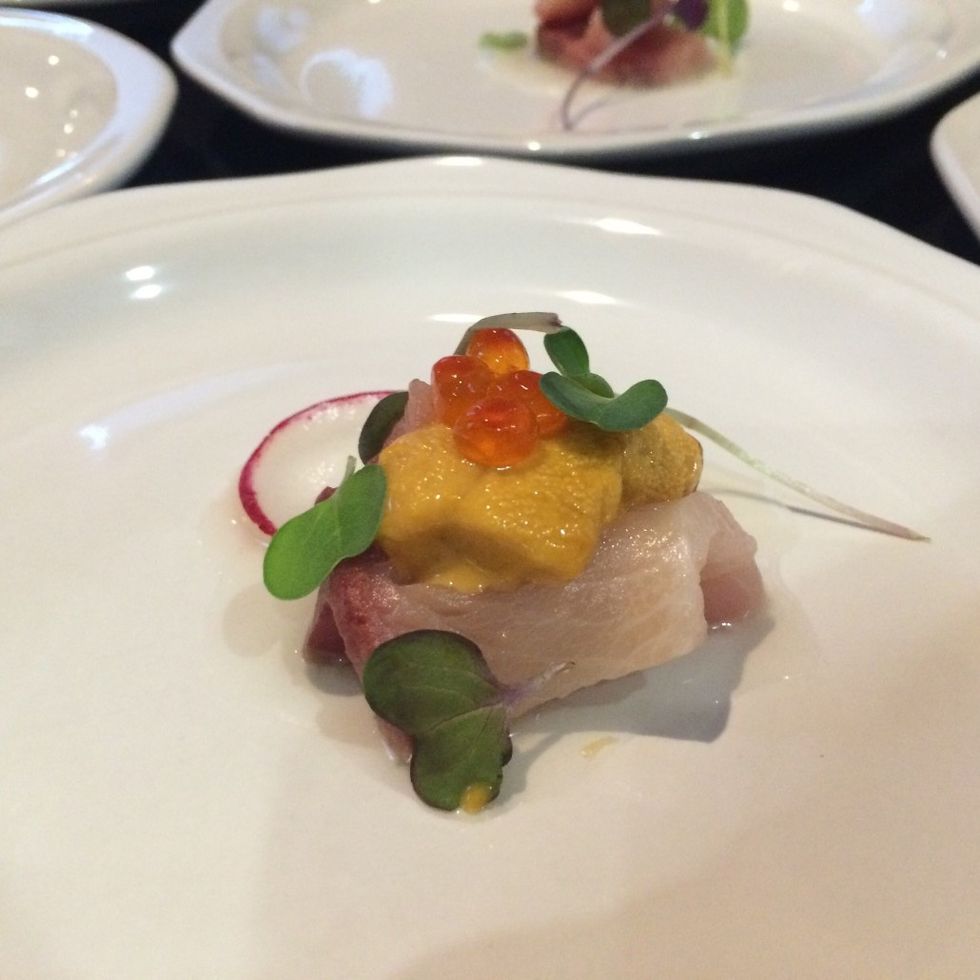 Hamachi with lemon gelee, radish, salmon roe, and uni (sea urchin).The Herbal Chef
Meanwhile, in Chicago, Mindy Segal is a James Beard Award-winning pastry chef who's spent 30 years working in high-end kitchens, including the Michelin-starred Charlie Trotter's. Her recipes for Mindy's Artisanal Edibles are dedicated to balancing quality ingredients with clear distillate to enhance every confection's flavor with tasteless THC. Segal's expertise began with high-quality chocolates, which are available in 50 or 100 milligram doses in tempting flavors like Dark Chocolate Almond Toffee and Marshmallow Graham.

Like Sayegh, Segal is led by her drive to create innovative and quality flavors for her customers. By branching out into gourmet edibles, her passion for marijuana advocacy intersects with her craft. She reflects, "I'm new to the market but I'm not new to marijuana. I wasn't like one of those mad-scientist chefs creating my best way of extracting marijuana. I dabbled in it for fun. I felt I could apply my baking experience to marijuana edibles. My motivating factor was helping people. It's what I do in my industry anyway: I make people happy."
Segal recently launched her 2nd line of medical cannabis edibles, "Mindy's Kitchen," offering gummies, hard candies, and fruit chews infused with a combination of Sativa, Indica, Hybrid, RSO, or CBD oils. Each confection is designed to preserve the integrity of the flavors, from sour to tart. Candies are available in 100 milligram THC packs, with individual pieces infused with 10 or 25 milligrams.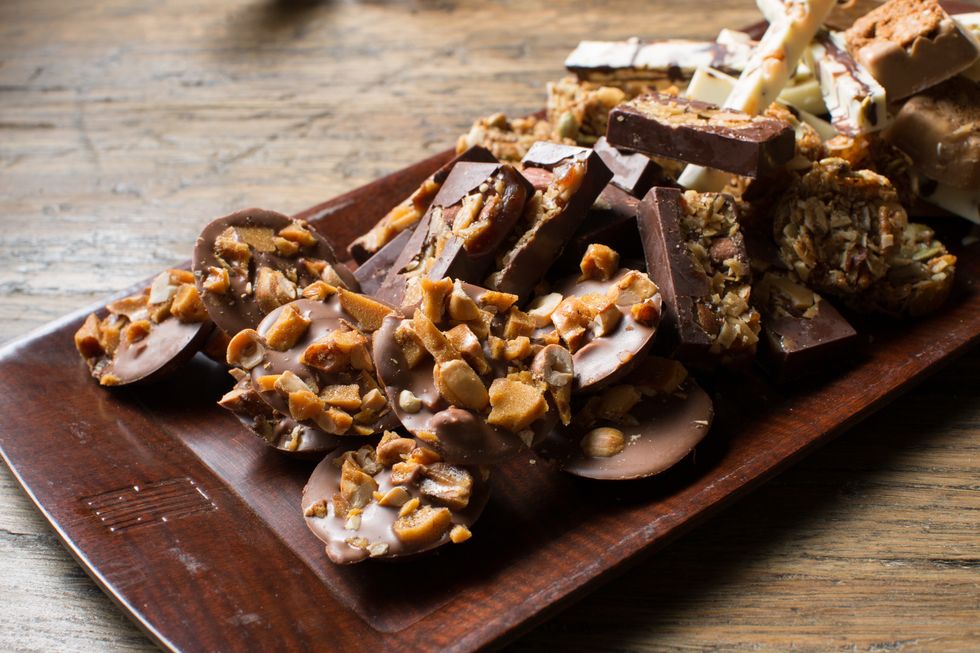 Mindy Segal's chocolate brittle and granolaChicago Reader
On the future of legal marijuana, Sayegh and Segal share a passion for advocacy through their culinary arts. Sayegh lobbies for his cannabis-infusion restaurant, decrying the government for "gouging an industry that is trying to help people," while Segal affirms, "I am an absolute advocate for legalization of marijuana on all levels. I completely believe that it has medicinal qualities and I believe that it has a great recreational value."

Mindy Segal predicts, "It's going to be like the Wild West. A lot of people, including large corporations, are getting their feet wet already and getting in the game." Other like-minded chefs already include San Francisco-based Michael Magallanes, who uses coconut oil infused with cannabis powder as an understated glaze. New York's Miguel Trinidad gives each strain its own flavor profile to enhance other ingredients, and Denver's Scott Durrah offers health-conscious menu options infused with sativa or a featured lemon-flavored strain.
Anthony Bourdain wrote in a
1999 essay,
"I love the sheer weirdness of the kitchen life: the dreamers, the crackpots, the refugees, and the sociopaths with whom I continue to work...In America, the professional kitchen is the last refuge of the misfit." As the next culinary frontier, gourmet marijuana is attracting the type of politically conscious and creative misfits who call for reform in and out of the kitchen. Bourdain
credited professional chefs
with unique qualifications to spearhead marijuana advocacy: "Everybody [in professional kitchens] smokes dope after work. People you would never imagine. There has been an entire strata of restaurants . . . created specially for the tastes of the slightly stoned, slightly drunk chef after work."