A good café, more than the promise of good coffee, is the promise of an escape.
Café culture is alive and well in New York City; here more than anywhere else, it's important to know what places to go to be able to escape the madness for a few hours and enjoy a good cup of joe. It's for this very reason that locals flocked to Mellow Yellow - coffee and vibes, when it opened last month on 90th St. and 1st Ave. With its cozy, eccentric decor—you'll find pineapples, tabletops designed to look like logs, and vintage lights—its no wonder this is Upper Manhattan's newest up-and-coming escape.
"We came for the opening, and for the decor" says Shani, a regular. "It's like family."

The vision behind the colorful, relaxed new space is owner Raphael Almoznino, who curated the entire space and encourages anyone who comes in to make themselves at home. "This is my home. It's not a restaurant or a coffee bar: this is like my apartment," he tells Journiest. "When people come, they can go into my kitchen, they can stand with me and taste the food. The only rule is serve the customer good coffee and good vibes."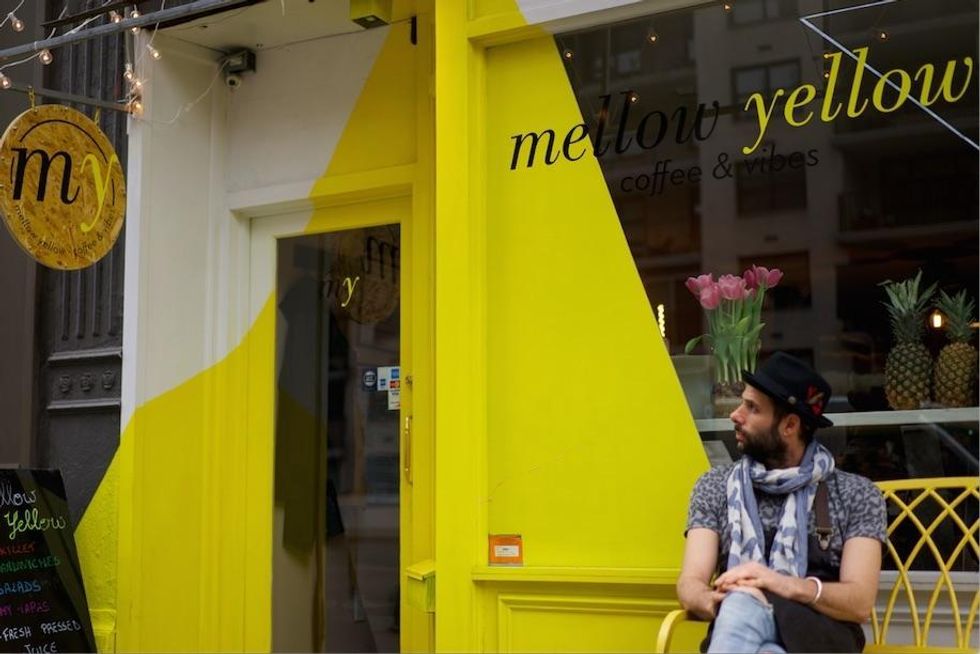 Mellow Yellow's proprietor, Raphael AlmozninoE.R. Pulgar
The warmth Almoznino treats his customers with—it's not unusual to find him playing with the kids that come into the café, or dancing along to the atmospheric music perpetually playing on Mellow Yellow's speakers as he prepares a shakshuka sandwich—translates to the actual cuisine. Described by Almoznino as a "Moroccan kitchen with Mediterranean influence," you'll find classic café treats like cappuccinos with evaporated milk sharing a space alongside the pita za'atar and tabouleh that Almoznino ate growing up. "A lot of the dishes my mum cooked at home, everything fresh and simple," Almoznino says with pride. "I keep it simple."

A café where everyone working goes out of their way to make you feel comfortable without it feeling fake is a rarity in New York City; with its open kitchen and the invitation for customers to constantly interact, the walls between customer and good friend are blurred, something Almoznino finds important. "Having a coffee shop is a dream come true for me," he says with a wide grin. "The energy and vibes are important to me. I want everyone to feel at home here."
Whether you're looking for authentic Moroccan food or a relaxed haven in a city where it's easy to feel overwhelmed, step into Mellow Yellow - coffee & vibes the next time you find yourself uptown.
Address
1729 1st Ave. New York, New York
Hours
Monday - Saturday: 7 AM to 7 PM
Sunday: 8:30 AM to 8:30 PM